The smart devices these days have a very few buttons like the home button, power button and the volume adjustment button. This makes each of those buttons very essential in performing several functions. Even if one of it stops working, several functionalities of the device become stagnant and non useable. Apple's iPad is one such device, whose home button is very important in using the device to perform several tasks. What do you do when suddenly iPad home button not working and you are stuck? Well, this article details a few methods which can help you get out of such a situation and resume the functioning on your iPad device. Follow the steps carefully to regain iPad home button functionality.
Part 1: Hardware Solutions for iPad Home Button Not Working
There is a high chance that there might be some hardware issue on your device due to which the home iPad button not working.
You can check this by trying to press down the home button. If you are not able to press it down, then there is a high probability that your iPad home button broken. If this happens, then you need to consider replacing that particular part of your iPad.
If you are easily able to press down the home button on your iPad but are not able to get any changes on the iPad screen, then there maybe some dirt or foreign material stuck inside. This debris has to be removed. Carefully clean this part and also the part near the USB charging port and check for home button functionality again.
If none of this seems to solve your problem, then there might even be an issue with the software of your iPad device.
Part 2: Software Solutions for iPad Home Button Not Working
If you have tried out the hardware problem solution to fix the problem of iPad mini home button not working and it hasn't shown any positive results, then there is definitely a problem with the iPad's software. There minor software glitches can be fixed by using the following methods.
2.1 Turn on Assistive Touch As Virtual Home Button
Your Apple iPad device luckily has a built in feature which can help you get through this situation. This feature is called AssistiveTouch and can be activated easily on your device. Follow the steps below to activate this feature on your iPad.
Step 1: Go to the "Settings" option which is available on the home page of your iPad.
Step 2: Navigate through the options on the left panel and tap on "General".
Step 3: Go to "Accessibility" and enable the "AssistiveTouch" by moving the slide to the right till it turns green.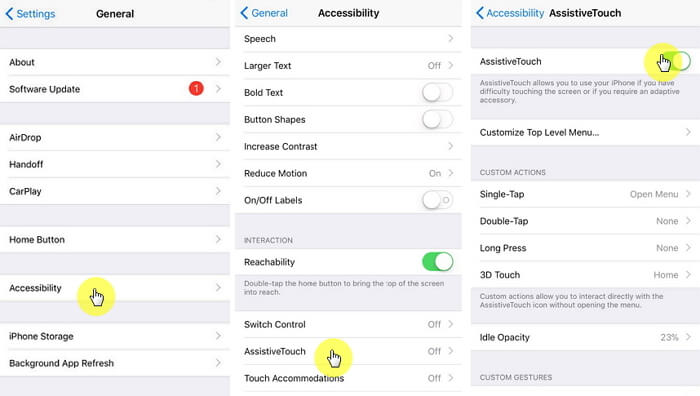 A virtual button will instantly appear on the screen which you can use as the home button. Kindly note this is not a long-term solution. If iPad home button still not working after trying the following solutions, you should consider a repair of the Home button.
2.2 Restart iPad
If a minor software glitch is causing the problem of the home button not working then you can simply try turning off and rebooting the iPad device. Follow the steps given below to do this.
Step 1: For this, you will need to press the power button on your iPad and hold it until the slider showing "slide to power off" appears on the screen. Slide this to the right and your iPad will switch off.
Step 2: Press the power button again hold it till the Apple logo appears on your Apple iPad device.
Check if the home button on your iPad device is working now.
2.3 Reset All Settings on iPad
You can even try resetting all the settings on your iPad to solve this problem. Before doing this, make sure to backup all the data on your iPad so that you don't end up losing some essential files and folders permanently! You can reset your iPad to the original factory settings by following the steps below.
Step 1: From the home screen, go to "Settings" option and navigate to "General" settings from the available options.
Step 2: Tap on the "Reset" option and then tap on "Reset All Settings".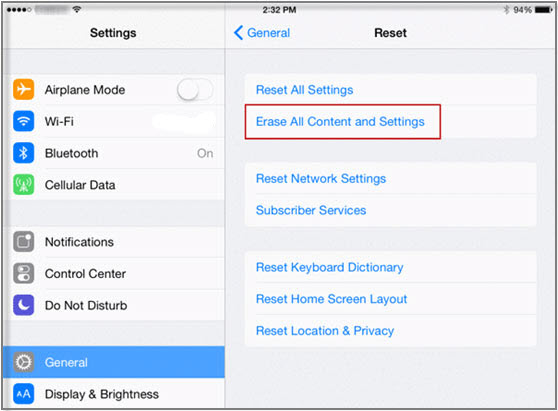 Once the reset is done, you can restore the latest backup.
2.4 Fix iPad System Problems
If none of the above simple methods succeed in solving the issue of your iPad home button not working, then the best way to fix this issue is by downloading iMyFone Fixppo and using it to fix your iPad. This software is recommended by many, including famous sites like CNET, Cult of Mac, Payette Forward, etc.

Basically, you can use Fixppo to fix any minor to major technical issues that are related to software on any iOS device. The steps are very simple and direct. Follow below guide to fix the problem of your non-functioning iPad's home button.
Step 1: First of all, download the free trial of Fixppo. Once installed, open the software on your laptop and click on "Standard Mode".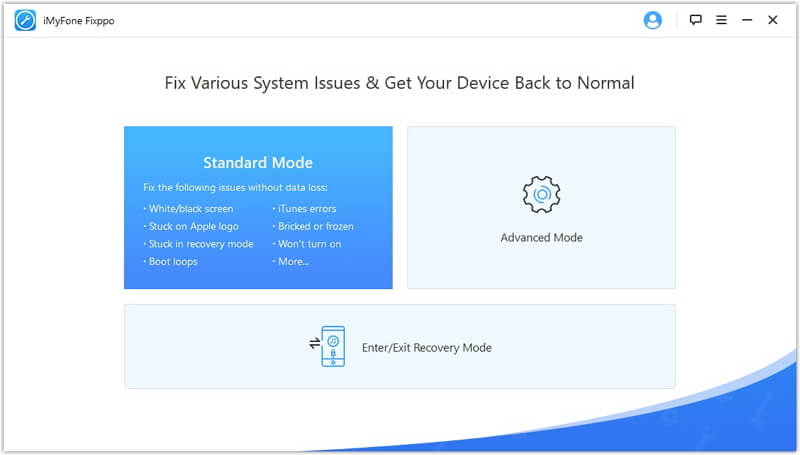 Step 2: Then connect your iPad to the laptop with the help of a USB lightning cable and click on "Next".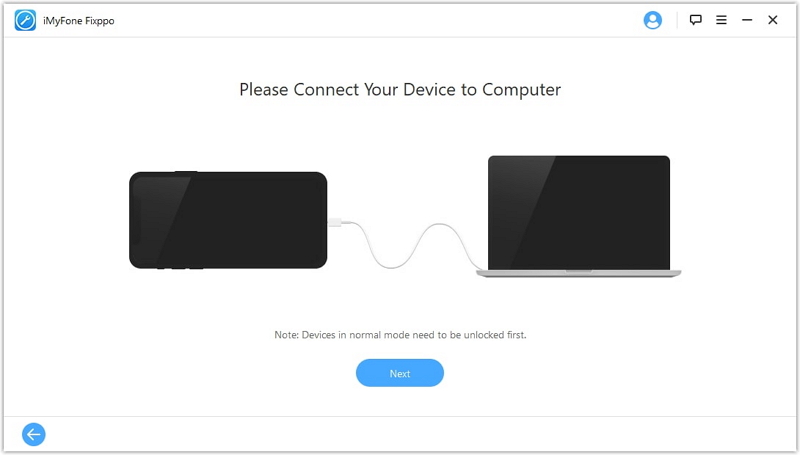 Step 3: Check your iPad model details and tap "Download" to get the necessary firmware.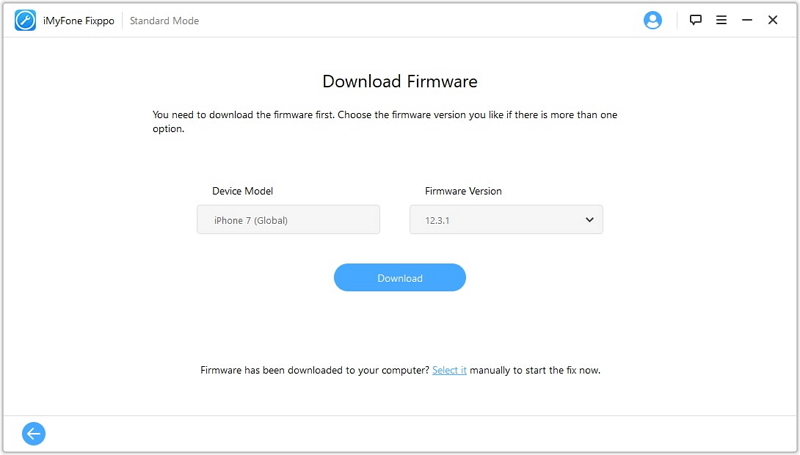 Step 4: Click on "Start" and the software will start fixing the technical issue in your iPad. Once the process is over you will be prompted on the screen.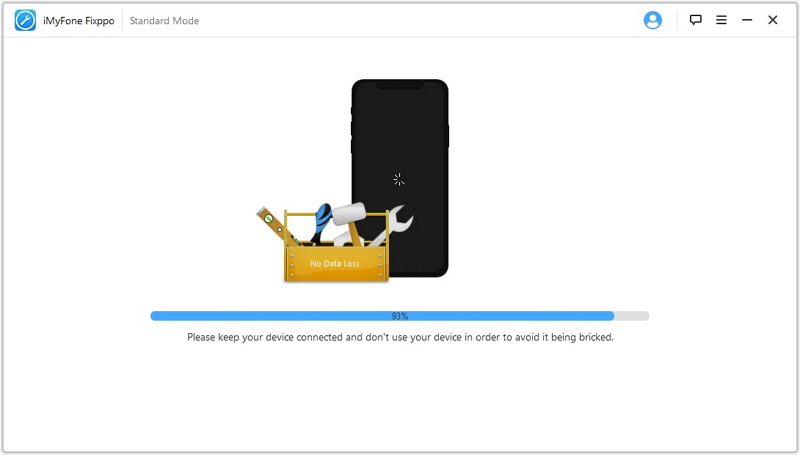 This software can also be used if your iPad won't turn on/off, iPad get stuck on Apple logo/recovery mode/black screen and more. This way of iPad repair won't cause any data loss.
Part 3: Still Need Help? Contact Apple
If nothing worked, then you must contact Apple customer care for support. 
Check if your iPad is coming under the warranty period. If yes, then you can get it fixed at no cost but if does not come under the warranty period clause then you would have to pay some amount to get the repairs done. They will replace the hardware of your iPad and then the home button on your iPad will start functioning effectively.
Summary
The iPad home button not working maybe due to some hardware or software issue. The methods to deal with both the problems are given in this article. These methods prove to be very useful in fixing the home button on your iPad device. The best method out of all is by using the iMyFone Fixppo software, which works very efficient in fixing almost all the technical issues faced by your iPad due to some software glitches.