Bitmoji allows you to send funny and personalized emojis to your friends. It is a great way to have an interesting conversation.
But it might be disappointing when you realize that the bitmoji is not working on your iPhone.
The bitmoji not working issue might arise because of various reasons. You might experience lag while typing or your keyboard gets frozen while using it.
If you are here due to this issue, in this guide you will find multiple top ways to fix bitmoji not working issue with ease.
Top 7 Ways to Fix Bitmoji Not Working
Before viewing all the methods, ensure that you have enabled full access in your iPhone Settings. If you have enabled and still it is not working, you can check out the ways given below.
Way 1. Make Sure Bitmoji Keyboard is Turned on
After installing the Bitmoji keyboard, you have to make sure that you have turned it on before sending bitmojis to your friends.
Step 1: Go to Settings -> General -> Keyboard.
Step 2: Then tap Keyboards and then "Add New Keyboard".
Step 3: To add Bitmoji to the list of keyboards, tap "Bitmoji" under "Third Party Keyboards".
Step 4: Now toggle on the "Allow Full Access".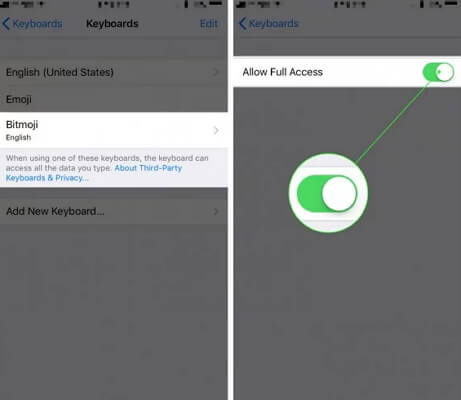 Way 2. Locate Bitmoji Keyboard if it is on
Some users cannot find the Bitmoji keyboard even if it is on. If you want to use the Bitmoji keyboard, open an app in which you want to use the Bitmoji keyboard.
Step 1: Open a conversation and tap on the text field to use the keyboard.
Step 2: At the bottom, next to the Space bar, tap Globe icon. Emoji keyboard will appear.
Step 3: Now, tap the ABC icon for accessing your custom Bitmojis. Tap on any Bitmoji you want to send for copying it.
Step 4: Next, again tap on text message field and tap Paste. Your selected Bitmoji will be shown in the text field. You can now send it to the selected contact.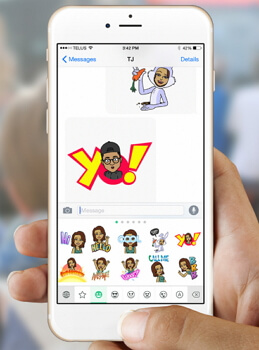 Way 3. Restart Your iPhone
You can try restarting your iPhone to solve the Bitmoji not working problem as all the background process will start afresh.
If you are using iPhone X and later, press and hold the side button and either volume button until the slider is seen.
If you are using iPhone 8 and earlier, press and hold the side or top button till you see the slider.
Now, turn on the device after a few minutes and check if it is working.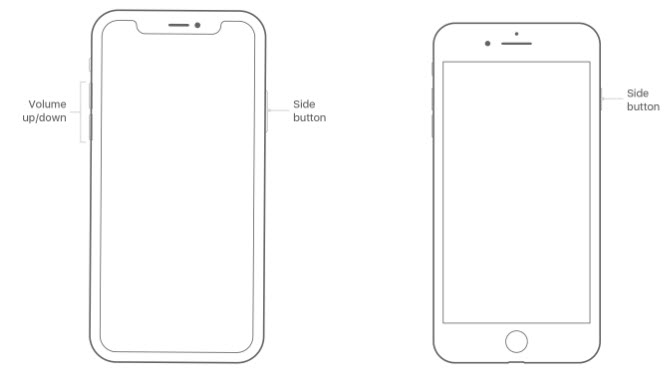 Way 4. Update Bitmoji Keyboard to Latest
The apps are continuously updated to fix bugs and software problems. Ensure that Bitmoji keyboard is updated.
Step 1: Go to App Store and tap Updates at the bottom. The list of apps for which the update is available will be shown.
Step 2: Check if an update for Bitmoji is available. If yes, tap Update.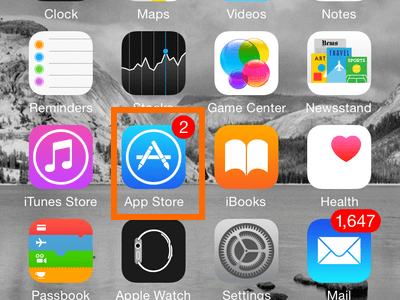 Way 5. Fix Bitmoji Not Working without Data Loss
One of the easiest ways to fix the Bitmoji not working issue is to use iMyFone Fixppo software. This advanced tool can fix various kinds of iOS issues without any data loss.
It comes with an easy-to-use interface that helps you repair your device within minutes.
It has full compatibility. All iOS versions and iOS devices are supported.
It has been recommended by Macworld, Cult of Mac, Payetteforward, Makeuseof and so on.

You can use standard mode of Fixppo to fix the Bitmoji not working issue on your iPhone.
Step 1.Launch iMyFone Fixppo tool on your computer and click "Standard Mode". Connect your iPhone to the computer and click "Next". On successful connection, the device will be automatically detected and proceed will the next step. If the device is not detected, you have to put it in DFU or recovery mode with the on-screen instructions.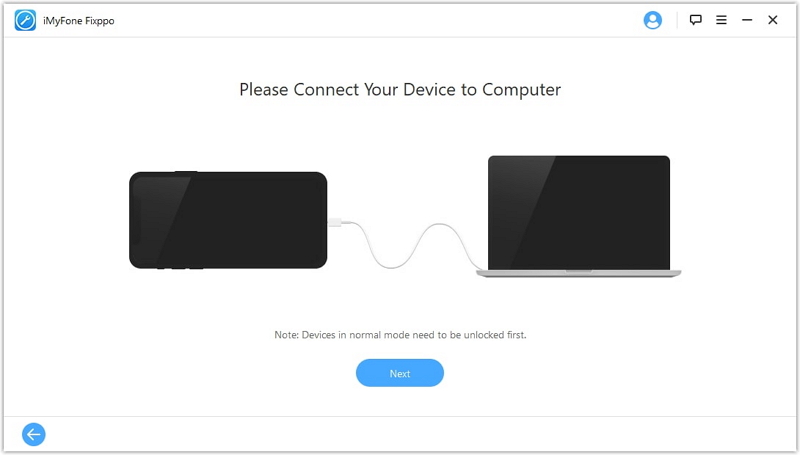 Step 2.Once your device enters the DFU or Recovery mode, Fixppo will detect your device correctly and show the latest firmware versions. Select the appropriate versions and click on "Download".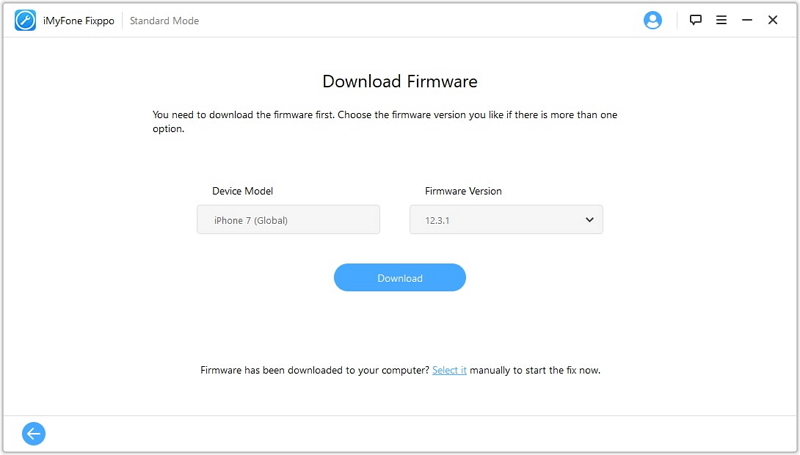 Step 3.Check your iPhone and the firmware information. When you click the "Start" button, the software will begin fixing the iOS issues automatically. Don't use the iPhone or unplug from the computer until the process gets over. Check if you can restart your iPhone normally. The Bitmoji not working issue will be resolved upon restart.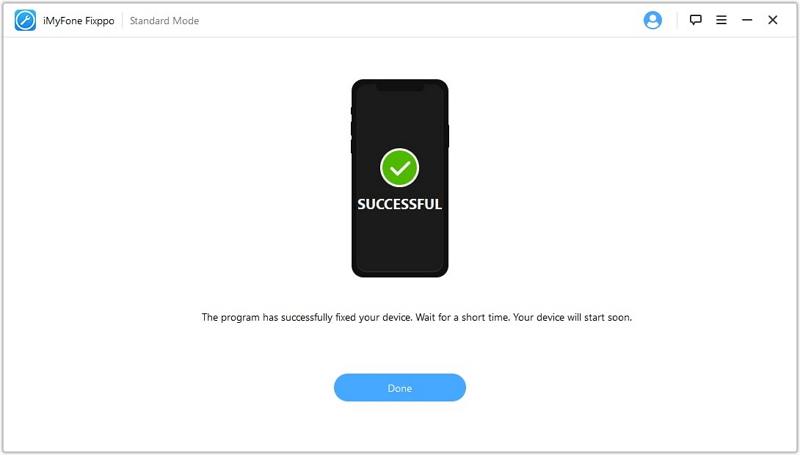 iMyFone Fixppo is the latest and advanced tool that can easily fix various iOS problems. It supports to fix most of the common issues. Many users have already benefited by using iMyFone Fixppo.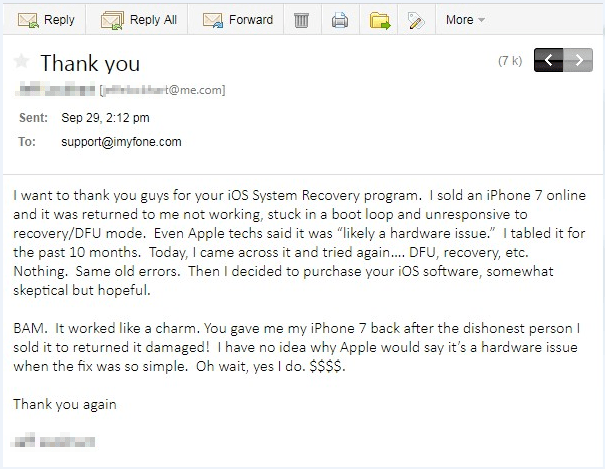 Way 6. Update Your Device
Most of the issues will get solved when you update the iPhone with the latest iOS version.
Step 1: Go to Settings -> General -> Software Update.
Step 2: Your iPhone will start checking for iOS updates. If you see a new update available, you need to download and install it.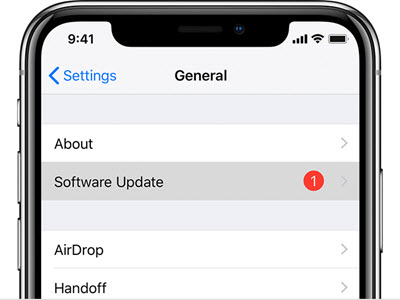 Way 7. Restore Device via iTunes
You can also restore the device via iTunes to solve various iOS issues. Please note that this way will overwrite all the current data, so remember to make a backup in advance.
Step 1: Open iTunes on your computer and connect your iPhone to it.
Step 2: Choose "Restore Backup".
Step 3: Next, Select the latest backup of your iPhone and click "Restore".
Step 4: Once the process is over, your iPhone will get restored to the previous settings.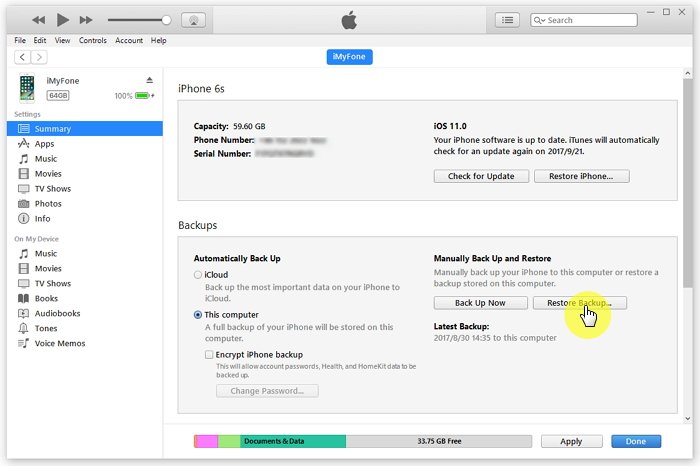 Note
Before you restore your device, make sure that you have created a backup of your device data selectively or fully. You can either use iTunes, iCloud or even third-party software for creating the backup.
Tip: How Do I Get My Emoji back if They are Deleted?
Suddenly if you find that the Bitmoji is deleted from your iPhone, you can use a professional tool called iMyFone D-Back. It will selectively recover the data you need.
The bitmoji not working issue can occur due to various reasons but luckily you can view all the methods given above if you are facing the same problem. Choose the method you trust and express your views in the comments section below.