Are you also experiencing a color problem with the iPhone 12 screen? Does it seem yellowish? You are not alone in the group of worried iPhone users.
Jasmine Atcho, an iPhone lover, bought iphone12 with great enthusiasm and ended up in disappointment. The iPhone yellow screen was fleeting at Jasmine. It was a terrible thing for her and against her expectations. She is not alone in the queue.
If you check into the Apple customer service site, you will see hundreds of other people complaining that their iPhone screen looks yellow.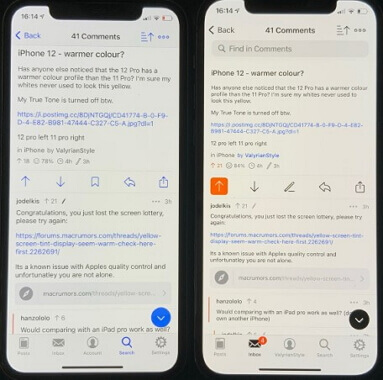 Why Does My iPhone Screen Look Yellow?
You must be wondering why the iPhone screen looks yellow? Why does a world-famous company have such a fault in their high-selling product? We will try to find some genuine reasons. Maybe there would not be a significant fault as you are thinking.
If you have a habit of switching blue light filters daily, it can make the screen look yellowish and even cause yellow dots or spots on your phone screen.
Night shift mode could be another culprit for iPhone 12 yellow tint.
True Tone can also be a reason for the yellow screen.
The problem may lie in the hardware of the phone.
3 Simple Fixes If iPhone Yellow Screen Shows
Whenever we have an issue, we think that it must be with the rest of the world. It's not the case. Many Apple users are complaining that my iPhone screen is yellowish. But the fact is that not all iPhones have that problem. Luckily, there are some simple settings by which you can set that unwanted iPhone yellow screen.
Change Colour Tint When iPhone Screen Turned Yellow
Usually, on phones, you have an option to change color tints. There is an option in settings where you can change the standard white light to a yellow tint for reading or writing purposes. That specific yellow tint saves your eyes from harmful rays and light intensity.
In the case of the iPhone 12, it is more than easy to switch the color tint. You have to follow the following directions:
Go to the settings and tap on the accessibility section.
Find Displays and tap it.
You will see the color filter button, please tap and turn on it.
Click Color Tint, and you can change the hues and maintain the desired intensity of yellow tint.
You can also switch it back to another tint by simply choosing the corresponding tint option.

Reduce White Point if There Are Yellow Dots on iPhone Screen
You might be wondering what white point has to do with yellow tint. It's all about adjustments and settings. There is no drawback of changing some settings to control the iPhone screen yellow tint.Another solution can be to reduce white points. It's easy to do so.
Go to the settings and tap on the accessibility section.
Find Displays and tap it.
Switch the button to reduce the white point.
The best part is that you can increase or decrease the intensity of bright colors as per your likeness. It will make your screen color look much better.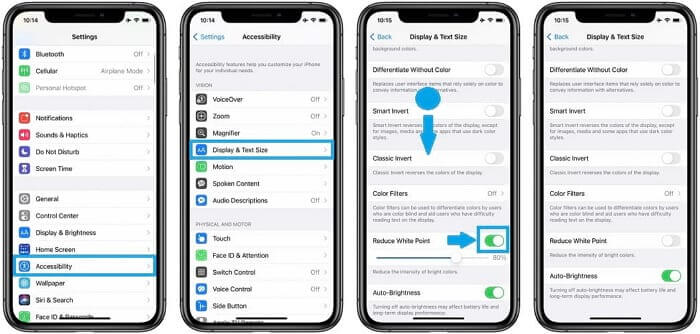 Update iPhone with Yellow Screen/Tint to the Latest iOS 15 Version
The 3rd simplest solution to fix the iphone screen yellow tint is to update your phone. As you know, any phone company like Apple or Android gives options of updating the system after every few weeks.
Apple has also considered the problem of a yellow tint. You can try to update your iPhone to the latest iOS version to get rid of the yellowish tint.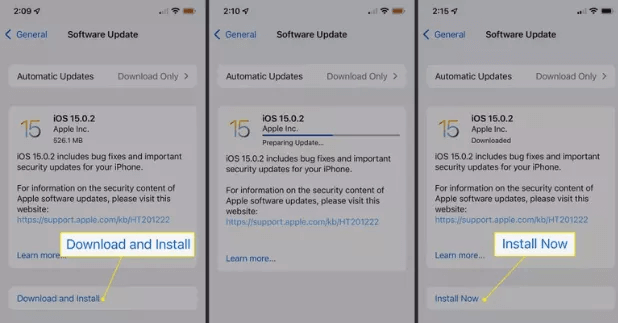 Top 2 Ways to Fix iPhone Yellow Screen of Death
If you have tried the above three methods and your iPhone still sticks in the yellow screen of death, you'd better use an advanced tool or contact Apple support directly.
Fix iPhone/iPad Yellow Screen of Death in One Click
One of the best tools to fix the iPhone/iPad yellow screen of death is iMyFone Fixppo. Fixppo fixes not only iPhone stuck on the yellow screen of death, but also many other iOS problems like: safari keeps crashing iPhone, iPhone WiFi keeps turning on, iPhone camera turns on by itself, and so on.
It is very simple to use and it can fix yellow dots on the iPhone screen with a 100% success rate.
You can use it to fix your iPhone/iPad yellow screen of death without losing any data.
It works with all iOS versions running from iOS 9 to later including iOS 15 Beta 4/3/2/1.

Let us guide you on how to use the program to fix your iPhone/iPad yellow screen of death.
Step 1. Connect your iPhone with the computer where you launch the program and choose the standard mode to fix your issue.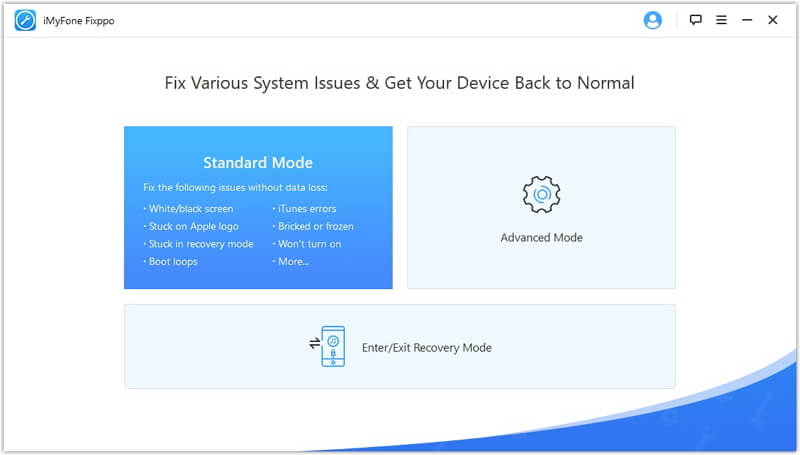 Step 2. If your device has been detected, please select an iOS version and click Download. Otherwise please follow the guide on the window to put your device into DFU or recovery mode.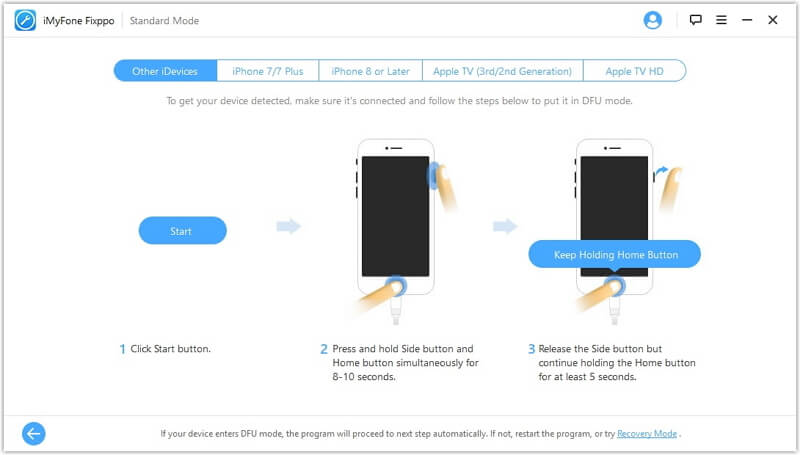 Step 3. It will take a few seconds to verify the firmware and extract software before fixing it. Then click Start and wait for a few minutes until the screen shows successful.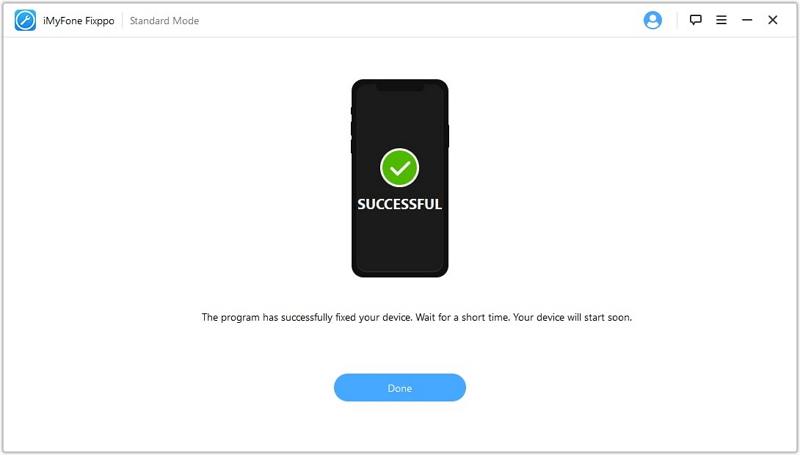 Contact Apple Support If There Is Something Wrong with Hardware
If you have done all the possible things at home as described above, remain sure the problem is in the hardware. The billionaire Apple company has the best customer service. They are always keen to help you out and solve your queries.
You'd better make an appointment with Apple before heading to a local Apple Support. Of course you can also use the online service to seek help from Apple. They may help you fix the hardware issue or change the phone.
Conclusion
It's not too bad that the iPhone screen looks yellow, but it must not be yellow all the time. The yellow screen can look better at night time only. There can be many reasons for the yellow tint.
If this yellow tint is hitting your nerves, you can fix the problem with few simple steps. Hopefully, this guide will help you in understanding and resolving the issue of undesirable yellow tint.