When you first get your iPhone 13, that is a beautiful thing. The screen is bright and shiny, the phone works well, and everything is perfect. But then something happens after about six months. Suddenly, that once-shiny screen looks like attacked by a pink line.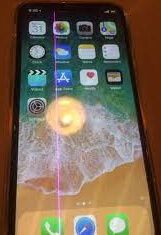 What happened? And why did this happen to you? Today, we will look at the possible causes for pink line on iPhone screen and ways to fix the issue.
Part 1: Possible Reasons for Pink Line on iPhone Screen Issue
Before finding methods to fix the pink line on the iPhone screen, you may want to know what caused the issue on your iPhone. We have discussed with Apple and list the possible reasons as below.
You dropped your phone in liquid (e.g., water or coffee). That can cause internal damage, which might be causing the problem with your screen now.
Your phone exposes to extreme heat or cold temperatures for an extended period.
You were somehow exposed to high levels of radiation. It causes static electricity and can also affect the phone.
Your iPhone has a pink line on the screen due to a software issue.
It may be hard to detect which reason is for your particular case. A more important thing you can do is find a way to solve the issue.
Part 2: Backup iPhone before Fixing iPhone Pink Line Issue
If your iPhone pink line on the screen issue is not critical, you'd better back up your precious data before fixing it.
You may use iTunes or iCoud to backup the whole data. iMyFone iTransor is also a reliable choice to back up your device. You can selectively back up and restore data which will be much faster and easier. The backup will also make your task of getting back to the previous version of iOS more convenient.
If the issue is fatal and it is impossible to back up your iPhone, you may choose a professional tool to fix your iPhone without data loss.
Part 3: Fix Pink Lines on iPhone Screen with Advanced Software
The good news is that most people don't necessarily have to lose their data when they get this kind of issue. Some of these cases can be fixed by themselves as long as you have the proper knowledge and tools.
iMyFone Fixppo makes it easy for you to repair iPhone pink line on the screen without losing data. It uses exclusive technology, is easy to use and will cost you less than you would if you visited a repair shop.
Full Compatibility: It supports all iOS devices including the latest iPhone 14 and all versions of the iOS software including iOS 16.
Repair All iOS Issues: If you've met problems like iCloud contacts not syncing, iTunes error 2009 and so on, it will get these issues repaired.
The Highest Success Rate: It offers a 100% success rate for repairing iOS system issues.
100% Reliable: It is developed by iMyFone company which has been recommended by Makeuseof, Macworld, 9to5mac and so on.

All you have to do is connect your Apple device and follow the instructions on the program.

Step 1. Click Standard Mode from the Home screen and get your iPhone connected to the computer.

Step 2. Put your iPhone into DFU or recovery mode, and then it will be detected. Choose the firmware version you want and click download.

Step 3. When Start appears in the program, click it and wait for a few minutes. Your device will restart after the process finishes.

Part 4: 5 Basic Ways to Get Rid of Pink Lines on iPhone Screen

Here are some basic troubleshooting steps that should work to fix the pink line on the iPhone screen. However, you may risk deleting the entire data on your iPhone.

Let us have a look at the difference between iMyFone Fixppo and the 5 basic ways.

1

Force Restart iPhone

Force restarting your iPhone can help solve this problem by clearing off all temporary files and such that are on the phone. It will help you to see if the problem is software-related or not.

For iPhone 8 or new generations, please press and quickly release the volume up or down buttons, then press the side or sleep/wake button for 10 seconds until your device gets restarted and displays the Apple logo.

For more device models, please check the details to force restart your iPhone.

2

Erase all Contents and Settings

Erasing all contents and settings on the iPhone can help solve this issue by removing any corrupted files or software that might be causing the problem.

Step 1: Go to your Settings on your phone and then go to General.

Step 2: Scroll down to tap on Reset and tap it.

Step 3: Tap on Reset All Settings and confirm with an Erase All Content And Settings. After the process finishes, you will need to set up your iPhone again.

3

Restore iPhone via iTunes

This method will remove all content from your device and restore it to a previously backed-up version. If there are no backups, then it will just restore your device to factory settings.

Step 1: Connect your iPhone to iTunes, then make sure it is fully charged.

Step 2: Please follow the step-by-step to put your iPhone into recovery mode.

Step 3: Now click on the "Restore iPhone" option that should be at the top of your screen. Wait patiently for it to finish, then once it is finished, you can set your phone up again.

4

Restore iPhone in DFU Mode

Restoring your phone in DFU (Device Firmware Update) can help solve problems with the software by getting it to an unmodified version. It is usually used for situations when you want to restore the firmware on processors like a motherboard.

If you are ready to restore your iPhone in DFU mode, please put your iPhone in DFU mode and use iTunes to restore your iPhone.

5

Restore iPhone via iTunes

If nothing works to get rid of the pink line on your iPhone's screen, you may need to get a new screen for the phone by sending it to Apple.

They usually offer repairs within 14 days of any damage. However, they will also charge you an out-of-pocket fee unless you have some plan for them like AppleCare+ or consumer protection from where you purchased the phone.

Conclusion

After following these steps above for how to fix the pink stripe on the iPhone screen issue, we hope this article would help you solve some of your problems in regards to it. Please let us know if there's any other problem by getting in touch with us or writing a comment below! Cheers!