iOS 16 come with many attractive new features. It is common that most people will choose to update their devices to the latest version iOS 16.
However, not everyone can enjoy the features of iOS 16 successfully because some people find their iPhone not turning on after update. This is not a new problem. It also happens when iOS 16 was released.
Before you get desperated, read this article and find the solutions that you can try when iPhone won't turn on after iOS 16 update. The methods are approved useful by many people including those who use the newest iPhone 14. We believe you would be able to use your device like before.
FAQs on the Issue of iPhone Won't Turn On after iOS 16 Update
Here we collect some of the questions frequently asked by Apple users about iPhone not restarting after update.
1.1 What Problems You May Meet When iPhone Won't Restart after Update?
When your iPhone doesn't turn on after iOS 16 update, these are some problems that you are likely to encounter. Have a look at them here:
The iPhone could be stuck on black or white screen.
Sometimes, it gets stuck on recovery mode.
You may see white Apple logo with black screen.
The screen sometimes gets black showing only the spinning wheel, but it won't go to home page.
You may also see your iPhone stuck on black Apple logo with white screen.
In addition, you might experience reboot loop problem.
1.2 Why Is My iPhone Not Turning On after iOS 16 Update?
You are now awared of what problems could bother you when your iPhone fails to turn on after updating to iOS 16.
In this section, we will let you understand why it happens. Check out the reasons now.
The first reason could be dead battery. As it is known that an update requires high battery, because it consumes a lot of battery during the update process. Therefore, we suggest you to take help of your charger and charge your device. Now check if the iPhone is able to turn on or not.
Second reason could be a system crash. Yes! Chances are that your iPhone isn't turning on due to an iOS crash and hence a factory reset can be your savior.
The third reason might be firmware issues. Your iPhone might not turn on because the firmware has been corrupted, or the installation of the firmware is not going well so that the firmware cannot work properly.
The last thing why your device doesn't turn on is the hardware glitch. This can be identified if any of the troubleshooting steps given in this article won't work out. Thus, you need ask Apple support for help.
3 Ways to Fix iPhone Won't Turn On after iOS 16 Update
Below are 3 methods that can help you when iPhone won't turn on after iOS 16 update.
Way 1. Fix iPhone Not Starting after iOS 16 Update
The Start Rating:
If forcing restart went fruitless, there could be the problem with software. So now we would like to introduce the specialized and professional software to you. It is iMyFone Fixppo iOS System Repair Tool which aims to fix all problems that is related with iPhone software without any data loss.
All the iOS/iPadOS/tvOS problems including iPhone won't turn on after iOS 16 update can be 100% fixed by this tool.
With all available firmware provided, you can even downgrade your iOS without data loss.
It supports all iOS devices from iPhone 6/7/8/X/XS/11/12/13/14 and all iOS versions from iOS 9 to iOS 16.
It is very easy and safe to use. All the iOS issues can be solved in just 3 steps without any plug-in and virus.
Let us understand how you can use this tool to fix iPhone not turning on after update.
Step 1 – Start iMyFone Fixppo and select 'Standard mode' given on the main page. Now connect your iPhone with the PC using USB cord and click Next.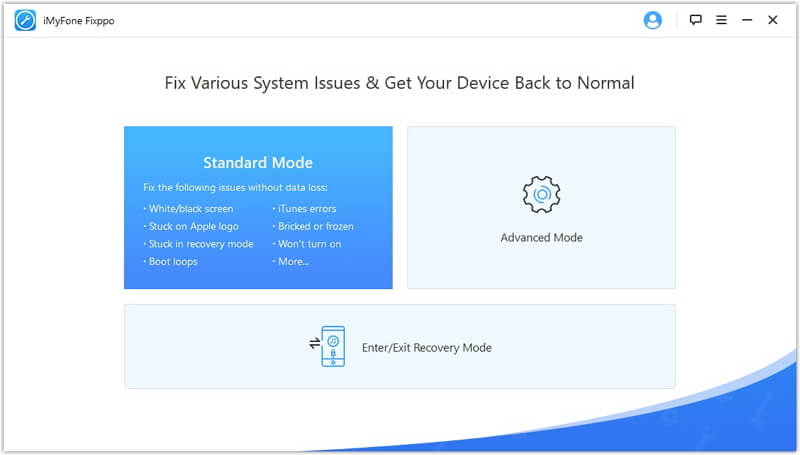 Step 2 – If your device can be recognized, you can skip to the next step. If not, you need to click on the 'Start' button and follow the instruction to get your device into DFU mode or recovery mode.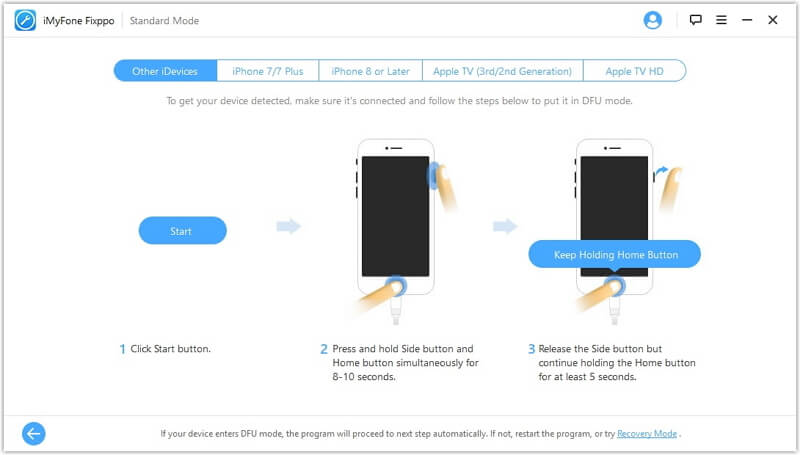 Now, iMyFone will successfully detect your iPhone and provide you all the supported firmware for your device. You just need to choose the version you perfer, and click on 'Download' for this and the rest will be done by the software itself.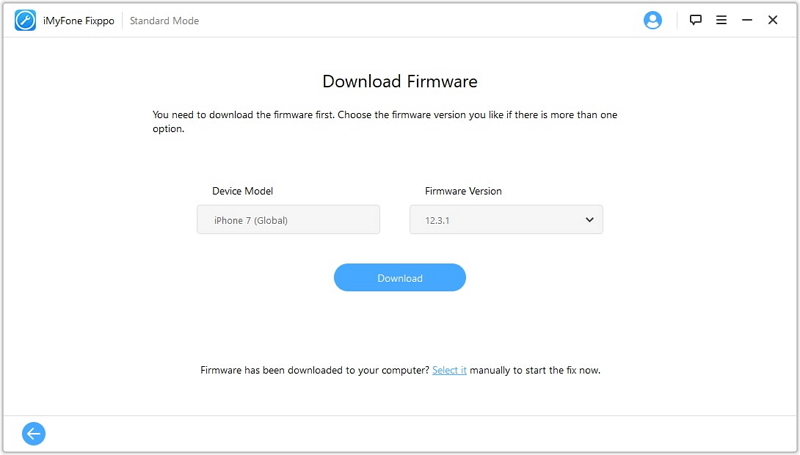 Step 3 – Now, wait until the firmware gets downloaded and verified. When it is done, click on the 'Start' button and you are good to go now. Your iPhone will turn on and be back to normal soon.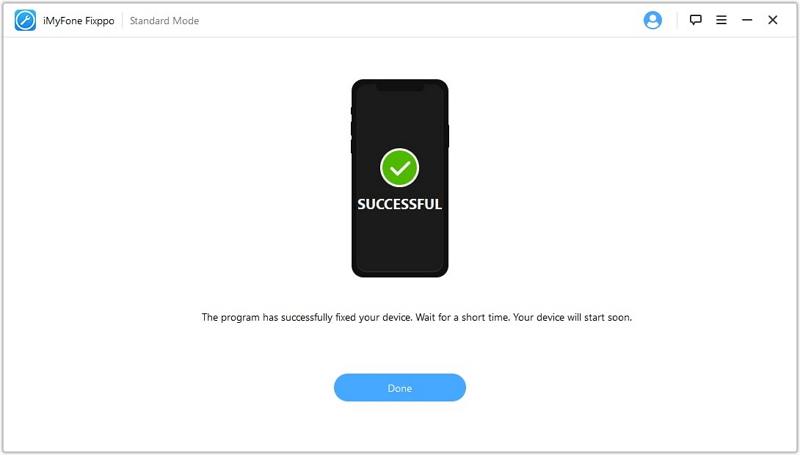 iMyFone Fixppo iOS system recovery tool is an helpful and reliable tool that wins positive feedback from users. Why not download it now?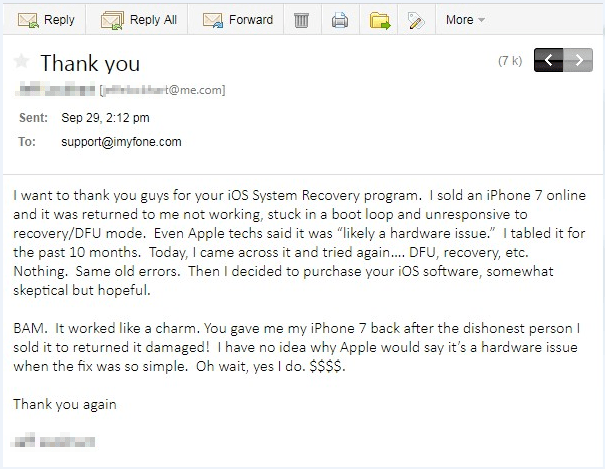 Limited Time 10% OFF Coupon Code for iMyFone Fixppo: YTR5E7
Way 2. Use iTunes to Restore iPhone to Factory Settings
The Start Rating:
Restoring iPhone with recovery mode is the last thing you can try when your iPhone isn't turning on after iOS 14/13 update. However, this method will get all the data on your iPhone erased.
So, Apply this method when you are sure you don't care about your data.
Run the latest iTunes on the PC and get the PC and device connected via a USB cord.
Then put your iPhone into recovery mode. You can also watch the video for more detailed instructions.
After iTunes detects your device, you can click 'Restore' button to restore your iPhone. When it restarts after finishing the restore process, your iPhone will turn on and you can go into setup process.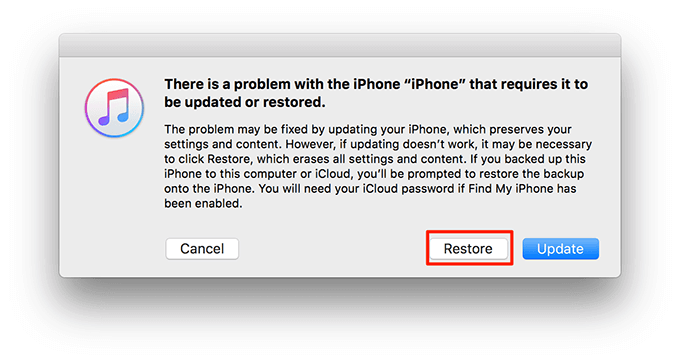 Way 3. Force Restart iPhone If iPhone Not Booting after Update
The Start Rating:
The first thing you should try when your iPhone won't turn on after iOS 16 update is to force restart it. You might have heard about this before. But in case you don't, here is how to carry out force restart on your respective devices.
For iPhone 8/8 Plus/X/11/12: Quickly press and release 'Volume Up' button and then 'Volume Down' button. Finally, keep pressing 'Power' button until Apple logo appears.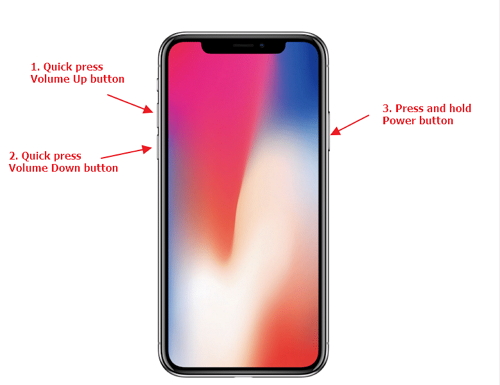 iPhone 7/7 Plus: Users need to press 'Volume Down' and 'Power' buttons altogether. Release the buttons when you find Apple logo on the screen.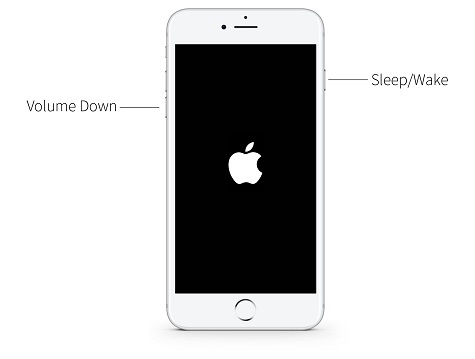 For iPhone 6 or earlier models: Press down the "Power' button and the 'Home' button for about 10 seconds. Let go the buttons when the Apple logo appears.