Everyone has had that moment of clicking on the send button for a message they instantly regret. Maybe it is a quick bit of incorrect info for a work project with a partner or sending an intimate text to someone other than the intended target. Either way, being able to unsend iMessages is critical in today's fast-paced, highly mobile-ready world. Luckily, iOS 16 provides some features that help you avoid the awkward reality of sending a message to the wrong person or taking back something you wish you hadn't said.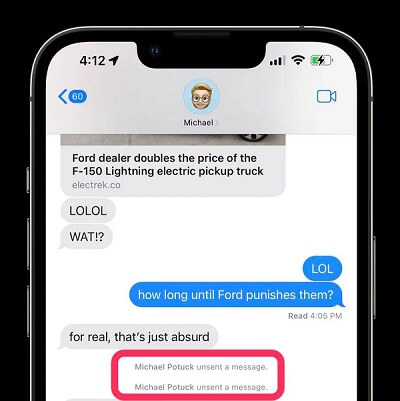 How to Unsend a Message on iPhone?
1

Update to iOS 16
The latest version of iOS released in June of 2022 includes a new feature. When you ask can you unsend an iMessage, the answer is yes! The feature is labeled as Undo Send and allows you to retrieve anything you recently sent through the messages app. For it to work, you must long-press on the message you wish to unsend.
This new feature only works with conversations that include blue bubbles (meaning sent through iMessage and not SMS. Once it is completed, the person you sent the message to will never see the message.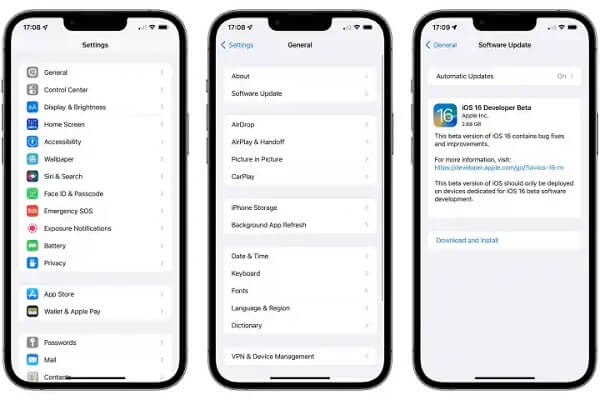 2

Will it Work on Older iPhones?
The version of your iPhone does not matter as long as it supports iOS 16. More importantly, using the iOS unsend message feature depends on if you have the iOS 16 Beta or the second Beta. With the first version, you will not be able to unsend messages sent to anyone running non-iOS 16 devices.
If you are on the second version of iOS 16 Beta, it will work, but with a caveat. There will be the words Edited attached to the automatically sent edited version of your message.
3

How to Unsend a Message on iPhone
To use the Undo Send option, you need to:
Tap and hold on to the text bubble.
Wait for the menu to appear.
Select Undo Send.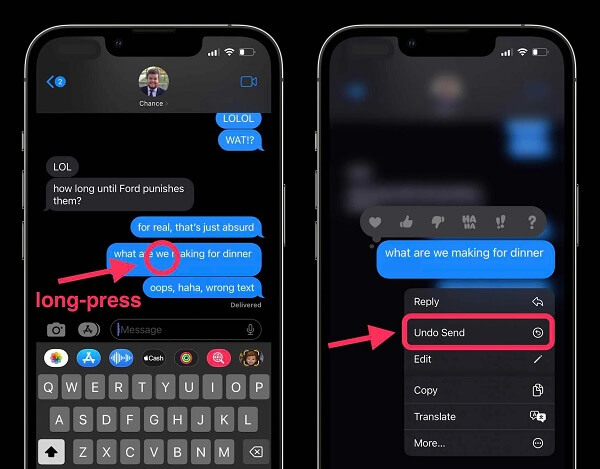 It is important to note that this feature has a time limit. Any message sent longer than 15 minutes ago will not work. However, you can recover a message removed in this way for up to 30 days from when you opted to unsend it from the conversation.
4

How to Edit a Sent Message on iPhone
Sometimes you have a message meant to be sent, but includes incorrect information or embarrassing misspellings that autocorrect to something completely different from what you meant. Using the edit feature in iOS 16 instead of the unsent messages options is a good idea.
Tap and hold on to the text bubble and wait for the menu to appear.
Select Edit. Then change the text you wish to update/edit.
Resend your iMessage.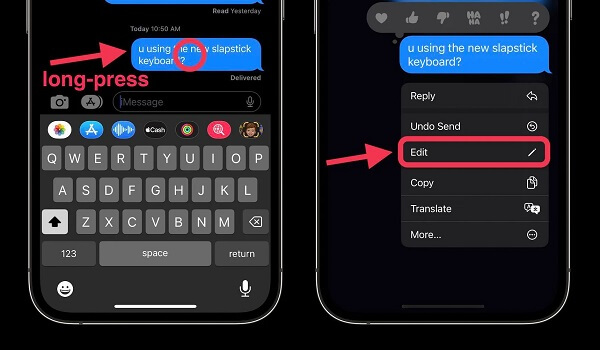 Again, there will be a notification under the bubble that says Silvered - Edited. That way, the recipient will know you changed the text, but will not know what the original iMessage contained.
5

Can Others View My Unsent Text?
You have 15 minutes to use the iOS unsend message feature. If at that time, the recipient reads through their messages, you are out of luck.
Keep in mind that if you try to unsend a message to older versions of iOS (15 or earlier), you may think it is gone, but they will still have it on their device. That means the embarrassing text you wish you hadn't sent will still go through to the intended user.
Bounus Tips: What's the Difference Between "Delete" and "Unsend" Message?
Communication via iMessage is a two-way street. When you unsend iMessage, you remove it from the conversation. When you decide to delete the message on your end, which does not remove it from the conversation on the recipient's end.
Anytime you unsend a message, it is automatically deleted and moved to your recently deleted section of the message appl. You can recover for up to 30 days from when you originally unsent the text.
To Conclude
The new iOS 16 is bringing all kinds of excellent features and options for Apple device owners. Using the unsend iMessage feature is a sure way to prevent embarrassing spellings, content, or intentions from being read.
Upgrading to the latest version of iOS is the only way to utilize this feature, and you will need to be in a conversation with another user who has done the same. If you don't want to update iOS 16 manually, I recommend you use iMyFone Fixppo to help!