Question
So Telegram on iPhone 6s (latest iOS) has been working fine and then suddenly stopped. Everything else is fine with the Telegram account itself, able to log in via the web and another android device. It seems the issue is only on this iPhone itself.
Having tried reinstalling, rebooting and network reset. Nothing helps. We're even able to read the notifications of Telegram, but it just stuck on "connecting" when opening. Anyone can help?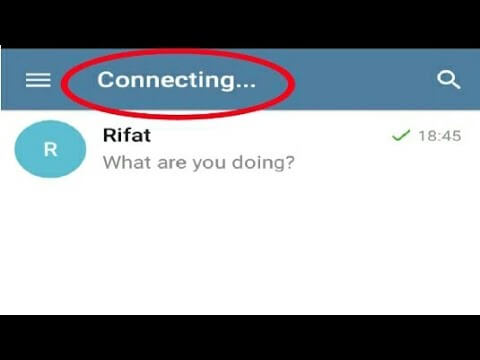 There are many reasons why it may not be connecting to the internet, and sometimes it can be difficult to pinpoint the exact reason as to why that may be. However, this article will help you to figure out exactly what the issue is and what you can do to fix it.
Why Is My Telegram Not Connecting?
The main reason that it cannot connect could be the network itself. Whether you're having problems with the speed of your network, or it has just stopped working altogether, you can follow the guide to check the internet.
Your Telegram could also be having issues connecting if the relevant permissions are disabled. It is very important, especially because nowadays, there is a lot of sensitive and important information that is stored on your devices.
Another reason why Telegram call failed to connect is there is too much cache data stored. It is the information that is stored up on your device after you visit a certain website or app.
It is there to help speed up the site loading time, however, if there is too much of it stored, it can slow down the running or even stop connecting.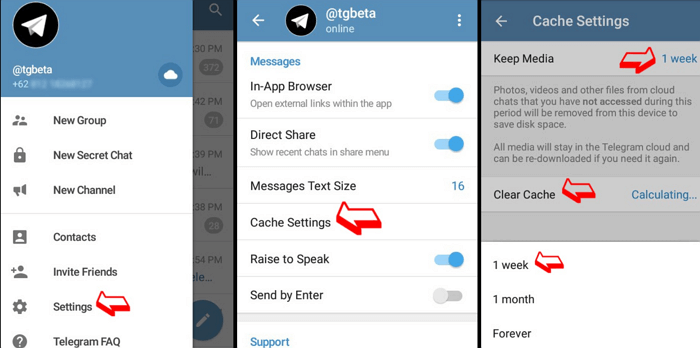 The use of firewall interference and antivirus software can also contribute to the fact that your Telegram is not connecting to the internet.
As their job is to do everything that they possibly can to avoid your device being attacked by a virus or anything else that may harm your device. Therefore, they will do whatever it takes to stop that from happening, no matter how it effects the running of things.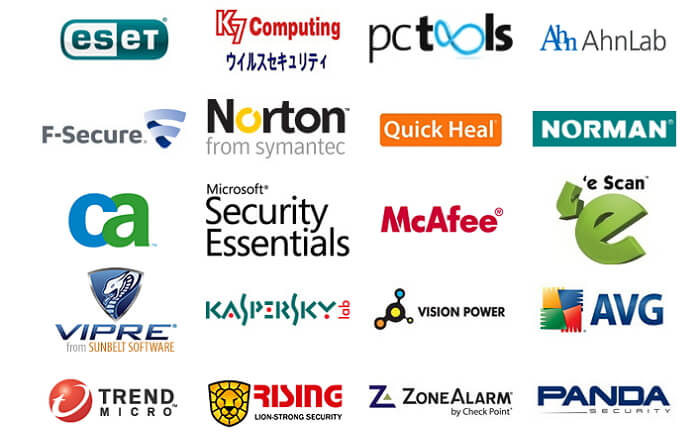 The setting or system issue on your device may also cause a Telegram connecting issue. Follow the article to change some settings may solve the issue.
If there your IP address was blocked by Telegram, a Telegram connecting problem may also happen. Contact Telegram via Twitter is a quick way to solve the issue.
However, if you are sure that none of these things are causing connectivity issues, then it could simply be that Telegram is down. You can find this out by hopping onto the internet and searching "Telegram – Downdetector".
If it is the case, then there is not much that you can do. Because they will be doing everything that they can on their end to ensure that the app is up and running again in no time.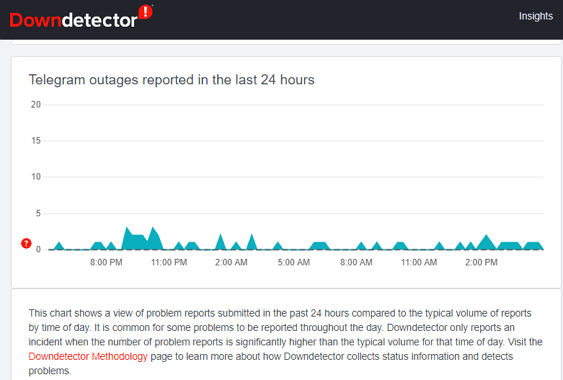 How to Fix Telegram Telegram Connecting Issue
Once you have established the issue, you can then begin to solve the problem to get Telegram working normally. Clear cache and data on Telegram or the browser, turn off Firewall Interference or Antivirus, could sometimes solve the issue. And there are quite a few different other methods.
Fix 1. Check The Internet
If you are using any VPN, DNS, or Telegram Proxy, then that could be the reason Telegram isn't connecting. You should change the location on your VPN or proxy app and attempt to connect it again.
If it still isn't connecting after that then, you should disable them and use mobile internet or Wi-Fi, and if that works then there could be an issue with your plan or that there is no bandwidth left.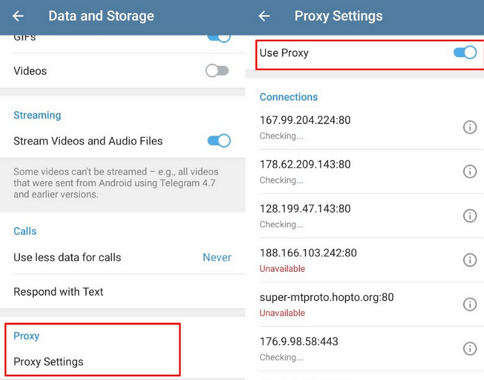 Fix 2. Check and Enable Relevant Permissions
You may have already given the relevant permissions when you first installed the app, however, things change and updates to your phone and the app can alter these permissions. Therefore, you need to check that they are all correct and change any that aren't.
To do this simply head over to settings in the app and there will be a section specifically for app permissions. Click on this and make the necessary changes to the permissions, so that the app can work as normal.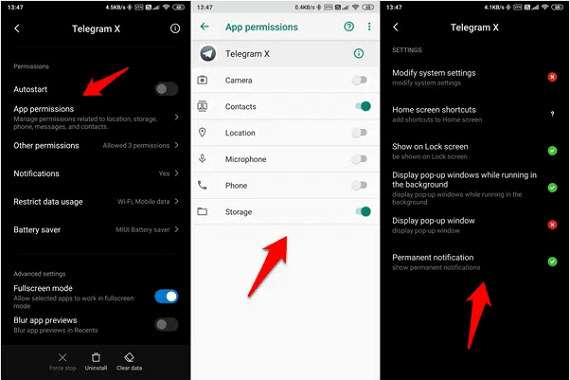 Fix 3. Turn off Data Saver or Low Data Mode
Turn on Data Saver or Low Data Mode will reduce data use or block it from apps altogether, but it may cause telegram not connecting on iOS on Android devices. Therefore, to avoid this happening you can turn off the data saver or or Low Data Mode.
If you want to use Data saver mode on your device, add Telegram to the whitelist can solve the issue. Here are the steps: Find Telegram and long-press > click App info > select Data usage > Enable Unrestricted data usage.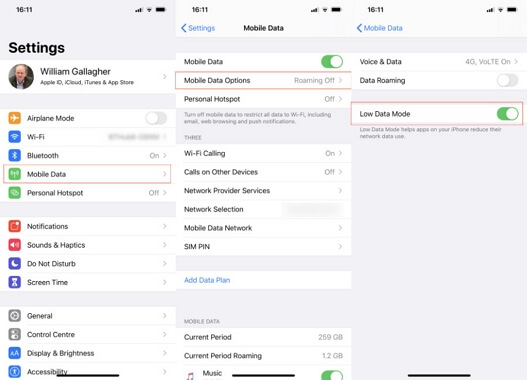 Fix 4. Disable Battery Saver Mode or Low Power Mode
Battery saver mode or Low Power Mode is there to ensure that there aren't certain things that aren't using up all of your battery. Therefore, this may stop Telegram from connecting to the internet.
Turn off the mode then your app should go back to working as usual. However, doing this it can mean that your battery will be drained a lot quicker.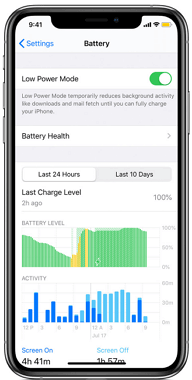 Fix 5. Disable Ad Blocker
These are important for protecting you against things on the internet, but they can also cause some issues, and your ad blocker may be the reason your Telegram cannot connect. If it does, then connect after you have disabled your ad blocker then you may want to take a look at your settings to ensure that this issue does not arise in the future.
Fix 6. Update/Reinstall Telegram
Sometimes apps do not work at all without being updated. Therefore, you need to double-check if your app is up to date. If it is not, you need to upgrade it. When doing this, you also need to delete cache data. Once you have done that, it should connect and be working as usual. You can also choose to uninstall the app and then reinstall it.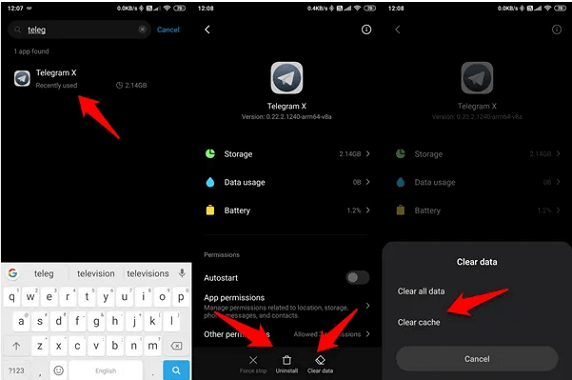 Fix 7. Reboot Your Devices
Sometimes, there are system glitches if your device keeps working. You can unplug your device or turn it off using the power button and leave it for a little while. It will just help to reboot everything and ensure that everything runs smoothly.
Fix 8. Contact Telegram by Twitter
If your IP address was blocked by Telegram or you are still unsure what the issue is and how to solve it, you may contact Telegram on Twitter. The support will help you find out exactly what the problem is and help you solve the issue.
Contacting them on Twitter is probably the easiest way, as they have a customer service account to help people with their various problems. They also reply quite quickly, so you should be able to get the issue resolved quickly and easily!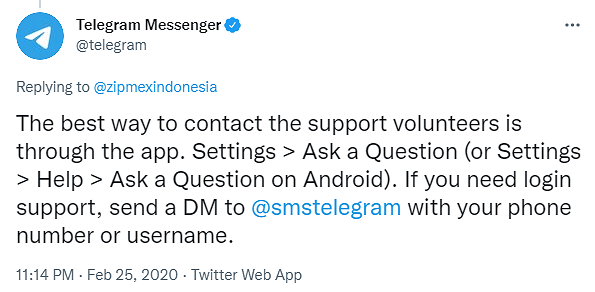 Conclusion
There are many different reasons why your Telegram app may not be connecting to the internet, but as we have established through this article, there are many things that you can do to fix those issues.
Hopefully, you will have been able to pinpoint the actual issue with your app and have been able to solve it so that your app will now connect to the internet and will be back to normal.