Large screens can usually give us a better visual experience in games, videos, etc. But no matter how the mobile phone develops, it cannot be as big as the TV, because then we will bring great inconvenience to our daily use. What if I tell you that you could enjoy both privileges with a single device?
Not just your smartphones but also your tablets and laptops. You can enjoy your favorite shows and web series on TV through that device. That would save your money on a smart TV. The device I am referring to is the Belkin Miracast video adapter.
This article will find out about the Belkin Miracast video adapter and will deeply analyze its functions. We will also compare it with other devices offering the same service. Hopefully, you will come to this decision whether it is worth buying or not.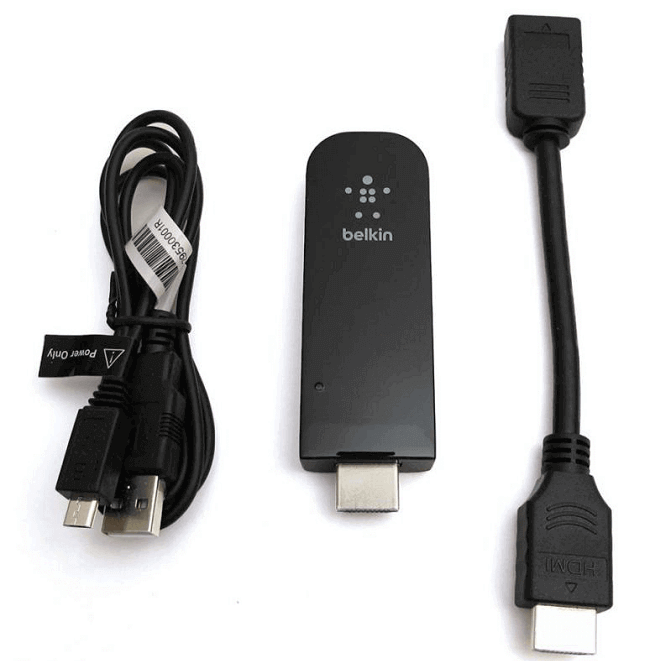 Part 1: What is Belkin Miracast?
Belkin Miracast video adapter is a compact device that has an HDMI connector at its end and a USB port. It connects mobile devices with TV and mirrors content from small screens to big HD screens.
The USB port is there to provide power to the dongle. It connects to the TV through an HDMI socket and to mobile devices via WIFI direct, allowing two devices to connect wirelessly.
If you have some difficulty connecting it directly through HDMI, an HDMI cable can assist you.
Part 2: How Does Belkin Miracast Work?
Many of you might be wondering about Belkin Miracast video adapter compatibility. It is compatible with Samsung, HTC, Android 4.2 onwards, LG G2, Motorola, and Sony Xperia to address your concern.
2.1 Work with Android & Samsung Phone
In Android mobile phones, it is found in the Display Setting under the name of Cast screen or wireless display. So you just have to connect with direct WiFi, then you're good to go. Just make sure you have connected the Miracast to the TV HDMI and ensure the USB cable is connected with the TV to provide power.
The Usage step of Android Phone (Android 4.4 Version):
Click Setting > Tap on "Display".

Click Wireless Display and turn it on.

Choose the TV to connect
The Usage step of Samsung (Samsung Galaxy 5):
Swipe down from the top of the screen to reveal the Notification Panel. And then choose Screen Mirroring
Then choose and connect to TV.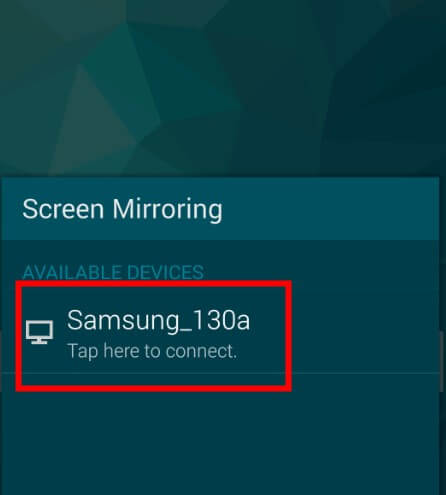 2.2. Belkin Miracast Work with PC
In PC Belkin Miracast video adapter compatibility is with from Windows 8.1 onwards.
Here also all the steps are the same, apart from WiFi direct connectivity. It is under the device option that pops after clicking on the lower right corner of the start screen.

Then click on Project, which will allow you to add a wireless display. From the WiDi laptop, the steps are simpler. There you just have to write WiDi in the start menu.

A Wide application will appear. Click on it to launch it, then just find your TV and connect it.
Part 3: Belkin Miracast Video Adapter Review
The review gives a second opinion and is essential to read before making a decision. This will give an insight to the customer and will help him make a rational decision.
The gadget was tested with Samsung S8 +, and the results were as follows. The Belkin Miracast video adapter comes in very handy in carrying around. Due to its size, it causes no problem while inserting it into the HDMI adapter.
At one time, there was a problem because of awkward positioning and lack of space behind the TV, but the HDMI cable came to the rescue.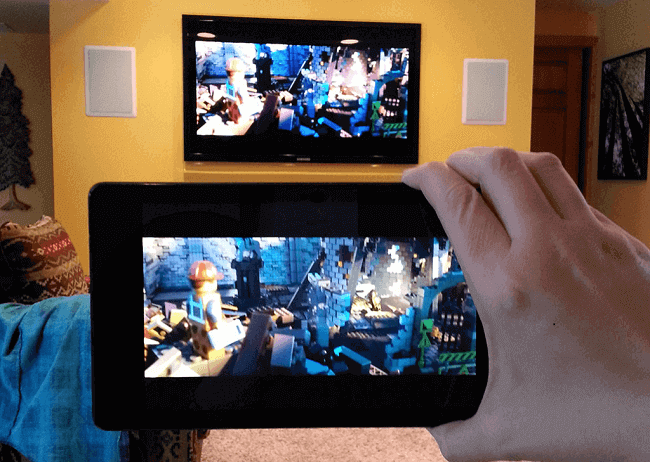 The connectivity was very efficient, and all the steps and updates were on display, which was helpful. People who are not into technology, like baby boomers, would find it convenient.
There were some issues where the connection would drop, and the TV had to be restarted, but it was not frequent.
We had a great experience with both video and sound quality. Some people complained about edges being cut on the TV screen.
Tech support of Miracast clarified that one has to adjust the screen ratio to overcome that. Although, We have not faced that issue on our S8 plus.
One problem which we faced and others also complained about was lagging while playing a game. This made us look at our mobile screen because the TV screen was a little delayed. Miracast tech support has said that they are working on it.
They are hopeful that they will solve the issue in the next update.
Part 4: Chromecast vs. Belkin Miracast
Chromecast offers the same services as Miracast, and that makes it a competitor of Miracast. It is essential to compare these two devices to find out which will suit you best. Chromecast is smaller than Miracast in size, but it does not come with an HDMI charger.
The steps are similar to Miracast when it comes to operating it. Both the devices have their fair share of pros and cons, and you have to decide which suits you best and where you can compromise. Here we will compare its' options:
When it comes to setup, both are very easy to set up. The problem arises while using it. Miracast just simply mirrors the whole screen on TV; on the other hand, Chromecast requires us to choose an app that supports running on the big screen. So here the point goes to Miracast.
While playing any video, the screen has to be awake all the time while using Miracast. This is not the case with Chromecast, where it continues to play the video even after screen sleep.

Thus, it helps the battery life of the phone, and it does not heat up. Chromecast is looking like the winner here.

Miracast works well with mirror videos and is compatible with almost any device, but it is not suitable for hardcore gaming.

In Chromecast, Open SDK(Software development kit) is absent, making it less convenient, and its app compatibility is limited. It gives a huge blow to Miracast in terms of price, which is less expensive than that of its adversary.

Part 5: More info about Belkin Miracast

Q: How do I connect my Belkin Miracast?

Ans: This question has been answered in paragraphs from 3 to 5. If you are still finding any difficulty, kindly contact tech support of the Belkin Miracast video adapter.

---

Q: Does Belkin Miracast need WiFi?

Ans:It requires Direct WiFi, which works even if the internet is not working. This WiFi technology is separate from internet WiFi.

---

Q:Can Iphones use Miracast?

Ans: No, It does not support IOS devices. IOS has its software which mirrors the phone screen on the TV.

---

Q:What devices support Miracast?

Ans: We have already addressed this query in the article, but here it is again if you didn't go through it: Belkin Miracast video adapter compatibility is with Samsung, HTC, Android 4.2 onwards, LG G2, Motorola, Sony Xperia, Windows 8.1 onwards in PC, and WiDi laptops.

---

Conclusion

In conclusion, every individual should look at his needs before making any buying decision. For example, if you want a device that can multitask while mirroring, and you don't wish to do gaming, then go for it. On the other hand, if you are on a budget and apps you use are compatible with Chromecast, then Chromecast would be best for you.