Have you ever watched a movie on your phone with your friends while sharing a small screen? It's an unsettling experience, and you might not fully appreciate it because it's difficult to see the details. When playing video games, the same thing can happen. However, why settle for a smaller screen when you can both stream at the same time? You may wonder if this is even possible. Yes, it is. As technology advances, anything is becoming possible.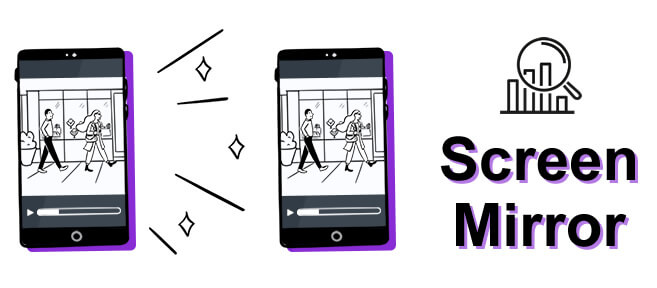 Why You Need to Mirror Between Phones? Is It Possible?
A short and quick answer to the question is yes. These days, technology has ensured that users cannot only share multimedia files, but also screens. But why would anyone want to share their phone's screen in the first place?
Instead of having your little brother watching from over your shoulder, disturbing your gaming sessions with heavy kiddy breathes and all those other annoying things kids do, you can just mirror the screen to their phone and have some space
You can also allow your friend to watch a movie with you, but on their own phone by mirroring
How to Mirror from One Android to Another Android?
There are many apps that you can download from the Play store or Google directly; but in this article, I will show you two trustworthy apps that can easily do the job without stress and glitches. These apps are ScreenShare and ApowerMirror.
ScreenShare is one of the most popular tools for mirroring your Android phone globally, and more importantly, it is all free.
Download and install ScreenShare on both phones.
Connect both phones via Bluetooth.
Open the app on both phones.
Hit the "ScreenShare service" from the "Menu" of the app.
Set the wireless network as Bluetooth on both phones.
The "Connected" message should pop up on the device you connected in the devices list if you follow the steps accurately.
Now you can go on and enjoy the experience of Android screen mirroring.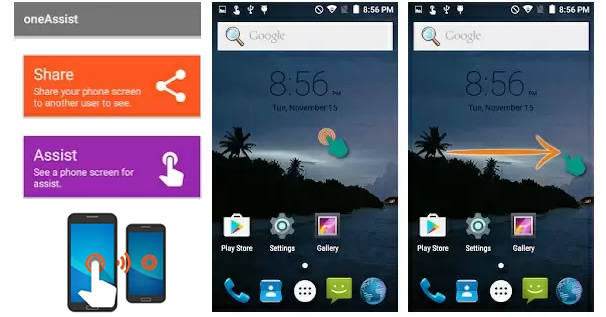 Download and install ApowerMirror on both phones.
Connect both phones to the same Wi-Fi network and launch the app on both of your devices.
On one phone, go to "Wi-Fi Connection", click the blue-colored mirror icon at the bottom part of the screen. It will automatically search for devices.
From the devices on the list, select the name that matches your other phone, i.e., the one you want to mirror to.
Hit "START NOW" and your screen will be mirrored to the other one.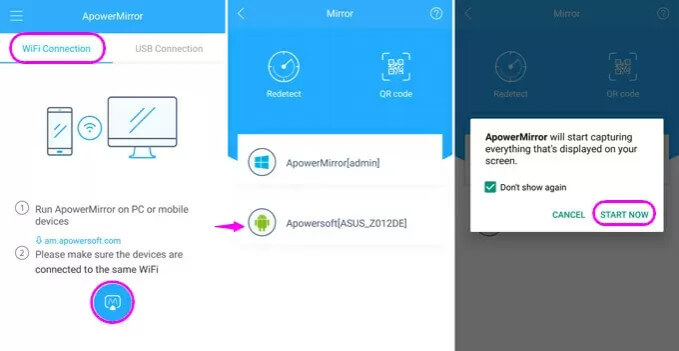 How to Mirror from iPhone to iPhone?
Mirroring from one iPhone to another iPhone is just as easy as that of Android. In fact, ApowerMirror is capable of handling both phones. And that puts ApowerMirror as one of the best options for iPhone users to consider. Other options include AirView, TeamViewer, etc.
Download and install ApowerMirror on both iPhones.
Connect both iPhones to the same Wi-Fi network.
Add "Screen Recording" to your Control Center by going to "Customize Controls" on the streaming device.
Run the application on your phone, and click the blue icon button on the streaming device to look for other devices. Select your iPhone from the list.
Launch Control Center. Press the "Record" button firmly and enter the name "ApowerMirror." Then, to begin mirroring, click "Start Broadcast." The iPhone screen will then appear on the other iPhone.
AirView takes advantage of AirPlay technology to mirror videos but, you have to jailbreak your iPhone. If that's not a problem for you, follow the steps below:
To find the app's installer, look for the AirView.ipa file. After that, download it to your iPhone. It will act as the receiver and run it.
Then, on your streaming device, open the video you want to watch and tap the video sharing icon located next to the forward button.
To begin connecting, select your iPhone from the list of detected devices.
When you're finished, you'll see your video playing on the other iPhone.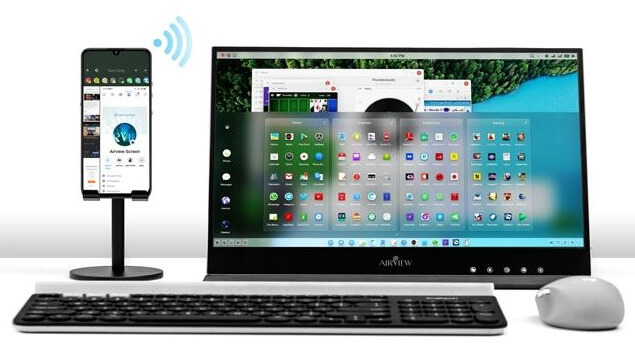 Can I Mirror Between iOS and My Android Phone, How?
Yes, you can mirror between iOS and Android devices. Let's check how to mirror from Android to iPhone or iPad first.
Mirror from Android to iPhone/iPad
Through Airplay
Go to the Play Store and install AirPlay for android.
Enable Airplay or "Screen Mirroring" from the iOS device's "Control Center.
Start the AirPlay app on the Android device, then choose the iOS device from the "Wireless Display" menu.
The mirroring will begin immediately you tap "Screen Mirroring to Other Phone."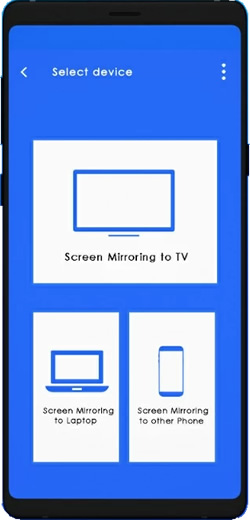 Through Screen Stream over HTTP
Install Screen Stream over HTTP from the Google Play Store on your Android smartphone.
Start the app on your Android device and click the "Start" button.
When you press the "Start Now" button, the tool's IP address will be displayed.
Open a web browser in iOS and put the IP address in the address field, and the Android screen will automatically be mirrored to the iPhone.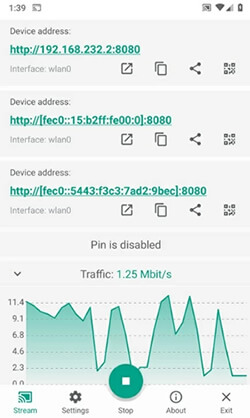 Mirror from iPhone to Android
Through ApowerMirror
Download ApowerMirror for both Android and iOS.
Connect your Android and iOS to the same Wi-Fi network.
Launch ApowerMirror on the iOS device and tap the blue "M" icon to search for available device.
Tap on the name that matches your android device from the search result.
Open the Control Center of the iPhone.
Select "AirPlay Mirroring" and "ApowerMirror + Android device name".
If done correctly, your iPhone screen should show on your android device.
Through LetsView
Start it up and connect your iPhone and Android to the same Wi-Fi network.
The software will start looking for available devices.
Open the Control Center of your iOS.
Open the "Screen Mirroring" menu and choose your Android device from the list.
And that's it; your iOS device's screen will be duplicated on your Android device.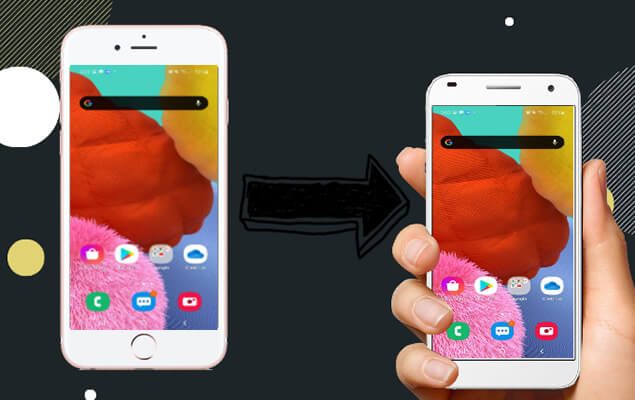 Conclusion:
Screen mirroring is a cool feature that has graced our smartphones and you should take advantage of it. Whether your device is iOS or Android, there's always an app that can do the trick for you. ApowerMirror, especially proves to be the most versatile of such mirroring apps as it is available for both iOS and Android.
FAQs: Tips You May Want to Know
1

How do you sync two phones together?
Syncing two phones usually depends on the OS of the phone. For example, you would consider iTunes for iOS, and Bluetooth for Android. But the good thing is there's now a do-it-all program called iMyFone iTransor that can handle any type of OS, be it iOS, Android, or even Huawei. iTransor lets you transfer virtually all types of files across different OS.
---
2

Can you AirDrop to an Android phone?
The simple answer is no. As at the moment of writing this article, you can't AirDrop to an Android phone. But there are many other alternative ways to share files between Android and iOS, with iMyFone iTransor being your best shot.
---
3

How to mirror phone to phone without Wi-Fi?
It used to be impossible to achieve mirroring without a Wi-Fi connection, but with ScreenShare, you don't need a Wi-Fi connection. All you need are the two devices and Bluetooth connection. However, this method only works for Android devices only at the moment.
4

How to mirror a phone to another phone without them knowing?
Do not get your hopes high; you CAN'T possibly mirror a phone to another phone without the owner of the receiving phone not knowing unless you take their phones away from their presence while doing it.