How to Mirror Broken Screen Android to PC?
Category: Mirror Tips
3 mins read
Accidents happen, and damaging your smartphone's screen can be a real setback, affecting everything from functionality to app performance. But fear not! In this article, we'll guide you through four effective methods to mirror your broken Android screen to your computer.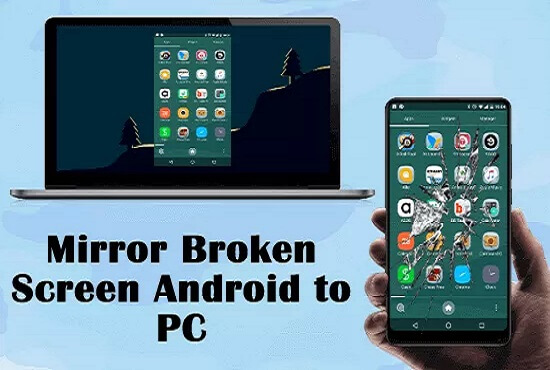 With these methods, you'll be able to use your broken phone on your PC and even gain control over your Android screen, despite its damaged state. So, let's explore how to seamlessly connect and navigate your broken Android screen on your computer, ensuring a smooth and uninterrupted experience on your PC.
Part 1. Can I Mirror Broken Screen Android to PC?
Yes, you can mirror your Android's broken screen to a PC and even control it using some tools. This enables you to view and interact with your Android screen on your PC, providing an effective solution for accessing and managing your device despite the screen damage. With the right tools and instructions, you can mirror and control your broken Android screen effortlessly and clearly view your phone screen on the PC.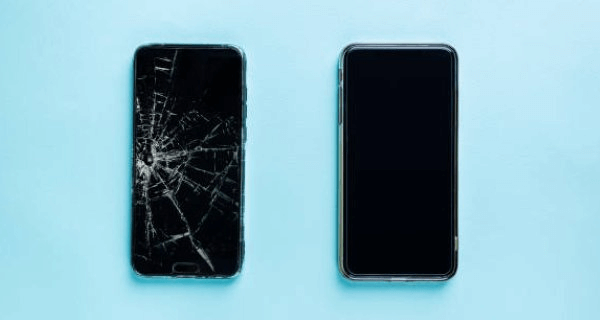 Part 2. Best Tool to Mirror & Control Broken Android Screen on PC
Experience seamless mirroring of broken-screen Android devices on your PC with iMyFone MirrorTo , a top-notch mirroring app. Offering multi-device connections and compatibility with all Android devices, iMyFone MirrorTo has received high praise from users, thanks to its user-friendly interface and intuitive instructions.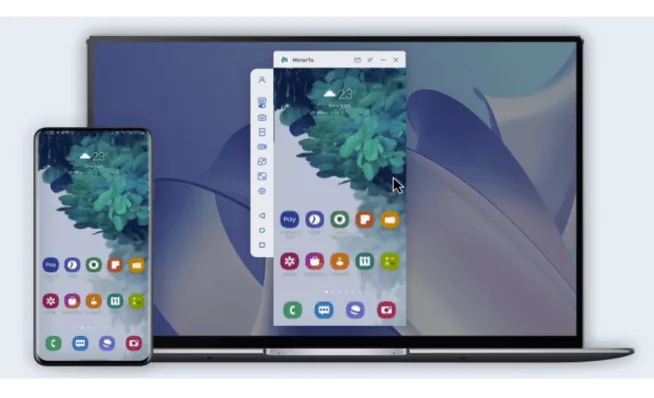 Key Features of MirrorTo:
Clearly view and use an Android broken-screen phone on a PC/Mac without any delay.
Enjoy a high-definition screen, picture, and video from a broken screen with 1080p & 2K resolution.
Supports various streaming activities from broken screens, such as running social platforms like TikTok and Snapchat.
Allow screenshots and recording so that you can save highlight moments from the broken screen on the computer.
Here are the clear steps to mirror broken screen android to a computer via MirrorTo:
Step 1. Lauch iMyFone MirrorTo, and choose "Android".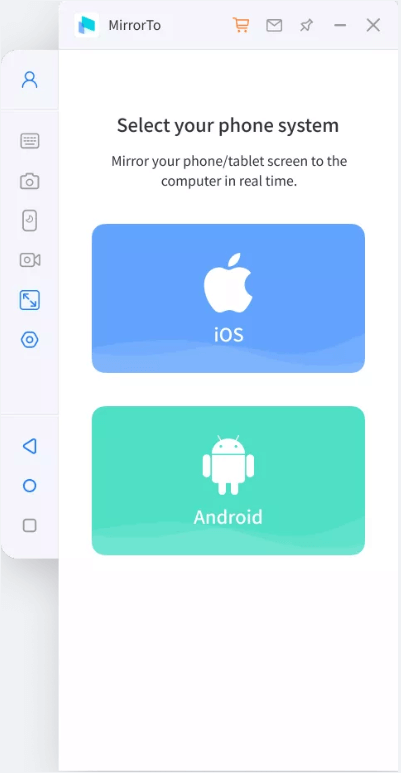 Step 2. Connect your devices and enable USB debugging.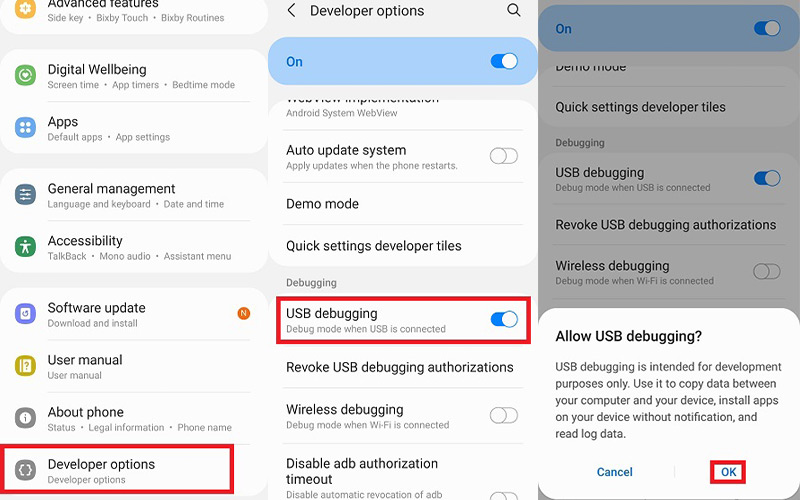 Step 3. Open Permission to iMyFone MirrorTo.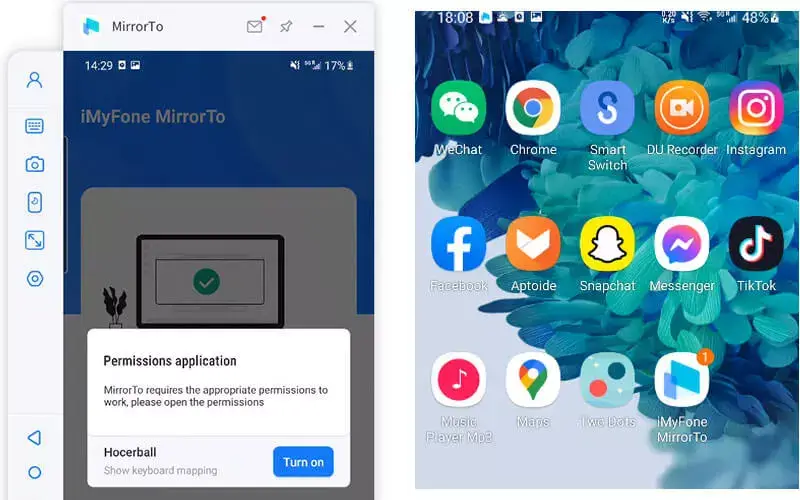 Step 4. Start to control your Android phone from your PC.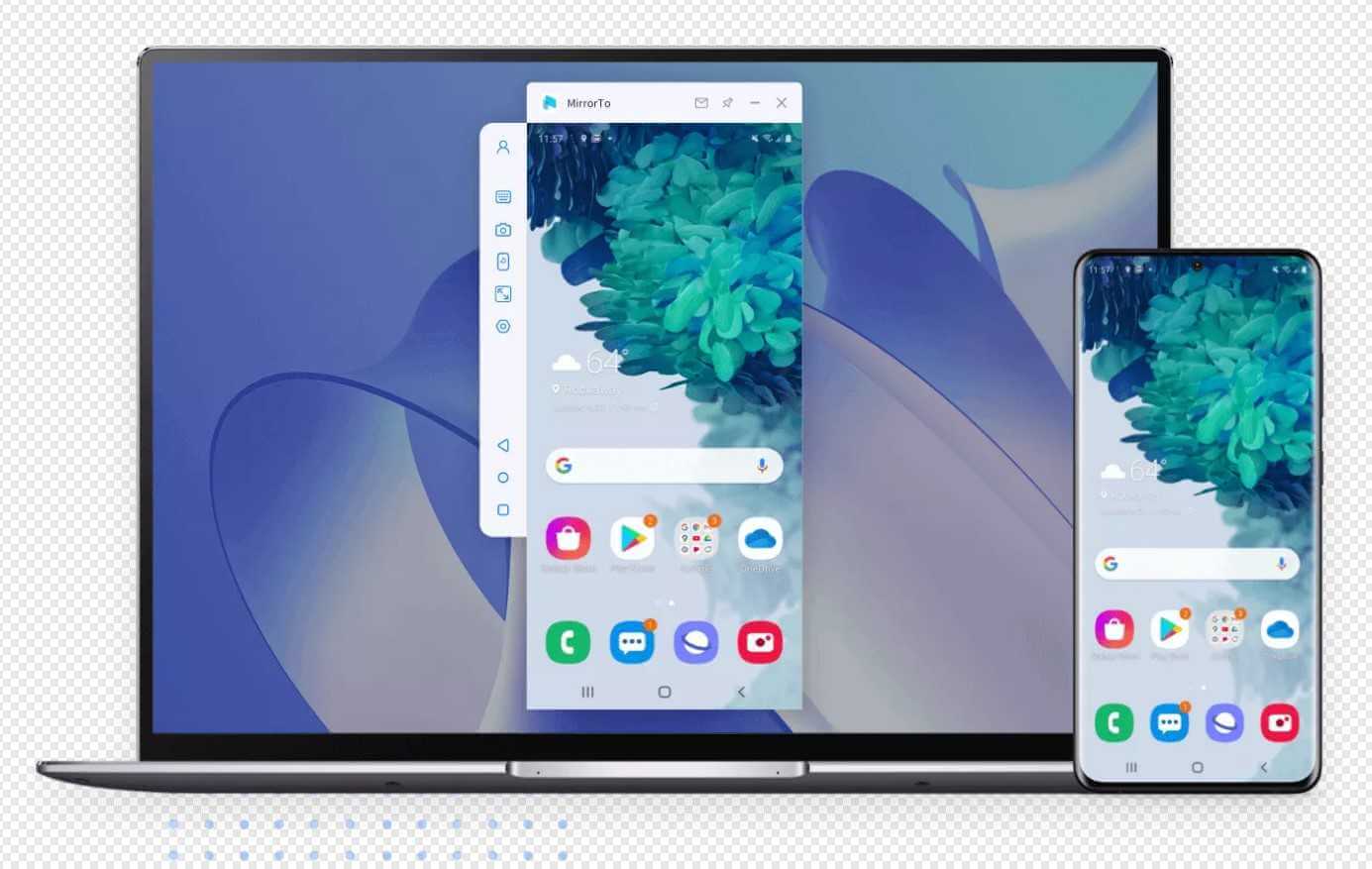 Part 3. 3 Other Useful Methods to Mirror Broken Screen Android to PC
1

AirDroid Cast

AirDroid Cast, a MirrorTo-like platform that also provides mirroring services, also makes it easy to operate on a big screen to control your broken android screen. Installing MirrorGo to mirror broken screen can also be a good choice.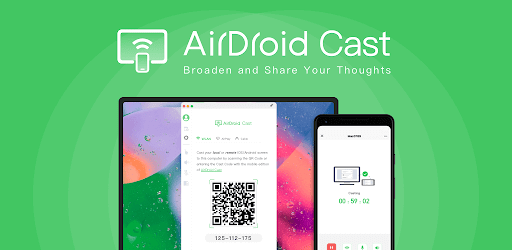 Here are the detailed steps to control broken screen to pc via AirDroid Cast.
Step 1. Search AirDroid Cast on the browser and install it.
Step 2. Connect your broken phone to the PC with a USB cable.
Step 3. Check the available list on PC and select your device, then start casting.

Step 4. Your broken Android screen will be presented after a successful connection.
---
2

Vysor

Vysor, named Vysor Android Control, is another alternative for users to mirror and control your android screen on a desktop to look up vital document that your broken screen can't help. Vysor has a functional and simple user interface. You can just use mouse or touchpad scrolling system to drag the screen up and down.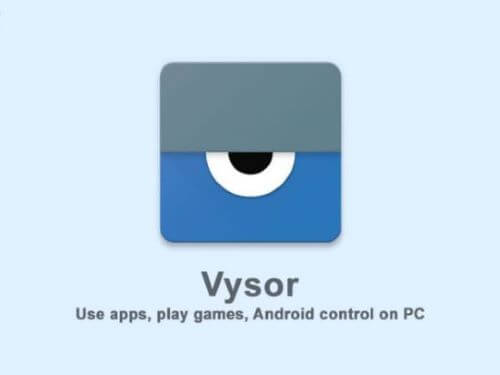 Let's take a further look on how to use it.
Step 1. Download Vysor on your computer.
Step 2. Ensure that your phone has already given certain permission to run Vysor and the Android USB Debugging is turned on.

Step 3. Connect your phone to the computer with a USB cord.
---
3

Samsung SideSync(Samsung Only)

If you are a Samsung user, then you should try their built-in function to mirror broken screen Android to PC. Samsung SideSync is compatible with your Samsung phone and offers you the platform to control your broken screen more conveniently. Additionally, Samsung SideSync provides a simpler user interface and straightforward application, meaning that you can efficiently click your mouse to control your Samsung smartphone. Let's see how it works!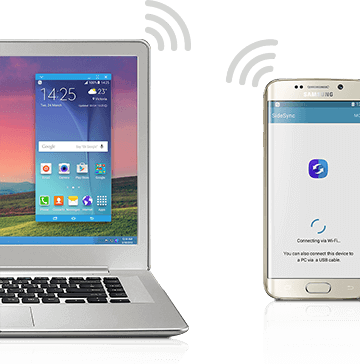 Step 1. Search Samsung SideSync on the website and download it on your computer.
Step 2. Match your Samsung smartphone with pc through a USB cord.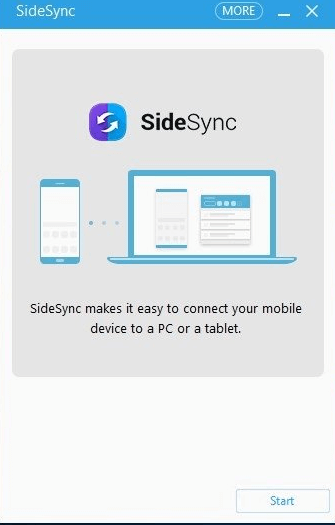 This article has offered a specific introduction and detailed guidelines on how to mirror your broken screen android to PC/Mac via different mirroring apps, both in third-party and built-in ways. However, choosing the best one to suit your needs is not an easy thing. Among those apps, we highly recommend iMyFone MirrorTo, as it helps solve various screen issues and improve your viewing experiences. So, just download it and enjoy its convenience!