From time to time, you might want to be able to control your phone from your PC. With the aid of the right piece of software, this is easy to do and can provide you with a significant number of benefits. Apart from being a cool trick, there is a wide range of practical applications for such technology, and a variety of software to suit every user. We'll cover 6 of the best options in a moment.
Why remote control your Android phone from a PC?
There are many reasons why accessing your Android devices remotely would prove beneficial. In addition to the obvious options of answering calls with your gaming headset, or receiving and reply to texts via your keyboard, here are a few great reasons:
Gaming: Mobile Games can be great, but sometimes a larger screen and a mouse interface are more fun and can also greatly improve accessibility.  
Simpler Operation: We all know some users prepare content on their PC and then upload it via their phone to the likes of Instagram and Tiktok. With remote access, this process becomes super smooth.
Broken Screens: Your screen might be smashed, but as long as you can power up your device, you can use it for calls, texts, and most of its usual functions.
Unresponsive Screens: As above, even though the digitizer is dead, doesn't mean the phone has to be thrown out just yet.
6 ways to control Android from PC
Way 1: iMyFone MirrorTo
iMyFone MirrorTo is a Miracast app for Android. It has a simple interface designed for screen projection to PC, which is ideal for playing a variety of games.
Through it, you can freely control your phone with a large screen from a computer. And it allows you to enjoy a better visual experience with no color difference or delay during screen projection.
Features of iMyFone MirrorTo:
You can enjoy a larger screen and a mouse interface.
If your phone screen broken, you can use it for calls, texts, and most of its usual functions.
You can easily use yoru keyboard to reply your social media such as Whatsapp, snapchat, facebook, etc.
Supported Android Devices like Samsung, Google Pixel, Huawei, LG, Sony, Oppo,Vivio, Xiaomi, OnePlus, Motorola, etc.
Let see how it works. Follow these steps to get start:
Step 1:Download & Install iMyFone MirrorTo on your computer and launch the program.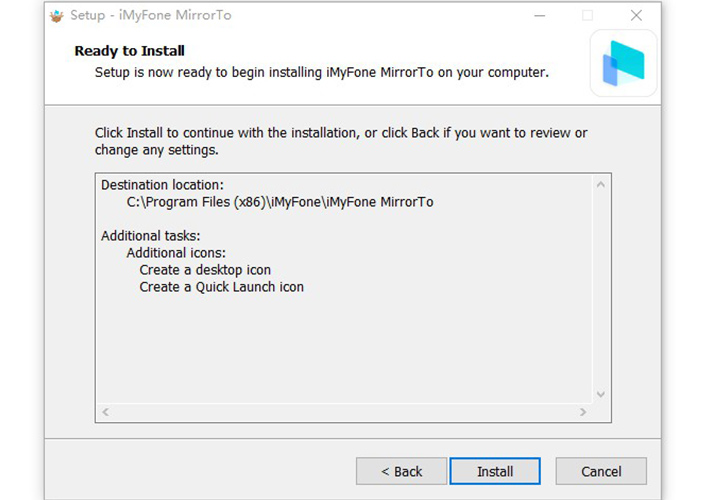 Step 2:Connect your Android phone to the PC with a USB cable. Then select "Transfer files" for a USB connection and continue.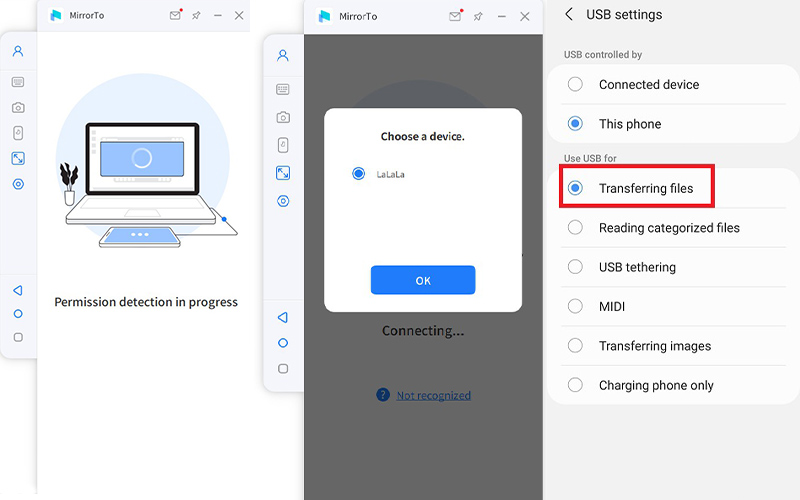 Step 3:Give permission to MirrorTo and allow it to show things on top.
Step 4:Start to control your Android phone from your PC.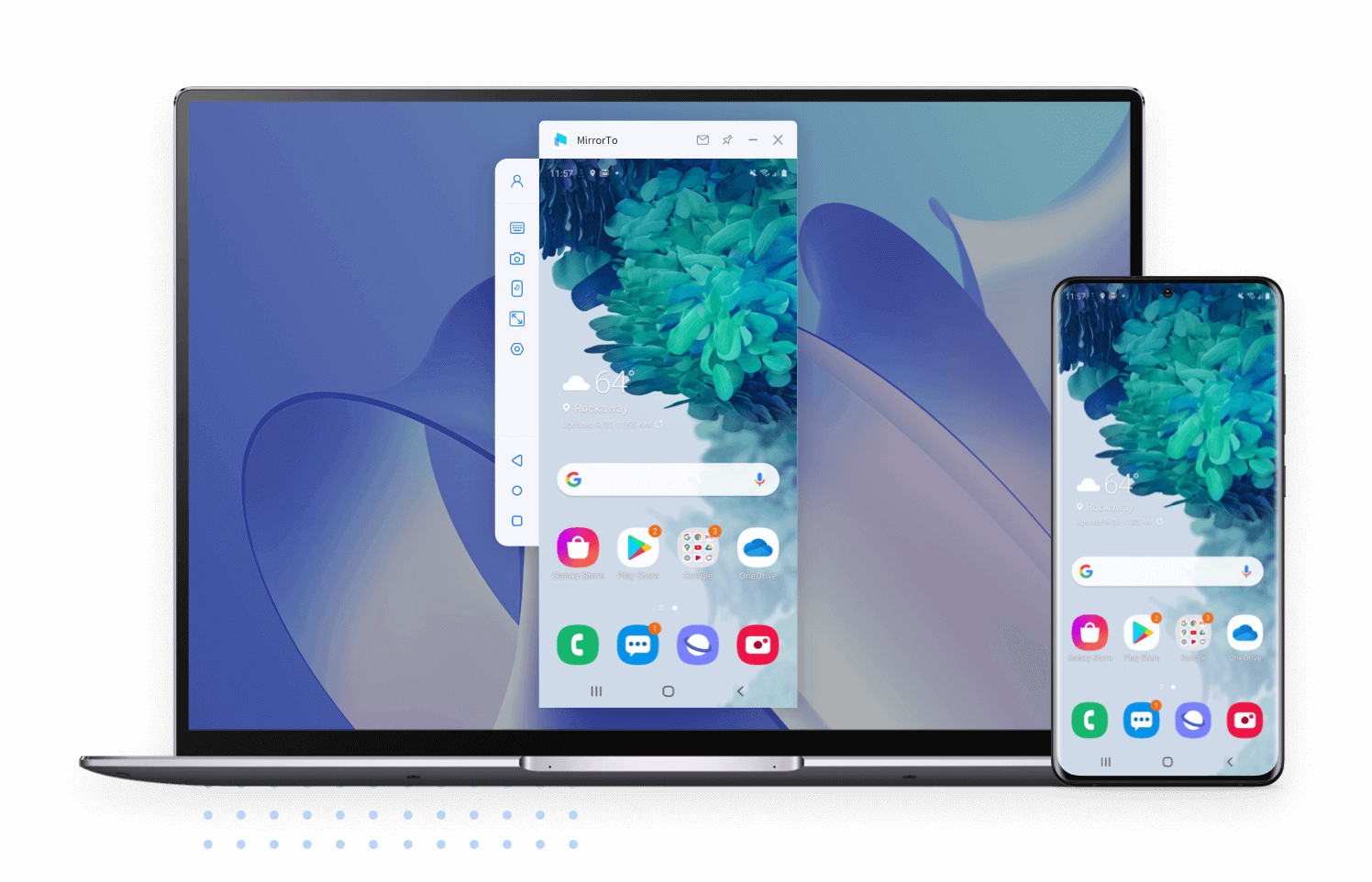 Way 2: ApowerMirror

ApowerMirror lets you control any Android from your PC, letting you access your device with a keyboard and mouse and take total control over all aspects of the Android software. You can take screenshots, record gaming sessions, and much more.

You don't need to root/jailbreak your phone and the app works on any Android that is running Android 5.0 or higher.

The free version has limitations, such as watermarks showing on the mirrored screen, but the VIP options are affordable and give you fully featured software.

Pricing starts at $29.95 a month, but we'd skip straight past that and either buy an annual subscription at $39.95, or a lifetime package for $59.95.

Setup only takes a few minutes. Follow these steps to get up and running:

1. Download ApowerMirror on Google Play.
2 .Make sure both the PC and device are connected to the same Wi-Fi or use a USB cable to connect them.
3. Download and install the ApowerMirror app on your PC.
4. Launch the app on your Android device.
5. Tap on the mirror icon to begin a scan of all available devices.
6. Tap your computer's name, which will show as "ApowerSoft" followed by your username.
7. Click "Start Now." Your Android will now be mirrored on your PC.

---

Way 3: Vysor

Vysor is one of the most popular tools for connecting Android to a PC. Vysor does everything within the Google Chrome browser, making it compatible with any device that runs Chrome. There is also a dedicated desktop app if you prefer.

Using Vysor in the Chrome App

The best option is to use the Vysor dedicated app and desktop app to get mirroring straight away, but for those who opt to use the Chrome plugin option, here are the steps you'll need to take to use the software:

1. Connect your device to a USB cable to ensure it charges whilst streaming data to your PC.
2. Enable USB debugging on your device. The location of this will depend on which installation of Android you have,and which device but will be found within the settings menu. Check online for guidance if you struggle to find yours.
3. If you are using a Windows PC, you need to download and install ADB.
4. Now install Vysor for Chrome.

---

Way 4: VMLite VNC

VMLite VNC is the most powerful option on this list and has a very modest price tag of $9.99. It sets up Virtual Network Computing (VNC) and once set up it will allow you to connect to your phone from anywhere.

It is more complicated than most on this list, but the ability to have access to an android phone wherever it might be is great. USB debugging will need to be enabled, as we mentioned above.

You'll need to add the VMLite controller app to it to make the whole thing work. Whilst you don't need to root your device to make it work, non-rooted devices need to be reconnected to your chosen computer with a USB cable each time they are restarted and the VMLite controller app re-launched to reconnect the service.

For rooted devices, you can simply check "Start Server at boot" in the settings to enjoy this service uninterrupted at all times.

---

Way 5: MirrorGo

Another service we love is MirrorGo. You can play full-screen phone gaming sessions on the PC and easily save and share the results. MirrorGo supports full HD, house and keyboard support, and the ability to sync game data, saves, hotkeys, and so on while allowing screen capture and recordings.

MirrorGo is probably the best option for dedicated phone gamers that want to play their favorite apps on the PC. It costs $5.95 per month, but there are value options available by taking the yearly or lifetime plans, perfect if you plan to use the software frequently and for a long period. MirrorGo is one of the simplest ways how to cast your phone to a pc.

---

Way 6: Pushbullet

Pushbullet works hard to provide users with a slick setup that allows you to seamlessly move files and links between PC and devices via your device's normal array of notifications. Chat with friends, see your phone's notifications, texts and take calls all from within the apps. You can pick a Windows setup, or you can run it from a Chrome or Firefox extension. You'll never again have to message or email yourself a link from your device to view it later on your PC.

It doesn't go so far as to give you total control of the Android environment, but it a powerful and easy-to-use service. There is a free option, limited to 100 messages per month, whilst the Pro version offers a price point of $4.99 per month, or $39.99 annually if you pay up for the year in one go.

 When would you need remote access to your Android phone?

As we detailed at the top of this article, there are many practical reasons to want to remotely access your phone. From streaming games, quickly swapping files between devices, or rescuing data from damaged devices, the reasons are plentiful.

In addition, some users just want to have access to all their data at once in one place, so the software listed above is perfect.

One common access problem for many of such software is what happens when your device auto-locks. This will generally lock you out of the device and prevent any further information from being shared. Therefore, it is sometimes necessary to disable this function. Here's how, on a range of commonly owned brands.

Samsung Phones:
Open Settings.
Tap Security or Security & Location > Security. This will vary between devices.
Tap Screen lock.
Enter your PIN, if required.
Select None.
---
LG Phones:
Tap the Apps Key.
Open Settings.
Tap Security.
Tap Change Screen Lock.
Enter your Pin, if required.
Touch Slide up to disable the previously set lock security.
---
OnePlus Phones:
From the home screen, tap Settings.
Tap Security & Lock Screen.
Tap Screen Lock.
Enter your Pin, if required.
Tap None.
Tap Yes, Remove.
Frequently Asked Questions
1

Can I remotely control an Android phone from PC?

Yes. As we detail above, there are many ways to remote control your Android device.

2

Can I control my phone from my laptop?

You can remote access any Android phone from anything capable of running Chrome, so that includes Mac, PC, iOS devices, and other Android devices.

3

How do I enable USB debugging on Android from PC?

To enable USB debugging you may need to find the sometimes hidden developers' settings. Most commonly, search your Android for its "build" and then tap on build a number of times, often 5 or 7, to enable developer mode. Now search for "USB Debugging" and change the toggle to enable the option.