Enjoying videos and movies on the big screen becomes downright easy when you own an iPhone. With iPhone, you can easily mirror iPhone to PC and make the most of your time without the trouble of buying a quality home theater system.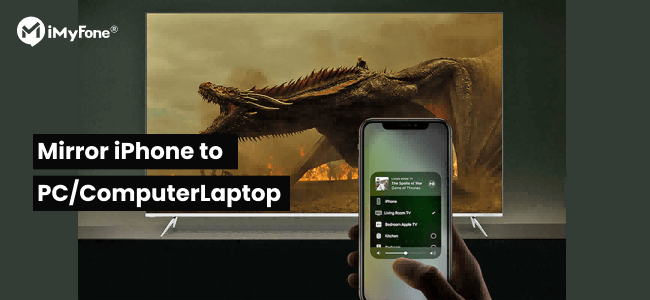 Where iPhone gives you a simple way of mirroring your iPhone content to your smart TV, it also allows screen mirroring for PC and laptops. If you are looking for ways concerning screen mirroring iPhone to PC or want to know how to mirror iPhone to laptop, read on to know some quick ideas to do so.
PART 1: How Does Mirroring Work
Screen mirroring is a technology that displays the content of your smartphone, tablet or laptop on other screening devices such as TV and projectors either using a cable or a wireless connection.
For screen mirroring to work smoothly, the sending and receiving devices must be connected to the same network. Next, users can either use an HDMI cable or the in-built feature in iPhone to mirror their iPhone on PCs.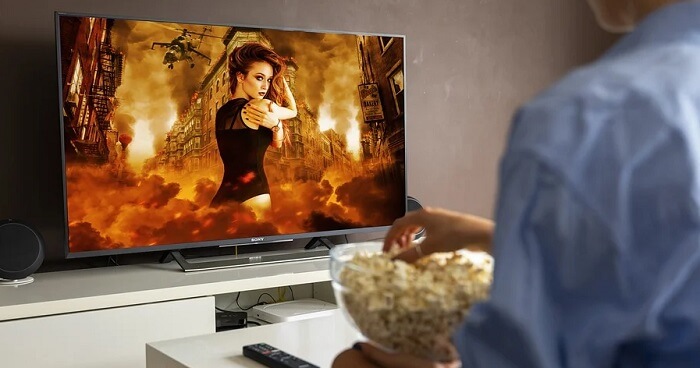 Once the connection is secured, users can go through the content of their smartphones directly on a PC.
With the latest smartphone models, you can even play games and transfer other iPhone apps on the big screen. Users can choose to mirror full or specific areas of their iPhone on the screen. Using the screen mirroring, anything can be displayed right away, including business presentations and lectures.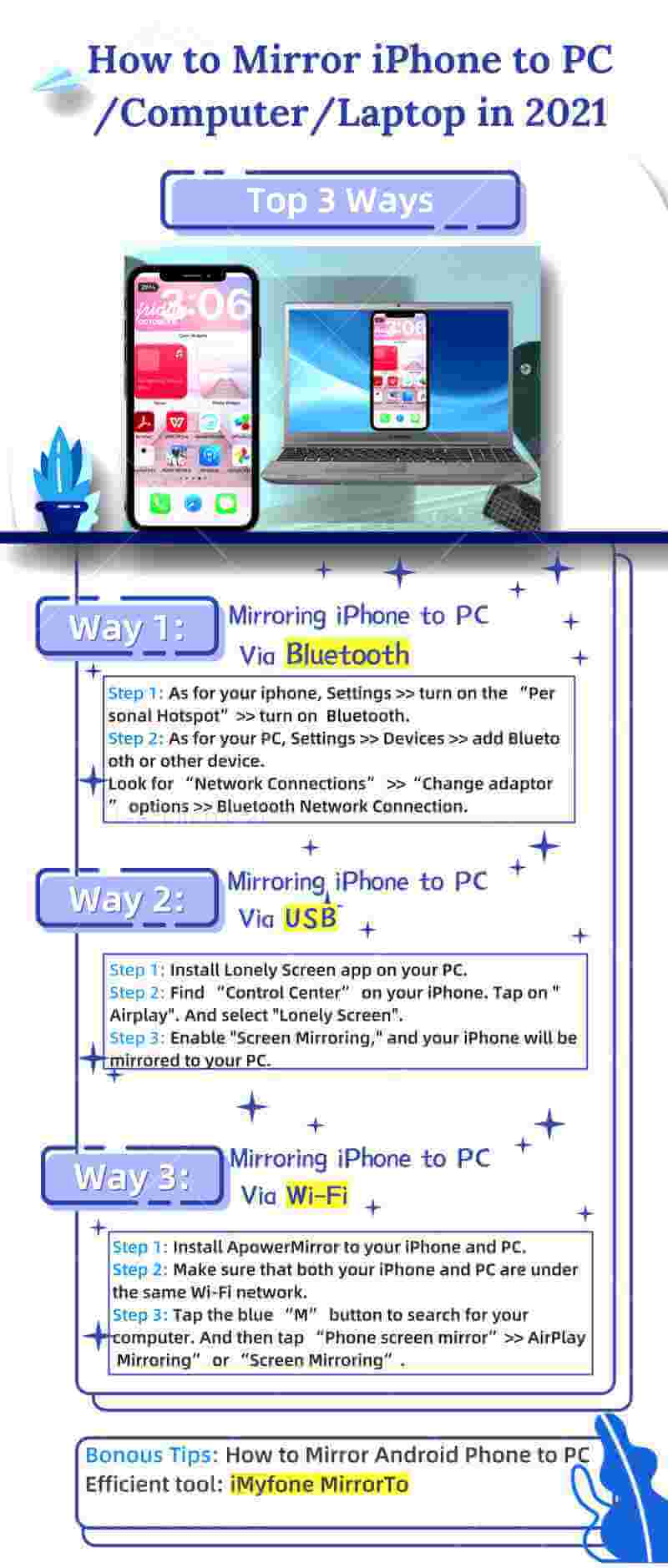 3 Popular Ways to Mirror iPhone to PC in Information Graphics
PART 2: How to Mirror iPhone to PC Via Wi-Fi?
Choosing a Wi-Fi connection over USB and Bluetooth offers convenience and an even easier way of mirroring an iPhone screen to a PC. The apps available support all iOS devices and Mac.
1

iMyFone MirrorTo
MirrorTo is a highly used app by users looking for ways to transfer their iPhone screens to PCs. Supporting both iOS and Android devices, the software is an ideal choice for screen mirroring. You can transfer data, watch movies, and even play games by connecting your iPhone to the PC. Users can also take screenshots of their PC screens and share them with their friends.
Video tutorial
Steps to Follow:
Download and open the app on your PC.
Connect the two devices with the same Wi-Fi connection.
Go to Control Center and click Screen Mirroring.

Go to Settings, then enter Bluetooth and pair the bluetooth between your phone and computer.
Mirror Your iOS Devices to PC
Freely control, and record,screenshot your phone with a large screen from a computer.
Fluently play mobile games or manage social apps without delay on PC.
Conveniently live stream your iPhone camera and audio to Youtube, zoom, and other platforms.
Support iOS 12.x and above, including iPhone13.
---
2

LetsView
It is the most awesome app on our list of best screen mirroring apps. It is innovative, simple, and completely free to use. Simply download the app to your PC and iPhone devices and start mirroring the content from your phone to your PC in no time. With this software-Let's View, you don't need any knowledge of the technical world and enjoy your time on the big screen.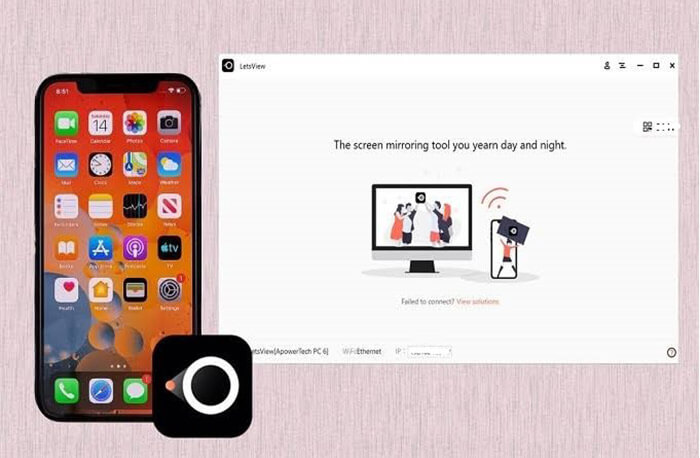 Steps to Follow:
Install Let's View app on both PC and iPhone.
Connect both the devices with the same Wi-Fi connection.
In your iPhone device, go to the "Control Center" option.
Select "Screen Mirroring" and look for your device name.
Once the two devices are connected, your iPhone will be mirrored to the PC.
Pros
It allows users to record and capture screen.
Supports all forms of devices, including Android, iPhone, Mac, and Windows 10.
Offers a smooth wireless connection.
Supports Miracast.
Cons
It can't work with USB connection.
---
3

Reflector
The Reflector is software that allows users to mirror their iPhone screen to their PCs without any hassle. It supports all devices that support Miracast or Airplay protocols. The Reflector is both an advanced yet easy to manage tool. It offers an array of benefits and has a great many features, giving it a competitive advantage over other screening apps.
Download the app, connect it with your Wi-Fi connection, activate the screen mirroring option. Then select your device name and watch your iPhone being displayed on your PC.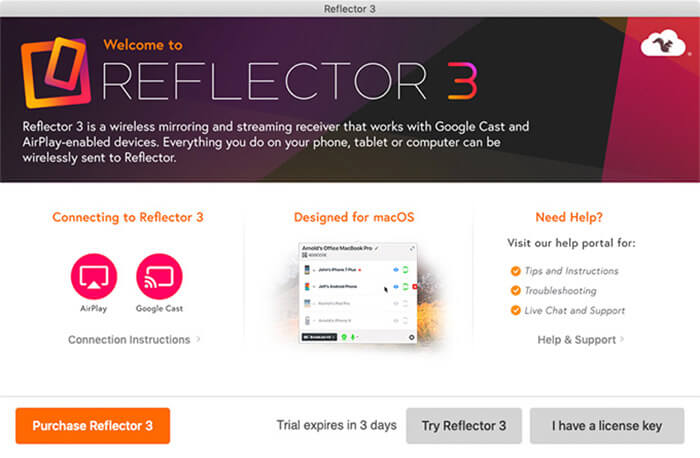 Steps to Follow:
Install the app on PC and iPhone.
Click "Control Center" in the "Setting" menu of your iPhone.
Choose your PC name in the list of Airplay devices.
Connect the two devices, and your iPhone will be displayed on the PC.
Pros
It allows you to remotely control your mirrored devices.
It allows you for live streams.
Offer the screen sharing options.
Easy and intuitive.
Cons
Reflector does not have a proper interface. It works through the device's Airplay feature.
Comparison of Five Mirroring Ways
| | | | |
| --- | --- | --- | --- |
| Screen Mirroring Way | Compatibility | Ease Of Use | Pricing |
| iMyFone MirrorTo | iOS and Android | Easy to Use | A free version is available. 9.95/month |
| ApowerManager | Mac and iOS | Easy and Fast | Free trial version |
| Lonely Screen | Mac and iOS | Simple and Easy | Free to use; For personal use: 14.95/year ;For business use: 29.95/year |
| Let's View | Supports all devices, including Mac, Windows, iPhone, and Android. | Initiative User-interface | Completely Free |
| Reflector | Supports all sorts of devices, including Chromebook, Android, iOS, Mac, and Windows. | Easy to Use | Free trial version available |
PART 3: Mirroring iPhone to PC Via Bluetooth
Besides using an HDMI cable or a Wi-Fi connection, there is another way of connecting your iPhone to the PC. You can mirror your iPhone smoothly to your PC by using the Bluetooth connection. The downside of this method is that it lets you mirror 1Mbps-2Mbps of data from the iPhone to the PC.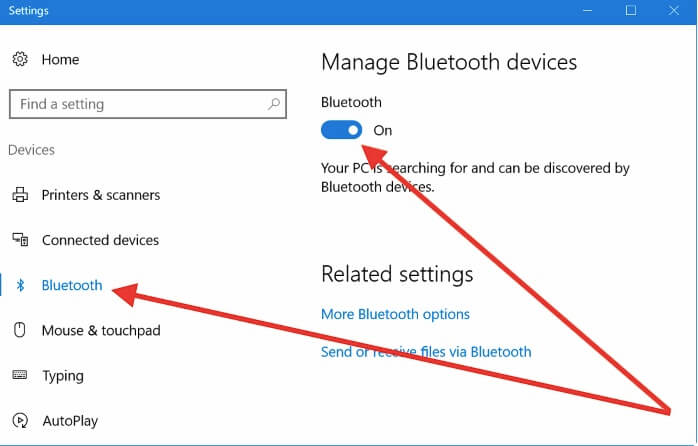 So, how to mirror iPhone to PC using Bluetooth? Well, to connect your iPhone to the PC, you need to go through some simple steps that we have explained below:
Step 1: Go to the settings from the iPhone's home screen.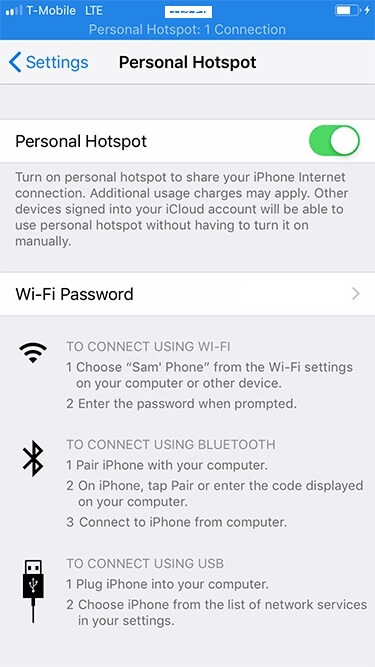 Step 2: Turn on the "Personal Hotspot" to start the Bluetooth connection.
Step 3: Then, turn on the Bluetooth in your iPhone by going to the setting menu.
Step 4: As for your PC, go to the "Setting" menu and make sure the Bluetooth toggle is on.
Step 5: Next, you need to pair your iPhone with your PC. First, choose option "Add Bluetooth or other device". This will enable the scan process, and your PC will start detecting your iPhone.
Step 6: Once the process is finished, you need to connect your PC to the internet using the Bluetooth tethered iPhone. Look for "Network Connections" for "Change adaptor" options.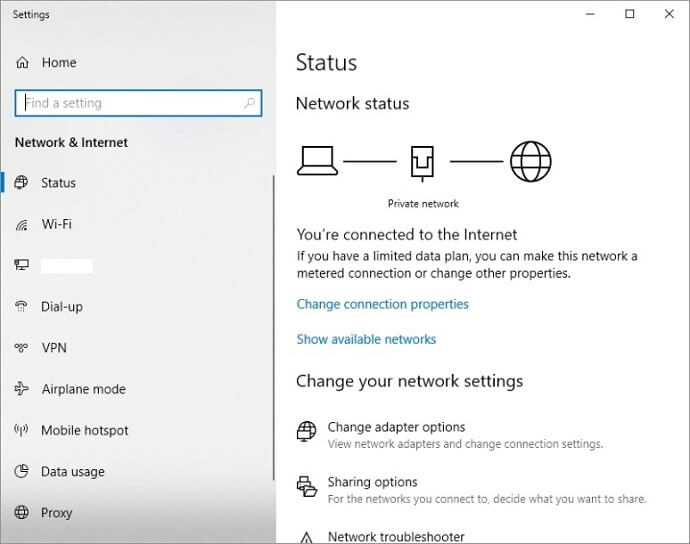 Step 7: Go to the "Bluetooth Network Connection" . With a secure connection, you are free to start mirroring iPhone to the PC.
PART 4: How to Mirror iPhone to PC Via USB?
Due to the limitation you have to face with the Bluetooth method, it is surely not the most convenient method for mirroring iPhone to PC. Also, not everyone has an iPhone-compatible device, which is why it's best to download a user-friendly app to screen mirror iPhone to PC.
We have discussed some useful apps loaded with tons of features to smoothly mirror your iPhone screen on a PC with the help of a USB.
1

Lonely Screen
You don't have any technical knowledge; no worries at all. Install Lonely Screen, and it will behave like an AirPlay receiver. After downloading this app, your PC becomes AirPlay-compatible; you can easily mirror your smartphone's content on PC. The app is simple to use without requiring any third-party application to assist you along the way.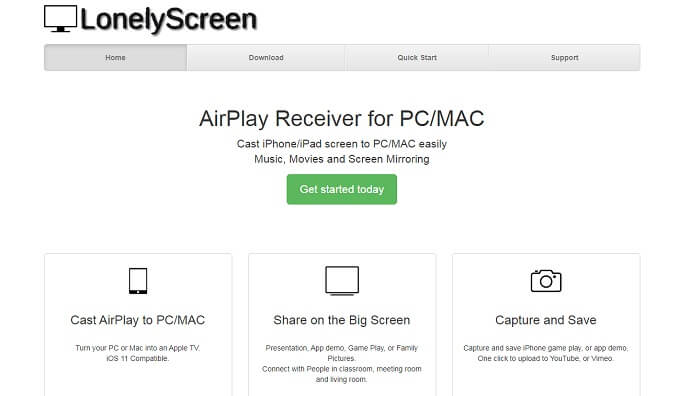 Besides screen mirroring, it also lets you record screens and upload them on YouTube and Vimeo.
Steps to Follow:
Install the Lonely Screen app on your PC.
Find "Control Center" on your iPhone.
Tap on "Airplay".
Select your "Lonely Screen" device from the rundown list.
Enable "Screen Mirroring," and your iPhone will be mirrored to your PC.
Pros
The tool supports both Mac and PC.
Besides mirroring the screen, it also allows you to take screenshots of gameplay.
It allows users to create presentations and tutorials.
Cons
---
2

ApowerManager
ApowerManager is also an effective way to initiate iPhone screen mirroring to PC. Being a file manager tool, it allows all your files and content to be viewed on the screen of your PC. It uses mainstream mirroring technology that ensures a high-quality mirroring experience.
You can also use the Reflector feature of the app to cast your iPhone to the PC using a lightning cable.
Steps to Follow:
Install ApowerManager on your PC and iPhone.
Connect your iPhone device to your PC using a Lightning Cable.
In your iPhone pop-up menu, click on "Trust" to connect it to the PC.
Click on the "Reflect" button present on the bottom left corner of the app to start the mirroring process.
Pros
ApowerManager has an intuitive, user-friendly interface.
Offers fast connection.
Works with and without the internet.
Mirrors media files and content with ease.
Cons
Scanning the QR Code with the iOS device is tricky.
Frequently Asked Questions
Here are some questions frequently asked when it comes to screen mirroring iPhone to PC.
1 Can I mirror iPhone to Windows 10?
Connecting your iPhone to Windows 10 is quite simple. Connect both devices with the same Wi-Fi and go through the following steps: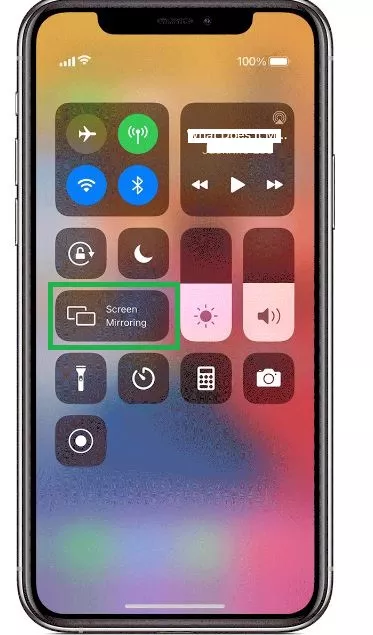 Find the Control Center in your iPhone.
Select "Screen Mirroring".
Then, flip through the list of available devices.
Click on the Windows 10 device > Type the code.
Your iPhone will be mirrored to your Windows 10 device.
---
2 Can I mirror my iPhone to my computer for free?
To mirror your iPhone to your computer for free, download the Apower Mirror app on your iPhone. Then go through the following steps:
Open the app on your iPhone.
Tap the blue M button and search for your computer.
Then tap "Phone Screen Mirror".
Locate iPhone Control Center on iPhone.
Select "Airplay Mirroring".
Click on "Screen Mirroring".
---
3 How do I connect my iPhone to the Windows laptop?
Go through the given steps for connecting iPhone to the Windows Laptop.
Connect your iPhone to the Windows Laptop via the Lightning cable.
Click on "Continue", allowing the computer to access your iPhone.
Click on the icon of phone.
Then, press "Sync".
All your iPhone content can now be seen on the laptop, including images, videos, apps, music, and so on.
---
4 Can you AirDrop from an iPhone to a PC?
Mac and iPhone users can use Ape's AirDrop feature for transferring data to their PCs. However, Android and Windows users don't have this option as the AirDrop feature does not support them.
---
5 How do I mirror a video from iPhone to Windows PC screen in full-screen mode?
Simple steps will help you watch your videos mirrored directly from your iPhones to your PC screens.
Reach the "Control Center".
Select "Airplay".
Choose "Screen Mirroring".
Connect your iPhone to your PC by selecting the name of your PC from the list.
Choose the video you prefer to.
From the bottom of the screen, tap "full-screen", and your video will begin to play.
Final Thoughts
Users are always looking for simple and quick tips on connecting iPhones to PCs to enjoy their content on the bigger screen.
To watch content and play games on the big screen, they need software and apps that work fast and produce better results. Whether you go for a USB method or follow the wireless option, you are sure to get high-quality results with the apps and software we have discussed for you in this post.