How to Stream VLC Video from Mac to Apple TV With AirPlay
Category: Mirror Tips
3 mins read
Enjoy the big-screen experience? Wish you could stream from Mac to Apple TV? If you answered yes - then VLC Airplay can facilitate this experience for you.
We are aware, that the VLC media player is considered an excellent choice of open-source media players. And here we will tell you what is Airplay and show you how to use Airplay.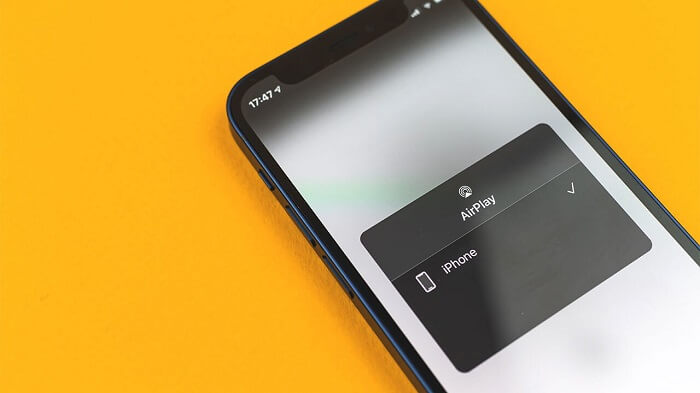 What is Airplay?
Airplay (formally known as iTunes), developed by Apple Inc is a proprietary protocol stackused as a medium that allows wireless streaming between devices of audio, video, device screens and photos with related metadata.
To be able to stream VLC videos from Mac to Apple TV (through Airplay) your video format needs to be one of the file formats that are supported by Apple TV.
Listed below are file formats that are compatible with Apple TV.
HEVC SDR up to 1080p, 30 fps, Main/Main 10 profile
H.264 video up to 1080p, 60 fps, High or Main Profile level 4.2 or lower
H.264 Baseline Profile level 3.0 or lower with AAC-LC audio up to 160 Kbps per channel, 48kHz, stereo audio in .m4v, .mp4, and .mov file formats
MPEG-4 video up to 2.5 Mbps, 640 by 480 pixels, 30 fps, Simple Profile with AAC-LC audio up to 160 Kbps, 48kHz, stereo audio in .m4v, .mp4, and .mov file formats
Do you also want to know how to airplay your phone to computer? don't worry, we also give you a bset solution, you can use MirrorTo screen software, it is almost applicable to any model in the market, you can screen your ios device, no matter iPhone or iPad, you can also screen android devices. But now, this screen casting only supports the Windows system, click the button below to start your screen casting.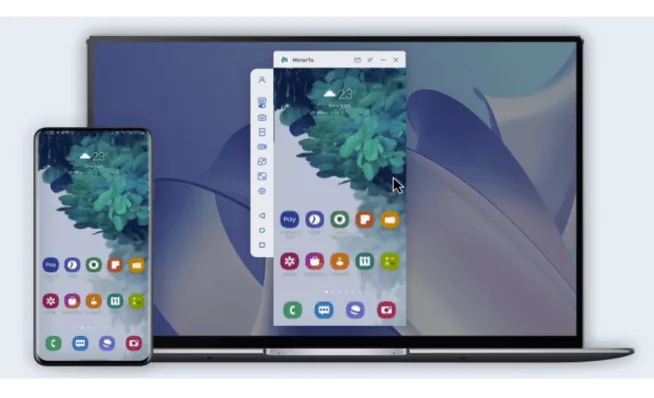 Key Features:
Screen mirroring: it allows you to mirror your phone screen to PC/Mac/Laptop.
Mouse control: you can control your iOS/Android screen with your mouse.
Keyboard mapping: you can also control an Android phone/tablet with your keyboard on PC so that you can run iOS apps without emulators.
Screenshot and screen recoridng: it offers screen capture and recording so that you can get your screen pictures or videos easily.
How to Stream from Mac to Apple TV?
01

Using Airplay to Stream MP3/MP4 videos from Mac to Apple TV
Stream MP3/MP4 videos from Mac to Apple TV
As most video formats are either Mp3 or Mp4, let's take a closer look at how to stream vlc videos in these formats (Mp3/Mp4) from your Mac to Apple TV (using Airplay):
Step 1. Using VLC Media Player already present on the Mac, open the video you'd like to stream on your Apple TV via Airplay.
Step 2. After you have opened the VLC media player.
1. Locate an icon that resembles a small TV, on the top-right side of your Mac.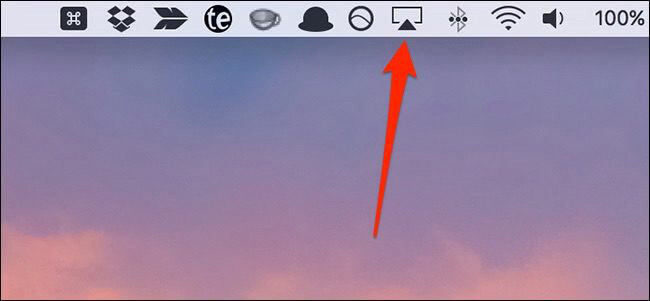 2. Then click or highlight the icon- a dropdown with all the devices connected to your Mac will appear.
3. Select Apple TV from the list.
Step 3. Next, go to the Audio settings located on the top-left side of the screen of the VLC Player window.
1. Click on the Audio option- Locate the "Audio Device" option at the end of the drop list that appears.
2. Click on the "Audio Devic" option to access additional options.
3. When you locate "Airplay" in the list of additional options, ensure that the option is selected and a tick mark is present.
Step 4. Move on to the "Video option" located just after the Audio Option. Click the option to find a drop list consisting of the different options/settings to play the video of their choice. These settings include screen modes (Fullscreen) etc.
---
As Videos in MKV format are not supported by Apple TV, you might want to try transcoding/re-encoding your MKV video using reliable software such as:
Handbrake is completely free and open-source software that can aid in the conversion of MKV videos to formats that are compatible with other devices (in this case Apple TV).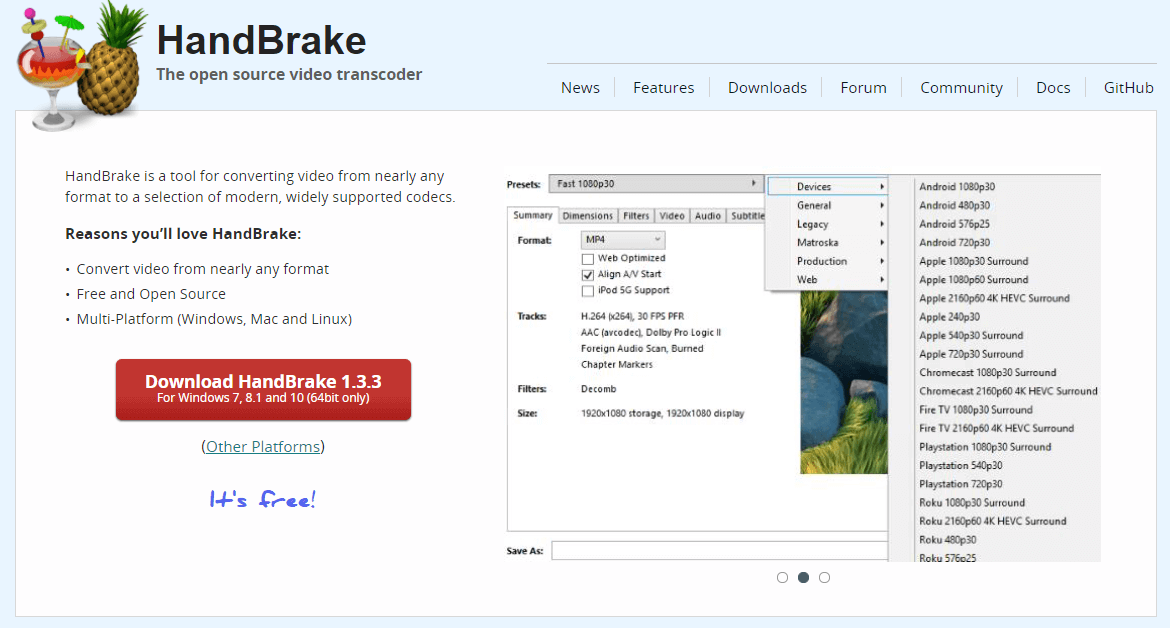 Handbrake might appear to be unfamiliar to newbies. Here's a user's guide to using this software:
Step 1. Go to the Handbrake Website on your browser, download, and install the program on your Mac.
Step 2. After launching Handbrake click the source button on the toolbar, select "open file" and open your MKV file.
Step 3. Next, click the "Browse" option under Destination, choose the folder to which you want to save the new formatted (Mp4) file, and name the folder.
Step 4. Under Output Settings, the MP4 container format should be selected by default.
You can now click "start" and Handbrake will convert your MKV file to an Mp4 file and this should enable the video of your choice to be streamed on Apple TV.
Handbrake has become a popular choice for video conversion due to its simple layout, free access, the queuing tray for batch conversions, and its detailed live preview.
---
Permute is another convenient converter for audio, video, and image format. It's fast, easy to use, and is available via the Mac App Store or on its developers' site. Permute supports a wide range of video and audio formats such as Mp4, MOV, MKV, AVI, WMV, MP3, WAV, etc. With Permute MKV to Mp4 can be converted in bulk. The converter uses a drag-and-drop mechanism and lets you queue up multiple files for batch conversions and conveniently transfer them to your device.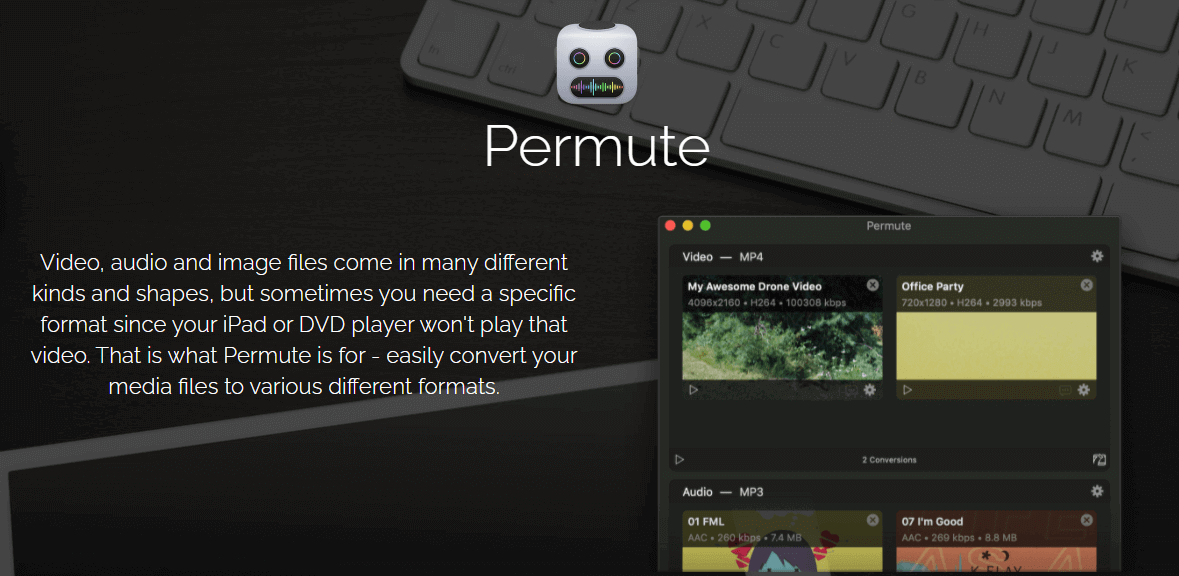 Here's how Permute lets you convert files effortlessly:
Step 1. To start using permute, drag any number of videos/ (audios/image files) to its window. It'll automatically adjust its settings depending on the type of file you've chosen.
Step 2. When you've selected all the files you want to convert, click 'Destination' from the drop-down Menu And click 'Start'.
Step 3. Once you've converted the required files, they will be saved to the folder where the original was located.
---
02

Using Airplay Mirroring to Stream MP3/MP4 videos from Mac to Apple TV
Video in MKV format (no format Conversion)
Another option, to be able to stream MKV videos on your Apple TV is Airplay Mirroring.
This tool involves mirroring your Mac display to the Apple TV. To enable this process, you will need a second-generation Apple TV and a Mac model that supports Airplay mirroring (iMac, Mac Mini, MacBook Air, or MacBook pro- that are developed after 2011).
A third-party MKV player like VLC or 5KPlayer is needed to support this process on Mac as QuickTime doesn't support MKV file formats.
Once you have fulfilled the above requirements follow the steps below to enable Airplay Mirroring:
Step 1. Connect your Mac and Apple TV to the same network.
Step 2. Click the Airplay icon in the Menu bar.
Note: If the "Airplay" icon is not being displayed- go to "Systems Preferences> Displays" and then select the option next to "Show mirroring options in the Menu bar when available". The Airplay icon will now appear in the Menu bar.
Step 3. Choose "Apple TV" under the option "Use Airplay Display to".
Step 4. Play the MKV file on the Mac (with screen-cast software).
Airplay mirroring allows you to play MKV videos on Apple TV instantly, however it has certain drawbacks that interfere with the function such as lower quality and frequency of the MKV streaming video.
Frequently Asked Questions about VLC Airplay
1

Is there a VLC app for Apple TV?

VLC on the Apple TV is fully free and open-source, and available right now on the App Store. It allows you to access all your files and video streams directly on the new Apple device and the TV. You will be able to enjoy all features and format support of VLC, as well as a few Apple TV specific features.
2

Does 4k Apple TV play MKV?

It may be possible via local transferring or video streaming services, however, to retain the full quality of the video and audio, it is recommended that you utilize Airplay Mirroring, transcoding or encoding the MKV file or remixing (helps to put an exact copy of the file to a new container eg: mp4).
3

Is 5KPlayer safe for Mac?

According to Google Safe Browsing Diagnosis, the current listing status for 5kplayer.com is safe. As long as it's downloaded off the official website it is said to be 'a safe media player, that is Ads free and Bug-free, works perfectly on Windows 10/8/7 Vista and Mac OS X/High Sierra, to download, play and stream music and HD/UHD videos without malware or forcing extensions on your browser.
4

Can VLC play Airplay?

At CES 2019, VLC announced the support for Apple Airplay which will allow users to stream any video from their Android or iOS device to Apple TV. This feature is said to be part of the many features that accompany VLC's latest version- 4.0, which is expected to release sometime in 2021.

*Note- the preview version of VLC media play 4.0 is already available to download, but is a development build for testers and may have bugs or missing features.
5

How do I Airplay from VLC on Mac?

Streaming videos from VLC on your Mac using Airplay is hassle-free. Your Mac has an in-built Airplay function that you can use to stream videos on Apple TV without having to install any external applications (provide your video is in a format supported by Apple TV) Simply,

Step 1. Connect your device to the same Wi-Fi network as your Apple TV or Airplay compatible smart TV.

Step 2. Find the video that you want to stream.

Step 3. Tap Airplay. In some apps, you might need to tap a different icon first. In the Photos app, tap Share, then tap Airplay.

Step 4. Choose your Apple TV or AirPlay 2-compatible smart TV.

Make way for a larger-than-life video-viewing experience, with the A1 combination of VLC Media player and Airplay. Watch your favorite videos from your VLC media player in your Mac (or other devices compatible with Apple TV) on the big screen of your Apple TV using the brilliant mechanism of VLC Airplay.