[2023] 8 Best Free Ways to Play Mobile Games on PC
Category: Mirror Tips
4 mins read
If you want to play mobile games on PC then you need to use some tool to make your computer compatible. You might use an emulator to recreate an Android operating system on your computer or a mirror alternative to transmitting all your cellphone content to your pc.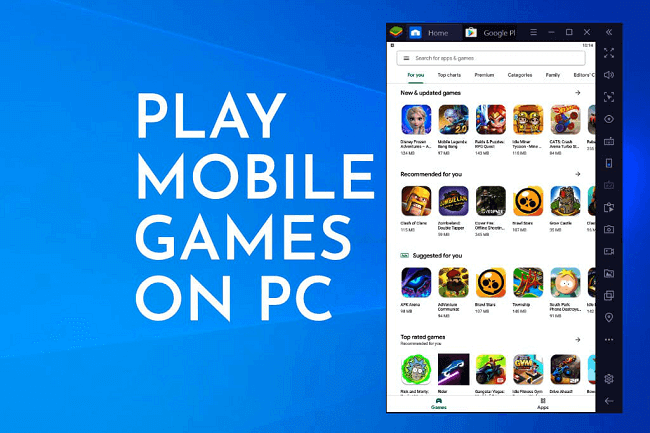 In this article, you will learn how to play mobile games on PC with keyboard and mouse using different tools like screen-mirroring apps, game platforms, and emulators. Learn about all of them and choose a suitable one to freely play mobile games on PC. Let's get started!
Part 1: Why Do We Want to Play Mobile Games on PC/Mac
If the games are available on our cellphones then Why going through the hassle to export the games to the computer? Here are the reasons why people want to play mobile games on PC/Mac:
Better Performance: Higher hardware capabilities lead to smoother gameplay.
Comfort: Better ergonomics with gaming peripherals.
Multi-Instance: Running multiple game sessions at once.
Syncing: Stable environment for progress synchronization.
Compatibility: Access to games not available on certain devices.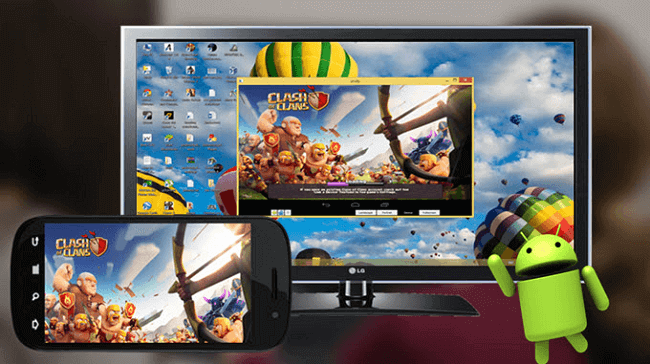 Controls: Precision of keyboard/mouse controls.
Recording/Streaming: Built-in tools for sharing gameplay.
Resource Management: Frees up mobile device resources.
Accessibility: Easier visibility and font customization.
Preference: Personal choice for gaming on non-mobile platforms.
Part 2: 8 Feasible Methods to play mobile games on PC/Mac
Do you want to play your favorite mobile games on your PC? Enjoy playing your favorite mobile games on a much wider screen through mirroring. Nothing can limit you now for you can now play games available on mobile devices on PC. Let's learn about these 6 methods to freely play mobile games on PC.
Method 1

iMyFone MirrorTo

iMyFone MirrorTo is definitely a screen sharing software compatible with most of android devices platform. On top of that, you can also use the screen recording capability of the tool to record your phone's activity, screenshot important scenes. To stream mobile games to PC using MirrorTo is very easy.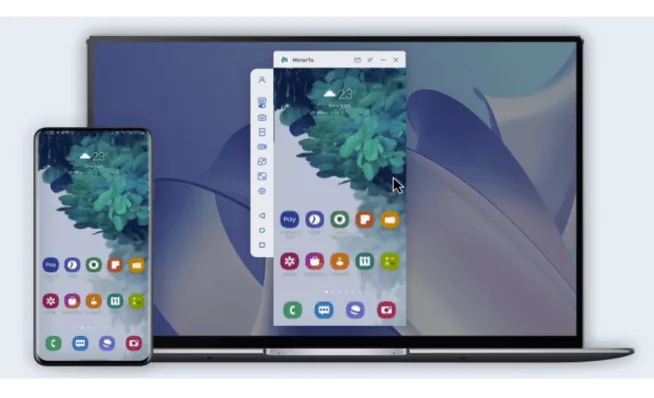 Key Features of MirrorTo
Mouse Control: You can use your mouse to run and access mobile apps on PC freely.
Keyboard Mapping: You can use your keyboard to play PUBG Mobile games on PC.
Versatile compatibility: You can play Android & iOS games on PC freely.
High-quality mirroring screen with audio: It allows you to mirror your Android, iPhone or iPad screen and audio to your computer with 1080p & 2K resolution.
Play mobile games on PC with MirrorTo:
Step 1. Download and install MirrorTo from its official website.
Step 2. Connect your Android phone to your PC via a USB cable.
Step 3. Launch the app and choose "Android".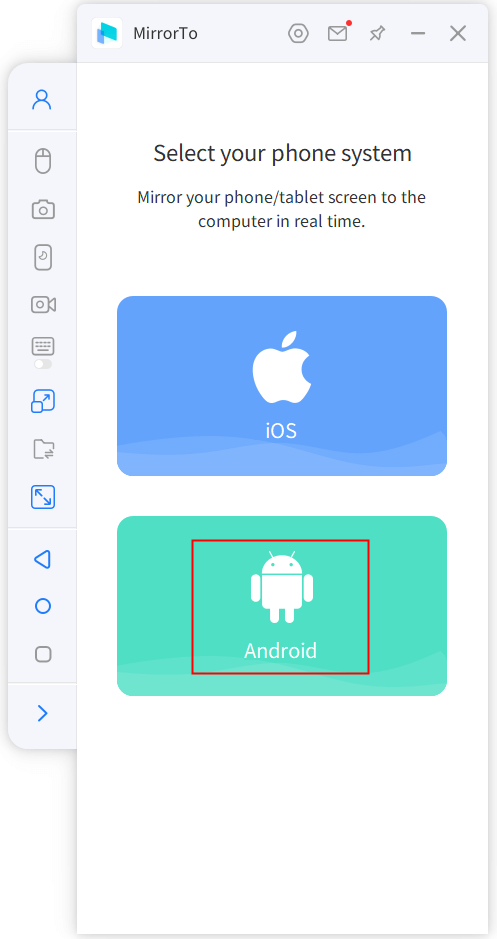 Step 4. On your phone, go to the Settings > b > Click "Build number" 7 times.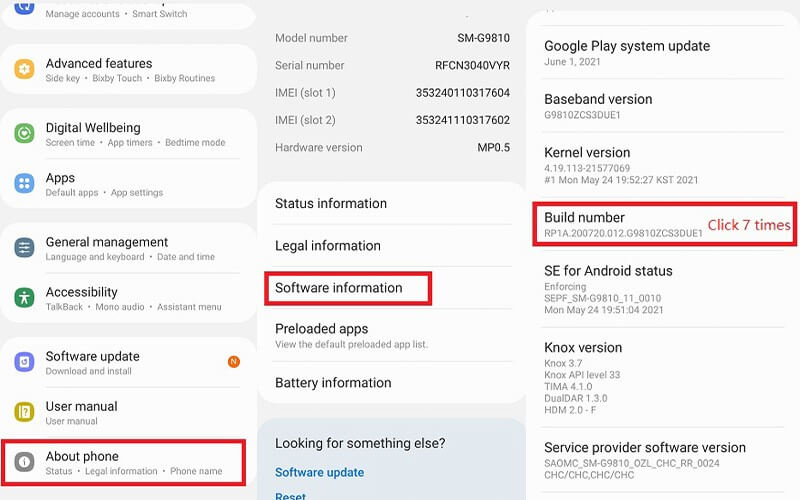 Step 5. Go to Settings > Developer Options > enable USB debugging.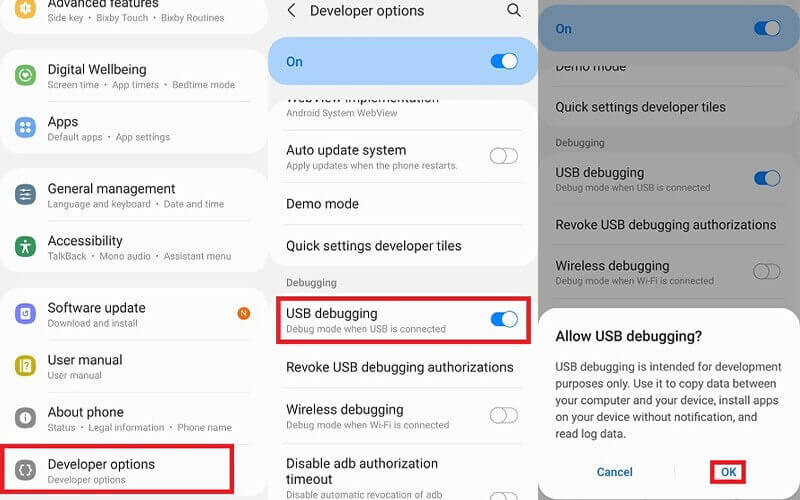 Step 6. Give permission to MirrorTo and allow it to show things on top. Click "Turn on".
Step 7. Wait a second, you can see your Android screen on your PC. You can play mobile gamse on your phone from PC by controlling your screen with the keyboard and mouse.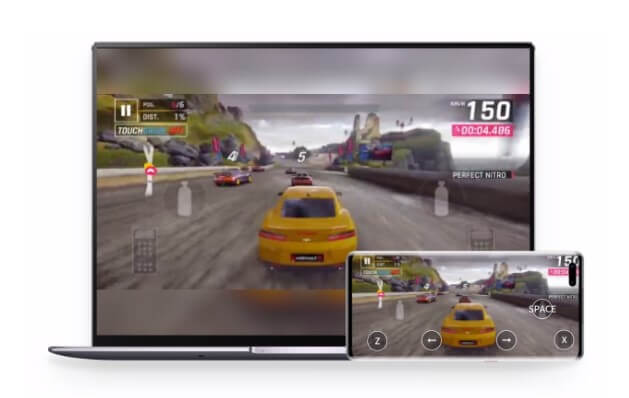 Video turorial on how to play mobile games on PC: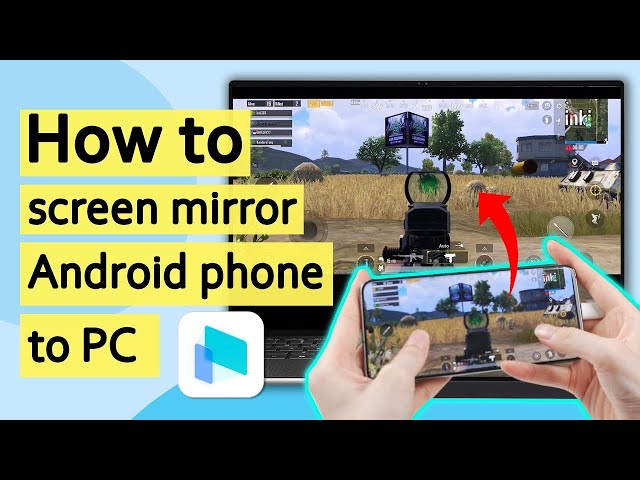 Get a 10% OFF Discount Code of MirrorTo: YTR5E7
---
Method 2

Through Chromebook

Playing mobile games on a Chromebook can be achieved through Android app support, as many Chromebooks have the ability to run Android apps. If you own a Chromebook, you can install Android apps on it.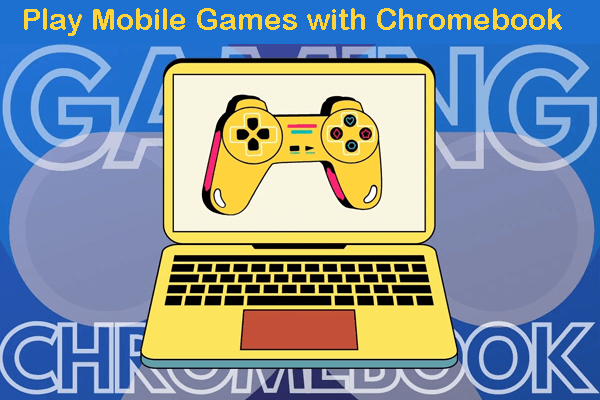 Android App Support: Chromebooks can run Android apps, including mobile games, through the Google Play Store.
Keyboard and Mouse Integration: Chromebooks support keyboard and mouse inputs, providing precise controls for games.
Refund Policy: Google Play Store's 48-hour refund policy ensures satisfaction with game purchases.
Web-Based Games: Chromebooks can play web-based games directly via the Chrome browser.
Google Play Protect: Ensures the security and safety of downloaded game apps.
Cloud Gaming: They support cloud gaming services for resource-intensive games without high-end hardware.
Stream Mobile Games on PC with Chromebook:
Step 1.Click on the system tray in the bottom-right corner. Go to Settings > Apps > Under "Google Play Store," click "Turn on".
Step 2.Open the Play Store app from the app drawer. Search for and install the mobile game you want to play.
Step 3.Once the game is installed, You can use your Chromebook's touch screen to interact with the game, similar to a mobile device.
---
Method 3

Google Play Games

What is Google Play Games?

Google Play Games is an online gaming service provided by Google for Android devices. It allows players to track achievements, earn in-game rewards, compete with friends, and participate in multiplayer gaming. The service provides features like leaderboards, cloud saving for game progress, and social integration to enhance the gaming experience on Android devices.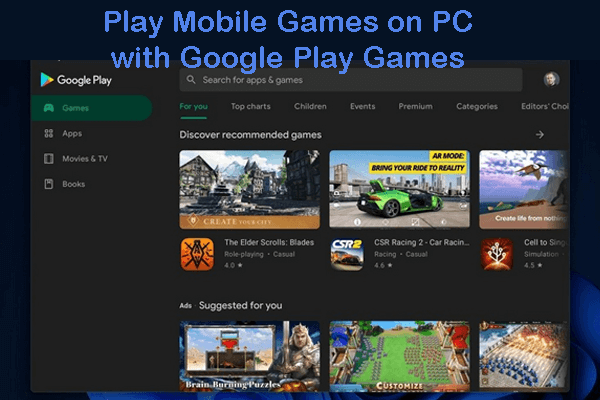 How to download Google Play Games on your PC?
You can download Google Play Games on your Windows 10 or 11 PC. It is not yet available for Mac. If you live in one of the countries where the Google Play Games app is now available,you can download it from your PC webpage.
Which Android games can you play on PC Using Google Play Games?
You can only play games from Google Play Games. Most of the Android games. You problably can't play some games that are only developed for iOS system. You can play games like Adorable Home, AFK Arena, Age of Apes, 1945 Air Force: Airplane games, Among Gods! RPG Adventure, Awaken: Chaos Era.
Method 4

BlueStacks

BlueStacks is the most used tool to use Android apps on the computer. It is designed specifically to play your favorite games so you can keep long marathons without worrying about your computer or the emulator.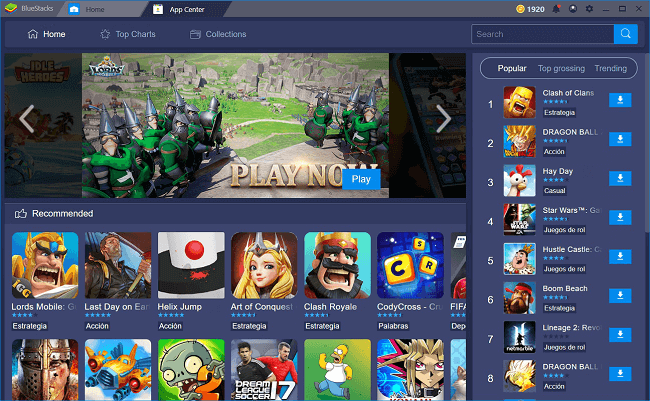 You can keep opened different applications at the same time thank to the optimizations of the resources.
The eco mode reduces de CPU usage by more than the 80%.
It is a safe emulator trusted by thousands of users.
Play Mobile Games on PC with BlueStacks:
Step 1.Use an administrator account on your Windows PC. Then, download and install BlueStacks from the official website for free.
Step 2.Open the BlueStacks App Player and now you will see all the applications that are already installed on our system.
Step 3.Now with your emulator installed, you can use the app library to download all the games you want. That way you can start to play mobile games on PC without further installations.
---
Method 5

GameLoop

GameLoop is an Android emulator developed by Tencent for PC, primarily focused on mobile gaming. It enables users to play a variety of Android games on their computers, optimized for controls and performance, especially for games developed by Tencent.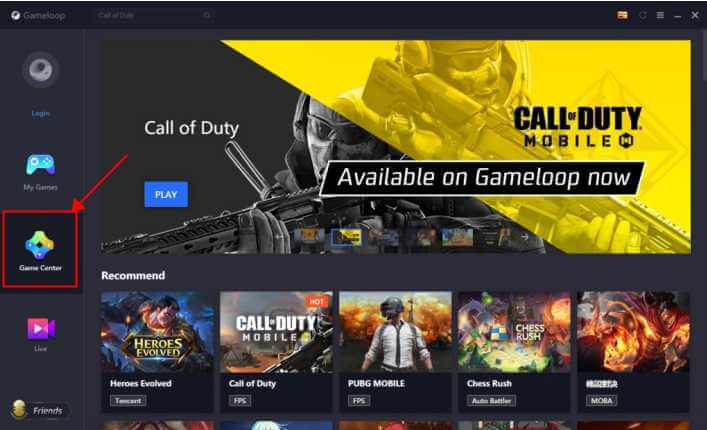 Performance: Optimized gameplay performance for mobile games on PC.
Controls: Keyboard and mouse support enhances control for touchscreen games.
Tencent Integration: Seamless compatibility with Tencent's mobile game titles.
Customization: Adjustable settings, regular updates, and gamepad support for tailored gameplay.
---
Method 6

Android x86

Android x86 is a tool project designed as an open source alternative. That means that anyone can download it for free and use it. The goal is to enable you to use the applications of your mobile with an emulator that will be compatible with your computer operating systems.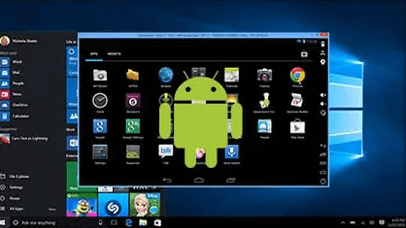 It has excellent customer support conformed by the developers working on it.
Software mouse cursor.
Mirror mode.
Bluetooth enabled.
Play Mobile Games on PC with Android x86:
Step 1.Download the Android x86 tool, and there will be an iOS image, run it on your computer to install the Android x86.
Step 2.There are more details to the configuration of the installation, but you can select on "OK" to keep the preset configuration for the installation.
Step 3.Once the installation is ready, you can configure your emulator options and start using it.
---
Method 7

NoxPlayer

NoxPlayer is an Android emulator designed for playing mobile games on a PC or Mac. It creates a virtual Android environment on your computer, allowing you to install and run Android apps, including games. NoxPlayer provides features like keyboard and mouse integration, gamepad support, and advanced customization options for an improved gaming experience.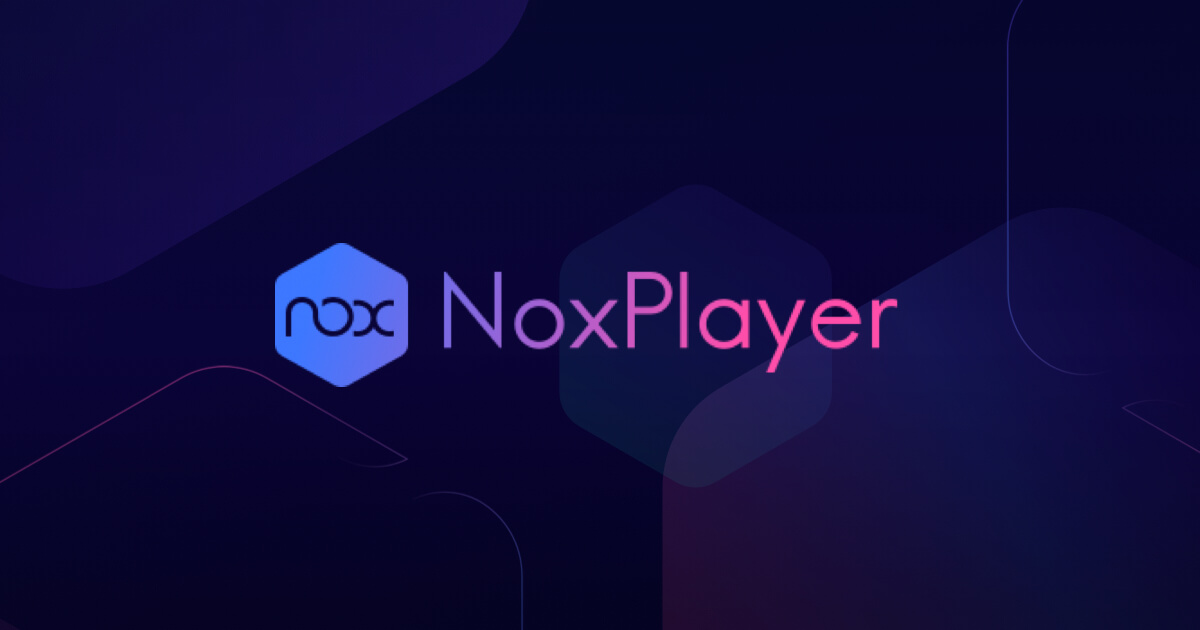 Optimized Performance: NoxPlayer offers smooth gameplay with optimized performance settings.
Controls and Customization: Keyboard, mouse, and gamepad support, along with customizable settings, enhance the gaming experience.
Multi-Instance Support: You can run multiple game instances simultaneously for versatile gaming.
Regular Updates and Support: NoxPlayer receives updates and has an active community, ensuring ongoing improvements and assistance.
---
Method 8

iPadian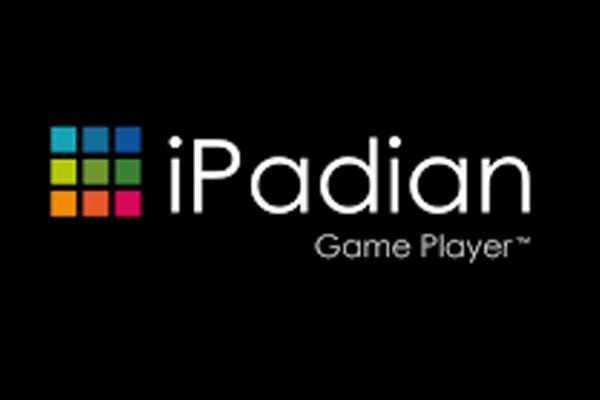 iPadian is a simulator that imitates an iOS environment on Windows or macOS, offering a simulated iPad interface and apps, but it doesn't run actual iOS apps and has limitations compared to real iOS devices.
iOS-Like Experience: Offers a familiar iOS interface, providing a unique way to interact with apps and games on a PC.
No Need for Apple Devices: Allows Windows and macOS users to experience iOS apps without owning an Apple device.
Limited App Access: Provides a selection of apps from its own store, offering a curated collection for simulation.
Simple Setup: Relatively easy to install and use compared to setting up full-fledged emulators.
Non-Emulator Option: Offers an alternative for users seeking an iOS-like environment without using full emulators.
Part 3: How to Play Mobile Games on TV
You can stream your mobile games to TV to enjoy a bigger screen.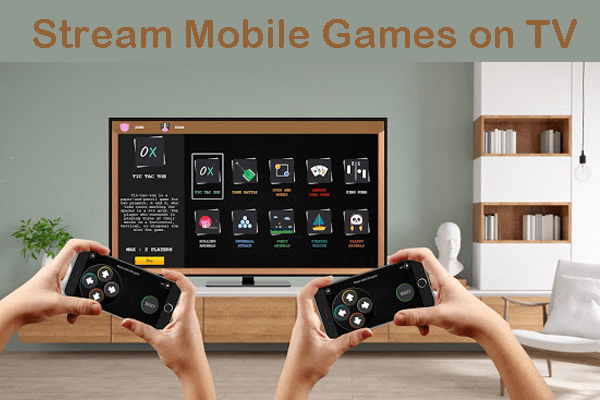 If you have an Apple TV, you can mirror your iOS games on your Apple TV by AirPlay.
Make sure your TV and iPhone or iPad are on the same Wi-Fi connection.
On your iPhone, go to Control Center > Screen Mirroring > Choose "Apple TV".
Then your iOS screen is mirrored on Apple TV. You can view and enjoy your iOS mobile games on Apple TV.
If you have Android device and TV, you can use Miracast to stream your Android screen on your TV. Make sure you enable the miracst on both your Android phone and TV.
Part 4. Hottest FAQ Related to Playing Mobile Game on PC
1

How can I play mobile games on my PC for Free?

You can use an emulator to recreate a mobile operating system with your computer. That way, you get access to all the applications you usually use with your phone. That includes, of course mobile games.
2

How to Play Mobile Games on PC without Emulator?

In case you do not want to download an emulator, then you can use a reflector tool that will transmit the screen of your mobile device to your computer. All the keys you use on your computer will be reflected to your cellphone as well.
3

o I need a high-end gaming PC use Mirror?

You do not need a high-end PC to use Mirror. You need at least 2GB of RAM, an Intel or AMD processor, and 5GB or free disk space. Rather than that, you need a good internet connection and a good router to transmit all the information from your mobile device to your PC.
Conclusion
Learning how to play mobile games on PC is a useful alternative. You could dedicate your computer to games and leave other functionalities to your cellphone. It is also convenient to keep your device memory and battery for other important issues.
We hope that this guide helped you to learn more about the different alternatives you can use, remember to take a look at the best tool, iMyFone Mirror.