Have you ever wanted to text your friend from your computer without taking your phone out of your pocket? Have you ever wished to control your phone from a PC with your keyboard and mouse? If yes, then we have the perfect solution for you. Here are the 6 best applications that help you access an Android phone from a PC without lagging.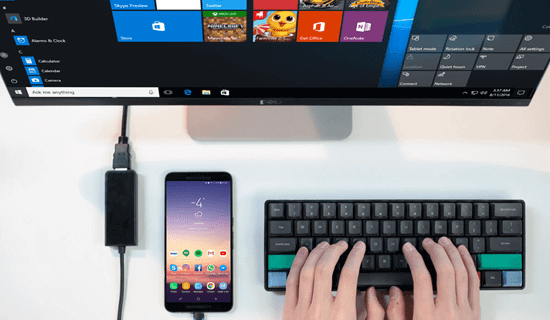 5 Best Apps to Access Android from a Computer

1

iMyFone MirrorTo

iMyFone MirrorTo is an Android screen mirroring application that lets you remotely access an Android phone from a PC. With this app, you can get a more exciting sense when playing games in a wider screen with a game keyboard. Also, you can send and receive messages more convinient on your computer with MirrorTo.

Features

It also supports iOS.
It establishes a stable connection.
Easy to operate functions.
It lets you enjoy HD videos on a PC.
It offers a lag-free experience.
Best screen controlling application for Windows PC.

How to Use iMyFone MirrorTo?

To access Android from a PC using MirrorTo, follow these steps.

Step 1.Download the iMyFone MirrorTo app and install it on your PC.

Step 2.Connect both of your devices using a data cable. Then select Transfer files.

Step 3.Enable USB debugging as shown in the picture. Go to Settings > About Phone > Software Information. Then tap on Build Number 7 times.

Step 4.You will get Developer Options after clicking on Build Number. Go to Developer Options. Slide right on the USB debugging option. A pop-up window will ask for access for USB debugging. Click on OK.

Step 5 Click on Turn On when the app asks for permission. Your phone screen will start mirroring on PC. You can control it from there using your keyboard.

Price

You can download the free version of iMyFone MirrorTo from here. But, the free version comes with limited access to the incredible features of this app. If you want to enjoy all the features, you have to buy one of the following subscriptions.

$9.95/month (1-Month Plan).
$8.31/month (1-Quarter Plan).
$3.33/month (1-Year Plan).

---

2

ApowerMirror

ApowerMirror is a versatile screen mirroring app, and it is compatible with almost all devices. This application works smoothly on iOS devices, Windows, macOS, and some smart TVs. You can access an Android phone from a PC or remote control PC from a phone with this app.

Features

Allows real-time screen mirroring with audio.
It lets you take screenshots on your phone.
Compatible with screen recording feature.
It enables mirroring and controlling multiple devices at once.
It also allows reverse screen mirroring.

Drawbacks

Poor video quality with weak WiFi signals.

How to use ApowerMirror?

ApowerMirror allows you to remote access a phone from a PC via a wired or wireless connection. For a wired connection, you need a USB cable.

Download and install ApowerMirror from the Apowersoft website on your PC.
Go to Phone Settings > About Phone > Software Information > Build Number. Tap on it 7 times. Then Go to Developer Options > Enable USB Debugging > Allow USB Debugging.

Connect both your devices with a USB cable.
Your phone will ask your permission to install the ApowerMirror app. Allow it access.
Once the app is installed, open it. Then click on Start Now. Your Android phone screen will start mirroring on your computer's screen after clicking on Start Now.

Price

ApowerMirror is also a paid app. However, it allows its users to enjoy a free trial. You can download the free version from here. To get full access to all the features, you have to buy the app and pay for its subscription. There are 2 licenses available at the moment:

$59.95 (free lifetime update).
$39.95 (free update for a year).

---

3

Vysor for Chrome

Vysor is an excellent alternative for emulators. This application works like magic on Chrome and lets you play Android apps and mirror Android or iOS screens on your PC. Moreover, this simple application is compatible with every operating system. It lets you access a phone from a PC, whether an Android phone or iPhone.

Features

It does not block the functioning of your keyboard or mouse.
It also allows remote screen sharing via just a link.
It lets you download Android apps on your PC.
Easy installation and operation.

Drawbacks

No screen recording feature.
Too many ads in the free version

How to Use Vysor for Chrome

You can use Vysor to access a phone from the computer by following these steps.

Add Vysor chrome extension to your PC.
Connect your PC and phone via USB cable and then enable USB Debugging as shown in the picture.



Once ADB (Android Device Bridge) is activated on your device, a pop-up window will appear on your PC screen and start mirroring your Android phone.

Price

Vysor for Chrome is available in a free and paid version. The free version allows you to mirror your phone and take screenshots only. All the other premium features are available in the paid version of Vysor. These features include HD mirroring, full-screen mode, wireless connection, remote sharing, and access to future updates.

The 3 subscription plans are as follows:

$2.40/Month.
$10/Year.
$40/Lifetime.

The free download and paid subscription details are given here.

---

4

AirDroid

AirDroid is a powerful screencasting and screen mirroring tool for Android and iOS devices. It is one of the best projection apps with many incredible features to offer.

AirDroid lets you access an Android phone from a PC remotely. You can project your screen to a computer wirelessly or via a USB connection.

Features

It supports 5 devices to connect simultaneously.
It allows remote connections.
It enables two-way calls.
Compatible with Windows, MAC, iOS, and Android devices.

Drawbacks

Delayed message delivery.

Price

AirDroid allows its users a free download. that allows only one device to connect. There are two other paid versions with more features for its users.

Basic Plan ($18/Month).
Ultimate Plan ($25/Month).

---

5

Scrcpy

Scrcpy is another powerful tool to remote control a phone from pc. This application works on all operating systems, including Linux and GNU. Moreover, it does not need root access to operate on a PC.

Features

Allows Android screen mirroring, screen recording, and screen controlling.
Copy-paste option.
Compatible with physical keyboard simulation (HID) on Linux OS.

Drawbacks

The video lags sometimes.

Price

All the features of Scrcpy are available in the free version. There is no pricing plan or a paid version that you have to buy to enjoy its features.

Hot FAQs about Access Android Phone from PC

Can I access Android apps without linking my device?

No, you cannot access Android apps from your PC without linking your device. You have to connect both devices via a WiFi network or USB cable. Once both devices are connected, you can access your Android phone from a PC.

How to control an Android Phone Remotely?

AirDroid is a projection tool that lets you control an Android phone remotely. This application allows you to send a link over WiFi to another device. That shared link then mirrors the phone screen and lets you control it remotely.

How to control an Android phone from a PC via USB?

Many screen-mirroring apps let you control an Android phone from a PC via USB. iMyFone MirrorTo and ApowerMirror are easy-to-use apps that can be used for this purpose.

Conclusion

You can access an Android phone from a PC using screen mirroring apps. These applications let you use your keyboard and mouse to navigate your Android apps on your computer screen. You can also play your Android games with these apps on your PC with a better HD view.

The best app to access Android from a PC is iMyFone MirrorTo. If you want to use the basic screen mirroring and controlling feature only, you can download the free version of the Scrcpy app instead of the other paid applications.