#1 Recommend Screen Mirroring Tool
The Best App to Control Your iPhone from PC easily and safely.
Cloud Storage Platforms have made it possible to sync your devices together and put your data information in one place. But many people want to control the iPhone from a PC. You'll find many different situations when people want to connect their iPhone with a PC but don't know how to do it.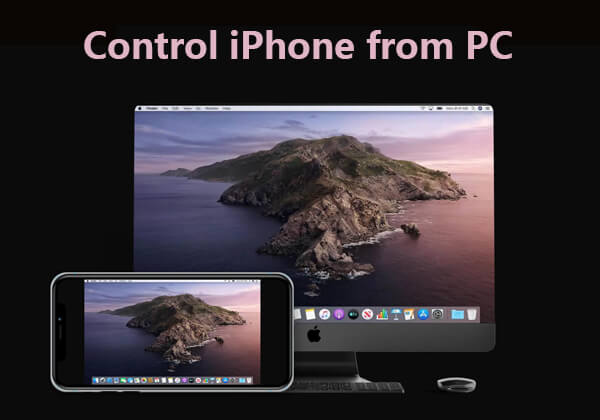 Unfortunately, neither PC nor iPhone possesses pre-installed Features that'll allow remote access. It means you have to acquire dedicated software to serve your purpose. That's why we have come up with some of the best methods for controlling the iPhone through a PC.
Part 1: 5 Fantastic Methods to Control iPhone from PC
Let's talk about the four best methods that'll help you to control the iPhone from your PC.
1

iMyFone MirrorTo
If you want to control your iPhone directly from the PC without doing much effort, then this method will be the best choice for you. This option becomes ideal for those who often face a technical fault on iPhone, and want to explain that fault to their friend or a technician.
MirrorTo is the best application that you can use to control your iPhone from a PC Remotely. Here are the steps that make it possible for you.
Control Your iPhone from PC with MirrorTo

Video tutorials on controlling iPhone from PC:
Steps to control iPhone from PC:
Step 1: Download and launch the app on your PC.
Step 2: Connect the two devices with the same Wi-Fi network.
Step 3: Go to Control Center and click Screen Mirroring.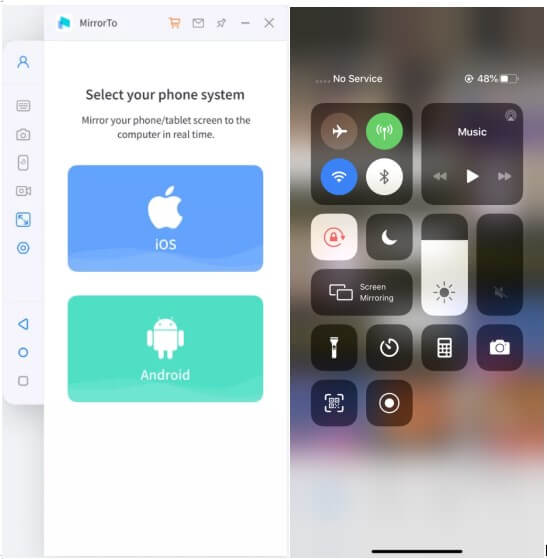 Step 4: Go to Settings, then enable Bluetooth and pair the Bluetooth between your phone and computer.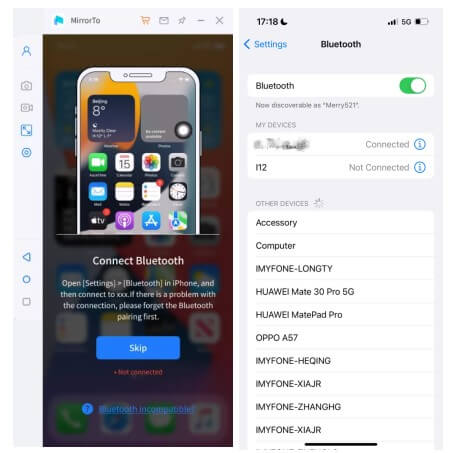 Step 5: Now you can view and control your iPhone on your computer.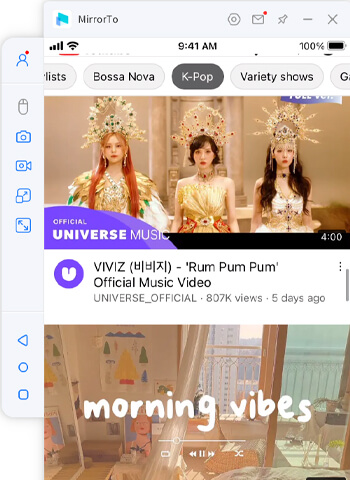 ---
2

TeamViewer
TeamViewer is a befitting remote-control solution that offers unbelievable Features to its users. By installing TeamViewer on your computer, you can control iPhone from the computer.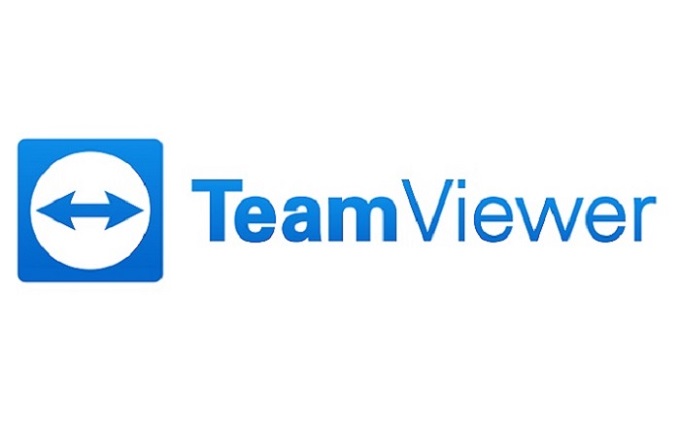 Its latest version is even better than all the arrangements. It comes with a screen-sharing Feature that offers you to share iPhone's screen with your friends.
So instead of going to your friends or technician, you can share the screen with the relevant person. By providing information regarding your problem, you'll be able to solve your problem.
How to use it?
Let's discuss how to share the screen of your iPhone using TeamViewer.
Step 1: Install TeamViewer
Download TeamViewer on your iPhone and then install it. After launching the app, it'll generate an ID for your iPhone device.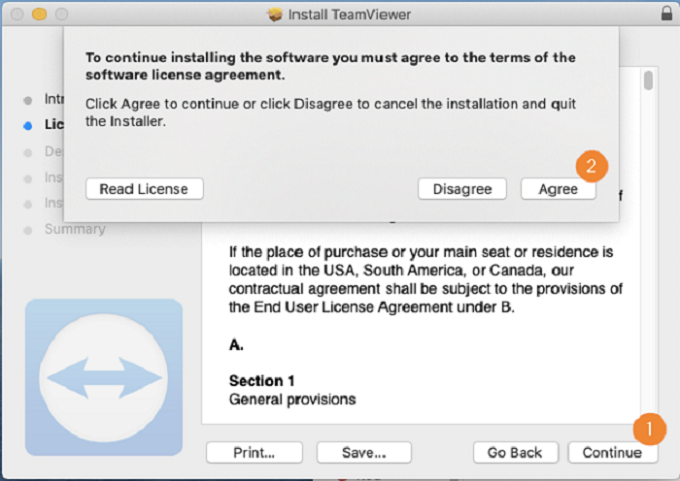 Step 2: Open TeamViewer software on the computer
In this phase, you'll need to open TeamViewer on a computer and click on "Remote Control".
Step 3: Enter the ID
Enter the unique ID that has generated earlier and click "Connect".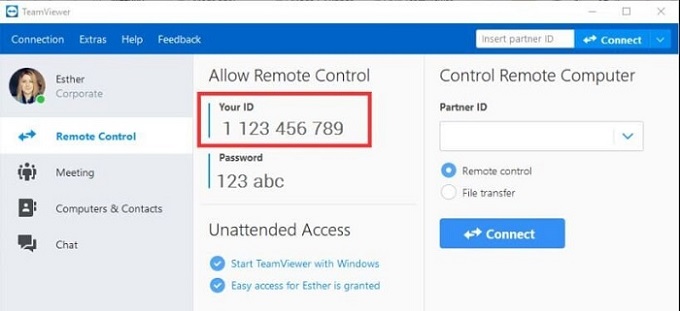 Step 4: Enable Screen Mirroring
Now, you'll require to enable a Feature named "Screen Mirroring" on your iPhone devices. To allow it, select screen Mirroring after swiping down the "Control Center".
That's all you need to do to share the iPhone screen on more than one device.
Features
You can share your iPhone screen with your friend if any of your devices have an issue.
It controls the user interface with immense security.
Pros
Connection stability
Account security
Remote support
Cons
Password/Ponds configuration can improve
You can't control all the functions of the iPhone.
---
3

ISL Light
If you don't possess a MAC, but you're willing to control an iOS device using a Linux PC or Windows, ISL Light is a perfect and ideal application for you to avail yourself of.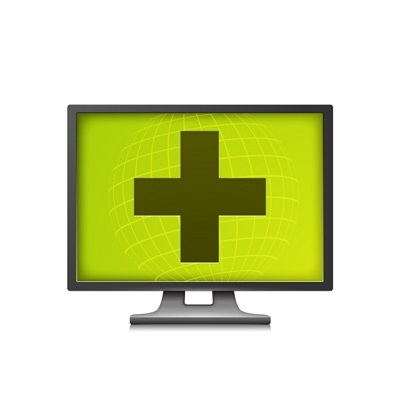 Using ISL Light, you can perform any task on your IOS device with the help of your computer. That particular program is well-designed and fully equipped to remote access the iPhone from a PC.
Here are the reasons why you should acquire ISL Light
It's a program that'll successfully manage your iPhone device with the help of a PC.
It'll be helpful for you if you are looking to troubleshoot problems from your iOS device. In addition, it'll configure the device and manage massive data.

How to use it?
ISL Light is probably the best method to control the iPhone from the PC. But for this to happen, you need to follow some instructions.
Let's discuss them step by step.
Step 1: Download the ISL Light
Download and install ISL Light on your PC.
Step 2: Launch a Session
After you download the application, now open it on your PC and Launch a session.
Step 3: Download the App on your iPhone
Install the ISL application on your iOS device and open it. After you open the application, click the Join session option.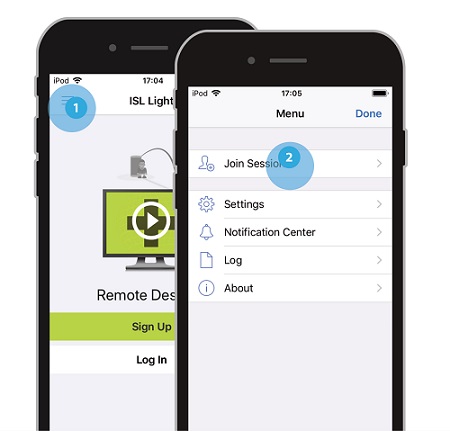 Step 4:  Enter the Session code option
Now, you'll need to move toward the session code on the ISL software displaying on your computer. After moving there, tap on connect.
Step 5: Click Screen Recording
Open the control center by swiping up the iPhone and then click the Screen recording button option.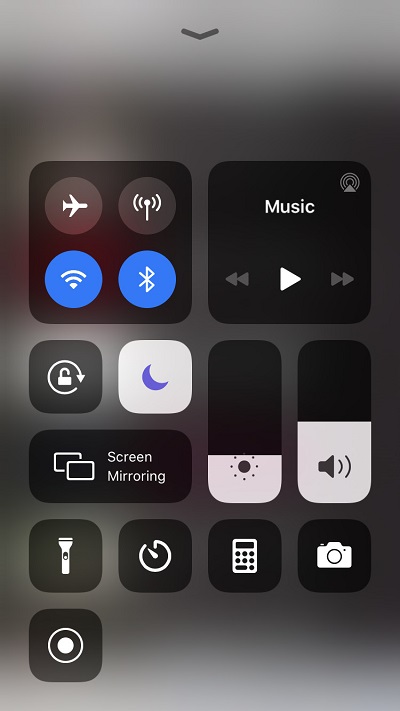 Step 6: Control iPhone from PC
The final step is to select the ISL application, and that's all you need to do. Now it is possible to control the iPhone from a PC, and you can share the screen.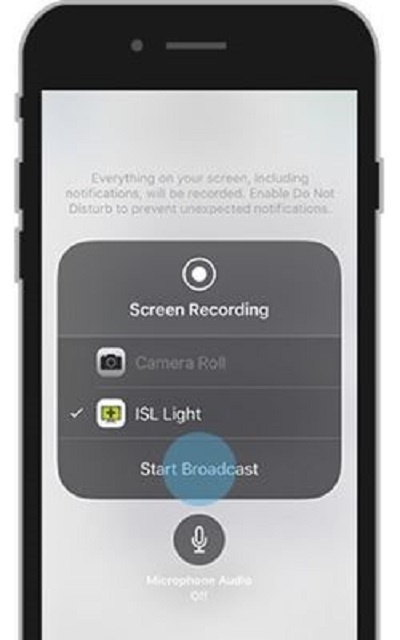 Features
You can invite a client to join you in conversion by using a unique code with the help of ISL Light.
Switch between multiple monitors
Pros
Pretty fast connection speed
Very intuitive for end-users
Cons
Although there is no major downfall of it, still user administration can be improved.
---
4

Veency
Veency is software that helps you to control the iPhone from a PC. It supports screen sharing and will make sure a user gets access to all functions.
That means a user can perform any task on his iDevice, changing the icon size, unlocking/locking the device, launching applications, and browsing without touching the iPhone.
Moreover, it can create a connection between two devices. A user can install any VNC clients, for instance, Tight VNC, Chicken VNC, and UltraVNC, to use Veency.
Here are some steps that'll tell you about how to use Veency.
Steps of using Veency
Step 1: Open Appstore 
Open Appstore on your search for Veency.
Step 2: Install the Application
Now, all you need to do is install the application on your device. Remember, it automatically runs in the background, and sometimes you won't see it on your home screen.
Step 3:  Go to Settings
Now, your task is to open Settings > Wi-Fi and check your iPhone's IP address. Keep in mind, Veency would be running in your iPhone's background.

Step 4: Enter the IP address
Enter your device's IP address in the box termed as VNC client on your computer. And click "Connect''.

Step 5:  Accept the request
You'll receive a request on your iPhone device if your connection has been established successfully.
To proceed further, you'll need to accept the request. Now you'll see your device's screen will fold in the VNC client.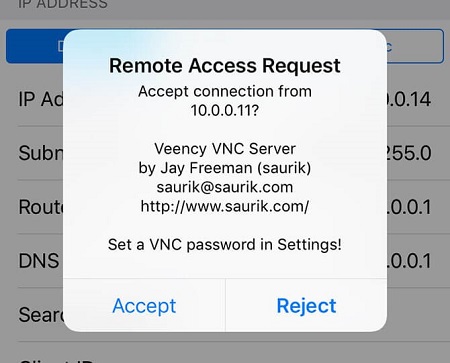 Features
You can Unlock/Lock your iPhone from a PC with the help of Veency.
Browsing through photos, Contacts, and Photos is also possible with Veency.
Pros
It is pretty easy to set up.
You can check your messages remotely when your iPhone device is getting charged in other places.
Cons
It'll drain your iPhone's battery quickly.
It works with only jailbroken iPhones.
---
5

Across
Across is software that is pretty efficient at remotely connecting your iPhone device to your PC. Unlike other software, the process of Across App is pretty simple and effective. You can access your iPhone even if you are sitting far from your iPhone device with the help of Across Software.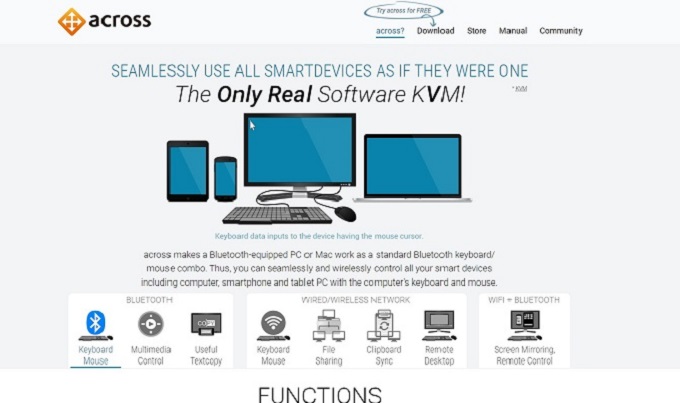 Although the process is straightforward, you still have to follow some instructions to get your job done.
Let's talk about all instructions step-wise.
Step 1: Download the Application
Download and install it on your PC. When you're done with it, the system will ask you to restart your device for opening the application.
Step 2: Search for a Hidden Icon
Later on, you need to go to the Start option and press Across center. After doing that, now search for a hidden icon at the bottom of your screen.
After finding it, click on it and select the server option. Now, open it again and click on open Across center.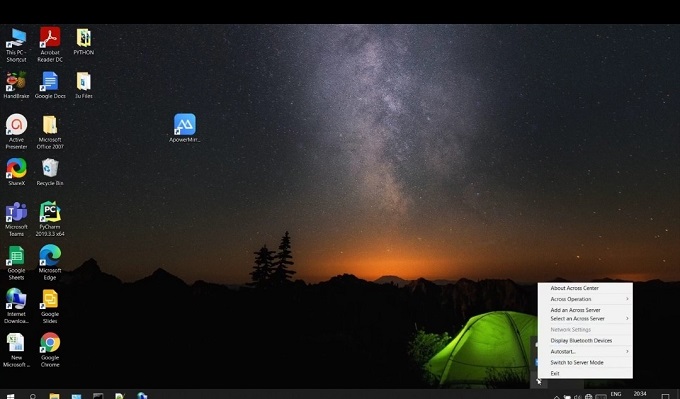 Step 3: Open Bluetooth
Now open the Bluetooth from here of both PC and iPhone devices and connect them.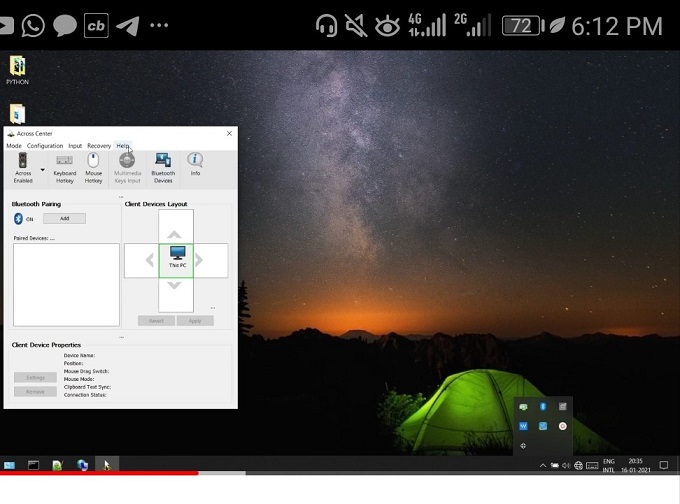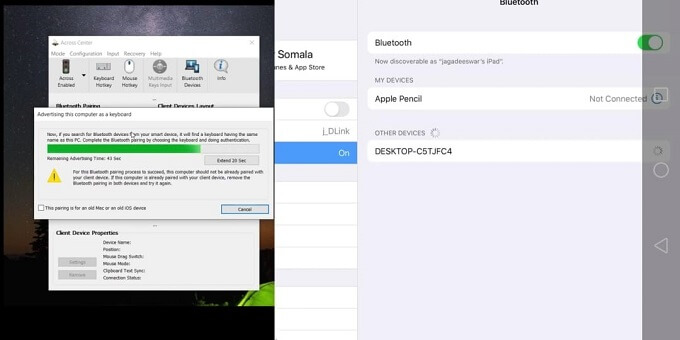 Step 4: All is Ready
After you connect them, you'll see a device present beside the PC icon. By pressing it, you'll hold control of your iPhone device.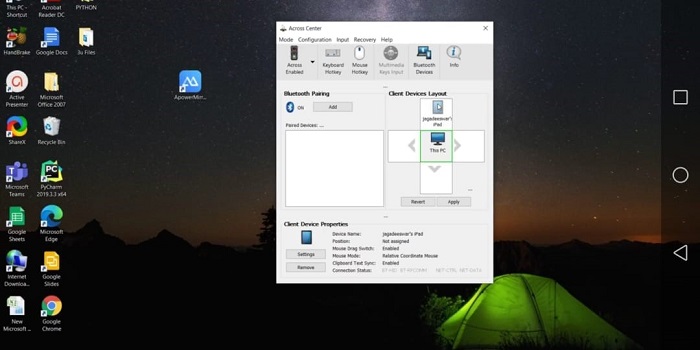 Features
Incredible easy interface to use and set up.
The app provides the facility to pair six different devices.
Pros
It'll not affect Bluetooth Gadgets.
Your data will be encrypted and will remain safe.
Cons
We haven't found any major downfall of Across. 
Part 2: Control iPhone from Mac  
You can remote access the iPhone from Mac. It is indeed helpful to get access to your iPhone from long distances. But to be able to control your iPhone from a Mac, you'll need to possess iOS 8 or later versions.
Let's discuss the steps of connecting an iPhone to a Mac
How to use it?
Step 1: Log in to the Apple ID

To connect your iOS device to a Mac, you need to register into the same Apple ID to your iOS devices and Mac.


Step 2: Control iPhone from a Mac computer

In this step, you will need to open System Preferences on your Mac PC. After that, you must locate the General section. Later on, try to find and allow Handoff and mark it between the iCloud devices option and your Mac.

Now, turn back into your iOS device and double-tab your device's home button. As a result, a user will see a new notification popping up near the dock.

After the iCloud is matched up, it is fairly easy to manage the third-party and compatible built-in apps.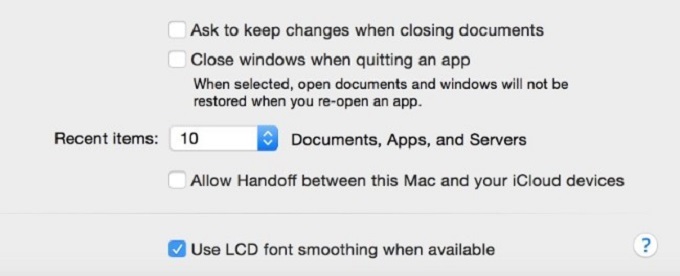 Features
You can receive or make calls from Mac.
A user can type on his iPhone by using the keyboard of Mac.
Pros
The integration between a Mac and iOS is great
It runs pretty fast.
Cons
MAC PC is pretty expensive compared to Windows computers.
You can't upgrade HDD or RAM on Mac.
Part 3: Control iPhone from PC with Extension 
To control iPhone PC, you'll need to acquire a Remote desktop extension. In the past, the Chrome Remote Desktop extension was only available for Android. But recently, Google allowed it for iOS devices.
Let's see how to use Chrome Remote Desktop extension with iPhone.
Steps of Controlling an iPhone Using Chrome Remote Desktop
You'll need to take care of a few things before you start. First, you need to make sure your PC possesses the latest Chrome version.
Second, you'll need to install the Desktop app for iOS on your iPhone. After you put all the things in order, you can proceed with the steps.
Step 1: Log in to Google Account.
In the first place, a user will require to log in to his Google Account. Later, he needs to verify the permissions and the types of remote connections he would want to set up.
Step 2: Install Remote Desktop Host Utility.
Now, the user will need to install a remote Desktop Host Utility to get going.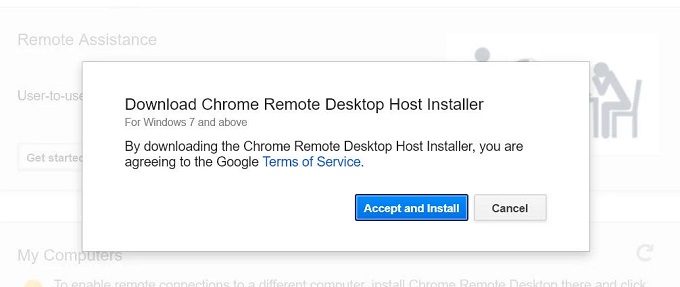 Step 3: Create a PIN
After installing Host Utility, the next step is to create a PIN password to verify whenever a user wants remotely access iPhone from the computer. The PIN should contain six or more digits.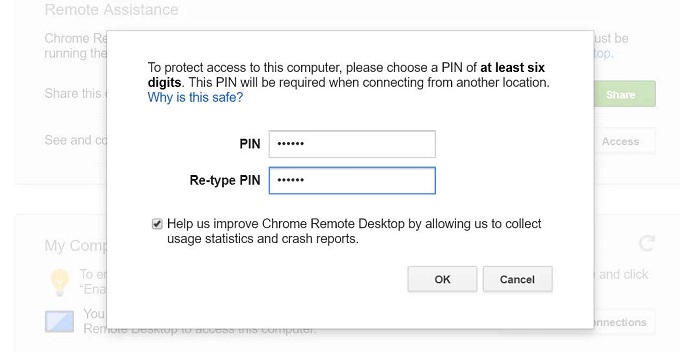 Step 4:  Launch the App
After a user sets up everything, he needs to launch the app on his iPhone. After that, he'll require to choose the PC to connect to and then verify the six digits PIN he set up on his desktop.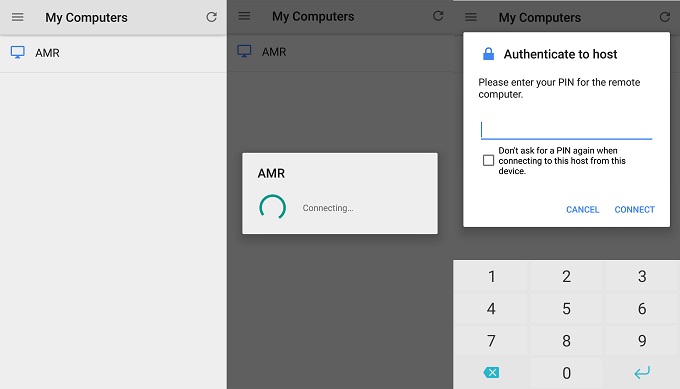 That's it. Now a user can successfully control an iPhone using a PC in real-time.
Features
You can transfer your documents quickly with the chrome desktop extension.
Allows the users to connect with their iPhone devices sitting long distances
Pros
Easy to operate
Connections will remain stable.
Cons
No built-in chat
Chrome browser is required.
Summary
Finding worthy software isn't easy if you want to control the iPhone from a PC. The problem various software has is that they can't maintain a stable connection for a long time. However, the methods we have discussed above are pretty useful for you.
You can use a Mac computer to serve your purpose, but it is a bit expensive for many people. When we talk about TeamViewer, ISL Light, Veency, and Across software, these all are befitting options for you.