Geometry Dash is an action-packed platformer game released by developer RobTop Games. In this game, players play by jumping and flying through the obstacles. It is available for both Android, Apple, iOS, Mac, and Windows.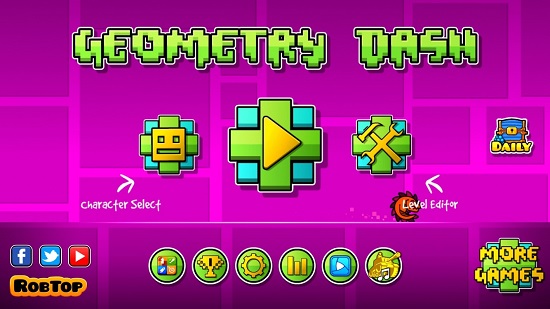 Part 1 : What Is Geometry Dash
Geometry Dash is a horizontal runner-style game available for most computer platforms. A lite version is also available for handheld devices with fewer features. The main features of Geometry Dash are: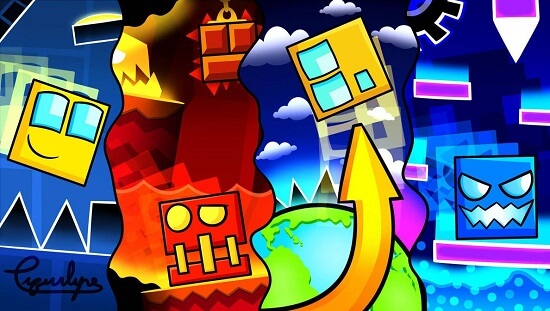 You can learn about different layouts of levels through practice mode.
Collectables are available at shops and a Treasure Room.
Customization options.
Global and friends leaderboards.
The hidden Vault, Vault of Secrets, Chamber of Time, and Basement.
Stats for encouragement.
The user account for showing your badges on social networks.
Secure data backup.
Customizable gameplay.
User-level downloads.
A level editor to create and share levels.
Daily rewards.
Quests.
Game Center integration for iOS devices.
Google Play Games integration for Android devices.
Part 2 : Why Is It Called Geometry Dash
To play Geometry Dash, you will control the movement of an icon using the space button, up and down keys, mouse clicks. You need to avoid obstacles that can destroy the icon.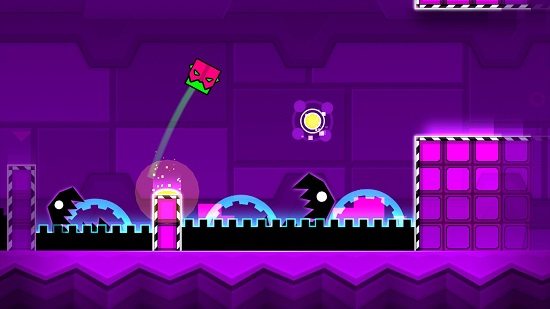 Both parts of the name Geometry Dash game have a particular meaning. 'Geometry' depicts the geometrical graphics making up the scenery. The graphics include simple shape rewards, player icons, obstacles, and the movements like sliding and crashing.
The 'Dash' word depicts the fast and uncontrollable pace of the game. Players are constantly moving by jumping over, slaying, and flying through obstacles. It all works through the constant push of speed and gravity.
Part 3 : Download Geometry Dash iOS/APK Full Version for Free
Geometry Dash Hack Download on iOS (iPhone & iPad) is not a straightforward process. You will have to install third-party software.
1. AppValley
To download the Geometry Dash Free iOS, you need to install the AppValley application on your iPhone/iPad. Once you are done with the AppValley download, we can move on to the installation of Geometry Dash for free.
What is AppValley, and how can it help you in Geometry Dash iOS/APK Full Version Free Download.
AppValley is a popular app store that contains a ton of hacked apps and games that are not available on the official Apple store. You can use this for Geometry Dash iOS/APK Full Version Free Download.
Open AppValley on your iOS device.
Search for the Geometry Dash Hack for iOS.

Once the results show, click on the application installation window.
Click on the Get button and start downloading Geometry Hack.
If asked for confirmation, allow the app to make changes.
When the installation is done, you can see the icon available on your device's home screen.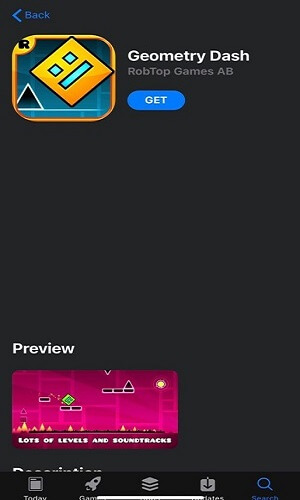 Go to Settings > General > Profiles & Device Management and trust the profile of Geometry Dash Hack Download on iOS (iPhone & iPad). Voila! You are done.
2. Panda Helper
Panda helper is another application that can help you download and install applications that are not available on the official app store.

So, let us see how we can use panda helper to install Geometry Dash Hack Download on iOS (iPhone & iPad).
Access the Panda Helper website and download the application.
Now, go to Settings>Security and enable the unknown sources option. Depending on the model of the device, you might find this option somewhere else in the settings.
Find the Panda Helper and install it as per the instructions.
Now, click on the panda helper app icon to launch the app.
Search for the Geometry Dash app.
Grab it, and voila, you are done!
Tips
If you don't like playing Geometry Dash on your iPhone with a small screen, we suggest you to play the game on computer by screening mirroring your phone to PC.
iMyFone MirrorTo
will be your best choice in this case.
MirrorTo supports both Android and iOS, anyone without technical skills can control your device on your Windows by several steps, then you can cast the game to computer and play it on PC and enjoying playing Geometry Dash with a large screen. And you can freely control your phone by keyboard and mouse. Now don't hesitate to take a free trial!
It also supports live streaming function, you can live stream your phone screen to instagram, youtube, facebook and other platforms.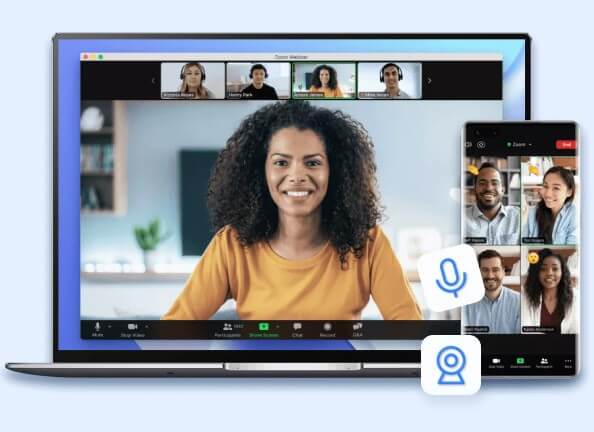 Part 4 : Recommendations for Similar Games
You are having so much fun with Geometry Dash iOS/APK Full Version Free Download and want to try more games like these? Let us recommend more fun games.
1. Runner2: Future Legend of Rhythm Alien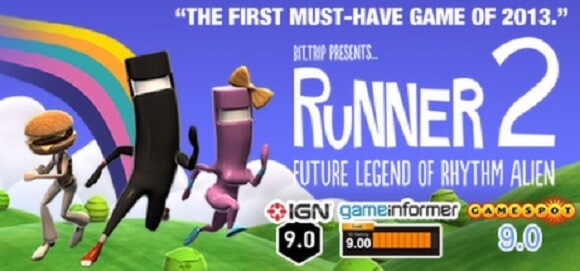 Runner2: Future Legend of Rhythm Alien, a.k.a Runner2, is a direct sequel to Bit.Trip Runner.
Runner2 has five themed worlds, each containing fourteen normal levels. Each theme also has five bonus stages. The goal for the player at each level is to keep the chosen character running to the end of the level by crossing all the obstacles.
Runner2 has several retro levels that gradually unlock as the players uncover hidden Famicom cartridges. If you collect a cartridge, it immediately ends the level. In other situations, the player collects a key and opens the lock on the path of the cartridge.
2. Remnants of Naezith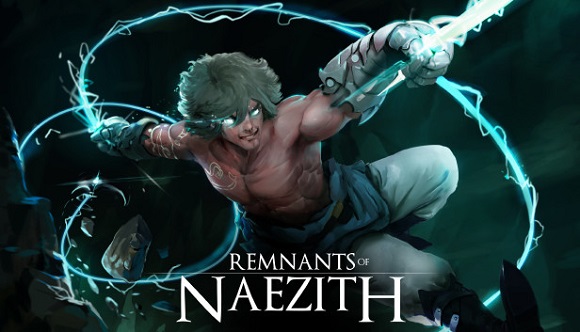 Remnants of Naezith is a platform game revolving around an adventurer named Kayra.
The player has to control Kayra, gifted with two grappling hooks connected to his hands with lightning beams. Adventurer Kayra has features like jumping off the ground and walls.
The scores are displayed on the leaderboard of the game. For a wide competition, players can create their levels and publish them for other players to play.
3. Muse Dash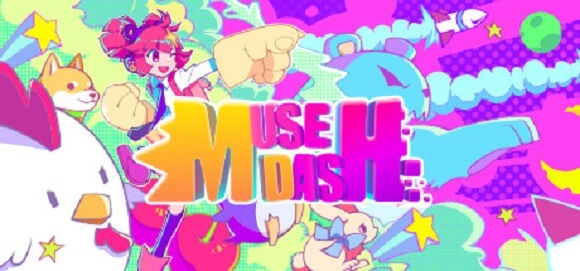 Muse Dash is available for both mobiles and the Nintendo Switch. Muse Dash is a vibrant and colorful rhythm game with a perfect combination of interesting yet aesthetic gaming experiences. In Muse Dash, the player's chosen character keeps running left to the right on the screen and dodging the things coming from the opposite side.
These things can be monsters, cars, boss characters, laser bullets, and even lollies. Fun and music combined are what Muse Dash is all about.
Part 5 : FAQs about Geometry Dash
1

Is Geometry Dash a hard game?
Yes, it is a hard game, which is probably why this game is so full of adventure and keeps you involved. Geometry Dash iOS/APK Full Version Free Download is your ticket to an action-packed journey.
---
2

How do you get Geometry Dash for free iOS?
You can get Geometry Dash iOS/APK Full Version Free Download using third-party app stores like AppValley and Panda Helper.
---
3

How to get Geometry Dash practice mode unlocked?
When you complete the Geometry Dash iOS/APK Full Version Free Download from AppValley, the practice mode is already unlocked for you.
---
4

Can I construct my levels on Geometry Dash?
To construct your levels on Geometry Dash, you need the level editor available in Geometry Dash Cheats MOD on iOS.
---
5

How to uninstall Geometry Dash MOD on iOS?
Go to the App Library.
Click and hold the Geometry Dash Hack Download on iOS (iPhone & iPad) app icon.
Click the Delete the Application from the drop-down menu and continue.
Now, Geometry Dash iOS/APK Full Version Free Download is deleted from your device.
In Closing
Geometry Dash Hack Download on iOS (iPhone & iPad) may sound tricky at first sight. However, as discussed above, this can be very easy using the AppValley and Panda Helper app stores. So, what are we waiting for? Let the adventure begin!