In recent times, everything has gone online due to a disaster worldwide (Covid-19). Many people are now doing work virtually from their space and arranging meetings online. Most of them are using Zoom for setting an appointment to do different tasks.
Many iOS users are asking why Zoom Airplay is not working during their meetings. Read this article and get the best solutions to this problem.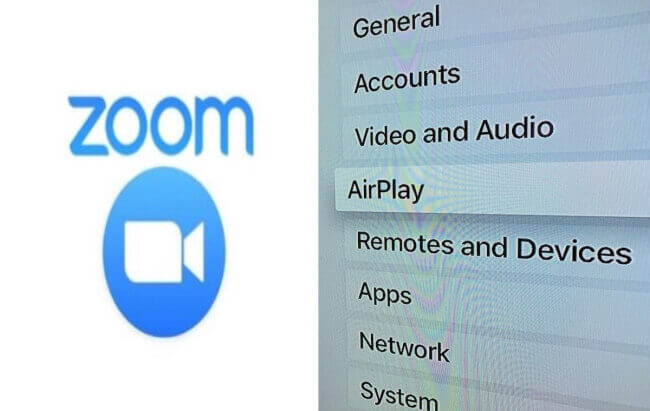 Part 1: What Are Airplay and Zoom?
What Is Airplay?
Airplay is the particular software launched by Apple for different purposes.
Airplay features:
Used in other iOS devices to stream videos, songs, meetings, or do live sessions.
It has made the process of streaming videos and meetings easy and quick for everyone.
It has an extra feature named Airplay Mirroring for Zoom meetings and other purposes. The reason is that you can share a screen using it while attending a Zoom meeting.
It will also enable you to deal with your viewers properly and give them a comfortable view.
At all, It is a faster streaming or screen sharing tool and available only on newer devices by Apple.
Note
Airplay Mirroring is a little bit different than that of Apple Airplay.
What is Zoom?
We all know that multiple meeting applications are being used in the world, like Google Meet and Zoom. Zoom is one of the best applications to arrange meetings, chats, and calls. People from all fields are using this application because of its simple interface. Also, this application has every feature that you might need during your meet or chat.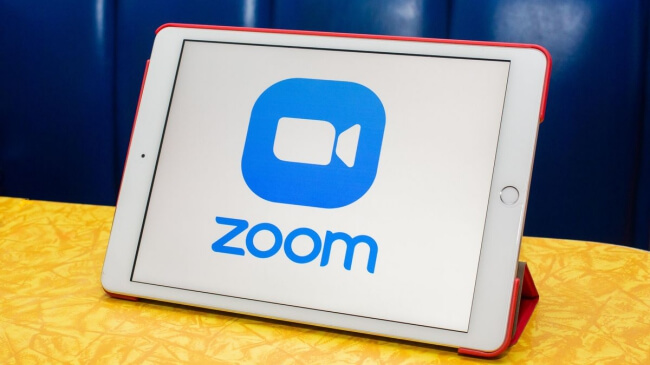 Zoom features:
Just one click away from the user that he can do by touching his device's screen.
Further, users can drop a message or do chatting over with everyone privately during any meeting.
Being an user, you only have to start a meeting or join an already started gathering. You can enter a chat using a code and link to the meet you will get from the host.
What Can Airplay in Zoom Do for You?
It might be difficult for you to share content over Zoom if you have joined through iPad. There are many reasons for this restriction while using Zoom for your meet.
Many users have reported voice issues and asked about the solution. If you are wondering why my Zoom audio is not working, you can solve this problem now with Airplay Mirroring.
It will enable you to connect your device with Zoom and share data according to your requirements. This software will create a bridge between Zoom client and room to make a sure strong connection. You can also display and share your screen, and anything that will be visible to everyone in the chat. Airplay Mirroring has made this arduous task pretty smooth and straightforward.
You only have to follow the upcoming process to enable Zoom and Airplay. Also, you will get a solution to the problem of zoom airplay not working in the forthcoming sections.
Part 2: How to Enable Airplay While Using Zoom?
Zoom does not give you direct access to airplay during or before the meeting. It would be best to do this on your own by using the following method step by step.
Step 1:Sign in or register yourself with Zoom.
Step 2:Open the application and enter the meeting with a particular password.

Step 3:Once you are in, the 'Share Screen' button will come in the below menu.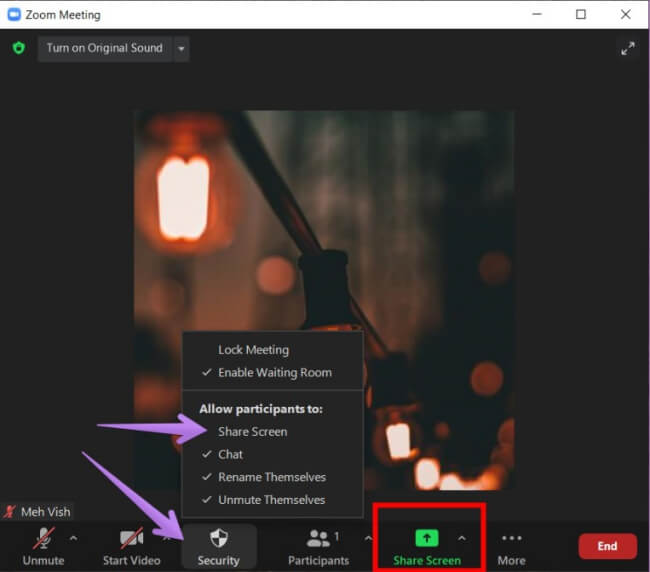 Step 4:Just hit that button to open a new window.
Step 5:Check and switch iPhone or iPad option.
Step 6:Install the plugin using the on-screen instructions (For the first time only).
Step 7:Now, open your device control center using specific shortcuts or browsing settings.
Step 8:Search for screen mirroring and hit that button.
Step 9:It will open all the Zoom users or other devices with airplay mirroring around you.
Step 10:Select your Zoom name that will start mirroring your Screen on Zoom.
Keep in mind that both devices should be on the same internet connection while following the above process. The screen will only be visible to you, and you can control both devices from a single space.
To stop sharing your screen, you can browse the control centre of your phone and hit the stop sharing button. Also, you can use the Zoom screen to stop sharing your screen.
Part 3: Why is Your Zoom Airplay Not Working?
Many times, it happens that users can't connect Airplay with Zoom. They ask why airplay is not connecting with Zoom while they are attending a meeting.
Here are some issues that might you have to face in your case. Also, we are giving solutions to every problem one by one for resolving this issue and work smoothly.
Troubleshooting 1: It happens when both of your devices are not connected to the same internet. Apple has made airplay only workable for the device having the same internet connection to secure their user's data.
You can remedy this issue by making sure that the device you're using has the same internet connection as the one you're using.
Troubleshooting 2: Another problem due to which you might have to face this problem is AP isolation. You may be facing Zoom airplay unable to connect because of this problem.
AP isolation is a specific feature of a wireless router that gives every connection a new and virtual name. Sometimes, airplay does not work if AP isolation is enabled in your router. You can solve this problem just by getting into the settings section of your wireless router. Browse advanced settings of your router and "Disable" AP isolation. Reboot the router to save the settings, and your problem might be solved.
Troubleshooting 3: If you are trying to access Airplay for Zoom using a Windows device, it might show some problems. It is because of Windows Firewall that will keep blocking your device.
You should check Windows firewall settings and change them according to your situation. Hopefully, it will resolve your problem, and you will start sharing your Screen during Zoom.
Troubleshooting 4: Airplay is only usable in the latest devices by Apple and is not available on older devices. Many people ask why airplay isn't working on my iPad.
This might be the fundamental problem that they have older devices in which they want to activate. So, you should check first whether your device support Airplay or not.You can do it simply by checking your iPhone or iPad properties over the internet.
In the last, you should make sure that you have up to date device while accessing airplay. If you don't have the latest gadget, you will not connect Airplay with Zoom. It will never let you share the content of your iPhone on any other device like TV, iPad, or any other.
Part 4: 3 Alternative Ways to Mirror Your Zoom Meeting
There are many other ways to mirror your Zoom meeting than airplay that you can use on your Android or iOS device. Here are the best 3 methods with which you can do this task precisely.
1. Using iMyFone MirrorTo
If you are using Zoom on a Google phone, you can try this easy-to-use mirroring app to share screen on your PC. So you can use any apps on your Android or iOS devices from computer, even make a meeting on pc by using phone camera and microphone.
Step 1:Download and install iMyFone MirrorTo on your Windows.
The connection way of Android and iOS will be different. iOS device owners can be wireless screen casting via WiFi. The following are the connection steps of Android:
Step 2:Connect your Android device to computer via a USB cable according to the instruction onscreen.
Step 3:Than turn on USB debugging in the Developer option.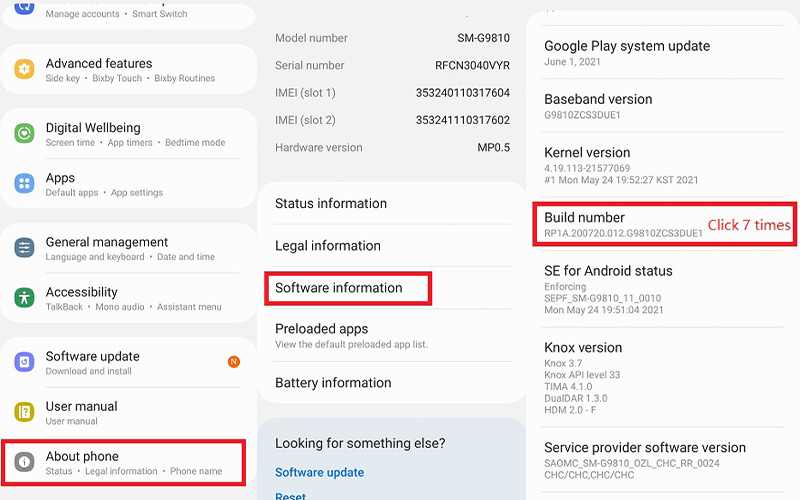 Step 4:Click on the "Turn on" button to allow permission to the software. After that, you can freely control your device with keyboard and mouse. Now, you can use Zoom on your PC without downloading the program. Also you can stream it to zoom software.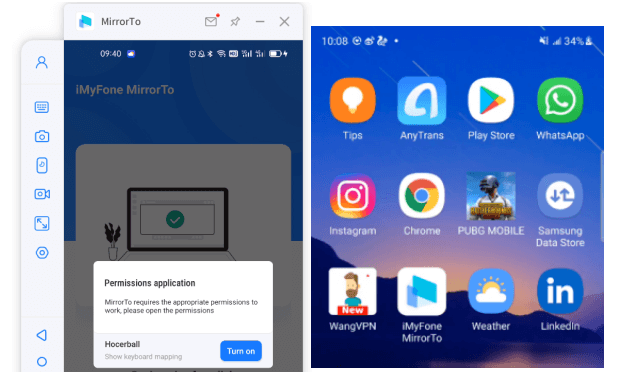 Step 5:Choose "Stream" button in the toolbar, then click the "Start Streaming" button.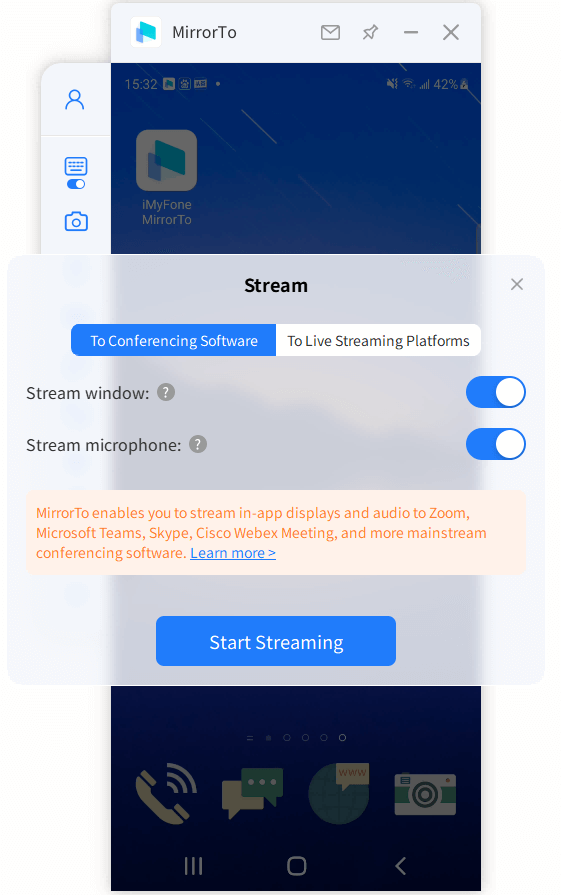 Step 6:Open Zoom software and find the "Camera" to choose "MirrorTo Virtual Camera64", select Microphone and Speaker setting to choose "Voice Changer Virtual Audio Device WDM" option. After finishing it, you can use your phone or tablet as your camera and microphone to organize meetings.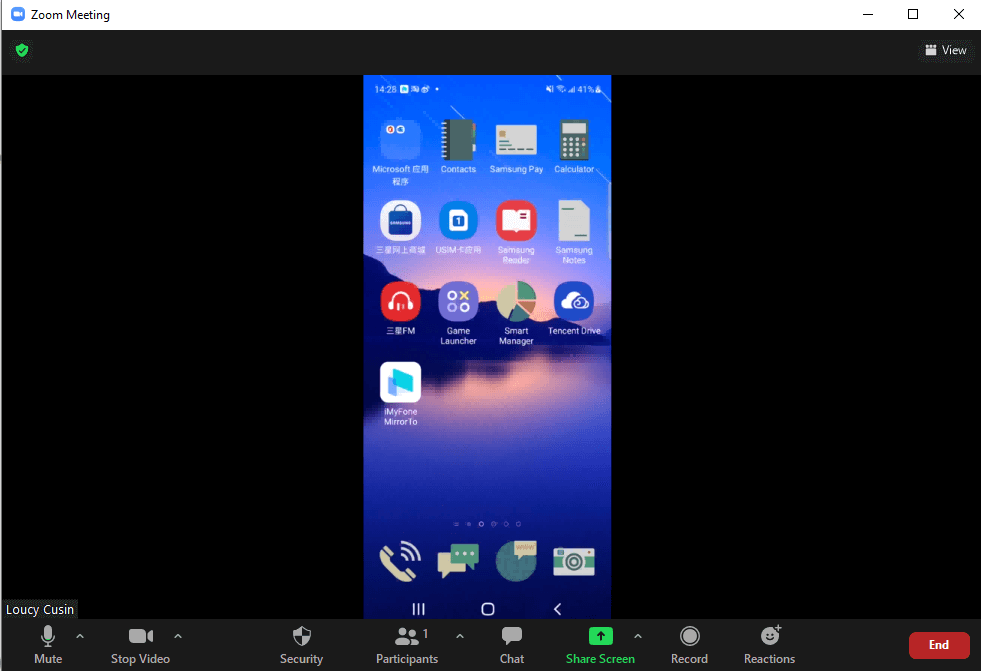 ---
2. Using Chromecast
Step 1:Connect your phone and Chromecast with the same Internet.
Step 2:Click on Google Home to open it.
Step 3:Hit required Chromecast from the available list.
Step 4:Click on the "Cast my screen" button.
Step 5:A warning notification will pop up regarding your data security.
Step 6:Click on the 'Start Now' option to mirror your Zoom meeting.
Using the Home app, you can control sharing, adjust audio and stop mirroring your screen.
---
3. Using Roku
Step 1:Check whether your device support Roku mirroring or not.
Step 2:Tap on your device's Settings and search for Screen Mirroring.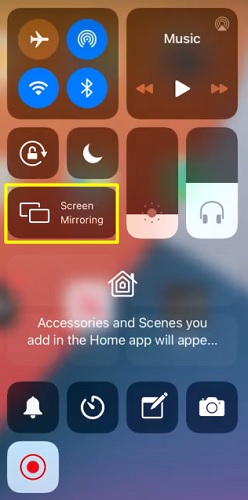 Step 3:If available, click on 'Enable' button.
Step 4:Open Roku device and go to settings.<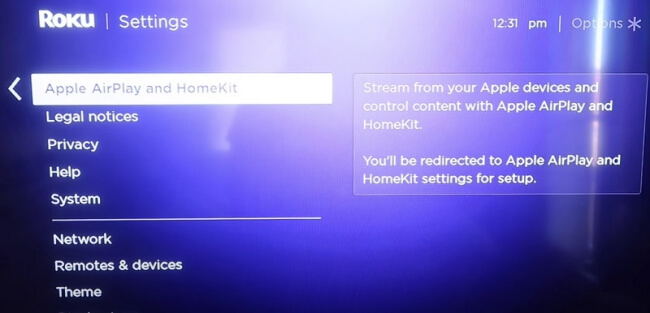 Step 5:Enable screen mirroring from the available section.
Step 6:Choose your device from the available ones.
Step 7:Start sharing your screen or mirroring your Zoom meeting.
Note
Keep in mind that you should take care of your data while reflecting your Zoom meet. You don't have to open any confidential file or use a password for any of your accounts.
Part 5. Frequently Asked Questions about Zoom Airplay Not Working
01

How do I zoom in on Airplay?
Open your device control centre, and enable the screen mirroring option. You will get all the available options on your screen. Just click on the name of the device in which you want to mirror your screen. It will enable you to attend Zoom and control your phone using the same device. 
02

Why a black screen appears in Zoom screen sharing?
It may be because of your device's graphic that may show a black screen whenever you try to share the screen with other people. You can resolve this problem by checking your card through the Windows control panel and allow 3D settings. Tick the "Optimized video sharing" option when sharing.
03

Why the video becomes blurred?
Zoom has a specific feature to optimize screen sharing of some particular video clips. With this, your video might get broader or shorter. Because of this, it might get blurred and show inappropriate views.
04

Why can't the Airplay function be used?
The most significant factor of this problem is that your device might not support airplay. It is only available for the latest instruments of the company. So, you should check either your device is eligible for this or not. Besides, don't forget to check proxy settings, firewall blockage.
05

How to fix Zoom not working on Android devices?
There are several ways that you can try in this case.
Restart your Android phone.
Update the applications and your phone system.
Turn on permissions to Zoom app.
Clean Zoom cache and data.
Conclusion
By using the above process, you can resolve Zoom Airplay not working issue. You only have to evaluate troubleshooting for your case and solve it accordingly.
Also,it would be best if you keep your devices up to date for smooth screen mirroring while using Zoom. Airplay will be the best way for you to mirror your phone/laptop screen on any other devices when you have solved this problem.