Video conferencing has never been easier with the emergence of zoom meeting live. Zoom has become an important tool for organizing meetings in most offices. Zoom meeting live stream is almost replacing in-person meetings today.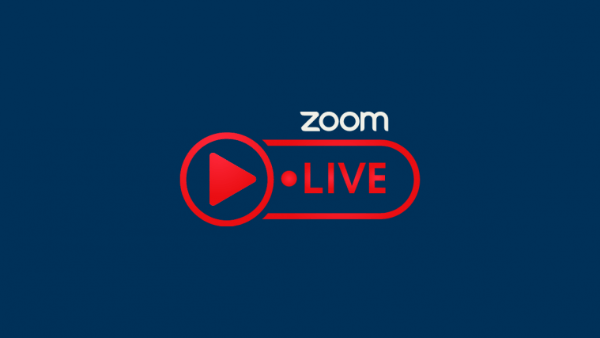 Beyond the office use, people are now beginning to use zoom stream for other important activities. This post will teach you how you can do live streaming on zoom with phone camera and mic.
Part 1: How to Live Stream your Phone Screen to Zoom?
iMyFone MirrorTo is a useful application that helps you mirror the content of your smartphone on your PC. You can view whatever is going on in your phone on your PC, and also, live stream it.
Mirror & Stream Your Phone Screen to PC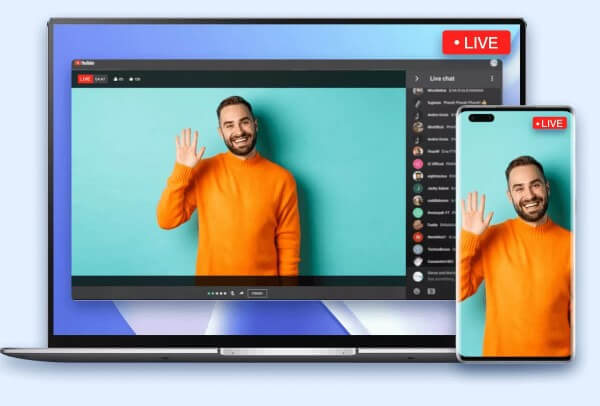 Freely control your phone with a large screen from a computer.
Effortlessly screen-share Android & iOS phones to PC and simultaneous transmission of audio.
Play your mobile games like Among Us , ARK: Survival Evolved on a big screen.
Follow the Stpes to Live Stream on Zoon via MirrorTo
Step 1. After successful connection of your phone and computer, click on the "Stream" button in the toolbar.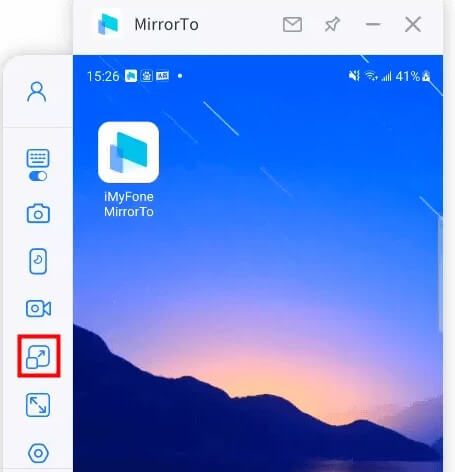 Step 2. Select the 'To Conferencing Software' Option on the toolbar.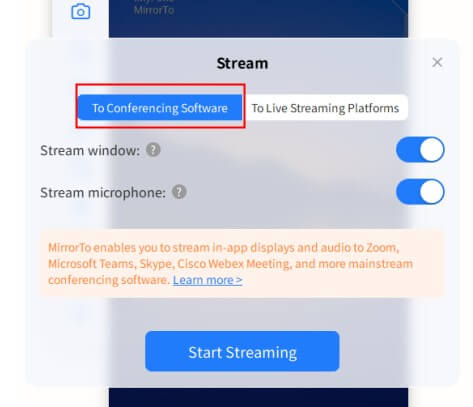 Step 3. Complete the Settings on the Zoom Conference Software
Launch Zoom on your computer and host a meeting. Then, please find the "Camera" to choose "MirrorTo Virtual Camera64". "Mute My Audio" to select Microphone and Speaker setting, Both of them choose "Voice Changer Virtual Audio Device WDM" option.
Step 4. Stream to the Conference Software Successfully
Now you can use your phone or tablet as your camera and microphone to organize meetings.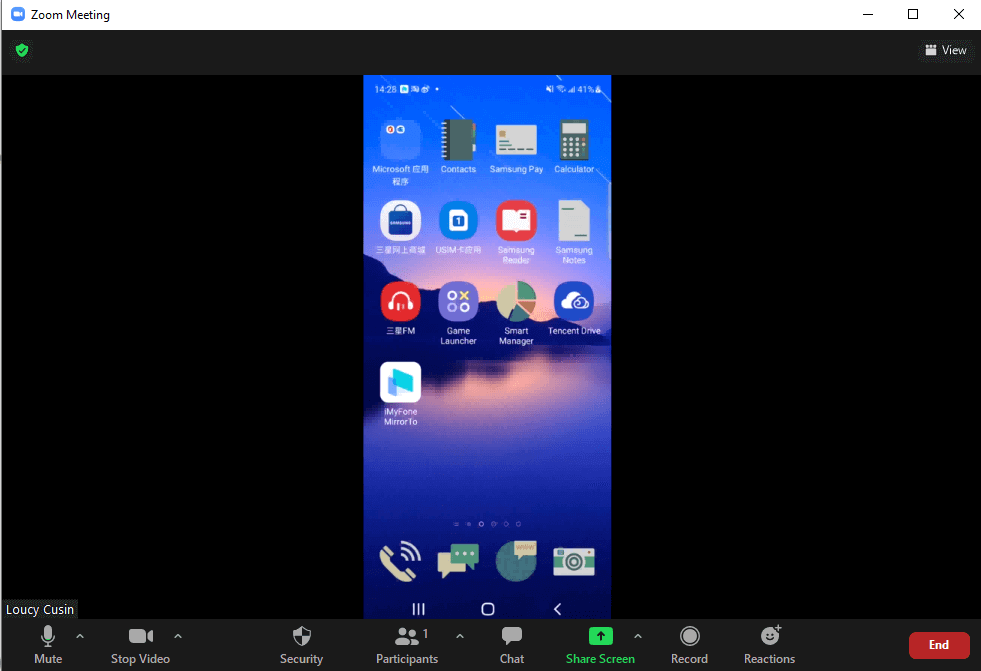 Part 2: How to Live Stream with Zoom to Facebook Live?
Facebook Live is a feature on Facebook that makes it possible to share live content with a lot of fans on Facebook in real time. When you combine that with Zoom, it allows you hold video meetings with others from different locations, while making those meetings open to Facebook users. Here is how you can achieve that.
Step 1. Log in your Zoom account. On your zoom page, navigate to Account Management and look for Account "Settings". After clicking on it, you would find a number of options, click on "in-Meeting (Advanced)".

Step 2. Scroll down the page and look for Allow the Live Streaming Meetings. Toggle the button beside it so it can be enabled. There are a couple of options below, such as Facebook, YouTube, etc. In this case you are expected to tick the box by the side of Facebook. If you intend to stream on a platform that is not on the list, you can choose Custom Live Streaming Service.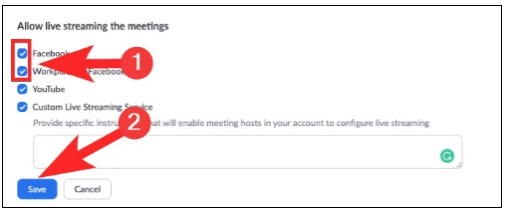 Step 3. Click and open the Zoom client on your desktop. When the app comes up, you can click on "Start a Meeting".
Step 4. Before you invite others, you need to copy the URL first and send it to your invitees through any medium of your choice.
Step 5. For your zoom video streaming on Facebook to be successful, click on the "3 dots (More)" at the end of your screen at the bottom to your right. That's where you choose Facebook, so you can go live on Facebook.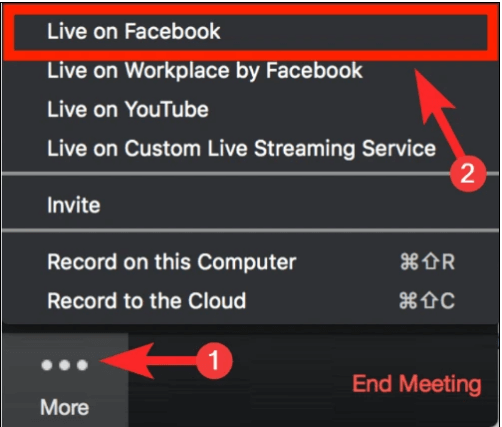 Part 3: How to Live Stream with Zoom to Youtube Live?
YouTube is the world's video sharing platform, where millions of users visit every day to feed their eyes. YouTube Live is a feature that helps you broadcast your content live on YouTube. You can actually stream Zoom on YouTube. Here is how;
Step 1. Log into your own zoom account and click on "Settings". After that, click on "In the Meeting (Advanced)". Then scroll down the page and look for "Allow Live Meetings". When you find it, toggle it to on. Choose the Custom - Live Streaming Service before choosing save. You have configured your account of Zoom to allow the live streaming.
Step 2. Log into https://studio.YouTube.com. Click Create and choose Go Live from the dropdown.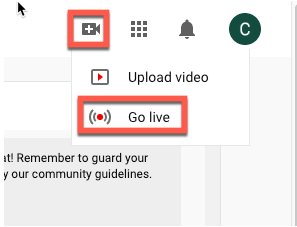 Enter all the needed information for the streaming. Click on upload custom thumbnail. Click on create stream. Open Stream Settings to determine the settings for your live streaming.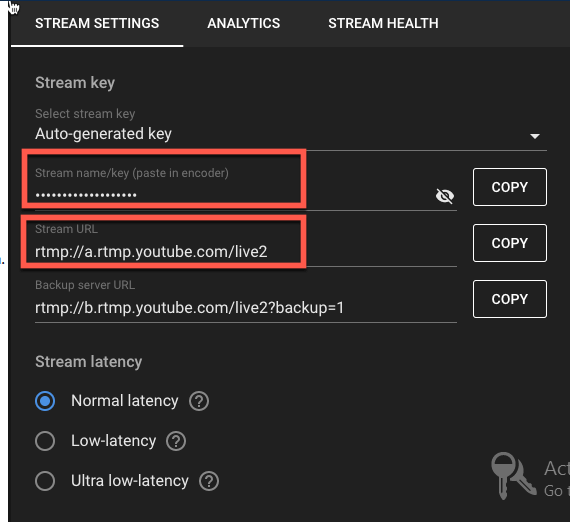 Step 3. Adding a Scheduled Video To a Playlist.
On YouTube, there is a button called Studio.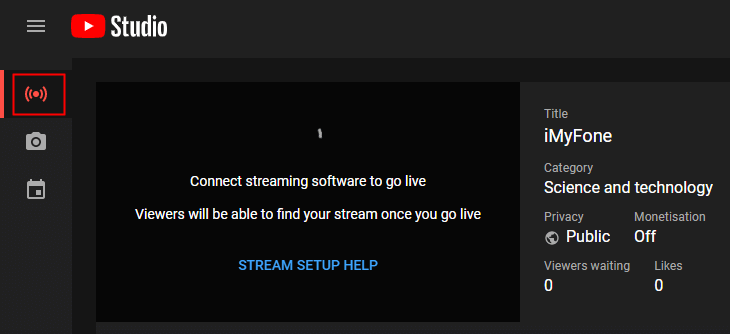 Click on it. Click Videos and Live. Check the box next to a video for it to be included to a particular playlist.
Step 3. Start The Live Stream
When the Zoom meeting begins, click on "More". It's just to the right of the Zoom meeting screen. Click on Live on Custom Live Streaming Service and you would see a web page open as shown below.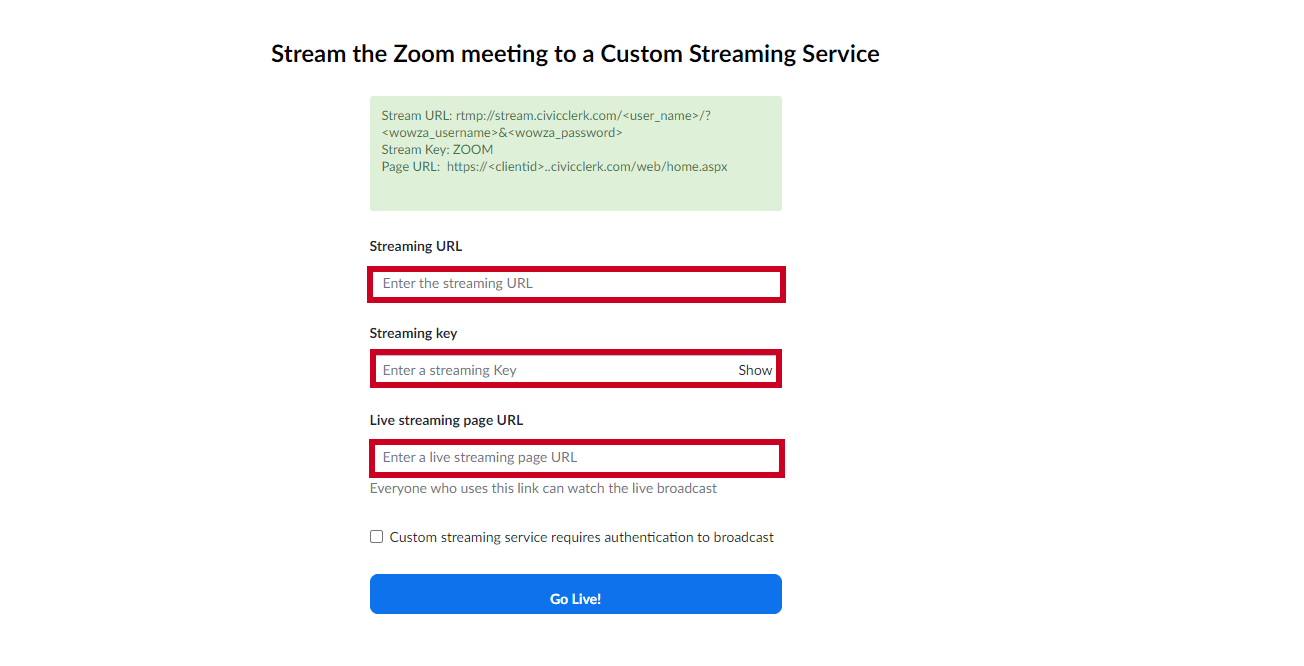 Fill in the necessary information for that streaming courtroom. Click on "Go Live". The live stream on YouTube will commence shortly.
Part 4: Hot FAQs about Live Stream Zoom
01

How do you live stream with a Zoom camera?
Open Zoom, start a new meeting and click on Start Video. Select the camera option you .
02

What is the best way to stream video in Zoom?
To achieve zoom video streaming, follow the steps below;
Access your Zoom desktop app.
Commence or join any Zoom meeting.
Click on Share Screen right within Meeting Controls.
Select the Advanced tab and choose Video.
Open the video you intend to share.
It will display inside Zoom, and other attendees can also see it.
Conclusion
Besides the fact that Zoom presents users with privilege of holding meetings online, live streaming on zoom onto other platforms gives others the chance to follow such events in real time. You can use zoom meeting live can be used for discussions, interviews, group meetings, etc. This is just a way to stream live meetings or events to a larger audience. From the methods mention above, iMyFone MirrorTo is the best and easiest. Follow the steps provided in this article and offer your viewers engaging content.