Copy My Data is an application that provides an easy and fast way to transfer calendar entries, contacts, photos and videos from one device to another. The app uses Wi-Fi and only requires a few steps to migrate your data between an iOS and an Android phone. Right below, you will find details about how to use Copy My Data to send files from one phone to another, regardless of their operating system.
How to Use Copy My Data to Transfer Data from Android to iPhone?
Here are the steps involved:
Step #1: Install and open the app on both devices. You can find the app on both Google Play and App Store.
Step #2: Head to your Android phone and tap on the "To or From Another Device Over WiFi" option.
Step #3: Give your Android phone a few seconds to find your iOS device. You will be provided with a list of all devices that are connected to the same WIFi network and have Copy My Data installed. Select your iPhone.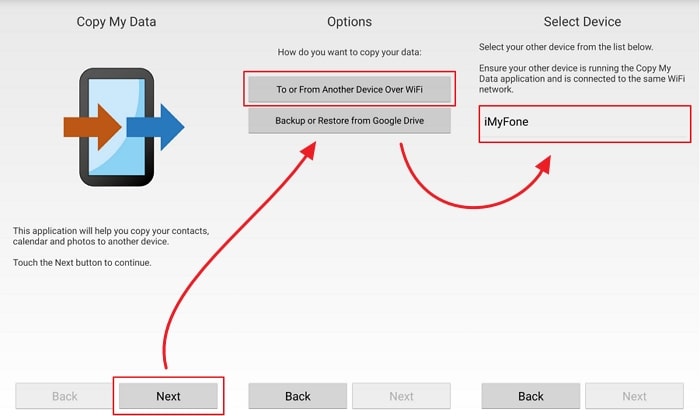 Step #4: Tap on "Copy Data to selected device" to start the file transfer.
Step #5: Enter the provided PIN code to your iPhone. Check your Android for that code – it will be displayed on its screen.
Step #6: Choose the files you wish to transfer to your iPhone and click Next to start the transfer.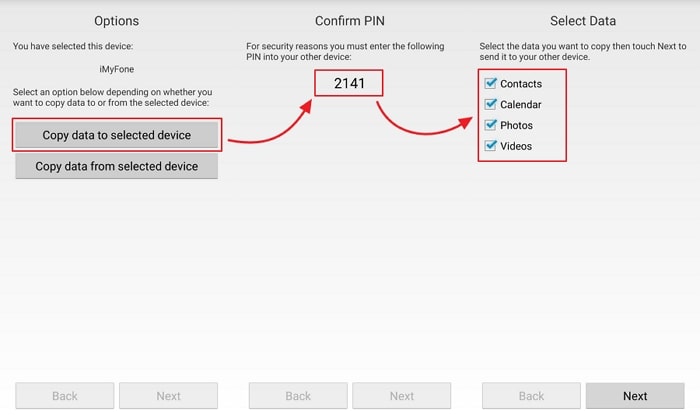 Remember that Copy My Data runs on Android 2.3.3 and up and iOS 7.1 or later.
How to Use Copy My Data to Transfer Data from iPhone to Android?
The process is more or less the same as before. Simply follow these steps:
Step #1: Download and open Copy My Data on both devices.
Step #2: Give the required permission on your iPhone and click NEXT.
Step #3: Select "To or From Another Device over WiFi" on your iPhone. Then select your Android device from the given list.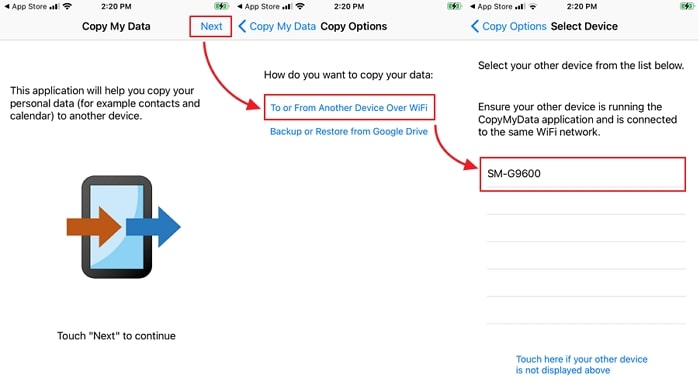 Step #4: Tap on the "Copy data to selected device" on your iPhone.
Step #5: Enter the PIN code you will receive on your iPhone to your Android phone.
Step #6: Select the type of data you wish to transfer from your iPhone to the Android phone and click Next to initiate the transfer.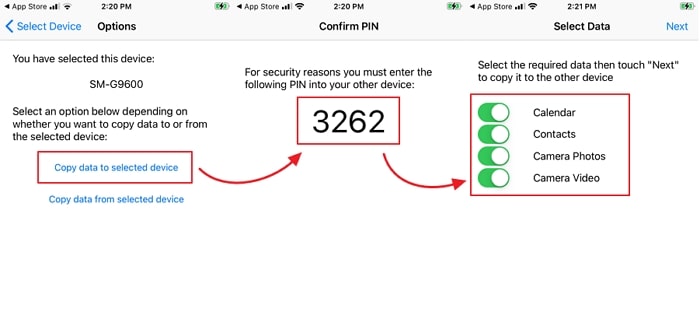 As soon as the data migration process is completed (regardless of which device you send files from and to), Copy My Data will display the type of data that has been transferred, as well as the number of contacts, calendar entries, videos, and photos sent from one device to the other.  
Note
Copy My Data allows you to migrate a certain type of files from one device to another. However, it cannot help you send, for example, your WhatsApp data between Android and iPhone. In this case, we suggest
using iTransor Pro
that has been specifically created to make these transfers feel like a walk in the park.
Tip. Transfer WhatsApp from Phone to Phone Using iTransor Pro
iTransor Pro is a useful phone-to-phone transfer tool which does not only enable you to transfer WhatsApp between both iOS and Android-powered devices, but also allows you to transfer up to 18 types of data from iPhone to Samsung and from Samsung/Huawei to iPhone. Plus, you may use the app to back up or restore WhatsApp on your device, and export your WhatsApp files to CSV/XLS or HTML.
Backed up by the expertise of the professional team behind iMyFone in data processing and transferring, along with advanced technology, iTransor Pro is the single most easy-to-use tool that meets all your needs in one go. You simply send your WhatsApp chat history and attachments from one phone to another without worrying about things like compatibility issues. With this program, you can send WhatsApp videos, photos, messages, and other files between phones (risk-free, with zero data loss).
The drill involved to be done with the entire process is as follows:
Step #1: Choose Transfer WhatsApp in the program.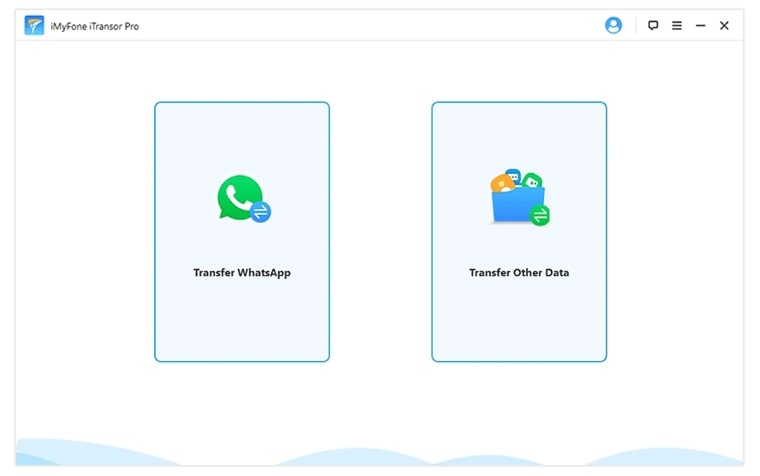 Step #2: Connect your devices to the computer.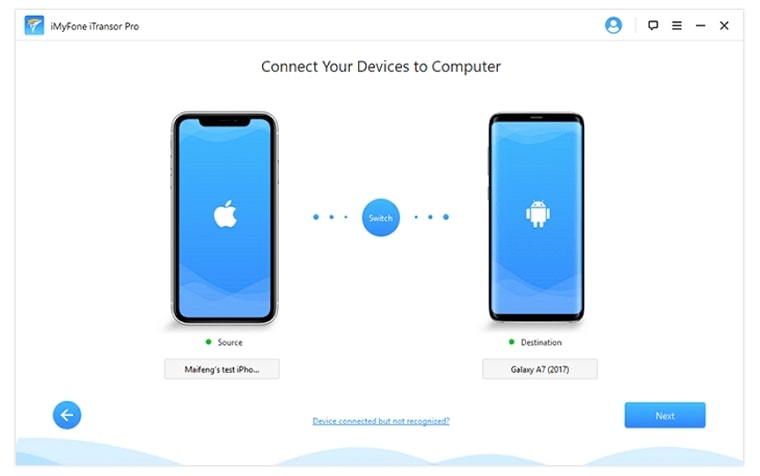 Step #3: Initiate the transfer and click DONE when the transfer is completed.
Indeed, as easy as 1-2-3-!