Many consumers are switching from Samsung to OnePlus since it is a more cost-effective option. OnePlus features the most recent Android OS, which has the Snapdragon function, gaining more customers. However, buying a new OnePlus is not enough. The essential data from the old Samsung must transfer.
As a result, in this article, we'll go through how to transfer data from Samsung to OnePlus. There are some effective methods listed below that you can use to complete your file transfer with comfort.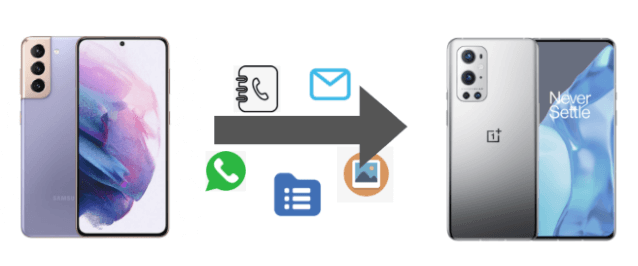 Part 1: Transfer Data from Samsung to OnePlus with OnePlus Switch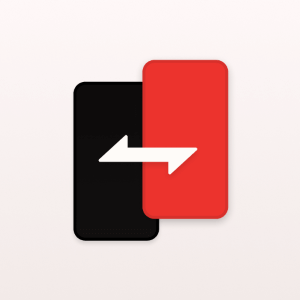 OnePlus created this OnePlus Switch software for data transfer reasons. It's simple to transfer data from any old device to a OnePlus device, including messages, contacts, and images.
Firstly and importantly, your Android phone must be running version 6.0 or higher. The OnePlus Switch App is now available for both Samsung and OnePlus devices.
After installing the app, you'll have to pick between I'm a new phone and I'm an old phone. For the originating phone, Samsung, choose I'm an old phone. For the target phone, OnePlus, choose I'm a new phone.

Next step is to use the OnePlus Switch application on your OnePlus smartphone to choose the Android (Samsung) as an old device.
After choosing the Android option, a QR Code question will display. To acquire the QR Code, press the Next button and scan it with your Samsung mobile.

Once you've completed the scanning process, you'll need to decide what sort of data you want to transfer, such as contacts, emails, phone records, calendars, games, as well as other data.
Lastly, use the OnePlus Switch app to transfer data from Samsung to OnePlus by pressing the Start Transfer option.
Part 2: Export Samsung Data to OnePlus with Bluetooth
This technique of Bluetooth data transmission is not a bulk procedure. It implies you'll have to transfer data from Samsung to OnePlus one by one. So, let's go over the steps then.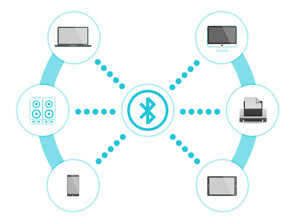 Including both Samsung and OnePlus smartphones, the first step is to switch on Bluetooth. Turn on Bluetooth by going to Settings > Bluetooth.

Enable device accessibility and begin connecting your Samsung phone with the OnePlus smartphone. Due to pairing, you must first choose OnePlus as the destination device. You could be asked for a key. So, for pairing, input the proper pin.

Music, photographs, films, and other media can now transfer between phones. After you've chosen your data, go to File Manager. To transfer data from Samsung to OnePlus, press the Menu button and pick the Share option. To start the transfer, press the Agree button on the destination device.
Part 3: Import Data to OnePlus from Samsung via Google Sync
Have you signed up for a Google account? Please create a Google account if you do not have one. You can sign up with instructions for a google account and fill in your personal information to create an account. This method can back up your Samsung data to Google's data storage and then restore them to a new OnePlus device.
Transfer Data from Samsung to OnePlus via Google Sync
To activate the Google backup function, firstly enter the Samsung Settings app and go to Accounts & backup > Backup and restore > Back up my data. Then put your Google account in the Backup account box.
Then, on the OnePlus device, sign in with the same Gmail account: To add a Google account, go to Settings > Accounts > Add account > Google symbol.
After that, select Account sync from the drop-down menu. It will transfer your Samsung data to your OnePlus handset.
For Contacts Transfer
Go to Google Account > Settings > Account > Google.
Sign in with your Google login information.
To connect your Google account with your smartphone, go to the Contacts tab and touch on Sync Contacts.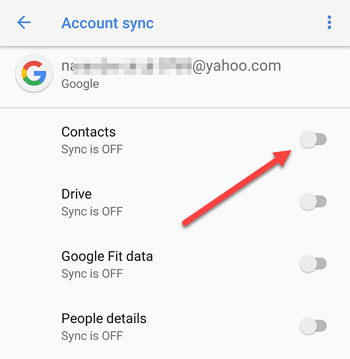 Bonus: Directly Transfer WhatsApp Data from Samsung to OnePlus
Hardly any preceding apps provide a way to transfer WhatsApp data from old phones to OnePlus. iTransor Pro is the only software that can accomplish this well. It's a top-of-the-line PC application for transferring crucial WhatsApp data from Samsung to OnePlus.
Main Features about iTransor Pro
With its great data processing capabilities, iTransor Pro guarantees a quick phone migration. Your time is valuable, and it will not waste.
Our programming team is extremely skilled and utilizes cutting-edge technologies. This app guarantees that your device's original data will not be erased or corrupted.
All devices are linked with wires throughout the phone transfer procedure. There will be no interruptions due to unexpected connections or data issues.
Step 1.Download and install iTransor Pro on your computer. Choose Transfer WhatsApp option.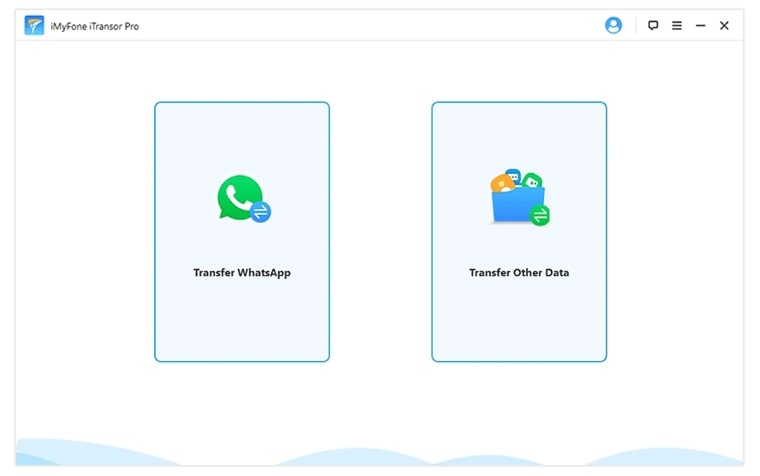 Step 2.It will open an application named iTransor for WhatsApp. Then use USB ports to connect your Samsung and OnePlus phones to your computer. Click on Transfer.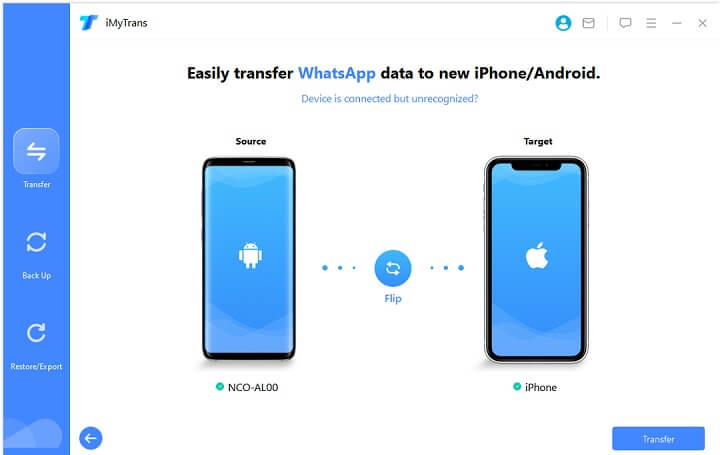 Note
Ensure to connect the PC on your OnePlus and enable access to phone files on your Samsung.
Step 3.Then it will automatically process. All you need to do is to keep devices well-connected.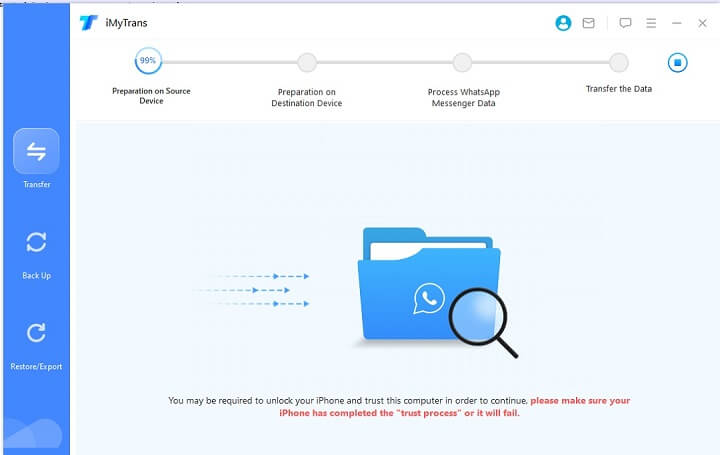 Step 4.The time of transfer depends on the size of the data. It will usually be finished within half an hour. Then all the WhatsApp data you've transferred can be checked on the target device.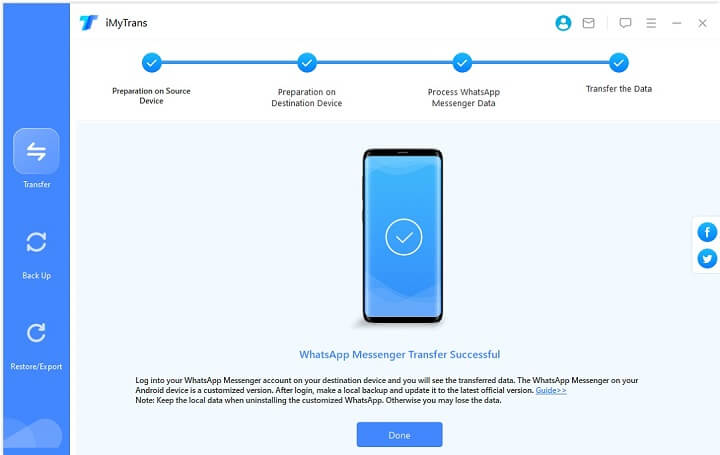 FAQs: More about OnePlus Switch
1. Does OnePlus Switch work with iPhone?
For such time being, the OnePlus Switch iPhone version is only compatible with iPhone 5 and above handsets running iOS 9 or higher.
2. Why my OnePlus Switch cannot Transfer Data after Selected?
The OnePlus app does not always install properly. This application includes pre-installed on the OnePlus smartphone. Try removing and reinstalling it from the Settings icon if you installed it through the Play Store. Incompatibility is perhaps the cause of the issue.
Conclusion
Other data transmission solutions could also make accessible to you. However, the four methods stated above are well-known and frequently utilized to facilitate usage and safety. These methods offer the most convenient and secure method of transferring data from Samsung to OnePlus.
If you have any issues feel free to consult us for all of your data transfer needs to save time and clear your questions about how to transfer data from Samsung to OnePlus. Using iTransor Pro can reduce your hassle while transferring your data safely and seamlessly. Just download it and start enjoying now!