Question
I've used Samsung phones before, but recently bought a Huawei. I want to transfer data from the old Samsung phone to Huawei phone, but I have no idea to do that. Anyone helps?
When it comes to transferring data in different phone types issues, some people may feel confused. In fact, the procession is quite simple. And you have different options to make it happen!
I'll show you five different methods to help you transfer Samsung data to Huawei. Get started now!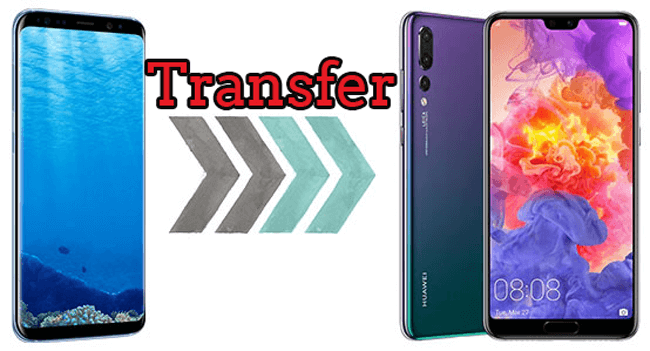 Method 1: Sync Samsung Data to Huawei with Phone Clone
Phone Clone is an app that can easily replicate all the data of one phone on another device.
The steps of Phone Clone data transfer
Download the app on both devices and choose Samsung device as "this is new phone" and Huawei as "this is an old phone".

Huawei will show a QR code on the screen and you must scan that code with Samsung to confirm the transfer.
Select the files that you want to transfer using Phone Clone and the process will start and you can simply access all the selected data on Huawei once the process is complete.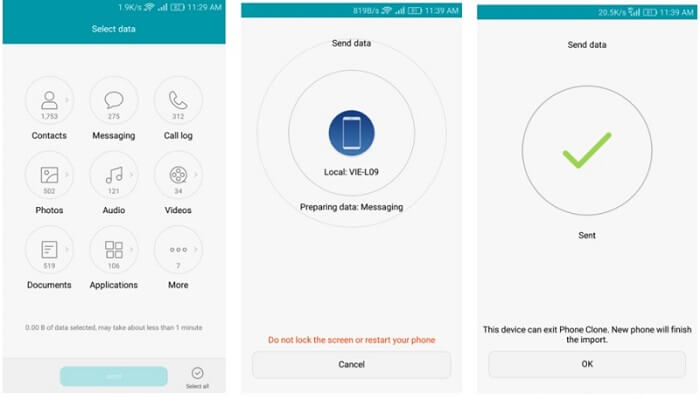 Here are some pros and cons of using this method for data transfer from Samsung to Huawei.
Pros
Easy to setup application.
Faster data uploading and synchronization.
Does not require a connection between both devices.
Cons
Require extra space to upload the larger files.
You need to have physical access to both devices.
Method 2: Transfer Samsung data to Huawei via Bluetooth
You can transfer Samsung data to Huawei via Bluetooth without OS restriction. You can transfer the data by simply turning on Bluetooth or Wi-Fi Direct and making the phones connect with each other.
The usage steps for transfer data via Bluetooth
Enable Bluetooth or Wi-Fi Direct on both devices, then make connection with both devices.

Select the files that you want to transfer in the Samsung. Then click "Send" to make transformation.

Wait for the procession complete.
Pros
Easy to handle.
A simple interface suit for all people.
Does not require a regular connection between two devices.
Cons
Data transfer via Bluetooth might take some time.
Some devices might respond slowly to Wi-Fi Direct connection.
Method 3: Use Email to Transfer Samsung Data to Huawei
Sometimes, people find it difficult to transfer data from Samsung to Huawei as it requires some time. Then you can try to send the data via email. It is quite simple as all you need is an email address to complete the process.
See how to transfer data using email:
Open Gmail or any other service on the old phone and compose an email. You can use two emails or save the composed email as a draft after attaching the files to the email.

Choose your email account and send an email to that address with a file.
On the other phone, select the file you received, and the process will begin once it reaches all the contacts of that user.
Pros
A great method when you have no other options available.
Requires no additional device.
Cons
Only supports a few file types and the size should be less than 20MB.
It might take some time for emails to reach all the recipients because of delivery delays or system issues.
Not suitable for sending media files and bigger data files.
Method 4: Switch Samsung Data to Huawei via Google Backup
The Google backup is available as a feature in Android devices, which can help you store all data. You can also access the Google backup files on any device. See how to transform Samsung into Huawei via Google backup below:
how to switch Samsung data to Huawei?
Enable your Google Account and various services like Gmail, Drive, etc.
Turn on the backup feature for your Google account and create a backup of all data. Then select the "Backup my data" option.

Reach to the new device that you want to restore data to and select the same account in which you have enabled backup.
Fade in and Fade out is available to modify your tones.
Google will show you two options. One is "Restore from Cloud", and the other is "Restore from Device, you can choose according to your needs.
Pros
A great choice for transferring data to different devices.
Easy operation suitable for anyone.
Automated process, and you can set backup duration.
Can be used for backup of all types of data.
Cons
The backup device must have enough space or additional storage to store the backup files.
Might face issues while accessing the backup data on their new device.
Method 5: Switch All Data via USB Cable
Sometimes, you don't have a Wi-Fi Direct or Bluetooth-enabled device. In such a case, you can use a simple USB cable to transfer data from Samsung to Huawei. A USB cable can also help if you are getting any issues with other methods. See how to switch data via USB cable:
Connect the two devices with a USB cable and set them to MTP mode.

You can connect both the devices using the appropriate USB cable and power up the devices.
Select the files that you want to transfer from Samsung to Huawei.
Transfer all the data from Samsung device to Huawei device by choosing data source as the old phone.
Disconnect both the devices once your desired data is transferred.
Pros
Offers a quick process.
Easy to set up and use process.
Free to use.
Cons
Requires additional access to computer or laptop.
Not suitable for files such as contacts and chat backups.
Conclusion
That's all method for transfer Samsung data to Huawei. If you have any question, leave comments below and we will try our best to help!