We understand the importance of your videos. Without them, your new Android phone would not be nearly as much fun. There are several methods available to make certain your video transfer from iPhone to Android is smooth, simple, and retains all of the quality you have come to expect. We recommend browsing all the methods outlined below to find the best option for your individual needs.
P.S. We also figure out the ways to transfer data like notes from iPhone to Android, so you can just search our website for more solutions.

1. Using Drag and Drop to Transfer Videos from iPhone to Android
Drag and drop is the easiest way to transfer all of your videos from iPhone to Android. You will need to use your iPhone's device drivers and a USB cable to ensure your system is able to detect both phones. Then follow the steps:
If you do not already have iTunes on your computer, you will need to download and install the program. If you already have iTunes, make certain you are using the most current version. If not, update iTunes on your computer.
Use a USB cable for connecting your computer to your iPhone. Your computer will then be able to detect your iPhone.
Wait until your iPhone is detected by your computer. Open your DCIM folder. Choose which videos you want to have transferred.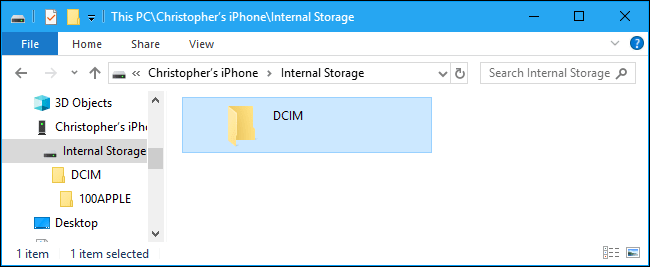 Copy your chosen videos to the local hard disc on your computer. Put you videos into a new folder.
Use a USB cable to connect your computer to your Android. Find the new folder you created, then drag and drop this folder to your Android.
Tips
You also have the option of dragging your DCIM folder directly from your iPhone to your Android. Despite being a much faster method, the process of transferring your videos may stop for an unknown reason. Your best option is following the steps above to create a temporary folder you can easily drag and drop.
2. Using Cloud to Transfer Videos from iPhone to Android
If you have a lot of videos you want to transfer from iPhone to your Android, your best option is using the cloud. In addition to being a simple way to backup your data, there are a few cloud services enabling you to send your iPhone videos directly to your Android simply and easily. The two most recommended options are Dropbox and Google Drive. You can use both options for free for uploading and storing your files. You will have between 2GB and 15GB of free storage available. In this article we'll use Google Drive as an example.
Open your iPhone. Go to the Google Drive official website, then sign in using your account credentials for Google.
Type in Drive, then My Drive, then either Upload Folder or Upload Files. Your videos will then be uploaded to Google Drive from your iPhone.
Once your upload is complete, go to My Drive to select the videos you want to be sent to your Android.
Right-click on Share. Go to the People section, then type in your name or email address.
Click on Get Shareable Link, then Done, then Send the Link. You will not need to sign in. If you do not have a Google account, choose Click Send instead of Send the Link.
Use the link you created to download your videos to the Android. As long as your Android has the capability of supporting high-resolution videos, your quality will not be compromised.
3. Using Email to Transfer Videos from iPhone to Android
If your videos are small, you can email your videos from your iPhone to your Android as an attachment. The limit for Gmail and Yahoo is 25MB. Numerous email providers including iCloud Mail and Hotmail have a limit of 20MB. You will need to use your iPhone Photos app to send a video attachment. Your internet connection must be stable.
Create your video attachment from your iPhone with the iPhone Photos app.
Send your email to your main email address.
Open your email using your Android.
Download your attachment. Your videos will now be available on your Android.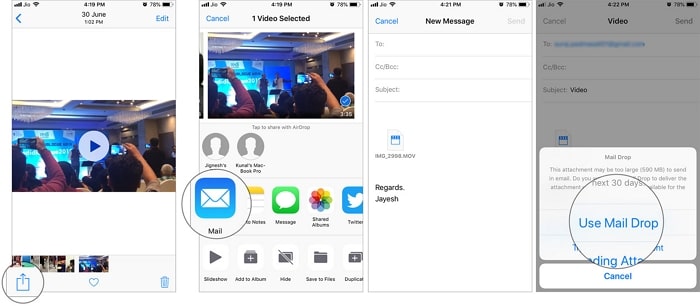 4. Using Phone Transfer Tools for Transferring Your Videos
Almost all the popular phone brands develop their own phone transfer tool such as Samsung Smart Switch, Xiaomi Mi Mover and etc. Most of them allow you to transfer from iPhone or download the data from iCloud account. The only limitation is these tools just support transfer to their own brand phones.
These apps usually come with the Android phone when you buy it. If not, search or contact their support team.
Open the app, choose that you are transferring from iPhone.
Choose the way to connect the iPhone with your Android phone. Normally, there are two ways: connect with USB cable; wirelessly with Wi-Fi or hot-spot. Just choose the one you like.
Once connected, the app will automatically scan iPhone to find everything that can sync to your Android phone. After the scan, choose the videos you like and start transfer.
A Reliable Tool for iPhone to Android Video Transfer [WhatsApp Supported]
Although there are so many phone transfer tools, the process is not as easy as it seems. Many of the leading mobile apps – like Smart Switch, Phone Clone and Mi Mover – typically require strict OS and phone compatibility. And transferring data via emails and cloud services usually require lots of internet data which could lead to additional costs from your ISP. Luckily we know another special phone transfer tool – iMyFone iTransor Pro – which can excellently transfer all your videos from iPhone to Samsung or from Samsung/Huawei to iPhone without any of the downsides of the aforementioned methods.
It is a phenomenal tool for transferring videos from iPhone to Android. It works by connecting USB cables to your Windows PC, and it is compatible with almost all iPhones and Samsung, regardless of their OS versions. The app can even be used to transfer WhatsApp data, music, ringtones, alarms, calendars, documents, Wi-Fi, voice memos and contacts, among others.
Here is how you can transfer videos with iMyFone iTransor Pro:
Download and install the program to your Windows PC.
Open the app and connect both your iPhone and Samsung devices to your PC using USB cables. Follow the instructions to well connect your devices and make sure you've set the source and destination devices correctly.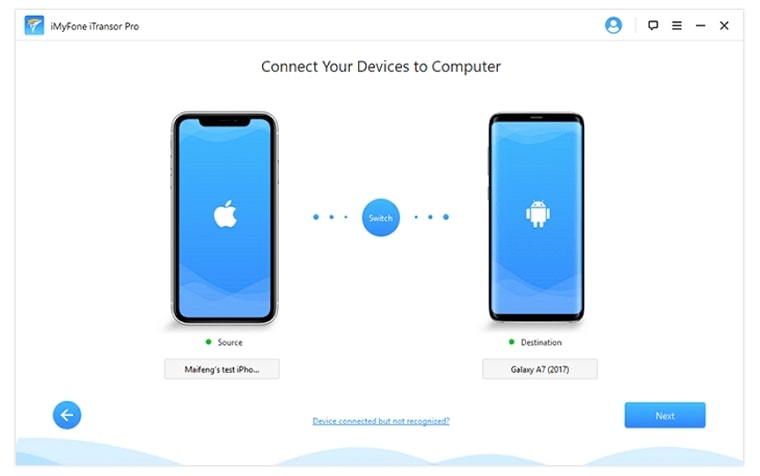 Click Next on the app and then you can see the data you have on the iPhone.
Select Videos from the list of data, click Transfer and wait for the transfer to complete.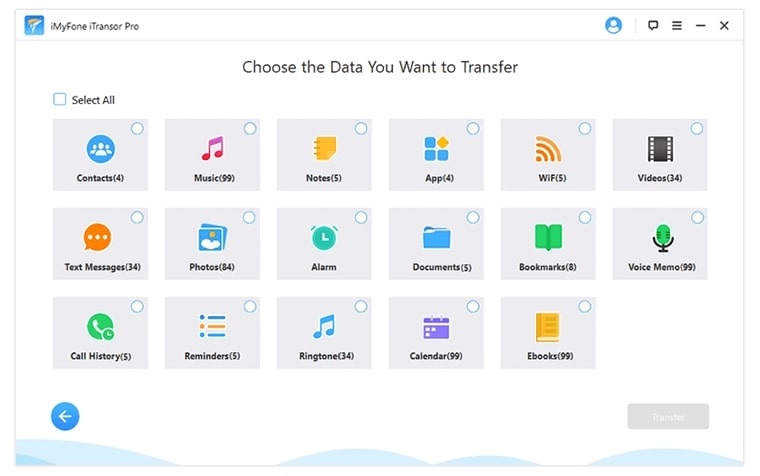 ---
The Victory of Completion
Congratulations, you are now able to watch all of your favorite videos on your new phone. Give yourself a pat on the back for a job well done. You can even share your videos with your friends and family right from your iPhone. Have fun and enjoy your success.