Keeping private data safe on your Android device is much easier nowadays. You can opt to use the Pattern, PIN, Password, Fingerprint, or Face lock. Most people, however, opt for the Pattern lock. As long as you can remember your pattern, unlocking your device should be easy. However, what happens when you forget the pattern? Also, what happens if you purchase a second-hand device that has a pattern lock on it? Do you have to get rid of the device?
Fortunately, even if you cannot recall your pattern, you do not have to lose your Android device. You can use an android pattern lock remover to unlock your device easily. In this article, we will show you the top-rated pattern lock removers you can use.
Top 3 Android Pattern Lock Removers That You Should Consider
1

iMyFone LockWiper (Android)

The best Android pattern lock remover iMyFone LockWiper (Android), is capable of doing more than just unlocking devices locked using a pattern. It can also help you unlock devices locked using a PIN, password, fingerprint, and even the face lock. It supports virtually every Android device which runs on Android 2.3 to Android 11.

You can use it to unlock both phones and tablets. The tool does not require you to have any technical knowledge for you to use it. LockWiper makes Android unlock as easy as 1-2-3. When using LockWiper, unlocking your device will take you less than 5 minutes.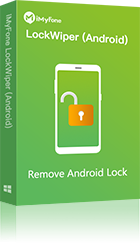 12,000,000+ Downloads
Great Features of LockWiper (Android)
Completely remove any screen lock from Android device without any passcode

Instantly unlock Android screen in any scenarios, like when you forgot pattern, you got a second-hand device with locked screen, device with broken screen, pattern unlock not working, etc.

Provide specific unlocking package for each phone, which guarantees a high success rate

Work with 6000+ Android devices

Your phone was asked to verify Google account after screen bypassing? No worries, LockWiper removes Google lock as well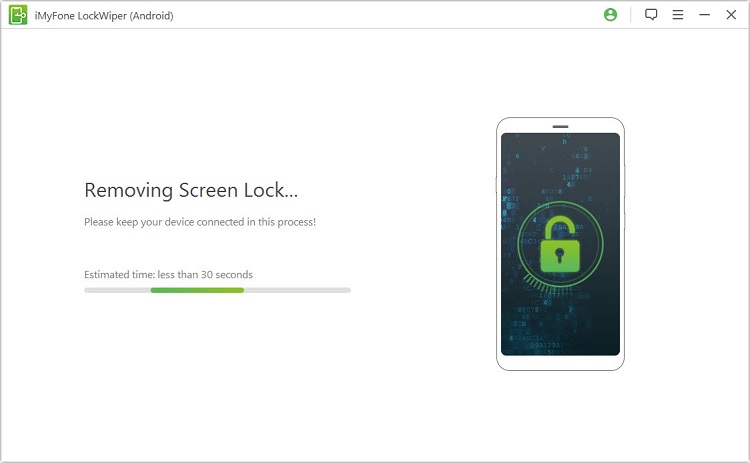 2

4uKey for Android

4uKey for Android does have the ability to unlock your Android device if you cannot recall your pattern. The tool will also help you unlock your device if it's locked using PIN, password, or fingerprint lock. The phone can help you unlock a device whose damaged screen makes it impossible for you to enter the right pattern.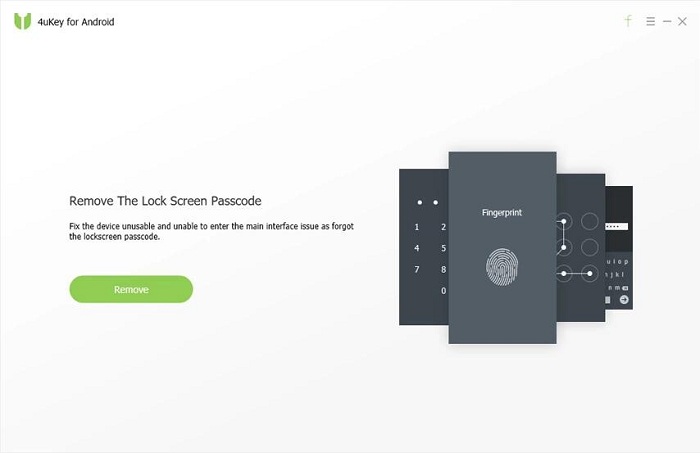 The Cons of Using 4uKey for Android:
It doesn't provide smart solutions because the data package for each device is not specific.
It doesn't have a good success rate because the instructions provided may not match your device accurately.
Your device may ask you to verify Google account after unlocking. 4uKey doesn't have option to bypass Google lock.
3

Android Multi Tool

This android pattern lock remover has the ability to unlock your pattern-locked device without the pattern. On top of supporting the pattern lock, the tool does support other screen locks, including PIN, fingerprint, and password.

When compared with other tools in this article, Android Multi Tool is more complicated to use. Its interface is not user-friendly. Unlike the other pattern lock removers mentioned in this article which do not require additional downloads for them to work, Android Multi Tool will require you to download the Android SDK for it to work.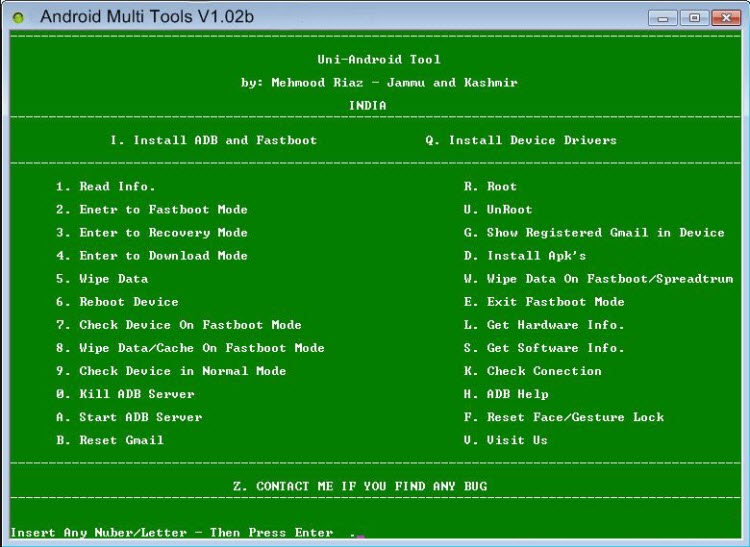 The Cons of Using Android Multi Tool:
The tool requires additional downloads for it to work.
Installing and using the tool involves complicated processes.
There is no guarantee that the android pattern lock remover will work for you.
The android pattern lock remover has some glitches.
How to Remove Android Pattern Lock without Password
When compared to the other android pattern lock removers outlined in this article, iMyFone LockWiper (Android) stands out. Some of the features which make the tool stand out include its ease of use, its speed, and the fact that it supports virtually every Android phone and tablet. Below, we have outlined the steps you need to follow to remove the Android pattern lock without a password using LockWiper:
Step 1: After downloading and installing LockWiper (Android) on your PC, double click its icon to launch it. Choose "Remove Screen Password" from the home interface and click "Start" to initiate the pattern removal process.
Note: If you want to remove Google FRP lock without password, you can choose "Remove Google Lock (FRP)" instead.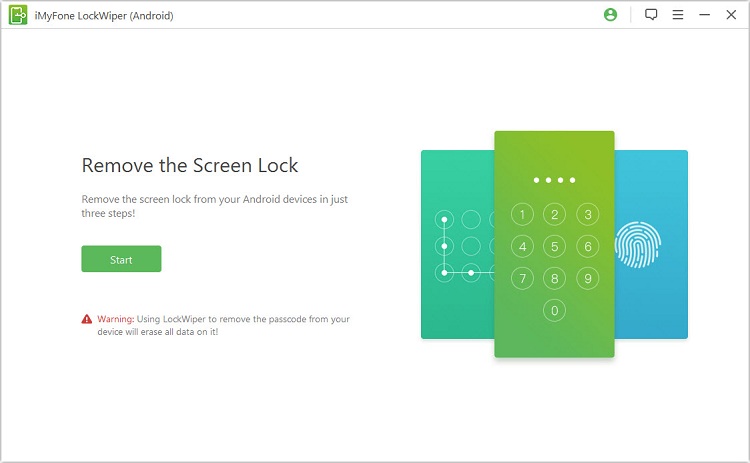 Step 2: Connect the device whose pattern you cannot recall to PC. Check the information loaded by LockWiper to make sure it is correct. If it is not, go ahead and select the correct information manually. Click "Start Unlock" then.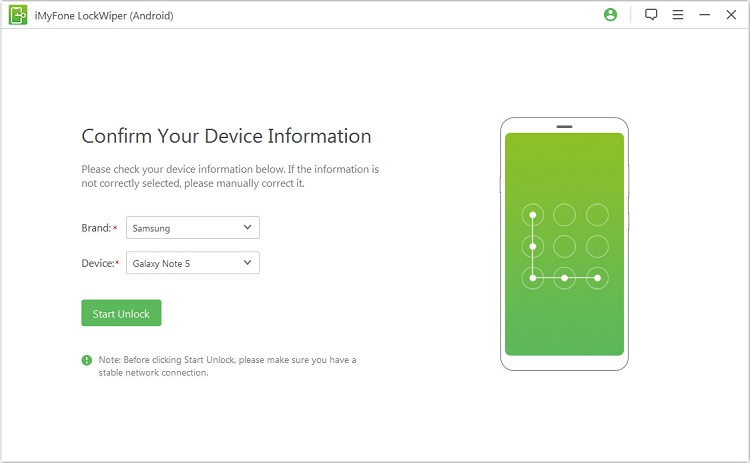 Step 3: Give LockWiper a couple of seconds for it to download your device's data package.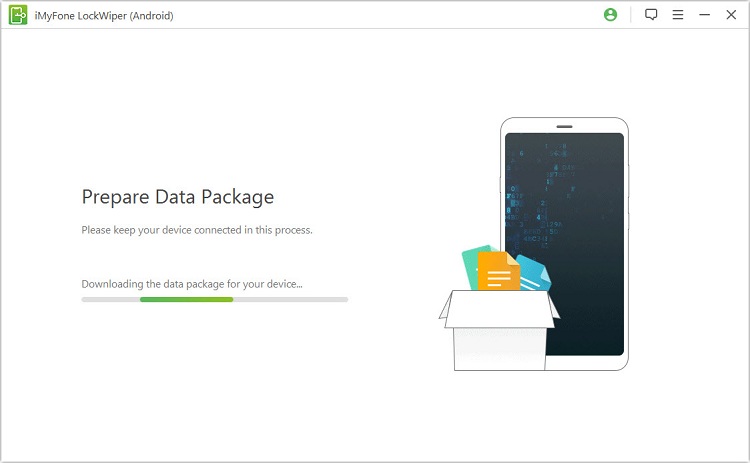 Step 4: After the download, follow the onscreen instructions to prepare your tablet/phone to start the unlocking process.  Wait a couple of seconds as LockWiper removes your device's pattern.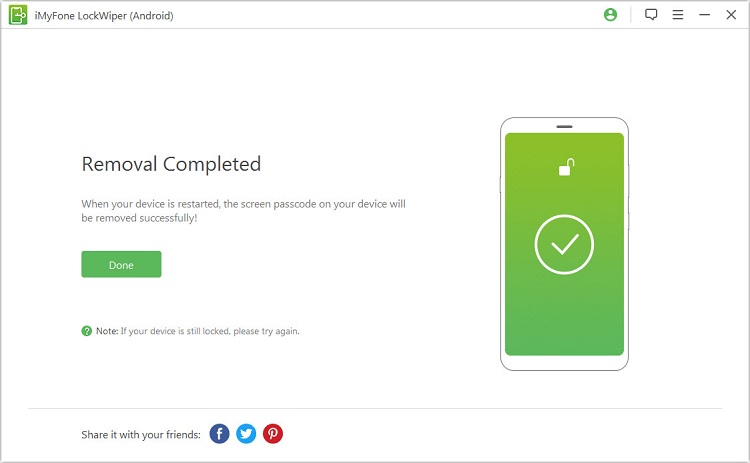 Wrap up:
If you cannot recall your Android device's pattern, unlocking it may appear impossible. However, with the right android pattern lock remover, unlocking the device should be easy. In this article, we have discussed the top 3 android pattern lock removers you can use. iMyFone LockWiper (Android) has features which make it stand out from the rest of the tools. If you are not sure whether LockWiper (Android) will be helpful for you, you can always use the trial version before paying for it.