For Android smartphone and device users, the safety of their phone is of utmost importance. Whether it is to prevent it from unauthorized access, keeping secure from children or theft password protection or pattern lock is essential. It is wise to use device security and pattern lock to protect the device from unauthorized access.
But what happens when you forget the pattern lock on your Samsung device? Of course, you feel doomed because with the locked pattern you cannot access the device or unlock it. Do not fret, as there are easy and reliable solutions that can help to unlock your Samsung device without any loss of data. Learn how to unlock the Android device using the best Samsung pattern unlock tools.
No. 1 The Best Samsung Pattern Unlock Tool -  iMyFone LockWiper (Android)
iMyFone LockWiper (Android) is the most reliable and the most efficient Samsung pattern unlock tool available that is designed to help users to easily unlock the all screen locks and Google account/FRP lock for Android devices.
If you have forgotten the lock pattern or you purchased a second-hand device with a locked screen, iMyFone LockWiper (Android) is the trusted Samsung pattern unlock tool that would help to remove the lock and unlock the device in just 5 minutes.
Key Features of iMyFone LockWiper (Android)
Unlock Various Screen Locks – It helps in removing various kinds of screen locks – pattern, PIN, password, fingerprint and face lock.

Support 6000+ Android devices – this pattern unlocks tool supports a wide range of Android devices and works effectively with Samsung, LG, Huawei, Motorola, etc.

Simple and Reliable – The program is user-friendly and easy to use. No prior technical knowledge required to use it. It is 100% secure and reliable as it does not store any personal data from the device.
How to Use iMyFone LockWiper (Android) to unlock Samsung pattern lock:
iMyFone LockWiper (Android) is a reliable Samsung pattern unlock tool. It's a simple and easy interface that allows to easily remove the screen lock in a few simple steps.
Step 1:  Download iMyFone LockWiper (Android) application on your computer. Launch the application and click Start to begin.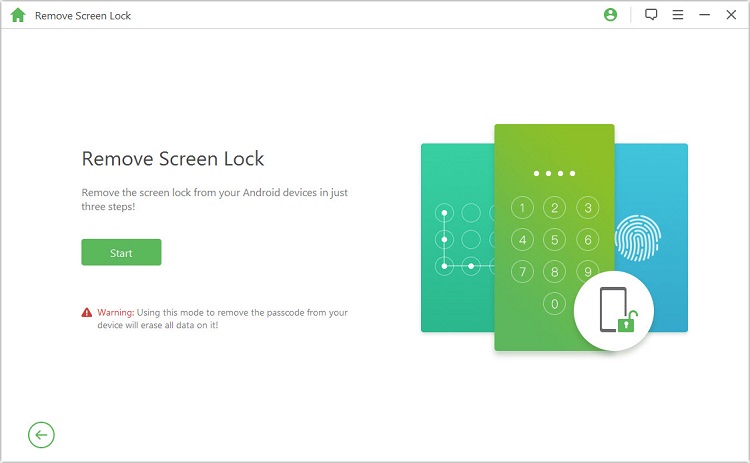 Step 2: Connect your device to the computer via the USB. It will automatically load your device information.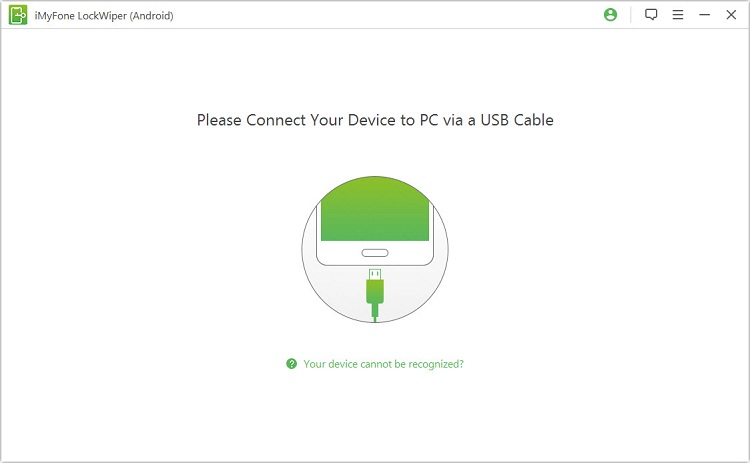 Step 3: Confirm your device information given on the screen and click Start Unlock.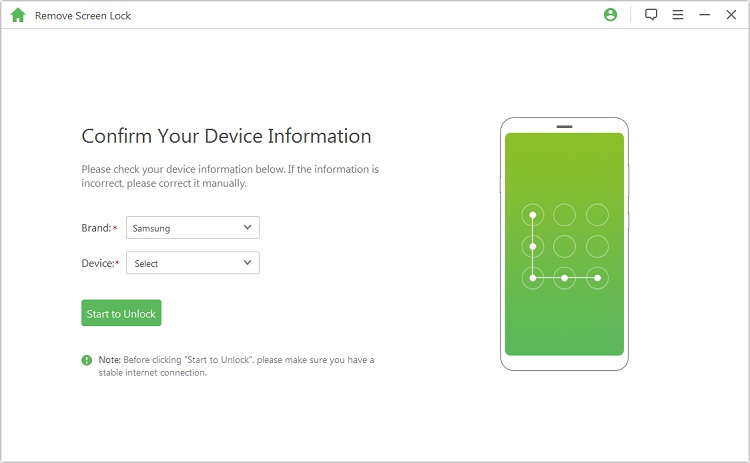 Step 4: Wait a few minutes as data package is downloaded and sent to your device. Then follow the on-screen instructions and steps to reset the device. Wait till it removes the pattern lock from the device.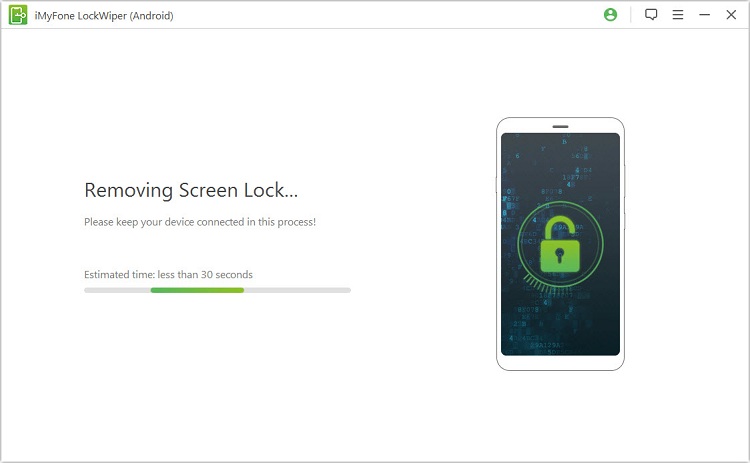 Step 5: When the process is complete, the pattern lock is successfully removed from your device.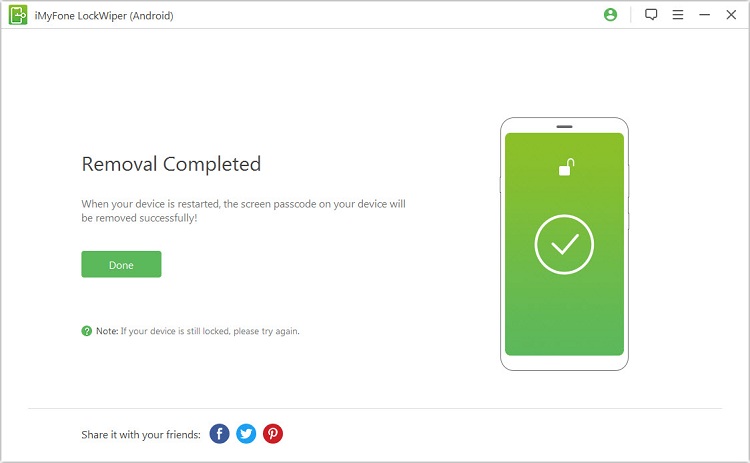 Why Choose iMyFone LockWiper (Android)
This is the most reliable and efficient Samsung Pattern Unlock Tool.

It has a magnificent success rate making it easier for the user to unlock the device.  

It's reliability to provide safe and secure unlocking to its users makes it even a better choice.

Also, the users can try the software for free and see the performance of the software first before making the purchase.
No. 2 Samsung Pattern Unlock Tool - dr.fone Unlock (Android)
Dr.Fone-Unlock (Android) is a popular software that helps in removing the Android lock screen. The Dr.fone toolkit also offers a versatile suite of tools other than lock removal. It is also known for its feature of data recovery of the device, managing files, erasing unwanted data and repairing system errors if any.
It also has a user-friendly interface that makes it easy to remove the lock; it's fast and reliable making it a trusted software.
Pros
Popular and trusted software.

Removes lock without any loss of data.

Secure and simple software.
Cons
Does not support all Android devices, mostly supports Samsung and LG.

The software is available for Windows computer only.

The software is not free and requires purchasing each tool separately.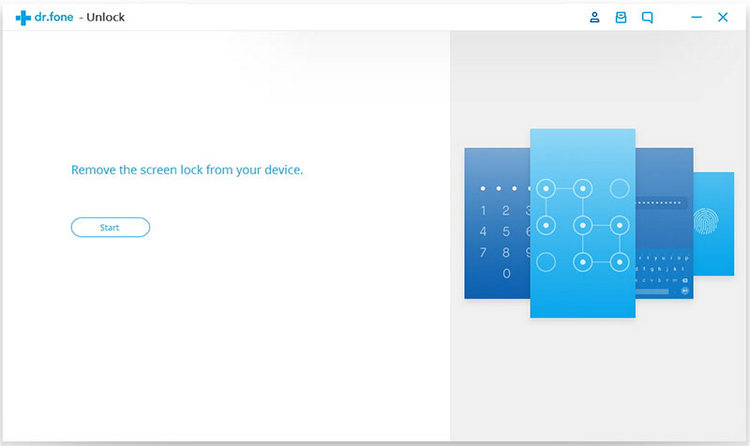 No. 3 Samsung Pattern Unlock Tool -  iSkysoft Toolbox
 iSkysoft Toolbox – Unlock (Android) is another popular Samsung pattern unlock tool. It is also an effective tool that provides the users safe and optimal. This software also guarantees no loss of data during the lock removal process and also offers data recovery options as well.
The interface is easy to use and gives a quick solution to remove pattern lock on Android devices.
Pros
Provide different unlocking scenarios like PIN, pattern, password or fingerprint.

The interface is easy and simple to use.

Offer a trial version to the users.
Cons
The software only supports Android OS 6.0 or earlier versions.

The lock removal tool only supports Samsung devices.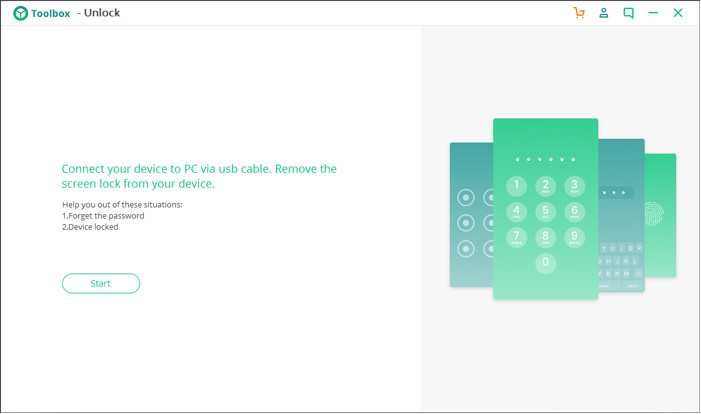 No. 4 Samsung Pattern Unlock Tool -  Android Multi Tool
Android Multi Tool is the most widely used tool to remove screen lock or PIN lock. The main reason for its widespread use can be attributed to is a freeware for windows and the upgradeable feature that makes it compatible with almost every Android device.
This tool also helps in unlocking different types of lock screens, is secure with no loss of data and is easy to use.
Steps to use Android Multi Tool
Here are the steps to use Android Multi-tool to remove pattern lock:
Download the latest version of Android Multi Tool software on your computer.

Connect your Android device to the PC via USB.

Once connected run the software. It will give different numbers for different functions. Press the number for lock removal and press Enter.

The device will start rebooting. Wait till it restarts automatically.

Pattern lock will be removed from the device without any data loss.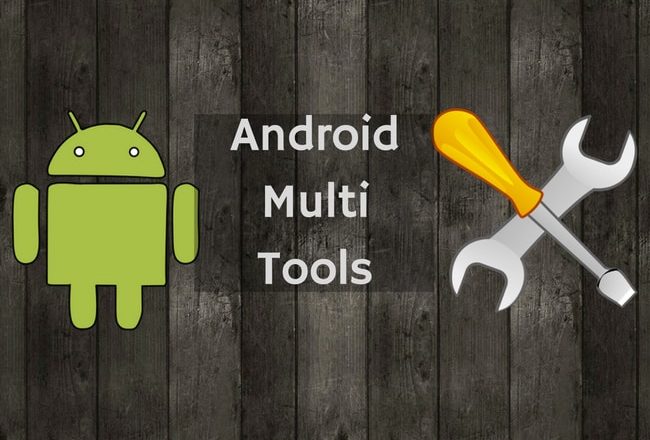 ---
As the owner of an Android device, it can be difficult to choose and decide the best software that will work for you. We have provided a list of the best available Samsung pattern unlock tools to make it easier for you to choose the best one with our well-researched methods and unlock your device locks easily.
As a user, you can try any of the tools but for Samsung devices iMyFone LockWiper (Android) is highly recommended for its prominent features and compatibility.