In Android Lollipop, Google developed Factory Reset Protection (or FRP, for short) to discourage people from stealing Android devices and protect data privacy. The logic behind this feature was that thieves could not steal an Android phone, like an LG phone, and wipe it to sell. There are workarounds like when you have to remove LG FRP. The most common one is that you bought a second-hand LG phone with Google lock on it. What's more, the unknown sources on LG device is disabled so that you can't download FRP bypass APK to unlock your LG. So in this article, you will get to know everything about unknown sources and how to enable unknown sources to remove LG FRP lock.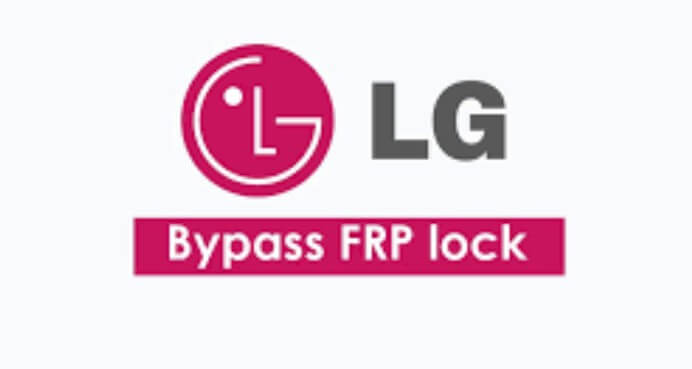 Everything You Should Know about Unknown Sources on LG Phones
There are 2 ways to install an application on your LG device.
One way is to go to the Google Play store, find the app that you want, and tap to install. This method is the way that the vast majority of people download apps on their phones. It's typically the quickest and easiest way to get apps.
The other way to install applications is through a process called "sideloading". Apps on LG devices are APK files (Android Package). You can download any APK that you want, including APKs that you make yourself from Android Studio, and install it on your LG device. Since this poses a potential security risk (if you don't download the APK from a trusted source), Google disables this capability by default on your LG phone. To enable it, you need to allow for installation from "Unknown Sources".
There are many reasons why you might want to do this. Developers use this functionality all the time to test their applications on physical devices. Enterprises use this to sideload custom business apps without putting them on the Play Store. Consumers sometimes use this functionality to put apps on their phones that may not be available in their particular region. This functionality is quite useful!
Enabling unknown sources on LG phones is relatively straightforward if your LG device is not locked by Google account. For people running Android 8.0 or higher, please follow these steps.
Step 1. Choose Settings > Apps & Notifications > Special app access on your LG phone.
Step 2. You'll see a section for Install unknown apps. Tap that.
Step 3. Select the app and then toggle the Allow from this source switch to turn it on.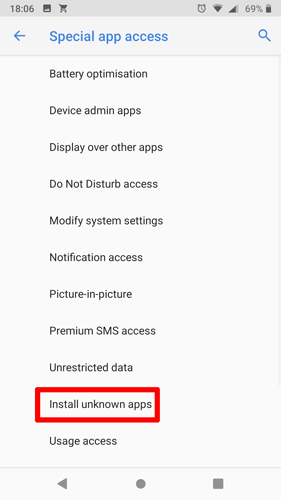 For people running Android 7.0 or lower, please follow these steps instead.
Step 1. Navigate to Settings.
Step 2. Tap Fingerprints & Security. If that doesn't exist, tap Security.
Step 3. There should be a Phone Administration section. In there tap Unknown Sources.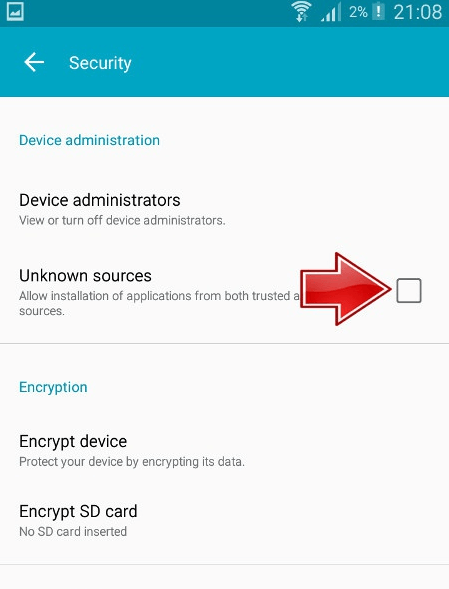 Step 4. You'll receive a prompt. Tap Allow on that prompt to enable sideloading from unknown sources!
Enable Unknown Sources to Remove LG FRP Lock
Actually, you can still enable unknown sources to bypass LG FRP lock if your phone is stuck at Google account. There's an APK called Quick Shortcut Maker that you could use to bypass the lock and put your account on the phone instead of the previous owner's Google credentials.
However, unfortunately, getting this app working on the LG devices is not trivial and involves many steps. What you need to do first is to set the phone to permit you to install apps from unknown sources. Then, you need to download Quick Shortcut Maker and use that in combination with setting your LG phone to enable unknown sources for LG FRP bypass.
If you want to attempt this (note, it's not for the faint of heart), let's try these steps, which should work for Android devices with version 7.0 or higher.
Step 1. Boot your LG phone to the welcome screen of the setup wizard.
Step 2. Put two fingers, one on top of each other, at the top of the screen to activate Talkback. Hold for about ten seconds.
Step 3. Make an L shape with your finger to activate the Global Context Menu.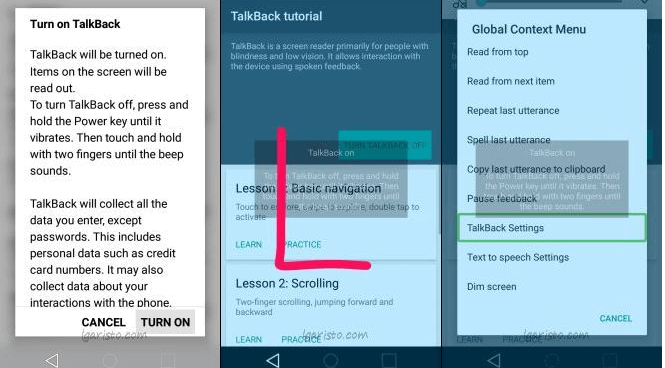 Step 4. Select Talkback Settings. Within the Settings page, scroll down to Help & Feedback.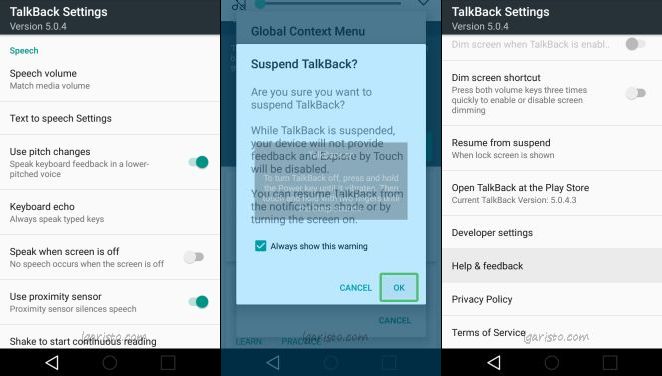 Step 5. Select the first section there. You'll see a page with a YouTube video. Tap on the video and hit the share link to open up the YouTube app.
Step 6. Once you're in the YouTube app, tap the three dots in the top-right corner and select Settings.
Step 7. Tap Get YouTube Red. Within the YouTube red page, click on one of the hyperlinks (like Terms of Service, for example). This step will open Chrome.
Step 8. From there, visit any site with an email address link. Tap on it. The software will prompt you on how to complete the action.
Step 9. Long-press Gmail to get into the Settings page for Gmail. And tap App Settings.
Step 10. Tap the three dots in the upper-right corner and choose Manage Accounts, which will open up the Settings app.
Step 11. Scroll down to Fingerprints & Security. Tap that. You should see Unknown Sources grayed out.
Step 12. Go back and go to the Apps section. Force quit and clear cache on both Setup Wizard apps as well as the Google Play services app. Force stop the Android System.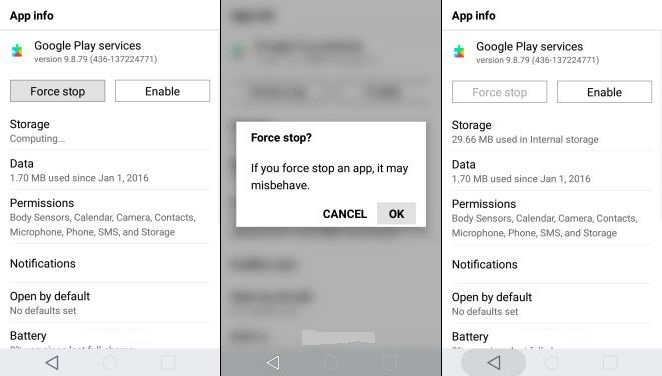 Step 13. Hit back until you reach the Welcome screen of the setup wizard. Then tap next to the wifi screen and set up your wifi.
Step 14. Call your device and answer the call. Tap the three dots in the top right corner and tap Add Call. This step will open the Phone app.
Step 15. Now go to send a text message from within the LG Phone app. Enter an email address (this could be t@t.com - any email will do).
Step 16. Send the message. In the sent message, tap the email.
Step 17. Open Gmail. Tap the three dots in the upper-right corner to go back to the Settings app.
Step 18. Scroll down to Fingerprints & Security. Now, the Unknown Sources box should be available to turn on!
Given that you'll enable unknown sources for LG FRP lock bypassing, the next step is to install Quick Shortcut Maker in order to bypass FRP lock.
Step 1. Follow the steps above until you get to where you have Chrome open.
Step 2. Search for Quick Shortcut Maker and download the APK. Once installed, you should be able to open it.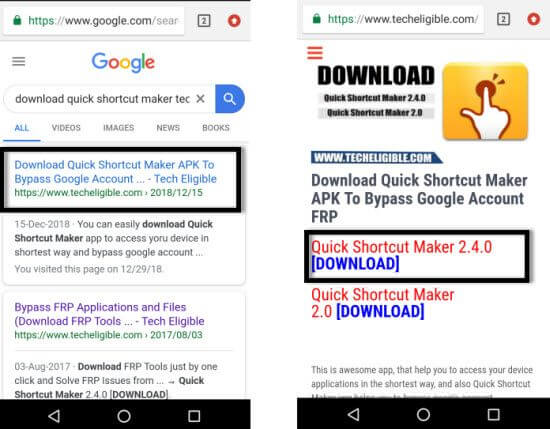 Step 3. On the main screen, search for Google Account Manager.
Step 4. Select Type Any Email And Password. Tap the Try button. A window should pop up, prompting you for your Gmail account.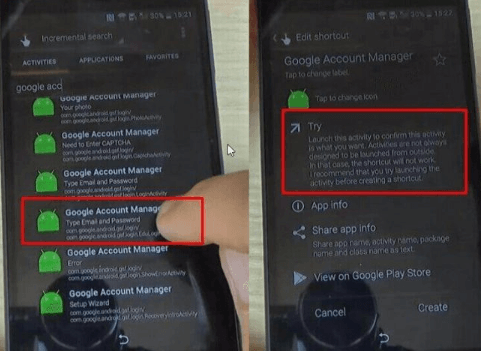 Step 5. Tap the top-right three dots. Next, go to Login Browser and then Login Now.
Step 6. Enter your Gmail account credentials. After that, restart your LG device - you should find it unlocked with the account you set up!
Note
while these steps will enable unknown sources to LG FRP bypass, it's not the most efficient method. There are 24 steps in total, and each one can be tricky. Fortunately, there is a better method!
Bypass Android Google account/FRP Lock without Enabling Unknown Sources
If you don't want to enable unknown sources for LG FRP, then the better option is to use iMyFone LockWiper (Android). This powerful software lets you bypass FRP many Android devices (including devices running the latest Android 12) without any requirements. The best part is, it's got an easy-to-use process, which makes it user friendly.
Customers love these features about LockWiper (Android):

Quickly remove the FRP lock from Android devices, no passwords required.

Add any Google account you want to make it your own after removing FRP lock.

Your Android device won't be tracked by the previous account after removal.

Over 98% success rate for unlocking Google account.

Also remove all types of screen locks, including face recognition, PIN entry, passwords, and other biometric login types.
How easy is it to bypass the FRP lock with iMyFone LockWiper (Android)? This guide tells us all we need to know!
Step 1. Download and install iMyFone LockWiper (Android) and open the app.Click on Remove Google Lock (FRP) and click Start.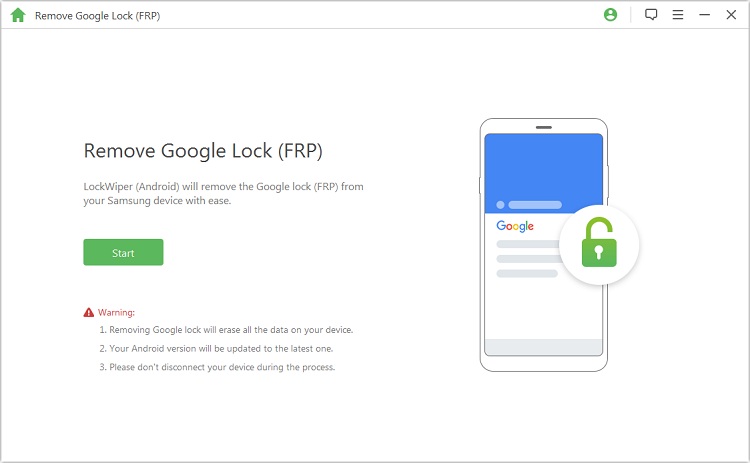 Step 2. Then you should connect your device to computer via USB. Confirm your device information and click Download.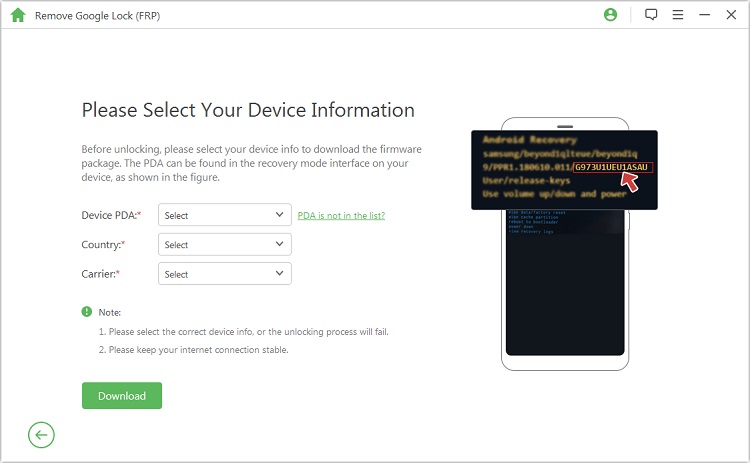 Step 3. The software will download data package for your device. Then select Start to Extract to extract data package.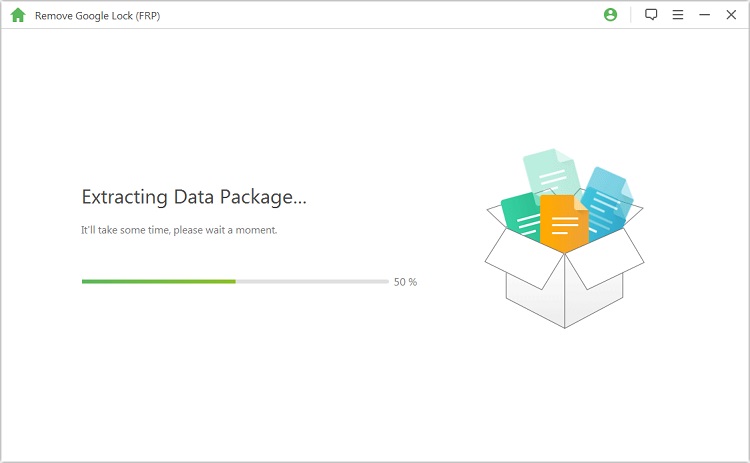 Step 4. Follow the on-screen instructions to put your device into download mode and tap Start to install the data package.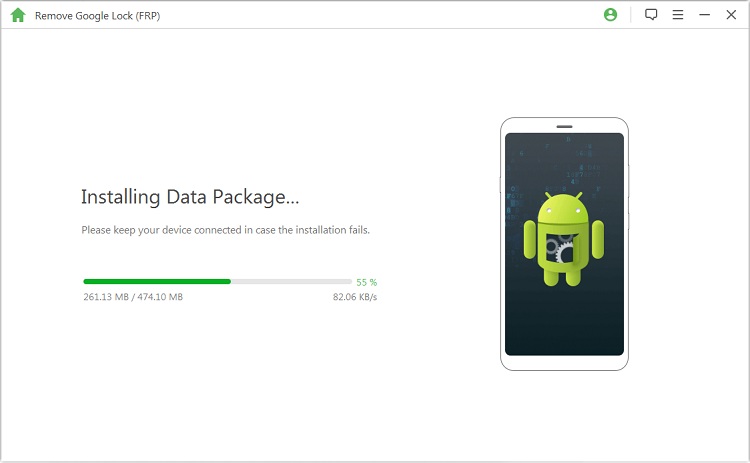 Step 5. Put your phone in download mode again, and LockWiper (Android) will install the firmware package.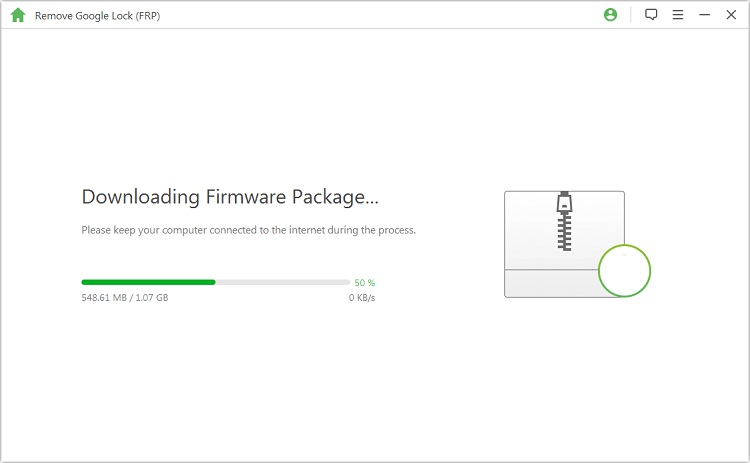 Step 6. Once the program completes that, it will start to remove FRP lock. After a few minutes, your device will be free of the FRP issues.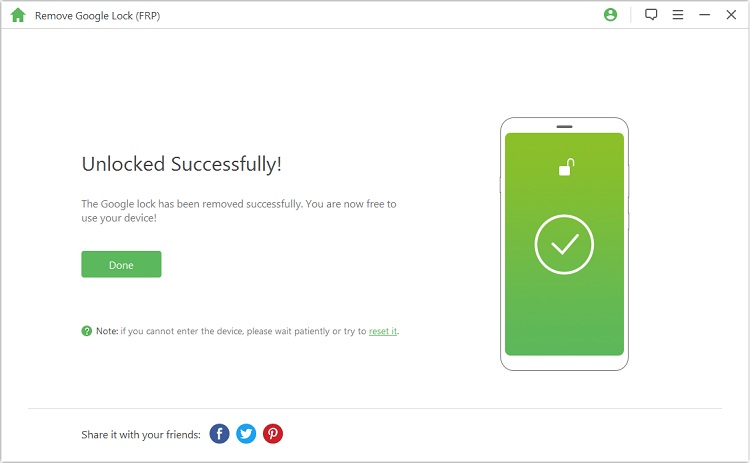 Instead of following a complicated guide, by using LockWiper (Android), you can save lots of time and headache by following a guided wizard through the process. LockWiper (Android) makes bypassing the FRP lock as easy as pie!
Conclusion
There's no question that LockWiper (Android) is the best software on the market for bypassing Google's FRP locks. It's intuitive, easy-to-use, and its guided interface makes the process a breeze. While you can try and enable Unknown Sources on your LG device to bypass FRP lock, the steps are cumbersome, lengthy, and error-prone.
If you have a phone or tablet with FRP locked which has been frustrating you, give iMyFone LockWiper (Android) a try. There's a good chance you'll save yourself countless hours of heartache and frustration by doing so!