Screen lock helps a lot in securing your mobile device including LG phone and tablet. But this last until when you are still able to access your LG phone/tablet with your password. The moment your daughter toils with your LG phone/tablet password, PIN or pattern and it becomes permanently locked or you probably just forget the password, the disadvantage starts. You're probably facing a similar scenario if you're reading this article. There are ways to gain access to your locked LG phone/tablet. This article promises to explain and highlight the steps involved in each of the listed methods.
How to Unlock LG Phone via iMyFone LockWiper (Android)
iMyFone LockWiper (Android) unlock tool can help you gain access to over 6000 Android devices including LG, Samsung, Huawei, HTC and many more. It takes a very short period of time and requires no professional skill to operate. All required is a computer, a USB cable and an active internet connection.
Great Features of iMyFone LockWiper (Android):
Unlock Android phone instantly without any password required.

Remove all kinds of Android lock screens: PIN, pattern, password, fingerprint and face lock.

Work with all Android phones and tablets, compatible with Android 2.3 - Android 11.0.
How to Unlock LG Phone with iMyFone LockWiper (Android)
Step 1: Download and open LockWiper on your computer and press "Start" to begin the process.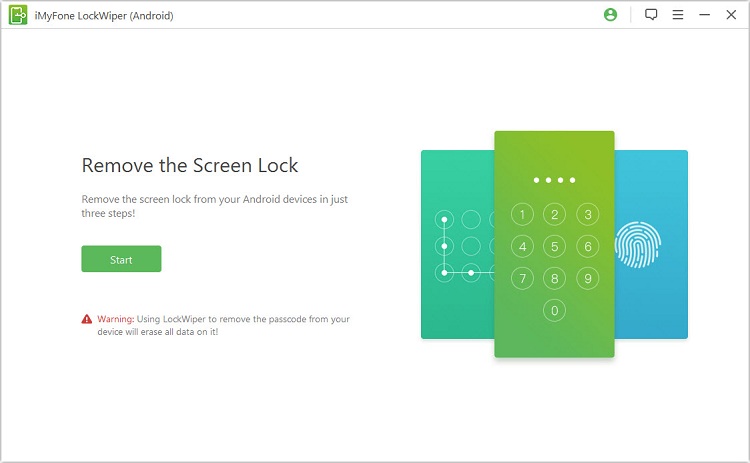 Connect your LG phone to computer via USB cable and wait until the software automatically detects your device.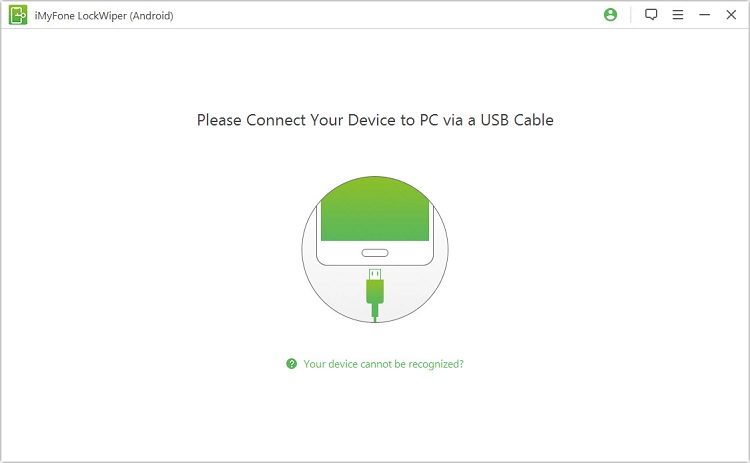 Step 2: Confirm your device information and then press "Start Unlock".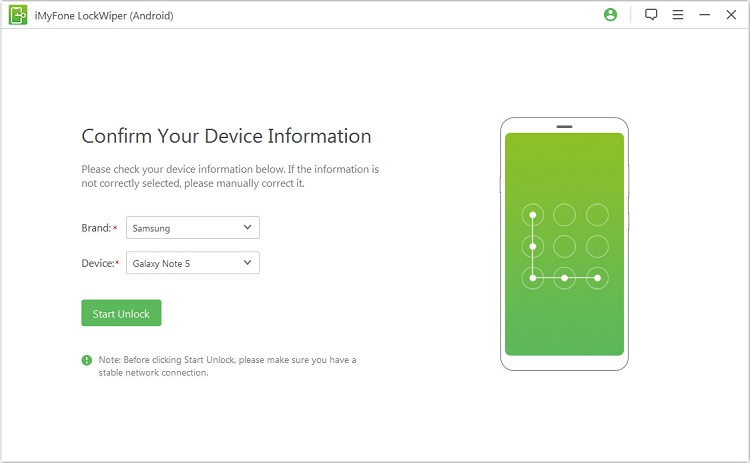 Step 3: The software will begin the removal process.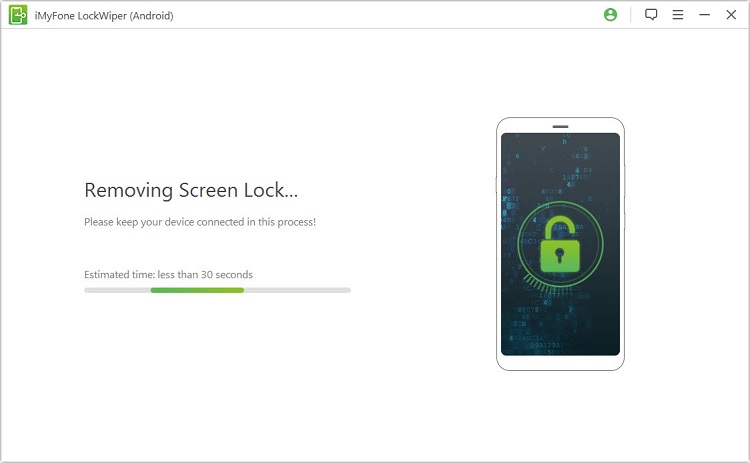 In a few minutes, the screen lock would be removed from your LG phone.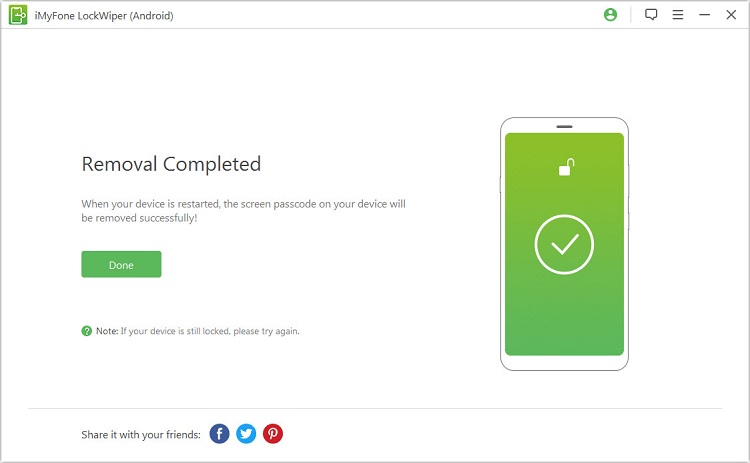 NOTE:
Please keep your phone connected to the computer during the whole process.
How to Remove LG Phone Password with Google Find My Device
Google Find My Device is a tested method for wiping off your screen lock and also leaves your LG phone/tablet in Factory Reset. This works only when a Google account had earlier been created on your LG mobile or tablet.
Here are the steps involved:
Download Find My Device application on another mobile device or access Google Find My Device website.

Sign in with the Google account associated with your LG phone/tablet.

A device list highlighting three options "Play Sound", "Lock", and "Erase". Click on"Erase".
Please Note:
All your data including the screen lock would be erased from the device.
Use Android Device Manager to Unlock LG Phone
Do you know that you can also unlock your LG mobile phone/tablet with Android Device Manager? This is one of the most decisive ways to gain access to your LG device provided that your LG mobile phone/tablet was linked with a Google account. The steps are very easy and are as follows:
Go to the Android device manager website on a separate computer or phone.

Sign in your Google account that you have linked your LG phone/tablet to.

Select your LG mobile/tablet model and click on "Lock" from the three highlighted options: Ring, Lock and Erase.

A popup window will indicate you to enter a new password. Enter a temporary password and click again on "Lock" to proceed.

Now you can unlock your LG device by entering the temporary password.
Then change the temporary password and set a new one through navigating to Security under Setting menu.
Unlock LG Phone through Factory Reset
Though not advisable when you have valuable information on your LG phone/tablet as it will wipe all data, Factory Reset method is one of the ways to unlock your LG device. This method will restore your LG mobile phone/tablet to factory state. Here are the steps involved:
Turn off your LG phone/tablet.

Press "Power button" and the "Volume Down" button at the same time.

Hold down the keys until "LG" logo appears.

Press the "Volume key" to navigate to "Wipe Data/Factory Reset", and click on it.

A popup screen will notify you that your data would be wiped out, confirm it and the factory reset will begin.

When the process is done, click on "Reboot System Now" on the Recovery mode menu.
After the startup process completes, the lock screen is removed and you can access your LG mobile phone/tablet again.
Note: It is recommended to backup your important data frequently to avoid data loss in such case.
Unlock LG Phone with SD Card
SD Card unlocking method guarantees the safety of your mobile data, however, requires your full attention and the steps that will be highlighted are to be followed closely. You require an SD Card as well as a PC that supports an SD card slot. A flash drive can also be used if you have an OTG cable. Once you have all these tools, you can then follow the steps below:
Insert the SD card on your PC and access the file directory.

Download Pattern Password Disable file from website.

The content is a Zip file. Move the zip file to SD Card, then eject the card once moved.

Insert the SD Card into your locked LG phone and switch it off.

Turn it back up and follow the instructions listed in the above method to put it into Recovery Mode.

Click on "Install" when the TWRP (Team Win Recovery Project) menu pops out.

Install the "Pattern Password Disable" file transferred previously.

Your LG phone/tablet would be restored and the screen lock would be removed in a few minutes.
Now you can get to use your LG mobile phone/tablet after rebooting.
Note: When you restart your LG device, if it still asks for a password, enter a random one to unlock it.
Use ADB Command to Unlock LG Phone
This method only works if the USB debugging was earlier enabled on your LG phone. All you need is a USB cable, a PC and a network connection.
Download Android SDK and install ADB on your computer.

Connect your LG phone to a PC with a USB cable.

Open the command prompt window in your ADB installation directory. Type the code "adb shell rn /data/system/gesture.key" and then "Enter".

After restarting your LG phone, if you still get a lock screen, simply enter a random password to bypass it.
---
Conclusion
You've known how to unlock LG phone/tablet after reading the post. All these methods can efficiently help as they are all professional methods especially iMyFone LockWiper (Android) which can help you remove the forgotten passwords, pattern, and PIN on your phone.