Most times, the solution to forgetting your Android password, reclaiming a device, and other issues on Android devices is to perform a factory reset. But what happens when you need to wipe with the reset but you encounter a little problem in the shape of Google Account lock? Most devices will require you to input the credentials of the Google account linked to your device before letting you to factory reset them.
This guide will show you how to also bypass this lock and bypass any Google account lock configured on your device.
Part 1: What is Google Account Lock?
Google account lock is a highly secure feature implemented on Android devices that prevents unauthorized users from wiping or factory resetting devices. Whenever someone attempts to factory reset phone or tablet with Google lock enabled, the device immediately requests that they enter the Google account linked with the device.
Is there any way to bypass Google account lock?
There are ways – hard, straightforward, risky, safe, quick, and slow ways of performing this operation, and this article will highlight only the best tools. However, some other working ways to bypass Google account lock include the following:
Unlock with an apk program

Unlock with online services and websites

Unlock with iMyFone LockWiper (Android) - recommended!

FRP Hijacker tools

FRP Lock Google verification bypass tools/software
Part 2: The Best Tool to Bypass Any Google Account Lock
Hands down, the best tool to bypass Google account lock is iMyFone LockWiper (Android). This software is fantastic. we found that it does not merely unlock the Google account lock, but it makes the entire process fun and smooth. Everything happens within minutes, it works for all the devices we tested. And we are able to use it efficiently at the first go, unlike other similar software that has a steep learning curve.
Features of iMyFone LockWiper (Android)
Completely removes any trace of the previous Google account from your device.

After removal it allows you to change to a different Google account.

Compatible with most Android operating systems.

Your device would not be tracked or blocked remotely from the old Google account.

Easy-to-use user interface and high success rate.
How to use iMyFone LockWiper (Android) to bypass any Google account lock:
Step 1: After installing, select the Standard Mode, and then click start.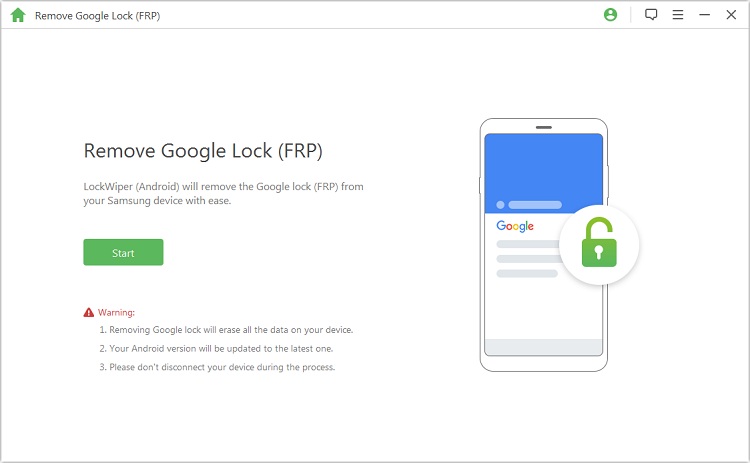 Step 2: When you select your device information correctly, click Next and then click Download.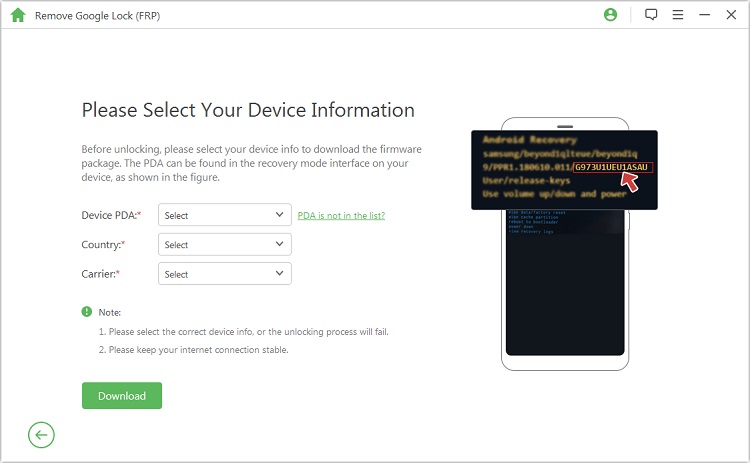 Step 3: After program downloading your device's data package. Click Start to Extract to unpack it, and Lockwiper will then start installing the data package on your device when you confirm that you are sure of this operation.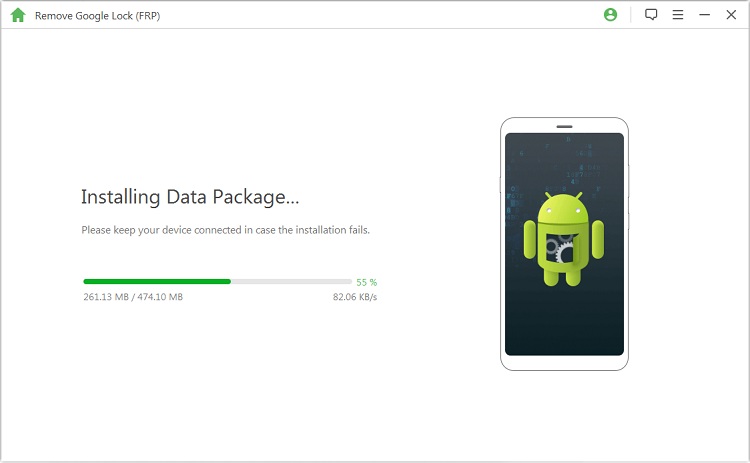 Step 4: After finishing download, make sure you have turned on USB debug and OEM unlock. You can follow instruction to turn those on. Then, boot your device into Downloading mode again to install the firmware package onto your device.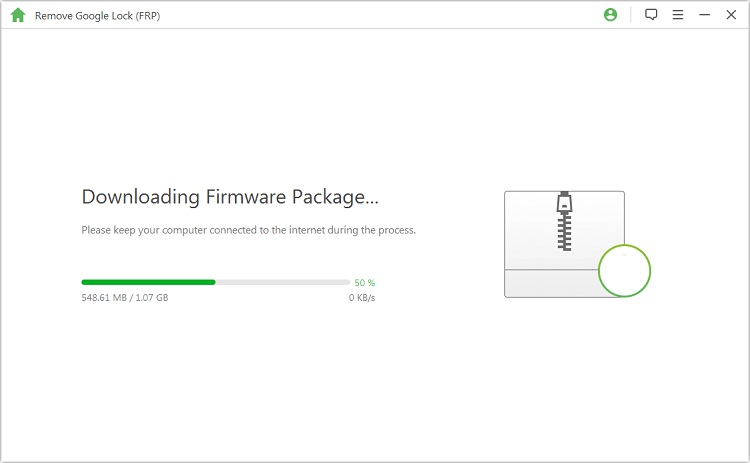 Step 5: The required firmware package will then be downloaded onto your device. Click Start to Extract and then unzip it. Google lock will be removed from your device and you can set up a new Google account.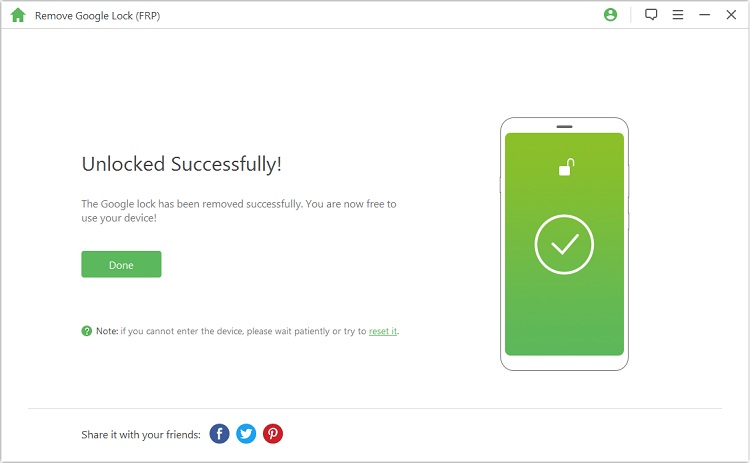 Part 3: How to Avoid Google Account Lock on Your Device?
Prevention, they say, is better than the cure. Before even starting to bypass Android Google account lock on your device, you can avoid getting prompted to enter the account credentials in the first place.
Disable the Google account
You can avoid Google account lock by disabling Google account lock. However, while may seem like a great way to avoid the hassle, it also leaves your device vulnerable as anyone can steal the phone or tab, wipe your data and start using the device. So, whether or not you wish to disable Google account lock on your device depends on your views.
Keep the Google account information in mind
Always remember to keep your account information safe. Whenever you need the information you can use it without any limits. It's the better way than disable the Google FRP lock cause it will leave your device open to wrong hands.
BONUS - Other Google Account Bypass Tools May Help
You can bypass Google account lock from your device by using different methods, of which some are:
D&G Password Unlocker Tools
Pros        
Free Windows OS setup
It is completely free to use
Works on all Windows versions
Cons        
May not support LG devices

Samsung Reactivation/FRP Lock Removal Service
Pros        
Online services have no risky downloads
Issues are resolved promptly
Cons        
Supports only Samsung devices

Pros        
Free to use
Works well with all the major Android brands
Cons        
You need an OTG cable and pen drive or computer to use it

Google Account Bypass and Flashing Tool
Pros        
Compatible with all Android versions
Free availability
Cons        
Not tested with Android 5.1.1 and Android 6.0.1

GSM Flasher ADB Bypass FRP Tool
Pros        
Easy to set up
Comes with a pattern lock removal facility
Cons        
Requires ADB mode enabled

Above are five excellent methods and software that you can also use to bypass Google account lock. However, we recommend that you do not risk your device and your money in using any of these, except, of course, iMyFone LockWiper (Android) does not do the job for you, and this is highly unlikely.
iMyFone LockWiper (Android) is literally all these above tools put together, and then some more. It has all the pros of the above methods, and even comes cheaper than most of them, while also allows you to try it out for free!
---
Every good thing can have a downside, and Google accounts are no exception. This article was written due to the numerous queries such as 'I linked my friend's Google account to my phone, how do I remove this account?' Hopefully, if you have read to this point, removing Google accounts from Android devices, and even iOS devices should be a breeze for you, especially if you have the recommended app, iMyFone LockWiper (Android).