Android device users find themselves in situations where they cannot recall their device's screen lock credentials. Resetting an Android device without the password for the Google account synced on the device was made more complicated by the Factory Reset Protection (FRP) lock.

To make sure that everyone has the ability to use his or her Android device fully, iMyFone developed LockWiper (Android). With this tool, you can get rid of the screen lock and FRP lock without the needed credentials. However, to use LockWiper (Android) fully, an iMyFone LockWiper (Android) official serial key is necessary.
Part 1. Why Do You Need iMyFone LockWiper (Android)?
There are numerous reasons why you may want to use LockWiper (Android). Some of these reasons include:
You cannot recall your device's screen lock password/pattern/PIN.
You forgot the password for the synced Google account and you would like to factory reset your device.
You just purchased a secondhand device featuring the original owner's Google account.
A relative who uses his fingerprint ID/face ID gave you his Android device with the screen lock still on the device.
You entered the wrong screen lock password/PIN/pattern too many times.
No matter which situation you're in, you're not able to get full access into your device and enjoy any functions. Here is where iMyFone LockWiper (Android) can save your day. Any issues related to screen lock or FRP lock can be easily fixed with LockWiper (Android).
LockWiper (Android) is a revolutionary Android password unlocker which was specifically developed in 2019 with the most advanced technologies. It's built for everyone. On top of having a great user interface, it is extremely easy to use. To get rid of the FRP lock or the screen lock, all you will have to do is to follow some simple on-screen instructions.
---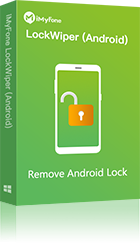 1,000,000 Downloads
Features of iMyFone LockWiper (Android)
You can unlock Google account - It erases the previous FRP lock from device without leaving any traces in a few clicks. You can use a new account and your device won't be linked to the previous account any more.
You can unlock screen lock for any Android devices - It completely removes any kinds of screen locks, including PIN, pattern, fingerprint, and password, over 6000 Android devices.
98% high success rate - provides specific unlock solution to device of specific model.
Part 2. Truth about iMyFone LockWiper (Android) Official Serial Key Online
LockWiper (Android) offers you value for your money. The tool has licenses ideal for everyone. These include:
1-Month Plan – With this license, you can use LockWiper (Android) on 1 device for one month. Newer updates and free support are included.
1-Year Plan – With this license, you can use LockWiper (Android) on 1 device for one year. Newer updates and free support are included.
Lifetime Plans – This license is for lifetime. That means you can use iMyFone LockWiper (Android) for lifetime. And it is ideal for 5 devices. Besides, newer updates and free support are included.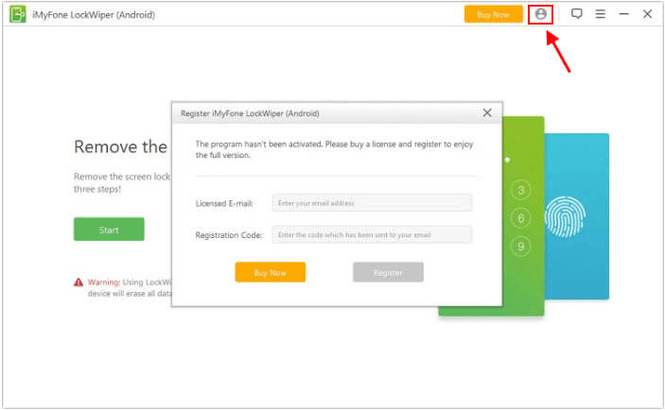 Note
Scammers will do anything to get attention, including promising you things that don't exist. Free iMyFone LockWiper (Android) official registration codes DO NOT EXIST. If you find a site claiming that it has an LockWiper (Android) official registration code, you should know that it is being run by scammers.
Scammers promise the free official registration code to get you to load their websites. After loading the website, the scammers will keep taking you around the website with useless information and numerous links. The end goal is to either get your important information (for example, email address) or to get you to click an advertisement so that the scammers can receive ad revenue.
Part 3. Why You Need A Serial Key to Use LockWiper (Android)
The iMyFone team tasked with developing LockWiper (Android) spends a lot of time and resources incorporating new features to LockWiper (Android) and improving the old features. The money you pay to get your LockWiper (Android) official registration code will help the team make the program much better. This will ensure that your issues are solved more quickly.
Part 4. Why You Should Get Your Own LockWiper (Android) Serial Key
There is no free LockWiper license key online. Therefore, it's important that you get your own registration code. If you get your own iMyFone LockWiper (Android) official registration code or serial Key, you will get to enjoy the following benefits:
Maximum Cost Efficiency – Unlike other Android password unlockers that only supports to unlock screen, LockWiper (Android) is the full package that not only bypasses screen lock but also unlocks Google FRP. You will get the best Android unlocking application available in the market at the lowest price.
Reliable Customer Service – You will be able to access customer service on a 24/7/365 basis. All your problems will be solved quickly.
Lifetime Free Upgrades – Once you pay for your license, you will be entitled to upgrades as soon as the LockWiper (Android) team releases them.
Money Back Guarantee - iMyFone is always willing to offer a 100% refund. If you are having issues with LockWiper (Android), feel free to let them know. If they cannot fix the issues, you will get all your money back within 30 days.
Part 5. A Bonus for You Only
iMyFone appreciates your trust on LockWiper (Android) heartly. On top of offering affordable prices, iMyFone team is willing to reduce the prices further during purchase. To help the customers save as much money as possible, they offer a time-limited 10% discount for the purchase.
10% OFF Coupon Code: YTR5E7
How to make the purchase with discount:
Step 1: Copy your discount code above and click here to access the LockWiper (Android) Official purchase page.
Step 2: Select the license plan by clicking the green Add to Cart button under it.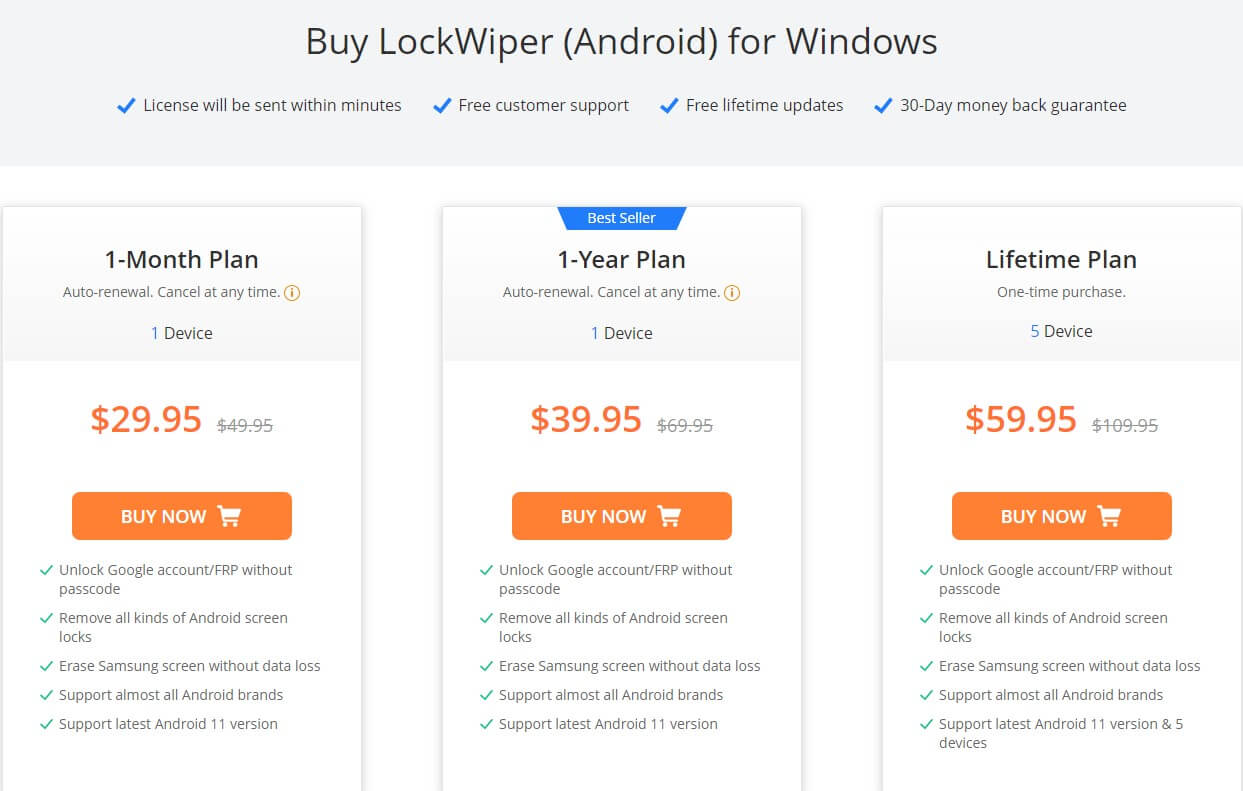 Step 3: You will see the product and its details. Check the box I have a coupon on the left side. Enter the coupon code YTR5E7, click the button Apply.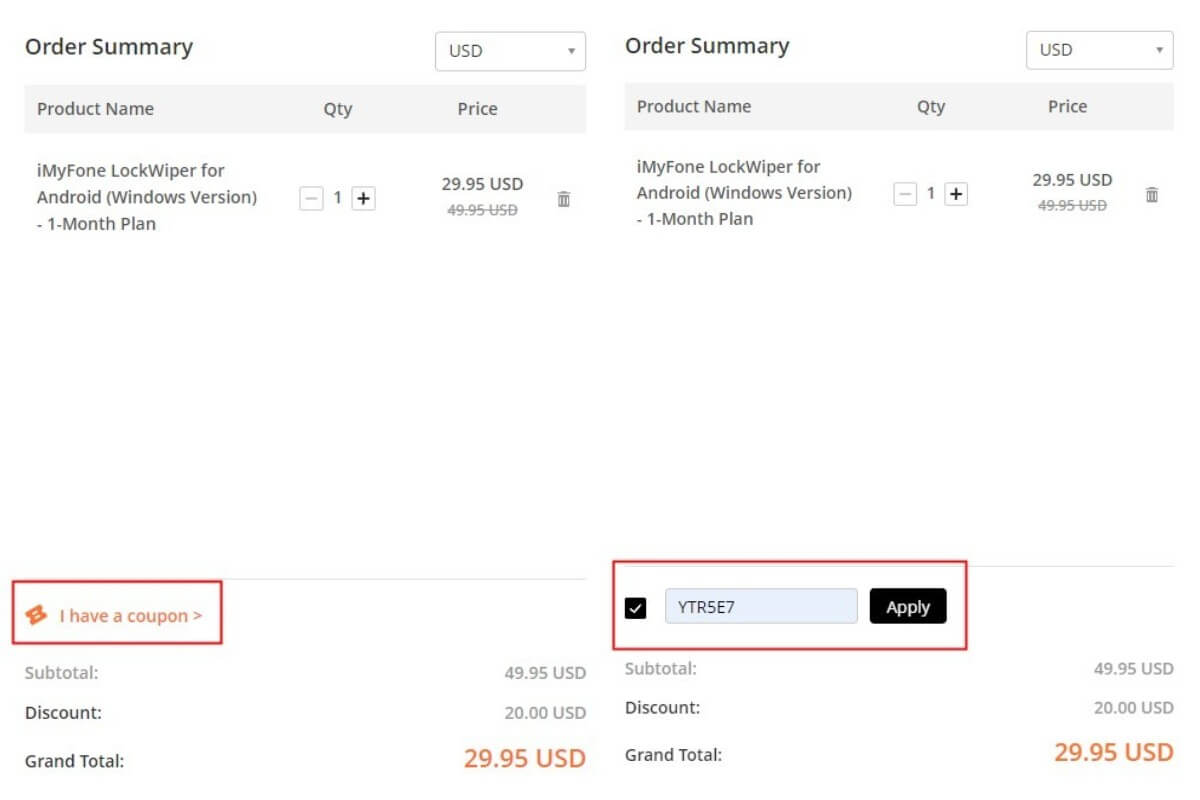 Step 4: The price will be reduced. Now you can buy the plan with 10% off. Just go ahead to complete the payment.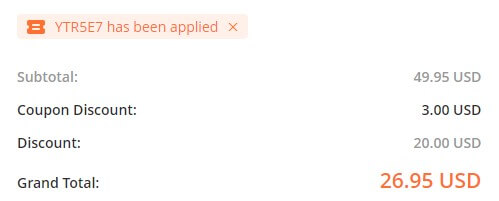 Conclusion
Today I have analyzed all the features and information about the iMyFone LockWiper (Android) software for you. It's a great piece of software with all the power, efficiency, ease of operation, but it's also proof that all great things come at a higher price. Most people will ask, How can I get iMyFone LockWiper Android official serial key?
Reviews from many users who have purchased the software indicate that the software installation and feature navigation is pleasant and straightforward. What are you waiting for? Don't let this time-limited offer for iMyFone LockWiper (Android) go away!