I am a big fan of Xiaomi and bought a Mi 5 recently. The phone is great but I want to root it for more flexible settings and functions. However, I was stuck at the Bootloader lock that Xiaomi manufacturer has set. I searched the Internet for solutions and found Mi Unlock. How can I use it to unlock bootloader lock on Mi devices?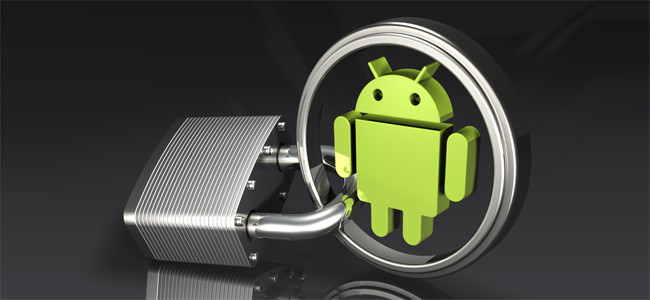 Many popular mobile phone brands such as Xiaomi have enabled the bootloader lock on their device for security reasons. This article is a complete guide on the Mi Unlock software and all you need to know about bootloader lock.
1. How to Unlock Mi Phone Bootloader with Mi Unlock?
Mi Unlock is a tool released by Xiaomi official to unlock bootloader on Mi devices. For those who want to have more flexible control on theirr Mi devies,  unlocking the bootloader lock with Mi Unlock is of great fun.Follow the steps below to use Mi Unlock:
Steps to Unlock Bootloader on Mi Devices with Mi Unlock
Step 1 Log in your Mi account and sync your phone number on your Mi device
Using Mi Unlock to unlock bootloader requires signing in a Mi account first. On the Mi phone or tablet that has a bootloader lock, make sure you have a Mi account and log it on the device.
Step 2 Enable Mi Unlock under Developer option
On your Mi device, go to "Settings" > "About phone" > "MIUI Version". Tap the "MIUI Version" option for several times to enable the developer option.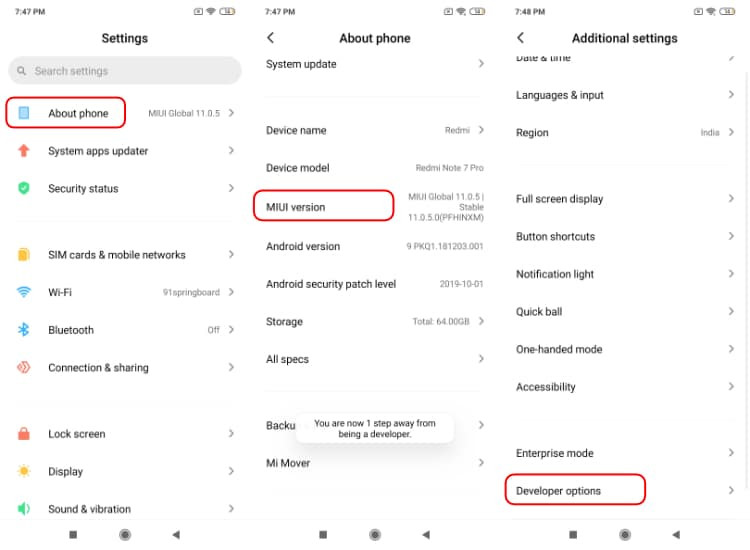 Then go to "Settings" > "Additional settings" > "Developer option" > "Mi Unlock Status" and tap "Add account and device" to input relevant device information.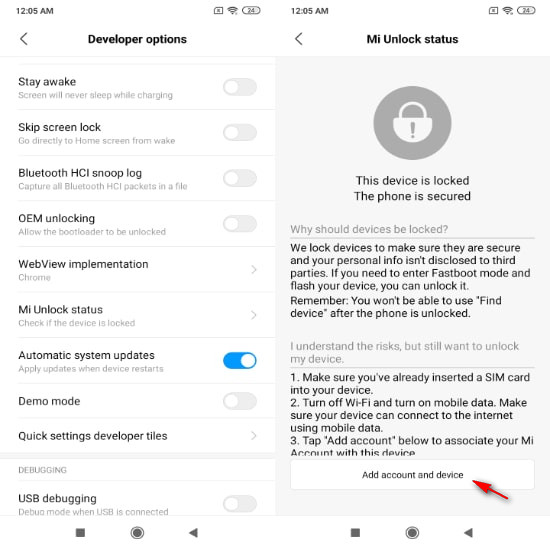 Note:
Make sure OEM unlocking and Usb debugging are enabled under the Developer options.
Step 3 Put Your Mi Phone into Fastboot Mode and and Connect to the Computer
Turn off your Mi device, long press the "Power" button and "Volume down" button simultaneously until the device enters the bootloader mode.  Now connect the device to the PC using USB cable. After your Mi phone enters the Fastboot mode, connect your device to the computer with a cable.

Step 4 Download Mi Unlock Software to Unlock Bootloader
Download official Mi Unlock software  and install it on your computer. Sign in to the Mi account that has been used on your Mi phone in the previous step.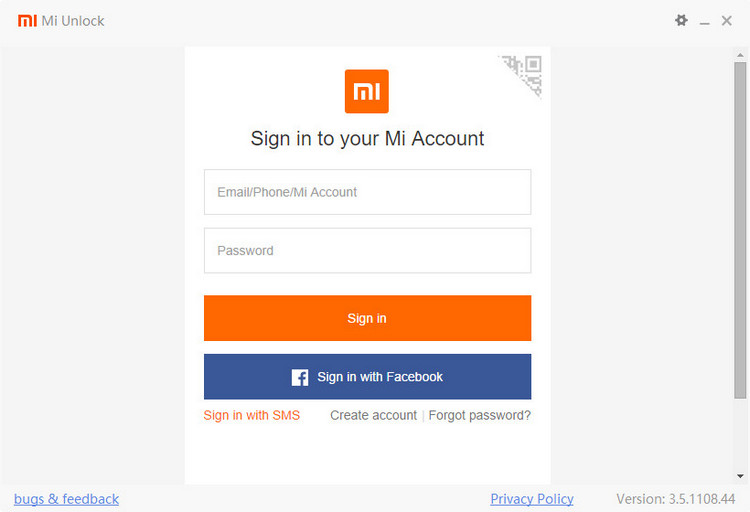 When you logged into the Mi Unlock tool, tap on the topright Settings icon to check the update and make sure you have the latest verison. If the software detects the connection, you will see the "Phone Connected" message below. Click the "Unlock" button to continue.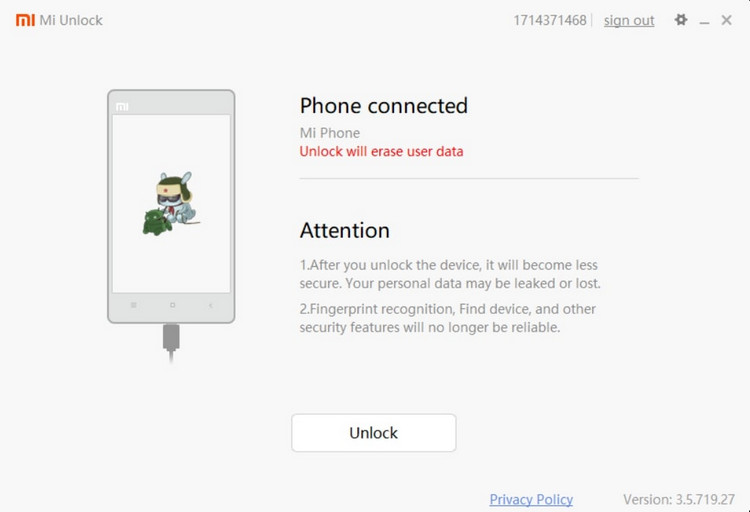 The time it takes for unlocking might last for hours. Please wait paitiently.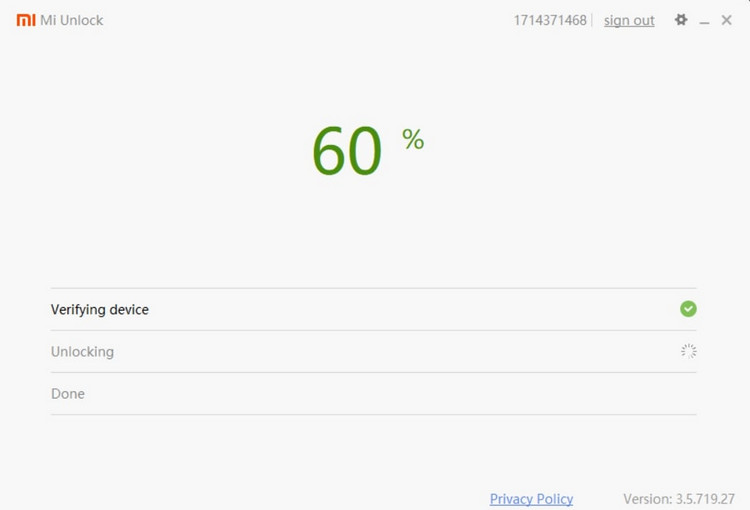 Step 5 Check the Mi Unlock Status on Your Mi device
After the bootloader unlocking process of Mi Unlock has finished successfully. Repeat Step 2 to see if your Mi device is bootloader locked or not.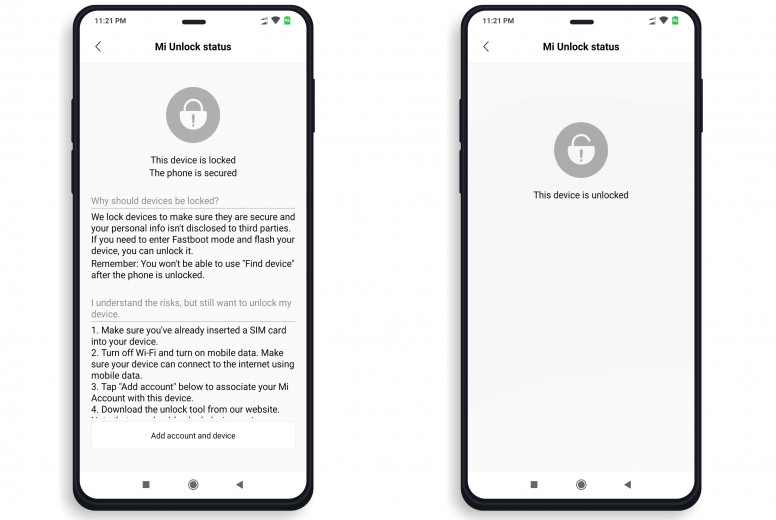 Note:
Unlocking the bootloader of your Mi device will erase all the device content. Make sure you have backed up your data with cloud tools such as Mi Cloud or Google Backup.
2. What Is Bootloader  and Why Does Xiaomi Company Lock Mi Devices Bootloader?
What Is Bootloader Lock?
According to Wiki, a bootloader is a program written to load a more complex kernel, give the kernel its information and establish an environment. To keep it simple, the bootloader is a program that starts whenever a device is powered on to activate the right operating system. Many manufacturers enable the bootloader lock on their mobile phones, tablets and computers that run Android system so that only the operating system installed on the device can be used.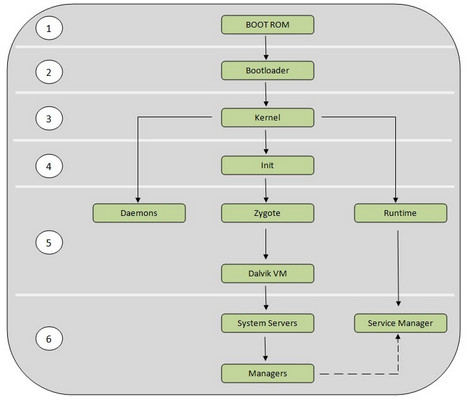 Why Does Xiaomi Company Lock Mi Devices Bootloader?
To protect user privacy and improve user experience, Xiaomi Company enables bootloader lock on their devices mainly for the following two main reasons:
Avoid unofficial operating system and software
In countries and regions that don't have official Xiaomi reseller, some users buy Mi phones and tablets at lower prices from unauthorized sellers. Devices from such sellers might be installed with unofficial operating system, bloatware or viruses.
Protect privacy and property security
After Mi phones are lost or stolen, the device will be easily flashed with a new ROM so that the owner can't get it back. This potentially threatens users' privacy and property security. With the bootloader lock on, it would be very hard for someone else to completely wipe and reset a lost or stolen device.
3. What Must I Know about Mi Phone Bootloader?
Q1: What happens after unlocking Mi uhone bootloader with Mi Unlock?
You are free to Root your Mi device and flash custom ROM from any sources, self-define some settings.
Q2: What Mi devices are bootloader locked?
The bootloader lock for Mi devices are applied to Mi devices released in 2016 and the following years. Some previous device models such as Mi 4c, Mi 4S, Mi 5, Redmi Note 3 and Redmi 3 are manufactured with bootloader lock.
Q3: How to check whether the Mi phone bootloader is locked or not?
The status of bootloader can be checked through the following 3 approaches:
The Mi Unlock software will show the message Successfully unlocked when the unlocking process completes.
The word Unlocked will show up when booting your Mi phone.
Advanced users can check the bootloader status via cmd.
Q4: What are the risks and limitations of using Mi Unlock to unlock bootloader?
By unlocking the Mi device bootloader you agree that this process may bring changes to the system. These changes may damage the device. Here are the limitations and risks you will face:
You will have no access to functions requiring high security level, such as Find Device.
You will risk privacy leak and property loss caused by bloatware and malware. Bootloader unlocked Mi devices are prone to be attacked by viruses.
One Mi account can only unlock one device within 30 days.
4. How Can I unlock Mi Phone Screen Lock without Any Passwords?
Many Mi device users thought that Mi Unlock also supports to remove the screen lock. This is wrong. Mi Unlock software unlocks the bootloader lock rather than screen lock.
If you are looking for a solution to remove the screen lock on your Mi devices, then iMyFone LockWiper (Android),  an excellent Android lock screen removal , would be a savior. The software has been taking a leading role in the market of removing screen locks from Android devices without any passwords. All the screen lock types, including PIN, password, pattern, fingerprint or face recognition are supported. Just connect your Mi phone to the software and make several clicks to unlock your Mi phone screen lock easily and quickly.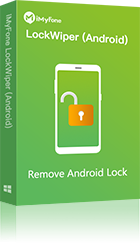 1,000,000 Downloads
Remove Mi Phone Screen Lock
Completely remove Mi devices screen lock without using passwords.

Support many phone brands, including Xiaomi, Samsung, Huawei, Google and Motorola, etc.

High unlocking success rate and user-friendly interface.

Work seamelessly with newly released Android system version.
Steps to Unlock Mi Phone Passwords without Passwords
Step 1 Download and install iMyFone LockWiper (Android) on a Windows computer. On the home interface, choose "Remove Screen Lock" and then click "Start". Connect your screen locked Mi phone or tablet to the computer with a USB cable.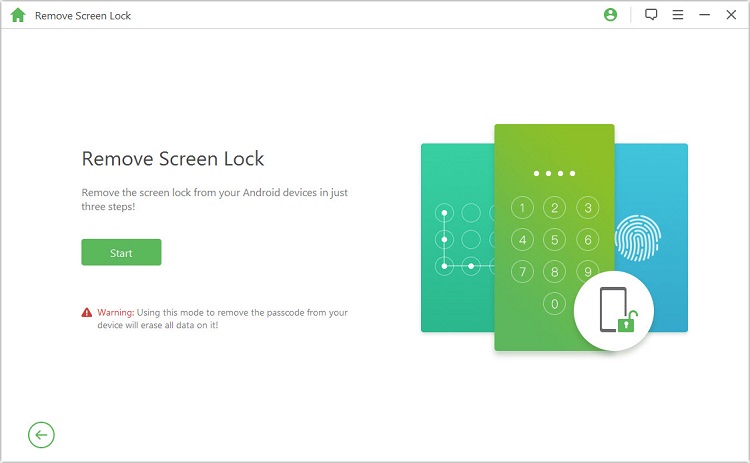 Step 2 Once the connecttion is detected, the software will recognize the brand and model. Confirm your device information and click "Start Unlock" to continue.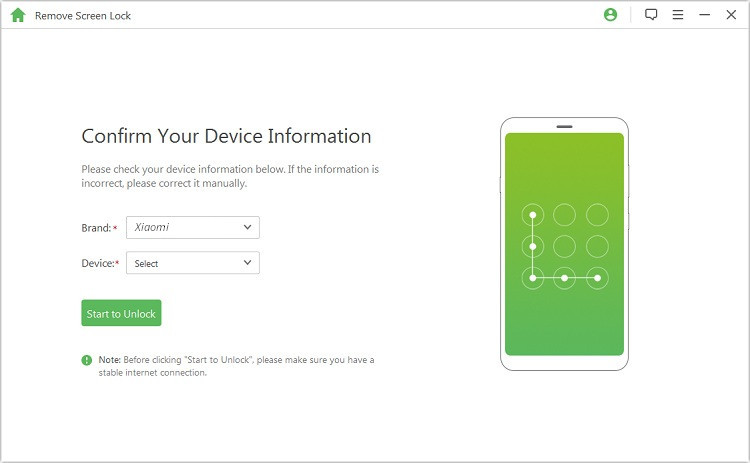 Step 3 The program will download a data package according to your device information.
Step 4 Install and extract the package and then the software will start the process of removing screen lock from your Mi device. When the process completes, the screen lock will disappear from your Mi device so that you can enter without passwords.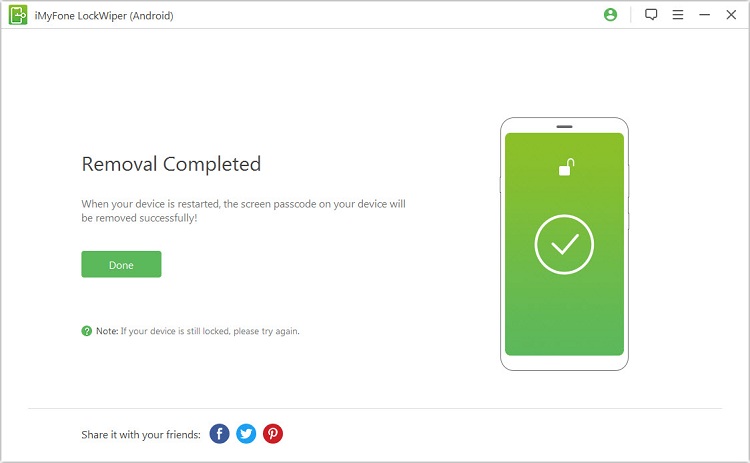 Conclusion
From what has been discussed above, I'm sure you've had basic understanding of the bootloader lock, Mi Unlock software and how to unlock the bootloader lock on Mi phones and tablets with Mi Unlock. Consider and balance the advantages and risks of unlocking the bootloader lock before using Mi Unlock. This article also offers a recommended solution to remove screen lock on Mi devices. Do not hesitate to turn to iMyFone LockWiper (Android) unlocking software if you have troubles removing screen lock.