Samsung J6 FRP bypass without PC is common when you search through the internet for solutions, but many of these solutions are not potent. Before we walk you through the potent methods of bypassing FRP lock on Samsung J6, we would like to point out some reasons why people prefer to bypass FRP without PC.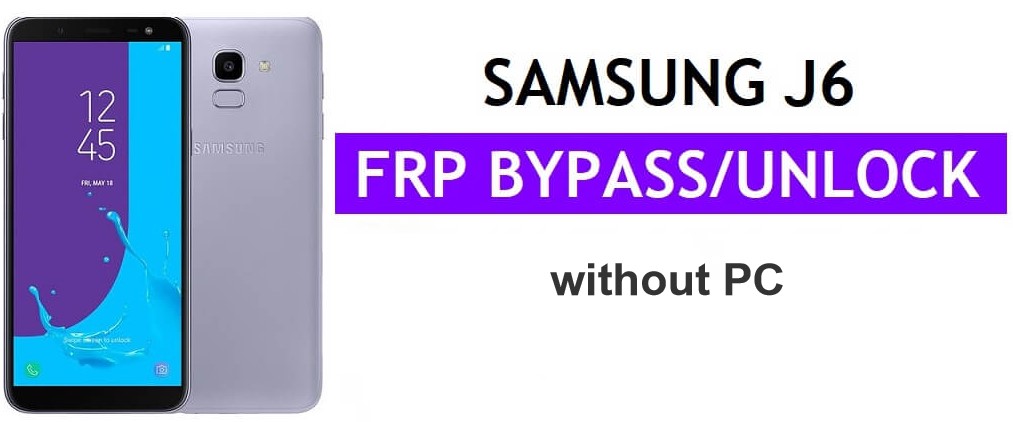 Part 1. Reasons for Samsung J6 FRP bypass without PC
Reasons for Samsung J6 FRP bypass without PC
There are few reasons why an Android device user may want to bypass FRP lock on Samsung J6 without a computer, and they include the following:
Lack of computer to install the software for bypassing FRP lock.
Indisposition of the person to use PC in a public place when unlocking his or her device.
Fear of malicious FRP bypass software destroying the important personal and business files stored in the PC.
Inability to use a Windows, Linus or macOS computer efficiently.
Some other factors such as privacy, choice, etc.
If any of these reasons have made you indisposed to use a computer, you don't have to worry because this article brings a competent method of performing Samsung J6 FRP bypass without PC.
Part 2. Samsung J6 FRP Bypass without PC
Samsung Galaxy J6 was released into the market in May 2018, which makes it eligible to Factory Reset Protection lock, which implies that you will have to provide the Google account credentials after hard resetting the device. However, if you're facing Google FRP lock on Samsung J6, then follow the steps below to bypass FRP lock without a computer.
Step 1. Power on your Samsung J6 and connect it to a Wi-Fi network.

Step 2. Go back to the Samsung welcome page and tab with 2 fingers to enable Talkback. Click on Emergency Call tab and call 112.

Step 3. Quickly double click on the + icon. Click the Power and Volume Up buttons at the same time to turn off Talkback. Then, click Add to Contacts, add a new contact, and click Save.

Step 4. Swipe through the contact list and select the contact you just added. Then, click on it to send a new message. On the message textbox, type in www.youtube.com and send.

Step 5. Click on the message, and the YouTube app will appear. Next, click the link on the Youtube app to open Google chrome welcome page.

Step 6. Click APK PC tool to download Apex Launcher APK & Pangu FRP bypass APK. Now, follow the other steps described in the link to unlock your device. Restart your device at the end, and the FRP lock will be gone.
Part 2. A Better Alternative Method to Perform Samsung J6 FRP Bypass without PC
iMyFone LockWiper (Android) is the best among many software and solutions that can bypass Google account verification screen on Samsung Android devices and other brands of Android devices. This program is highly recommended for bypassing FRP lock and unlocking screen locks on Samsung J6 smartphone.
Therefore, you don't have to worry yourself over FRP lock when you have a tool that can easily, quickly and efficiently remove FRP lock from Samsung device. This software doesn't just bypass FRP lock, it removes it permanently and completely.
Why Should I Use iMyFone LockWiper (Android) for Samsung J6 FRP Bypass?
It can remove old Google Account from android phone, likes sumsung without password in just a few minutes.

It can bypass different Sumsung screen locks easily, such as pattern, PIN, face lock, fingerprint and so on.

It allows you to associate a new Google account to the Samsung J6 J600G immediately and start using the device.

It has a user-friendly interface for a non-tech pro and it has over 1,000,000 Android device users worldwide.
Here are the steps to remove Google FRP using LockWiper (Android):
Step 1: Download and install LockWiper (Android) on your PC. Then, choose the Remove Google Lock (FRP) mode from the home interface and connect your Samsung J6 to your computer.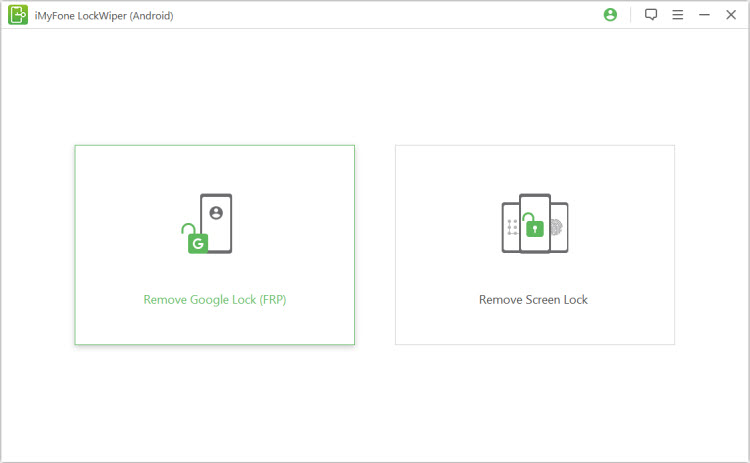 Step 2: Click Start and then select your device's information and set up the device.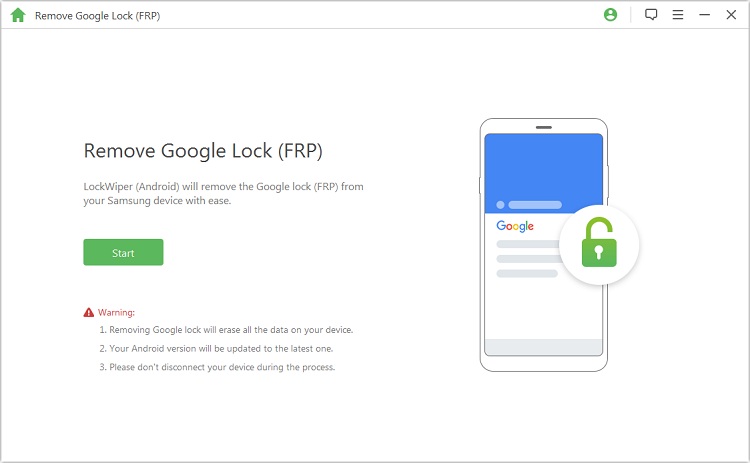 Step 3: Download and install the data package for your Samsung phone.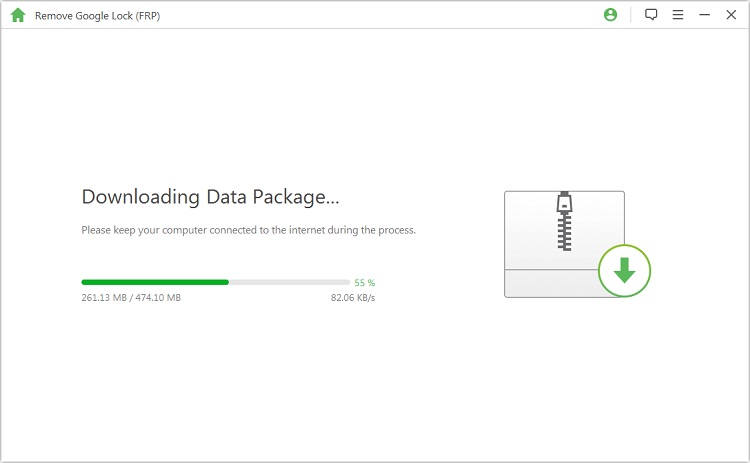 Step 4: Download and prepare the firmware package for your device by following the onscreen guide.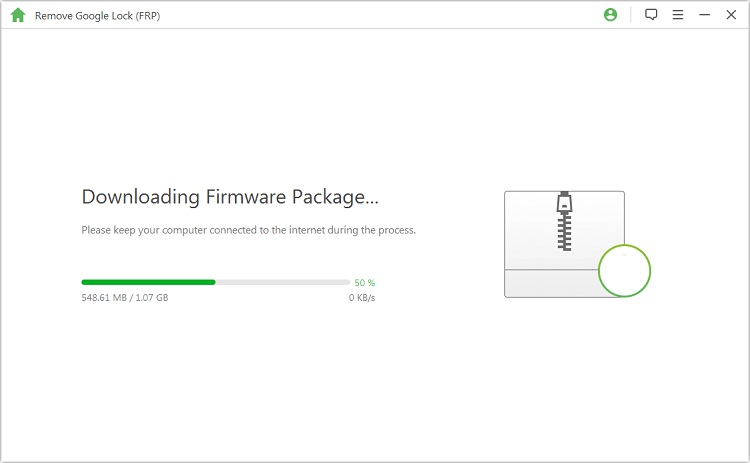 Step 5: Start the Samsung J6 unlocking process. The unlocking process will take a while to complete just be patient.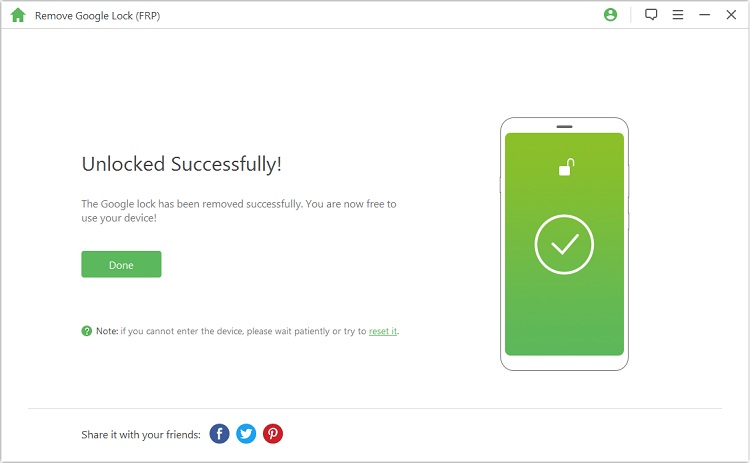 Here is the detailed guide to bypass FRP on your Samsung devices. You can also know more information about iMyFone LockWiper (Android) here first. Or check what other users say about this unlock tool.
Conclusion
In conclusion, we've discussed how to bypass PFR lock on Samsung J6 without a computer. If you want to completely unlock your Samsung J6 and never encounter FRP lock issue again, then iMyFone LockWiper (Android) is the best tool for you.