Screen lock is a security feature for most mobile and desktop devices such as phones, tablets, laptop/desktop computer, etc. They exist to prevent unauthorized access to the device's information or data and to ward off thieves from stealing the device.
However, a lockscreen protected device can become a problem to the device owner if the password to the device is forgotten. Therefore, we shall be discussing 4 methods to unlock screen lock on Android Free without losing data and one way to achieve the same result.
Method 1. Everybody's Choice & Free Trial - Can't Miss
Many Android device users may not easily believe that it's possible to unlock all types of Android screen locks without losing data. We believe that such people are not aware that we've been able to design and produce software that debunked the popular belief that you can't remove screen locks without factory resetting the device.
iMyFone LockWiper (Android) screen unlock tool is the solution that unlocks screen locks without losing data. It instantly and completely removes Android locks such as pattern, PIN, password, fingerprint or face ID locks. All you need to do is just to get a copy of LockWiper (Android) on your PC and use it to remove the lock screen on your device.
Key Features of iMyFone LockWiper (Android)
Unlock screen locks on Android without password or data loss.

Support all Android versions from 2.1 and above.

Highly recommended by over 1,000,000 users all over the world.

Offer flexible modes for all devices lock screen unlock.
Check out the tutorial video to learn how to unlock Samsung without losing data.
Steps to unlock screen lock android without losing data via LockWiper (Android):
Step 1: Download and install iMyFone LockWiper on your PC. Launch the program, choose "Remove Data Loss" from the home interface, and click "Start" to begin the unlock screen lock process.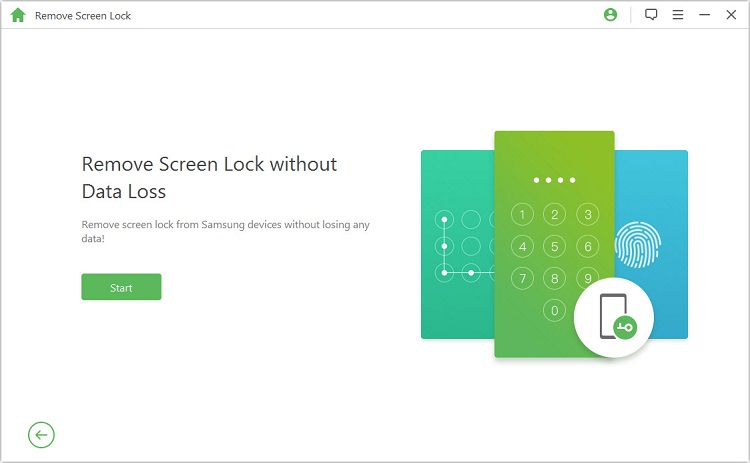 Step 2: Select your device name, model, and select "Start". Then, confirm your device information by clicking "Confirm" to continue.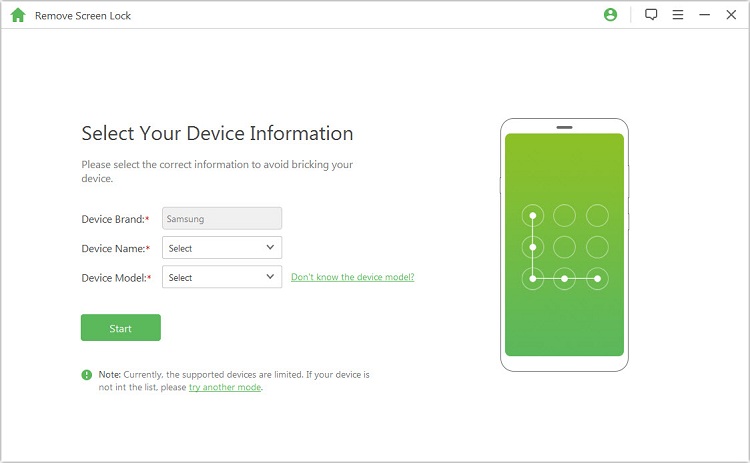 Step 3: The program will download the data package for your device; click "Next" when the download process is complete.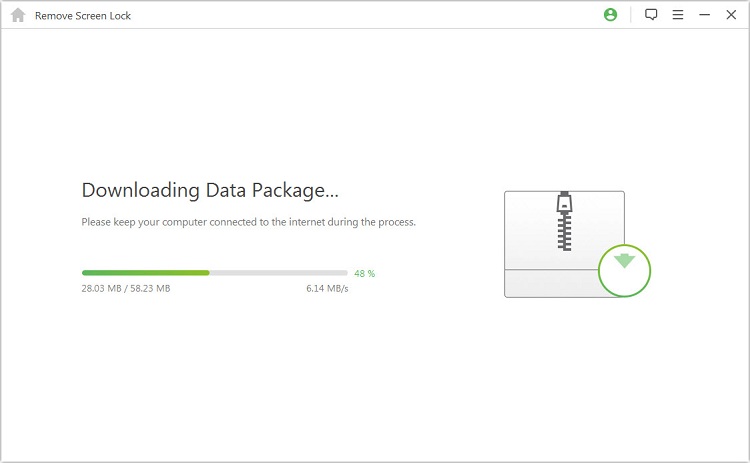 Step 4: Connect your device to your PC using a USB cable, follow the onscreen guide to put the device on downloading mode and click "Start to Unlock".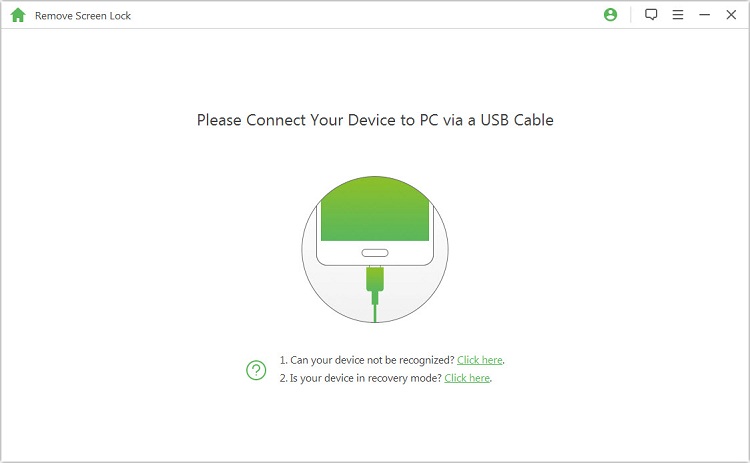 Step 5: The program will unlock screen pattern without data loss.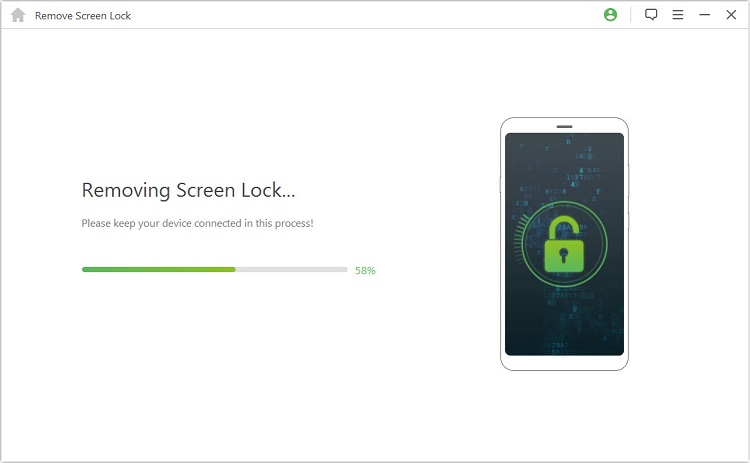 By the way, LockWiper (Android) can disable Google FRP lock without password easily.
Method 2. Using Your Google Account
It's possible to unlock your Android screen lock using your Google account credentials. Here is how to do it:
Step 1: Try to unlock your locked Android device several times until the "Forgot Pattern" link appears on your screen.
Step 2: Click "Next" and provide the credentials (username and password) to the Google account that's associated with the device.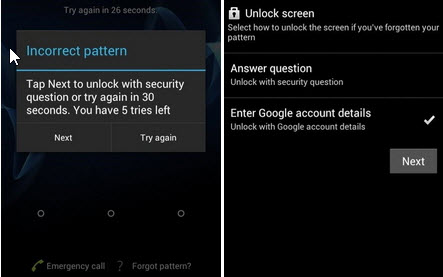 Step 3: Once you're logged in, you'll now have access to reset your Android device screen lock and set a new one.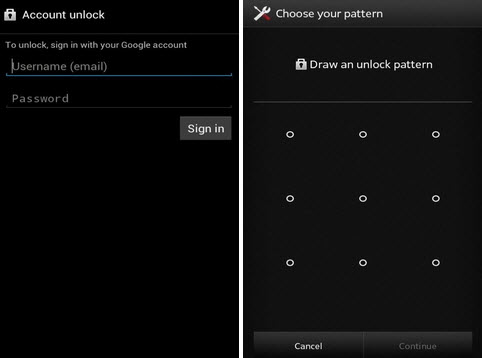 Note: this method of unlocking screen lock is only for those using Android 4.4 and earlier versions; it doesn't support the unlock of newer models of Android devices.
Method 3: Using You Samsung Account
The Samsung Find My Mobile feature is a good feature for finding missing, stolen or lost Samsung devices but it can also be used to unlock a lockscreen device without losing data.
Step 1: If you've created a Samsung account in the past and the account is associated with your locked device, then go to findmymobile.samsung.com/ and log in using your credentials.
Step 2: Select "Unlock My Device" option and click "Unlock".
Step 3: Your device will be unlocked.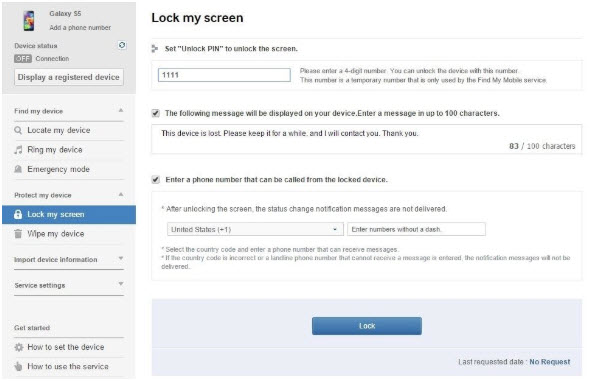 Note: This method only works for Samsung device owners who have set up and associated their Samsung account to the devices.
Method 4: Use ADB to Delete the Password File
Another option for unlocking screen pattern that can be effective in unlocking your device without data loss is ADB, a solution that works through your PC if you've previously enabled USB debugging on the device.
Step 1: Connect your device to your PC via USB cable, and open your command prompt in ADB directory.
Step 2: Type the command "adb shell rm /data/system/gesture.key" and click the "Enter" key.
Step 3: When you restart your phone, the lockscreen will be gone.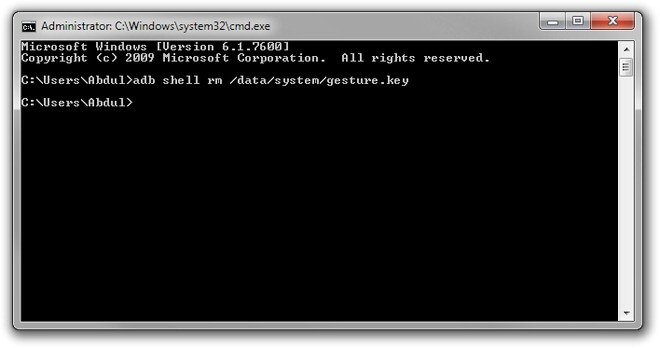 Note: this solution only works for those who have previously enabled USB debugging on their devices.
Method 5: The Easiest Way to Unlock Screen Lock on Android Free - Data Loss
If you want an easy way to unlock screen lock and don't mind if your data is lost or not, the choose the factory reset method.
Step 1: Hold the power button and the volume down button at the same time.
Step 2: Press the volume down button to navigate to "Recovery Mode" and select it by clicking the power button.
Step 3: Hold down the power button and tap the volume down button to enter recovery mode.
Step 4: Select "Wipe Data/Factory Reset" option using the power button.
Step 5: Select "Reboot System Now" when the process is complete.

Note: Different brands and models have different way to enter the Recovery mode.
---
In conclusion, we urge you to use any of these methods to unlock your Android device lockscreen without losing data. However, if you choose iMyFone LockWiper (Android) screen unlock tool as your unlock screen lock on Android free solution, you will benefit more from it than the other methods.