Exodus Super Unlock is a renowned iPhone unlocking tool that you can use to unlock any iPhone model easily. The tool is available in both trial and paid versions. Obviously, the paid version is equipped with additional features and is essential if you want to unlock a certain iPhone model.
Exodus Super Unlock Review
As mentioned above, Exodus Super Unlock is an iPhone unlocking tool which makes unlocking any iPhone model really simple. You can bypass the Activate iPhone Screen with this tool. There are many reasons why Exodus Super Unlock is popular among many iOS users. One of the reasons is that there is no need to look for previous Apple ID when unlocking the new Apple ID on an iDevice.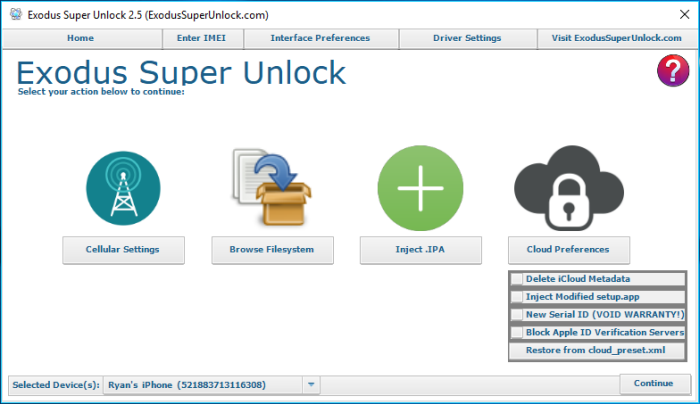 Pros
Exodus Super Unlock allows you to unlock your iPhone easily so you can use SIM cards from various providers without hassles.
Once you unlock your iPhone with this tool, it will always be unlocked regardless of what SIM card you use.
Cons
This iPhone unlocking tool is difficult to find and download.
Some users have reported that this tool fails to unlock iPhone. Some even consider it a scam due to its complicated payment process.
Alternatives to Exodus Super Unlock
Best Tool to Remove Apple ID without Password
iMyFone LockWiper iCloud Unlock Experts is the best tool when it comes to remove Apple ID/iCloud account without providing any passcode. With easy-to-use software interface and well-built functionality, iMyFone LockWiper offers the safest and the smartest way to remove Apple ID. It operates very quickly, hence unlocking your device within a few minutes.
LockWiper Remove Apple ID without Pasword
Reset Apple ID from your iPhone within a few simple steps. You don't need to provide Apple ID password.
Enable you to remove Apple ID account, deactivate Apple ID, reset Apple ID, and more.
After removing, your iPhone won't be blocked, tracked, or erased by previous Apple ID.
The tool's efficiency is tested and proven by numerous iPhone users so you can use this tool with confident, knowing that your Apple ID will be removed within a few minutes.
Steps to Use iMyFone LockWiper
Note: iMyFone LockWiper CANNOT Remove iCloud Activation Lock Screen.
Step 1. Download and install iMyFone LockWiper on your computer for free.
Step 2. Connect your iPhone to your computer via compatible USB cable and click on Unlock Apple ID mode.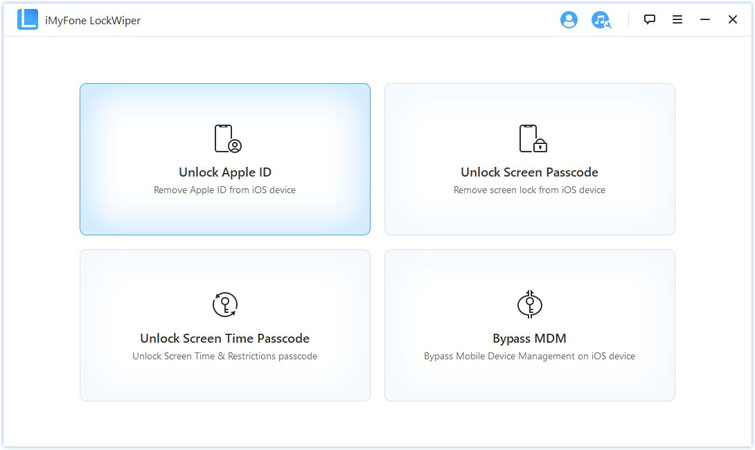 Step 3. On the next interface, click on Start to Unlock. Please note that all your data will be erased from your iPhone.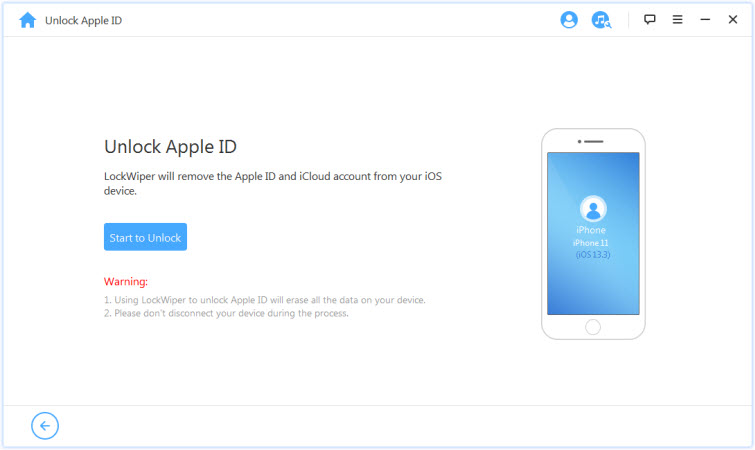 Step 4. Follow the steps on the interface to reset all settings on your iPhone. Then it will start to remove Apple ID.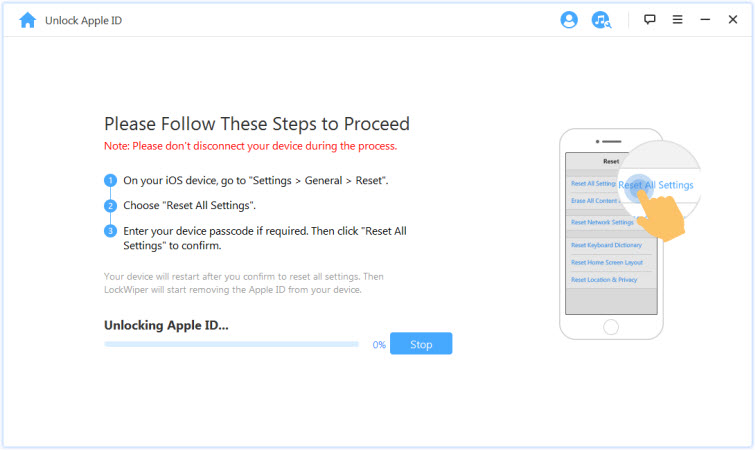 Once the process finished, you'll be able to login with a new Apple ID to enjoy all iOS features.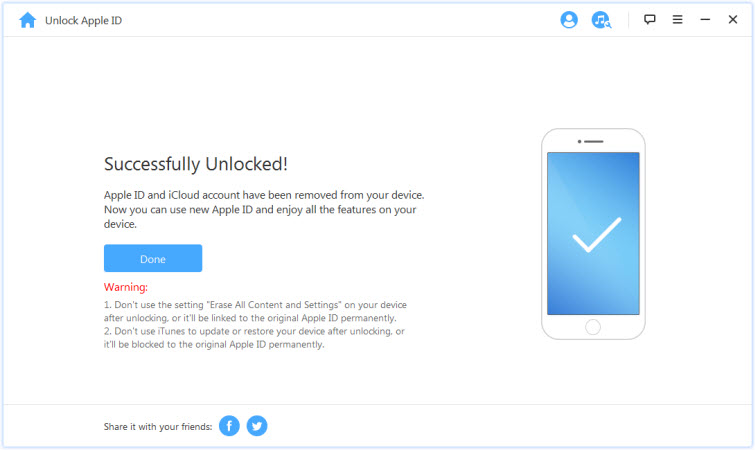 Bypass iCloud Activation Tool
This tool is slightly different when it comes to bypassing iCloud activation because it does not remove iCloud account from the device, instead it connects directly to Apple's servers and activates the device, allowing you to use it without hassles. Bypass iCloud Activation Tool is easy to use and can also be used to install Cydia on an iDevice.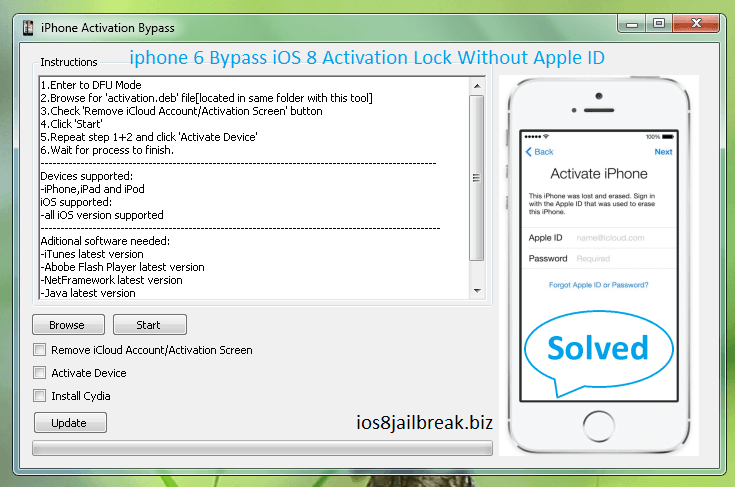 Pros
The tool is easy to use even for those who are unfamiliar with the process.
You can use Bypass iCloud Activation Tool to install Cydia (jailbreak app) in your iDevice as well.
Cons
Although the tool is easy to use, its overall interface is busy-looking and complicated so it may take you a while to get used to.
Remove iCloud Activation Lock Tool
This is another effective iCloud activation lock removal tool that is free to download, install, and use. Similar to Bypass iCloud Activation Tool, Remove iCloud Activation Lock Tool is easy to use and works quickly.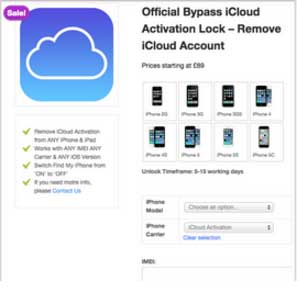 Pros
Free and easy to use.
Plenty of information regarding the tool is available on its official website which is great for those who are new to bypassing iCloud activation.
Highly active community and you can also expect great customer support from developers.
Cons
You may encounter bugs and other user experience issues. This is the reason this tool does not have very high rating.