WhatsApp is an application that is a prevalent instant messaging service. We all can agree that the app has made communications between friends, family, and acquaintances easier than ever. Hence, knowing every feature in the app is crucial. So, here in this guide, we will cover the sharing features. Most users already know that they can share their conversations via email. And the same is possible for pictures and other media files as well.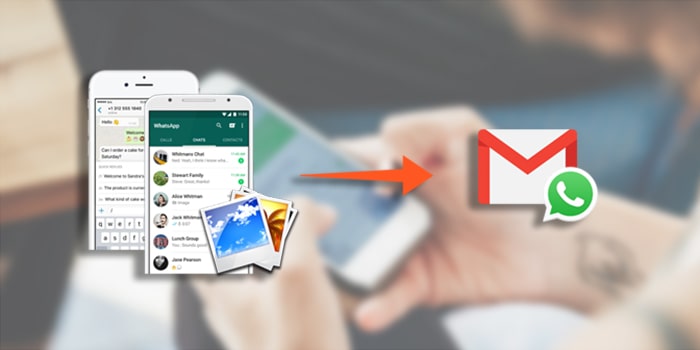 So, in this article, we are going to explore how to send photos from WhatsApp to email without any hassle. This will be helpful for the people who are careful about having an extra backup of their precious memories stored in pictures.
Part 1: How to Send Photos from WhatsApp on Android to Email?
To send WhatsApp photos to email, the process is very simple. Just make sure that you are logged into your Gmail account and follow the steps below:
Step 1. Open the chat in which the pictures were shared of your WhatsApp account. Find the photos that you want to share and select them. To select the photos, tap on the photo, and hold it.
Step 2. Now, after you've selected the image, you will see three vertical dots on the top right-side corner of the screen. Click on it, and you will see the "Share" option.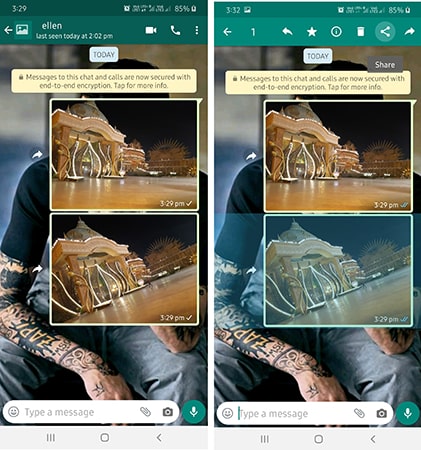 Step 3. Select the Share option, and the various application with which you can share the images will open up. Among the options, select "Gmail" and wait for the application to open up.
Step 4. A new mail will be composed where you need to enter the receiver's email address. Provide the target address, which can be your own address as well, and hit the "Send" icon that looks like an arrow.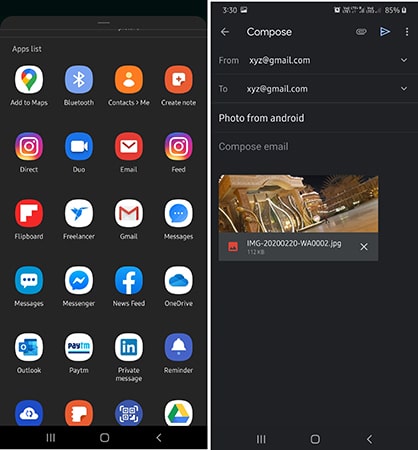 This will allow you to share images with people who don't have a WhatsApp account and keep a backup as well.
Part 2. How to Send Photos from WhatsApp on iPhone to Email?
Generally, users send the entire chat with attached media files if they have no other way to send images to a person. But, you can send images directly without attaching messages or audio files in the mail. This is how to send photos from WhatsApp to email on the iPhone.
Step 1. Launch the WhatsApp application and open the WhatsApp chat in which the photo is available. Click the photo, and there you will see the Share icon.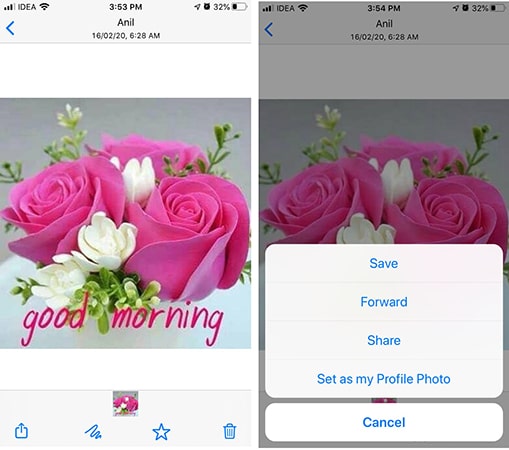 Step 2. As you click on the Share icon, several options will appear on the screen. Choose the Mail option, and a new mail will be created, and you can simply add the email address to which you want to send the images.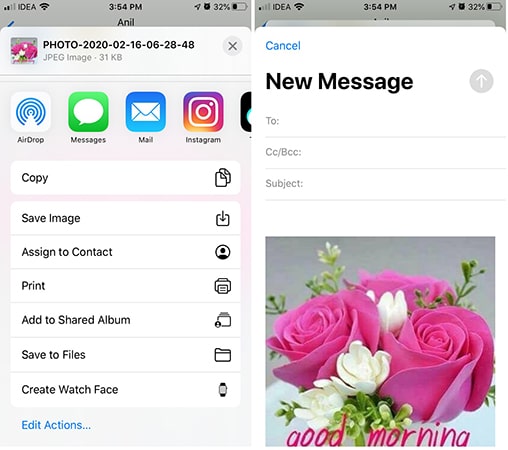 This is a fast way to send images via email. But if you have multiple files, then we recommend that you switch to a reliable tool like iTransor for bulk sharing.
Part 3. Bulk Export Photos from WhatsApp and Send to Email
To find out how to send multiple photos from WhatsApp to email, you must try using iTransor for WhatsApp. This is an WhatsApp backup, restore, transfer and export tool that provides an alternative to the users for iCloud and Google Drive as well.
With the help of iTransor for WhatsApp, you can backup all WhatsApp chats with its corresponding data and export them to the computer. The application software allows users to create a selective backup and restore the data of WhatsApp (including WhatsApp Messenger and WhatsApp Business). So, no matter where the WhatsApp images are stored, you will be able to export them in bulk with just one click. You can later select and send the photos you hope to email together.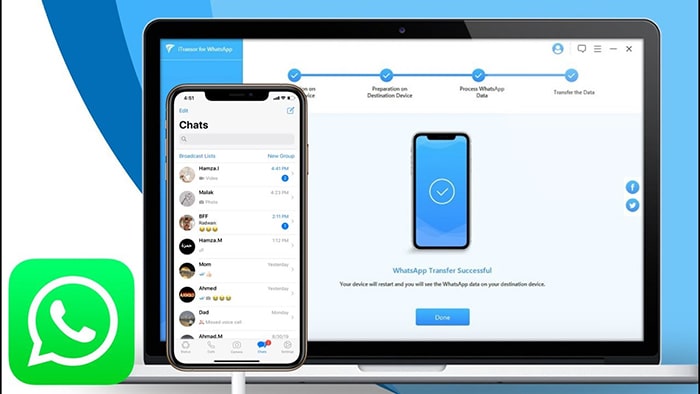 The key features of the software include:
Backup, restore, transfer and export WhatsApp chats with media files and all other WhatsApp data for Android and iOS devices.
Selectively export only WhatsApp attachments such as photos and videos, or together with WhatsApp messages at once.
Restore the WhatsApp backup from Android to iPhone or iPhone to Android without os-restricitons.
Transfer WhatsApp Messenger and WhatsApp Business from Android to iPhone, iPhone to Android, iPhone to iPhone and Android to Android.
View data and merge WhatsApp, contacts, WeChat and messages backup without any risk.
The software can be downloaded on both Windows and Mac PC for free. So, download and install the software, finish the setup, and the software will be ready for use. Follow the guide given below to send photos in bulk from WhatsApp to email.
Step 1.

Run iTransor for WhatsApp

Run the program and connect your phone with it. From the home interface, select the "Back Up WhatsApp on Devices" tab and then click Back Up.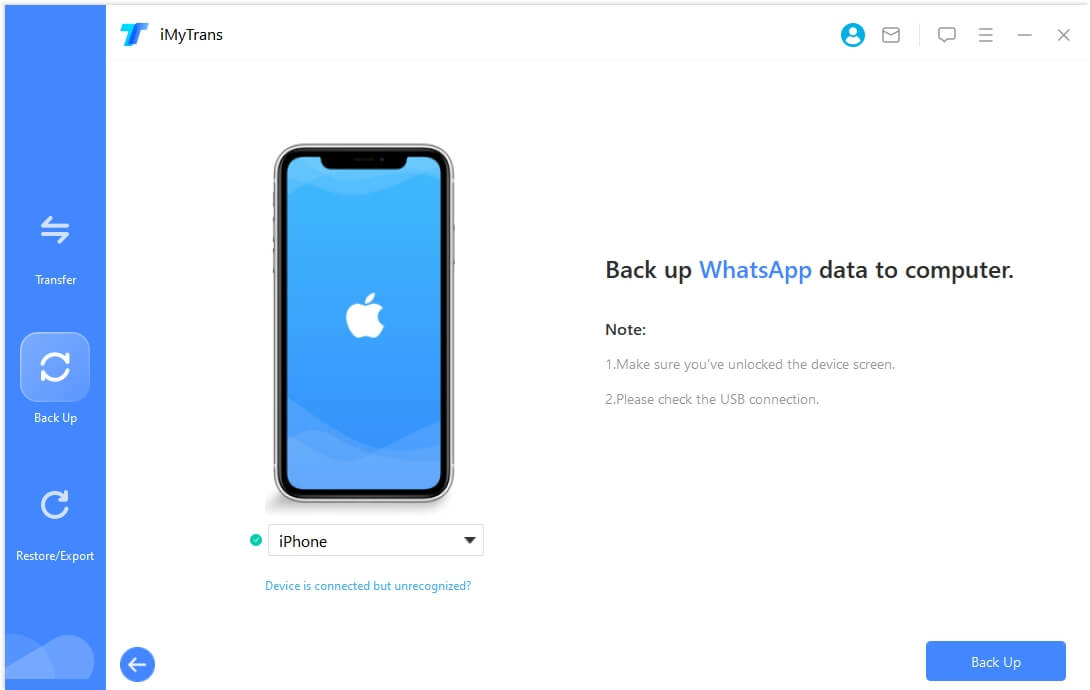 Step 2.

Select Export Data Type and Scan

Once the backup is done, switch to Export/Restore WhatsApp Backup tab. From the backup list, choose the backup you just made and click "Export to Computer" from the bottom button.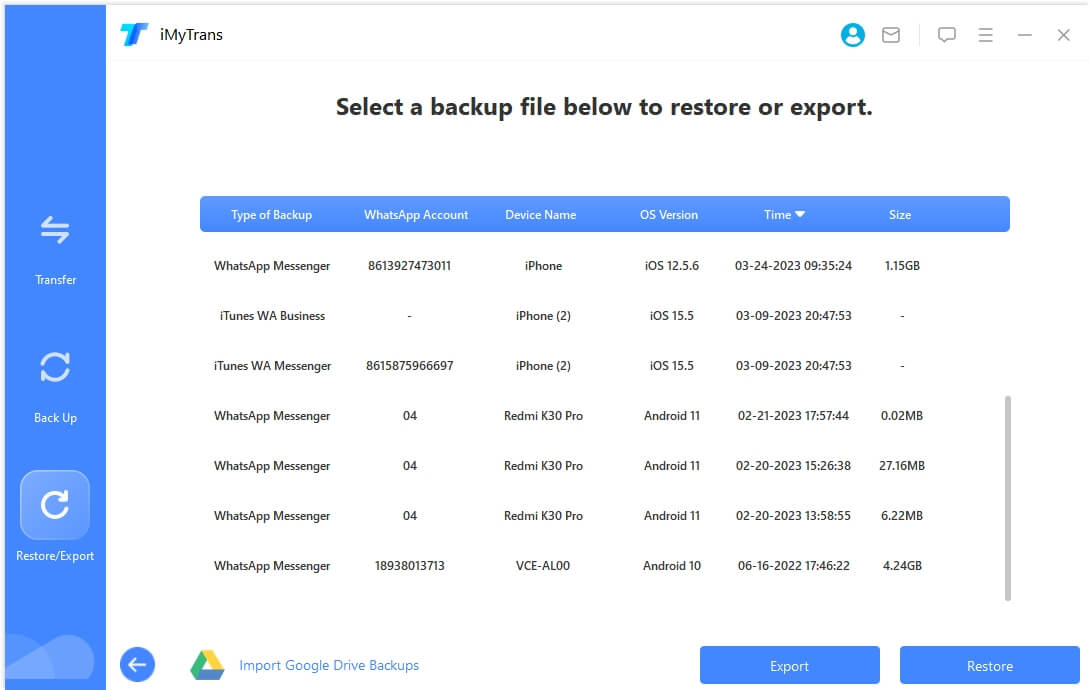 Step 3.

Preview & Bulk Export WhatsApp Photos

Once the scan finishes, you will see the results on the screen. You can further filter the results to precisely want the photos that you want to export. Select the images and other files that you want to export to the computer and hit the "Export" button.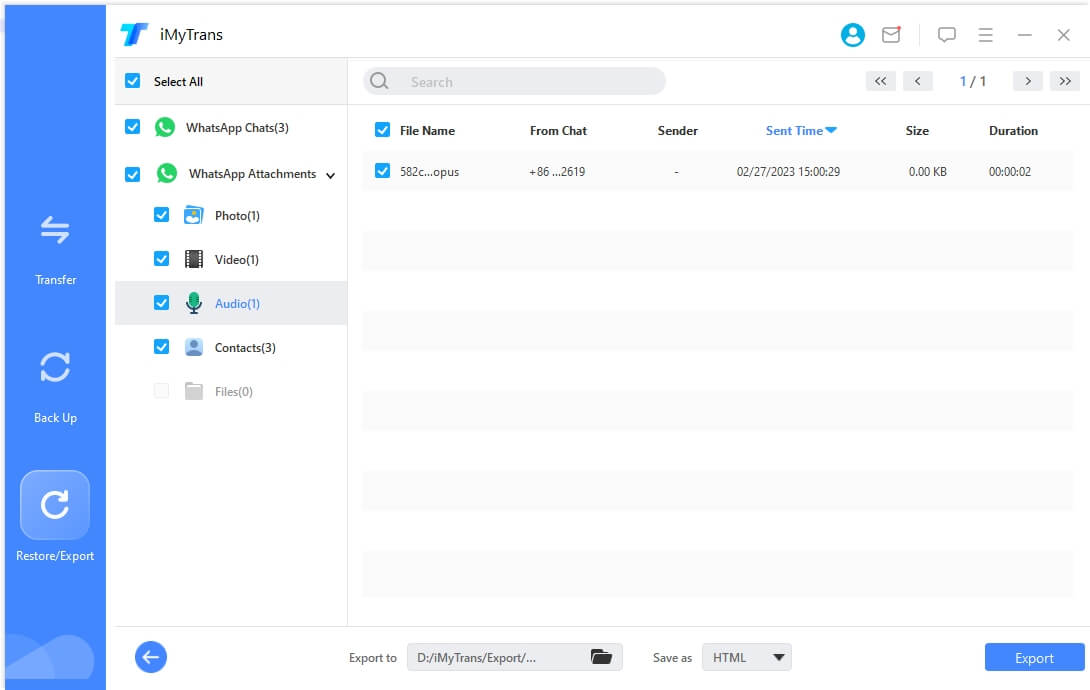 Step 4.

Select and Send Photos Exported from WhatsApp to Email

You will get a folder, and you can see the media files attached in another folder of this one. Open it, select the photos you hope to send, copy and paste to another folder. Then you can send bulk photos to the email address you plan to.