WhatsApp has made communication easier and more effective. The latest launch of WhatsApp business has enabled the user to make business groups and contact professionals in a convenient way. But it becomes frustrating when you want to transfer or recover your WhatsApp data.
People that use the iPhone know that WhatsApp uses iCloud to create a backup of chats and media. In this article, we will discuss where to find WhatsApp backup on iCloud and how to access it.
Part 1. How to See WhatsApp Chat Backup in iCloud
WhatsApp creates a backup on a regular basis. The frequency of the backup can be altered depending on the user. It uses Google Drive on Android and iCloud on iOS devices. iCloud is a little more complex but more secure than Android.
The backup is stored in the cloud, but if the user logs in to the iCloud account, he won't see any WhatsApp backup there. It is because it is hidden and encrypted. The backup of WhatsApp is stored in an encrypted SQLite database. The only way to see WhatsApp chat backup in iCloud is by taking this backup to iTunes and extracting the chat to access it.
Part 2. A Better Alternative Way to Access WhatsApp Backup on PC (Win & Mac)
There is no simple or direct way to access WhatsApp backup in iCloud. Even if you find the WhatsApp chat file, it will be encrypted, which is not easy to decrypt. For that reason, we have a solution that will solve this problem. iMyFone D-Back is a third-party tool that allows the user to create a backup and supports to access WhatsApp data from iCloud backup. It works for all iOS devices and also supports the latest software versions.
iMyFone D-Back is capable of recovering data from system crashes, accidental deletion, device loss, water damage, and many more scenarios. It can recover not only chats but also photos, videos, audio, contacts, and documents. Let us see how anyone D-Back can help the user access WhatsApp backup on iCloud.
Step 1: Go to the iMyFone website and download D-Back. Install it on your PC and open it. As we want to access the WhatsApp data, click on "Recover from iCloud".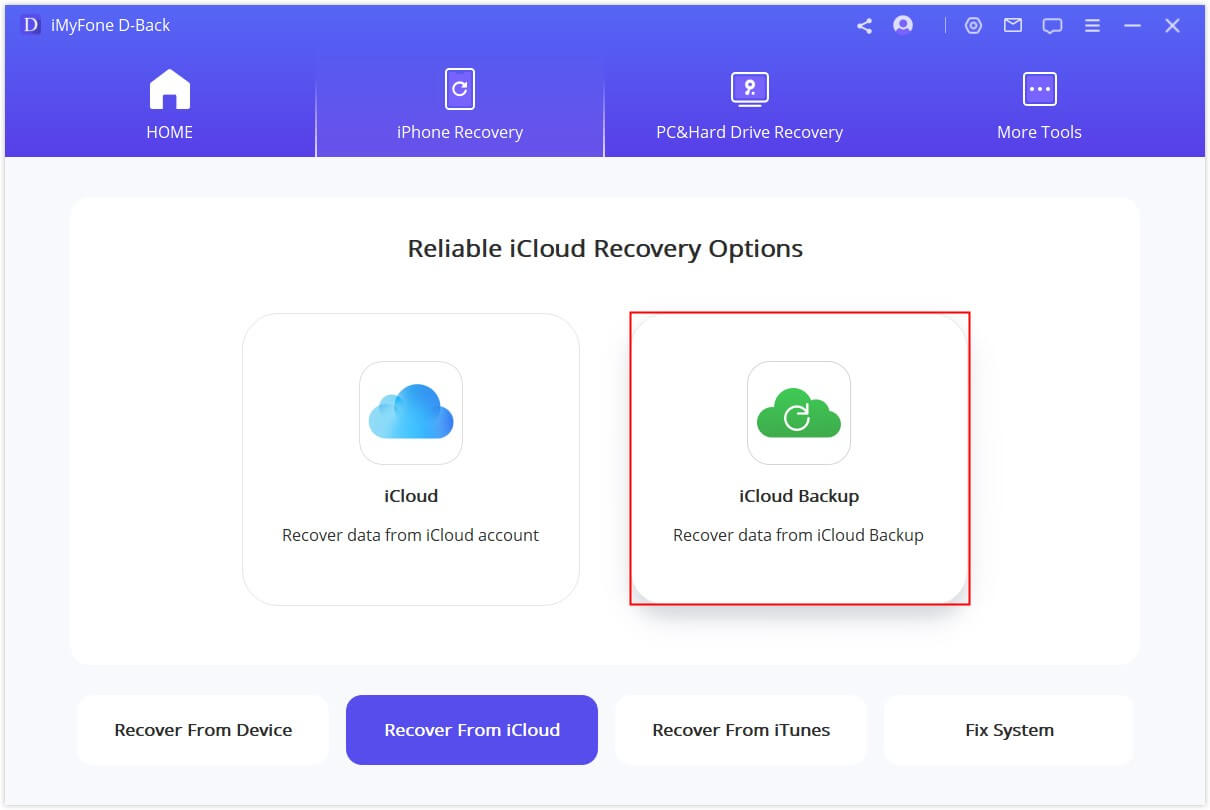 Step 2: Then choose "iCloud Backup", enter Apple ID and password, select the certain backup that you want to access.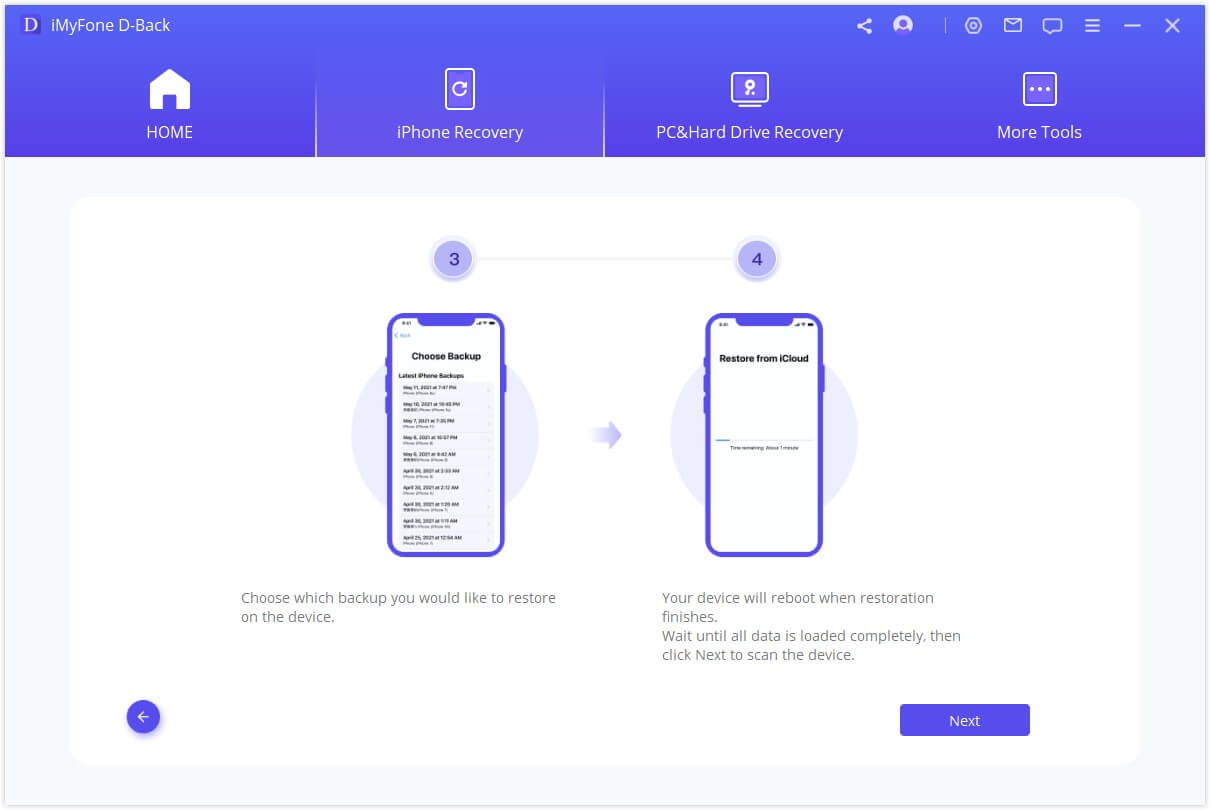 Step 3: Finally, connect your iOS device to a computer to view your recovered iCloud backup.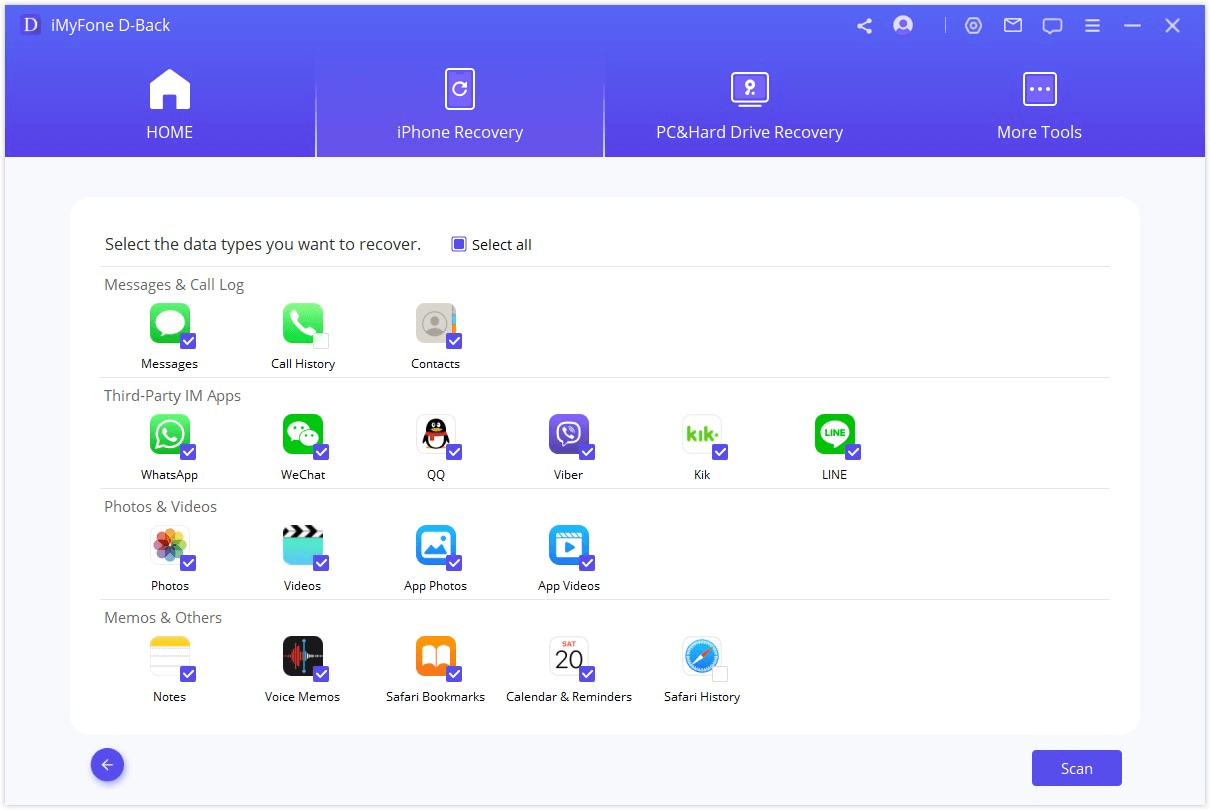 Part 3. FAQs
1) Why does WhatsApp Backup not Showing in iCloud?
Even after you create a WhatsApp backup on iCloud, you won't be able to see it. This backup is hidden because WhatsApp has strict privacy policies. Furthermore, WhatsApp chat is encrypted, and it is not easy to decrypt and access it.
2) Does iCloud Backup Include WhatsApp Chats?
Yes. WhatsApp backup on iCloud works the same as Google Drive. iCloud creates the backup of WhatsApp chats and all the media files. However, the user can unselect the media to backup. In this way, only the chats will be backed up.
3) Where does WhatsApp Backup Store in iCloud?
WhatsApp backup is stored in a hidden folder of iCloud on your Mac. It is not visible. To view this WhatsApp backup file, type the following command in the Terminal.
cd ~/Library/Mobile\ Documents/
find *WhatsApp*
Now, the user will see all the files related to WhatsApp. However, if WhatsApp files don't appear, make sure your iCloud backup for WhatsApp is enabled.
4) How to Recover WhatsApp from iCloud?
It is effortless to recover WhatsApp from iCloud. If you have created a WhatsApp backup on iCloud, then you can simply delete the WhatsApp app. Reinstall it and enter your previous phone number and iCloud on which backup is stored. As you log in and provide verification, WhatsApp will tell you that you have a backup on iCloud. Click on "Restore", and your WhatsApp will be recovered from iCloud.
Conclusion
People talk about WhatsApp backup but don't know how iCloud backup works. It works just like Google Drive with a little tweak. It is because both operating systems are different and have different approaches to WhatsApp. WhatsApp on iCloud cannot be accessed directly. To be able to access your WhatsApp data on your iPhone, use iMyFone ChatsBack. It is a simple tool that works flawlessly and allows the user to preview, restore or even alter any changes to WhatsApp.