We can find that in all the information being shared, we value some more than others. For instance, students are generally expected to value a broadcast about their upcoming exam. They will value such information more than they will be concerned about their school' s lack of a train station. To keep track of our most valued information, WhatsApp allows us to star them. Hence, this article will take you through how to see starred messages in WhatsApp.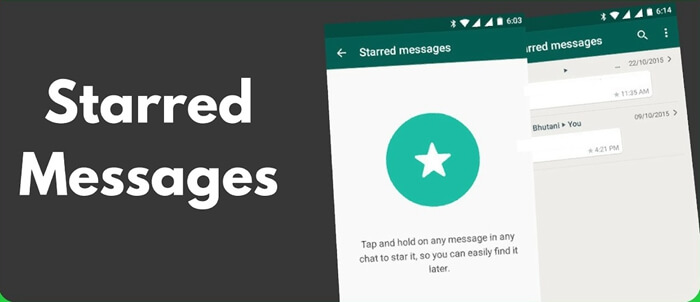 Part 1. What Are WhatsApp Starred Messages
According to WhatsApp, "The starred messages feature allows you to bookmark specific messages so you can quickly refer back to them later." Starred messages include the number or name of the sender if it is saved on your phone, the (group) page that it was sent from or "You" if it was in your DM, the date the sender sent it in mm/dd/yyyy format and the time with an accompanying star symbol.
It is found where you can keep a copy of all your specific or valued messages. If the messages are similar, you can star them accordingly to appear together when you see the starred messages. This feature is an alternative to creating an empty group page where you paste your messages.
Part 2. How to See Starred Messages in WhatsApp
If you are new to the starred messages feature, this section will show you how to star a message, how to unstar it, and how to see starred messages in WhatsApp.
To star a WhatsApp message
In your WhatsApp, navigate to the message you want to star.
Hold your finger on the message until the message is selected. Then, WhatsApp will prompt some options at the top of the screen.
Tap on the star symbol, and it will appear beside the message's timestamp.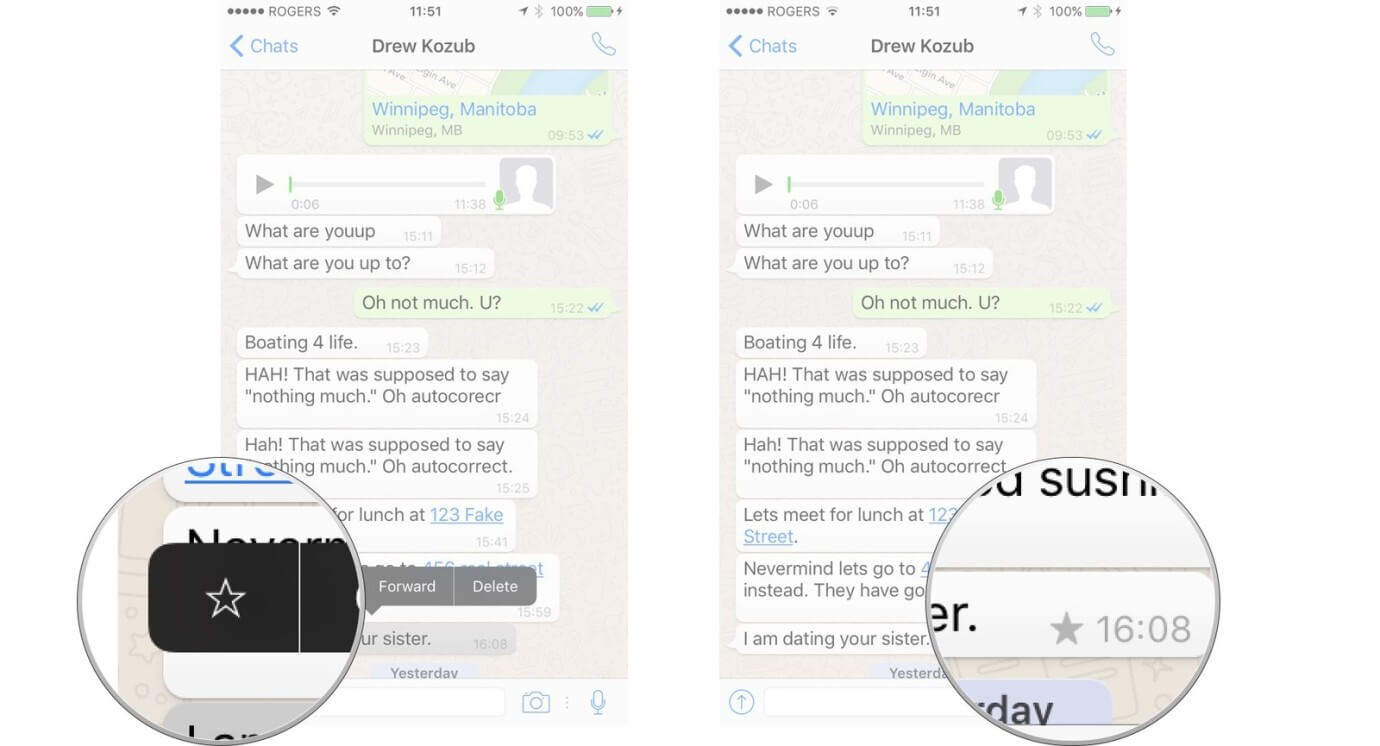 To see your starred WhatsApp message(s)
In your WhatsApp, click on the hamburger icon at the top right corner of your screen.
WhatsApp will display a list of options. From the list, click on Starred messages.
Scroll through the list to see your starred message(s).
To unstar a WhatsApp message
Hold your finger on the message until the message is selected. Then, WhatsApp prompts some options at the top of the screen.
Click on the unstar symbol, and WhatsApp will unstar the message.
Note
You can do this in your Starred messages, the group page, or chat room where the message is.
FAQs about Starred Message on WhatsApp
Q1. Can Other People See Starred Messages on WhatsApp?
Who can see starred messages on WhatsApp is the person that starred the messages. Your starred messages on WhatsApp are personal, which means only you can see them. Even if you starred it from a group or personal chat, it could only be seen by you.
If you starred it from a group, neither the group admin, sender, nor other group members will be notified that you starred the message(s). And when it is added to the starred messages screen, they are only accessible as starred messages on your WhatsApp account. Similarly, you cannot see when someone stars a message, even if it is yours.
Q2. Will Starred Messages Disappear in WhatsApp?
Starred messages will not disappear in WhatsApp. They are stored on your account and backed up in your local storage, Google Cloud, iTunes, and iCloud. Except if removed by you or anyone who has access to your account, your starred messages will not disappear in WhatsApp.
However, WhatsApp has a disappearing message function. After 1, 7, or 90 days that a message has been sent, the message will disappear. But your starred message will not disappear if it is backed up before the time it is scheduled to disappear. Since the disappearing messages feature only applies to the messages on which the feature is enabled, other starred messages in WhatsApp will not disappear.
Bonus Tip: How to Retrieve Deleted Starred Messages in WhatsApp
Since starred messages in WhatsApp are backed up, you can recover them from your local storage, Google Drive, iTunes, or iCloud backups. You can access most of these backups through the generic restore function on WhatsApp.
Although all these backup methods are effective, they cannot be used to selectively restore only your starred messages in WhatsApp. To resolve this limitation, you can use our software tool. iMyFone ChatsBack is a reliable software tool that you can use to retrieve your deleted starred messages.
Key Features of iMyFone ChatsBack:
It can get your deleted starred messages from WhatsApp on four modes, including Device storage, Google Drive, iTunes backup and History records.
It is compatible with Android users and iOS users.
The history records mode gets their starred messages in WhatsApp based on previous data stored on the program after the last use.
Please click the link below to free download iMyFone ChatsBack to help you get the deleted starred messages back.
The steps below will take you through retrieving deleted starred messages in WhatsApp by using iMyFone ChatsBack.
Download the program to your computer from our official website. Install and open the iMyFone ChatsBack software.
Connect your Android phone or iPhone to your computer with the right appropriate cable. Then select the suitable recovery mode for your device. (As an Android phone user, you have to fill in your phone contact to get verified.)

Press the Start button to scan your phone for all your WhatsApp messages. After scanning, select the deleted starred messages in WhatsApp that you want to retrieve and leave out the ones you are not interested in. Finally, press "Recover" to retrieve the messages to your phone or computer.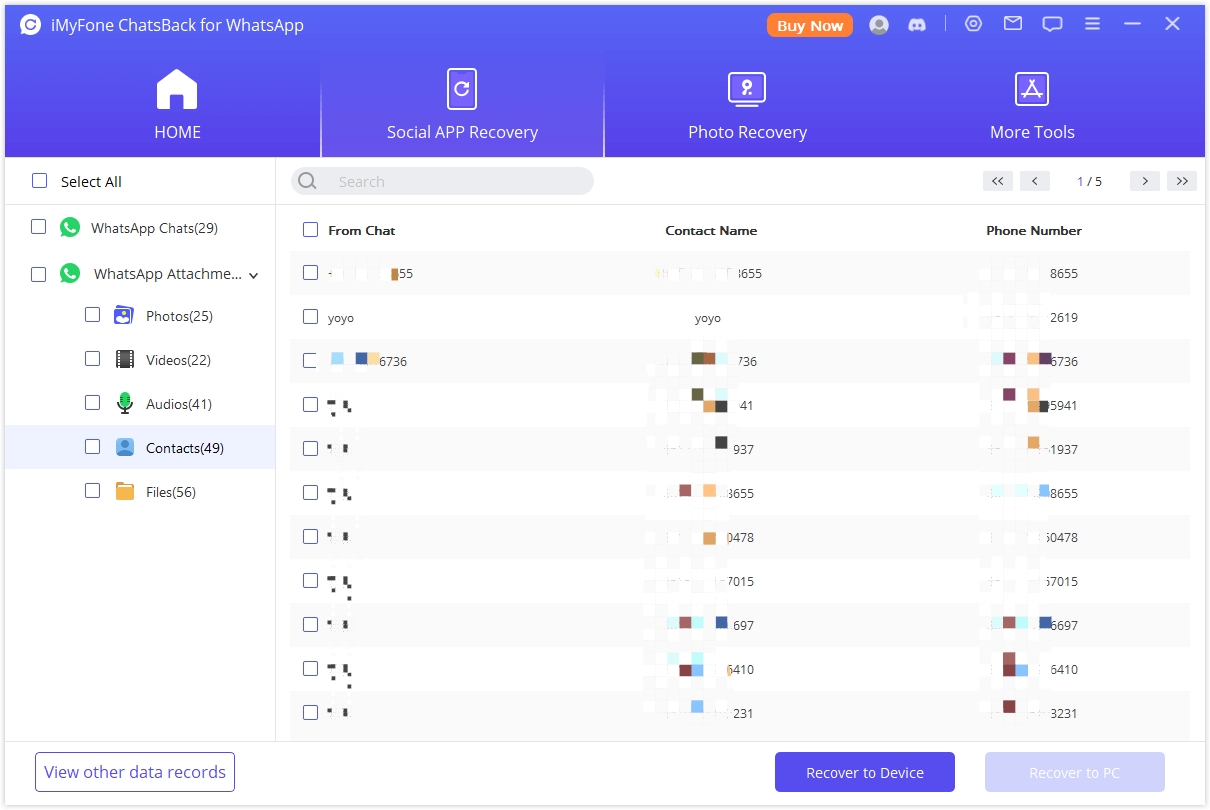 iMyFone ChatsBack is an efficient and reliable tool for WhatsApp data encryption, decryption, and deletion. And you can recover the starred messages with a few easy steps!
Conclusion
Information keeps undergoing upgrades or the inclusion of new features that will make its accessibility better. One of such features is the WhatsApp starred messages feature. To enhance how this feature is used, this article has explored how to see starred messages in WhatsApp. It also explores some questions on how to manage starred messages on WhatsApp. Hope these suggestions will help you.