Have you accidentally deleted your WhatsApp and looking for an optimal solution to recover WhatsApp from iPhone 14/13/12? Well, you've come to the right place. Following is the step-by-step guide to recover WhatsApp on iPhone for free.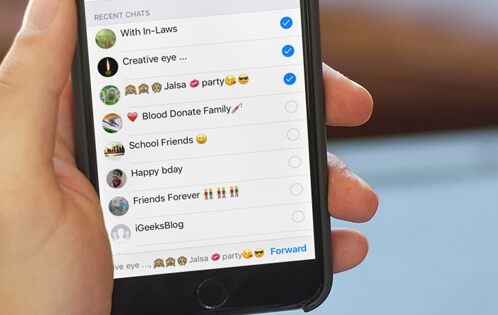 What You Should Know Before iPhone WhatsApp Recovery
iOS uses the SQLite database system to store data and information on the device. The SQLite database marks the used space as "Allocated" data and when a certain data is deleted, the storage space is marked as "Unallocated" data. Although the data is deleted, iPhone still holds onto it for some time until more data is stored on the device. In simple words, the new data or information stored will overwrite the "Unallocated" data.
This is the main reason why we always suggest our users stop using iPhone after data deletion. Any operations like saving, installing, or downloading data can overwrite the unallocated data. Note that you cannot recover the deleted WhatsApp data once unallocated data is overwritten with the new data stored.
Note
For now, there is no totally free WhatsApp recovery tool. However, there are free trial versions with many software. So it is still worthy of trying before purchasing.
Part 1: All-in-One iPhone WhatsApp Recovery Tool (Supports iOS 16)
iMyFone D-Back Recovery is an ideal solution to perform WhatsApp recovery. Whether you want to recover data from iTunes Backups or directly from iPhone, iMyFone has got you covered. Following are some features of iMyFone D-Back:
It can selectively or fully recover WhatsApp messages and its attachments from iPhone.
It can recover WhatsApp data without affecting your current data on iPhone.
You can recover WhatsApp without installing and uninstalling.
It will recover WhatsApp data without restoring.
Compatible with almost all iOS devices and versions including the latest iPhone 13 series and iOS 15.
Restore not only WhatsApp messages, but also your audio messages, photos, videos, and other attachments without having to do a full restore.
Free iPhone WhatsApp Recovery without Backup (Supports iOS 16)
Follow the below steps to recover WhatsApp in iPhone without backup using D-Back:
Step 1.Install and download the iMyFone D-Back app on your computer. After installation, launch the application. Connect your mobile device to the computer and select Device Storage from the home page.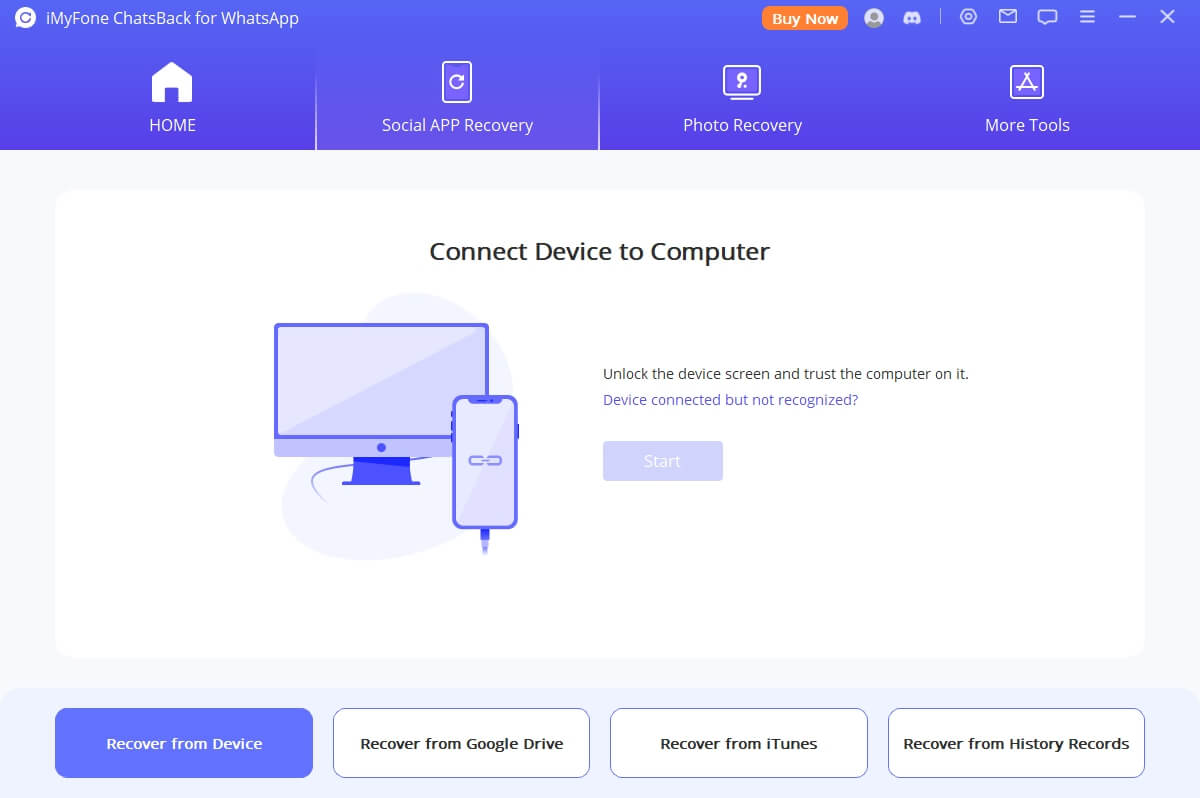 Step 2.Choose WhatsApp Messenger and tap on the Start button to begin the process of scanning the WhatsApp messages on your iPhone.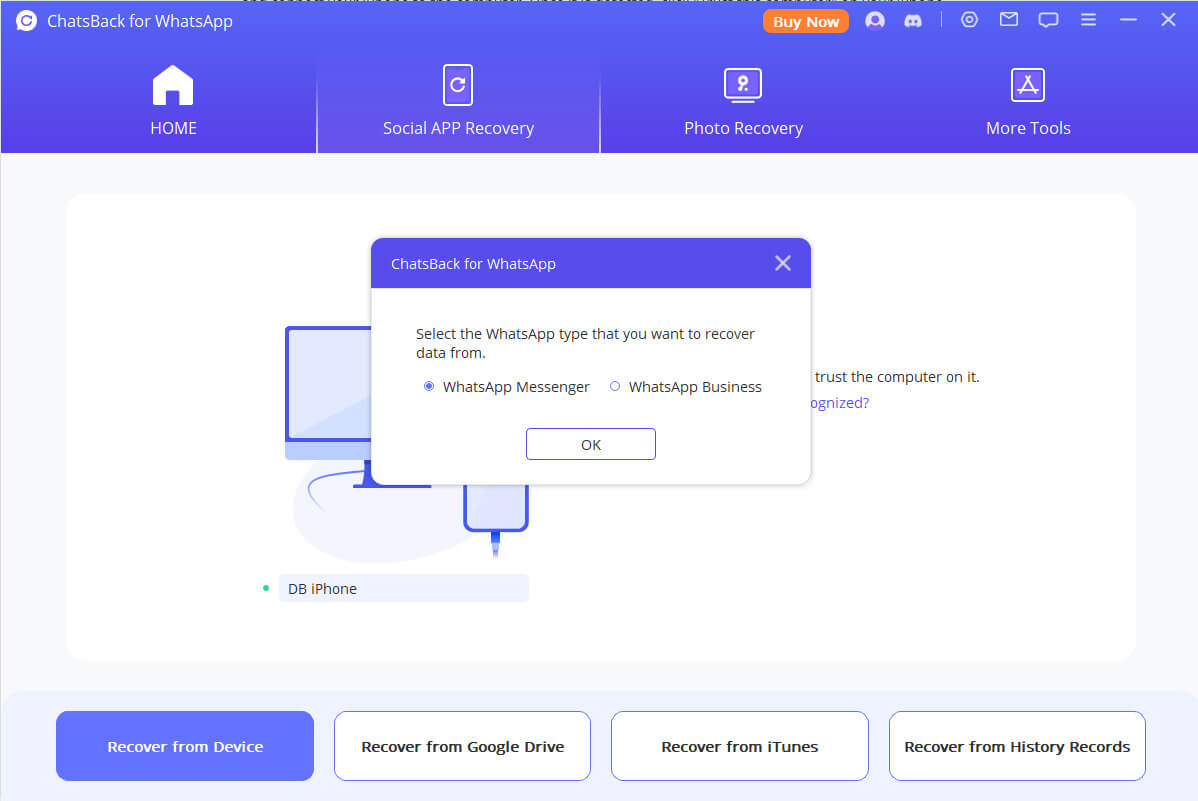 Step 3.Select the WhatsApp data that you wish to recover after scanning. Choose recover the WhatsApp data to your computer or restore them to your device and click the corresponding button.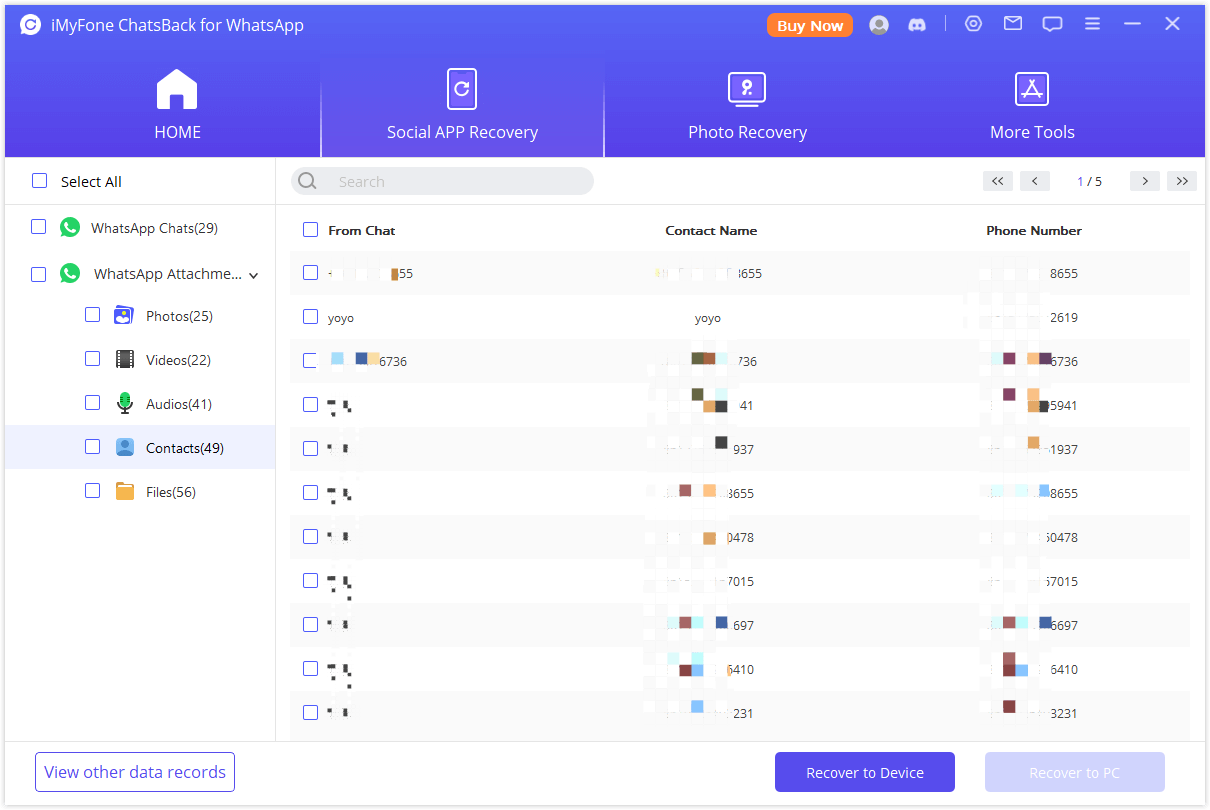 Part 2: iPhone WhatsApp Recovery Software Via iTunes Backup
Option 1: Recover WhatsApp From iTunes Backup Via D-Back
Here is how you can recover WhatsApp from iTunes backup with iMyFone D-Back:
Step 1. Open D-Back on your computer. Click the iTunes mode from the home page.
Step 2. If your iTunes is protected with a password, sign in to the iTunes and select the most relevant backups from a list of all iTunes backup made on the iPhone. Click "Next".
Step 3. When the scanning completes, iMyFone will show a preview version of the recovered data from WhatsApp. Select the required data and click Recover to Device or Recover to PC.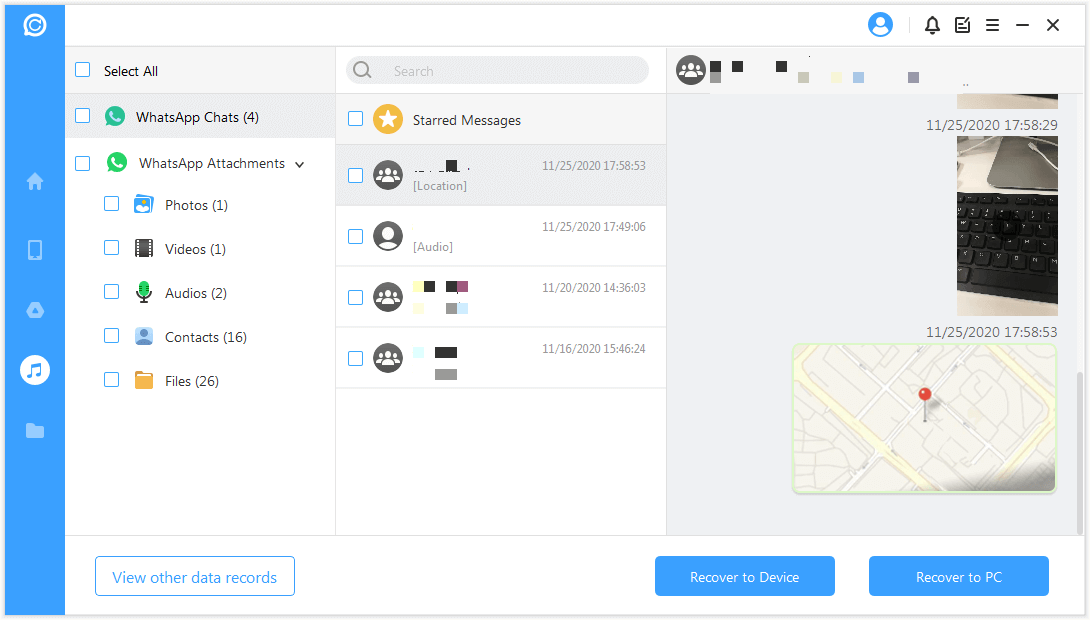 Option 2: Recover WhatsApp Via iTunes Restore (Official)
Follow these steps to restore iPhone WhatsApp from iTunes in an official way:
Step 1. Launch iTunes on Mac or PC, specifically the one which was used to back up the iPhone data.
Step 2. Connect iPhone with the computer and wait for a few moments so iTunes can recognize it.
Step 3. Select your iPhone device and determine the ideal backup to restore WhatsApp data.
Step 4. Click "Restore Backup" to complete the process.
Note
This method will pose a risk for your current data, that's means all the data will be overwritten since you last backup, and it doesn't allow selectively recover WhatsApp messages from iTunes backup.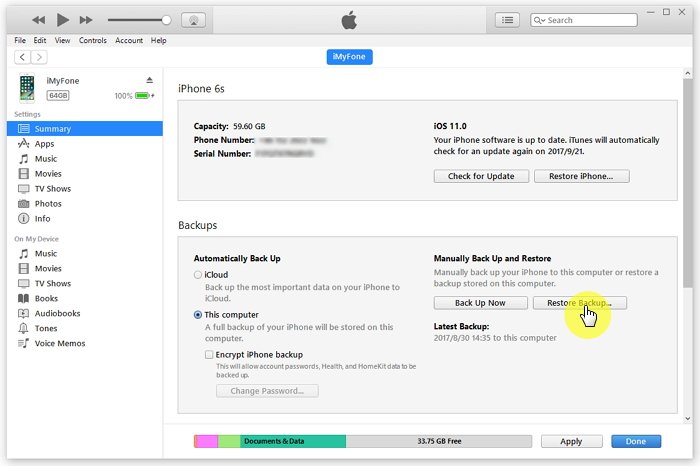 Part 3: Free WhatsApp Recovery Software iPhone Via iCloud Backup
First, reset your iPhone by going at the following location i.e. Settings > Your Name > Reset > Erase All Content and Settings. After this, follow these steps to restore iPhone WhatsApp from iCloud backup in an official way:
Step 1. When the device reboots after restoration, click "Restore from iCloud Backup" at the "App & Data".
Step 2. Log in to your iCloud account and choose the backup you need before the WhatsApp deletion.
Step 3. The backup transfer will start right after choosing a backup.
Note
Using this method, you will need to perform uninstall and reinstall WhatsApp and then recover WhatsApp messages from iCloud backup.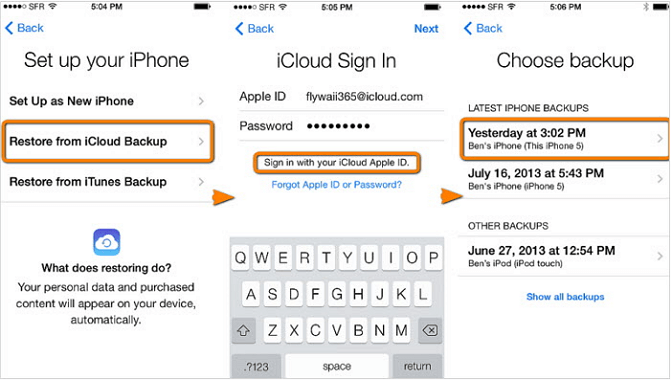 Part 4: Free WhatsApp Recovery iPhone Software [Offical Way]
Follow the below steps to recover WhatsApp chats from WhatsApp iCloud Backup for free:
Step 1. Open WhatsApp application on iPhone.
Step 2. Tap "Settings" at the bottom right corner.
Step 3. Tap "Chats" and then "Chat Backup".
Step 4. Determine if the backup was made before the data loss. If the backup is available, reinstall the WhatsApp and backup chat at the WhatsApp start-up process.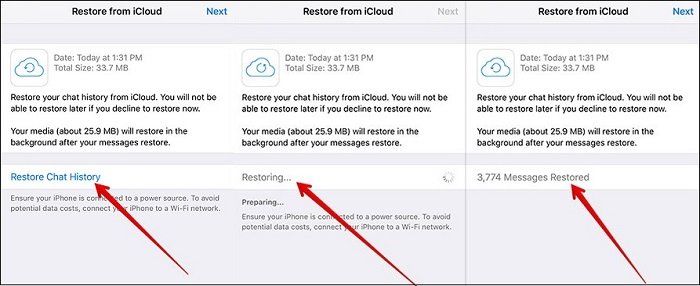 Part 5: Pros and Cons of the above Methods
Using the official methods to recover iPhone data or specifically WhatsApp is not an ideal solution and you can end up restoring all the files including the ones you do not need.
In simple words, users are forced to recover complete backups instead of recovering WhatsApp selectively from the backup file. Furthermore, iCloud restore also includes factory resetting the iPhone.
On the other hand, iMyFone D-Back allows its users to recover data from the iOS device, iCloud backup, and iTunes backup. Not only users can recover WhatsApp data selectively, but there is also no need to factory reset the iPhone.
Conclusion
Those days are long gone when people have to look for a tech expert to find data recovery solutions. As WhatsApp data is crucial and will be needed at any hour of the day, it is necessary to look for an effective WhatsApp recovery option as soon as in advance.
As discussed earlier, using iMyFone D-Back is the best way to recover WhatsApp data fully or selectively and with backup or without backup. Make sure to follow the above steps precisely and you are most likely to retrieve WhatsApp within minutes. In case of further questions or suggestions, feel free to leave a reply and we'd love to suggest a better solution.