[2023] How to Recover Deleted Text Messages on iPhone without Backup/iCloud
Category: iOS Data Recovery
4 mins read
The scenario is all too popular; you go to check the messages and find that you accidentally deleted a few important ones from your iPhone. Most people immediately panic, not knowing what to do.
This initial panic is understandable and quite normal. Then it is almost always followed by a need to retrieve deleted text messages on iPhone without backup. But fear not! We have a solution for you. In this guide, we'll show you how to recover deleted messages on your iPhone, even if you don't have a backup. Whether you have a backup or not, take a look at this guide and pick a suitable method to get back the accidentally deleted text messages.
Watch this Video for a quick guide about How to Recover Deleted Text Messages iPhone
Recover Text Messages on iPhone with One Click.
Part1. Can You Retrieve Deleted Text Messages on iPhone with/without Backup?
The answer can be a Yes or a No - it depends on the situation. Check them below.
Case 1. When You Have a Backup of Them
If you had already used either iTunes or iCloud to back up your device, you can go through part 3 and recover deleted messages to your device for free. The biggest disadvantage is, however, you cannot view the backup file before the restoration. It's not a good solution if the deleted messages are not included in the backup file.
Case 2. When You Have No Backup of Them
Supposing that you deleted some text messages from iPhone and have no backup files available to restore, is it possible to recover those permanently deleted text messages without backup? Generally, Yes. As long as the messages are not overwritten yet, you can always get deleted messages back.
Why? First, let's figure out where do iPhone messages go after deletion.
What most users don't know is, the iPhone saves all data in an SQLite database. When you delete your text messages, they are just moved from the "Allocated" category to the "Unallocated" category, and the actual data is still available. However, if you create new data, the "Unallocated" category will get occupied first and this will overwrite the deleted information. If the deleted messages are yet to be overwritten, you can use a third-party tool to access the SQLite database and retrieve this data even without backup. If this is the case, then the solution in part 2 will be an ideal way to retreive permanently deleted text messages without backup.
Case 3. When You Have No Backup and the Deleted Text Messages Are Replaced
In this case, you can only ask help from your cellular carrier. There are chances that your deleted text messages are stored on their server.
To prevent this kind of dilemma, you need to:
Stop using your iPhone there and then.
Turn off the network of your iPhone, and try to retrieve text messages from iCloud messages: go to Settings > your name > iCloud > toggle "Messages" off and then on again > choose "Downloading Messages from iCloud" from the pop-up notification.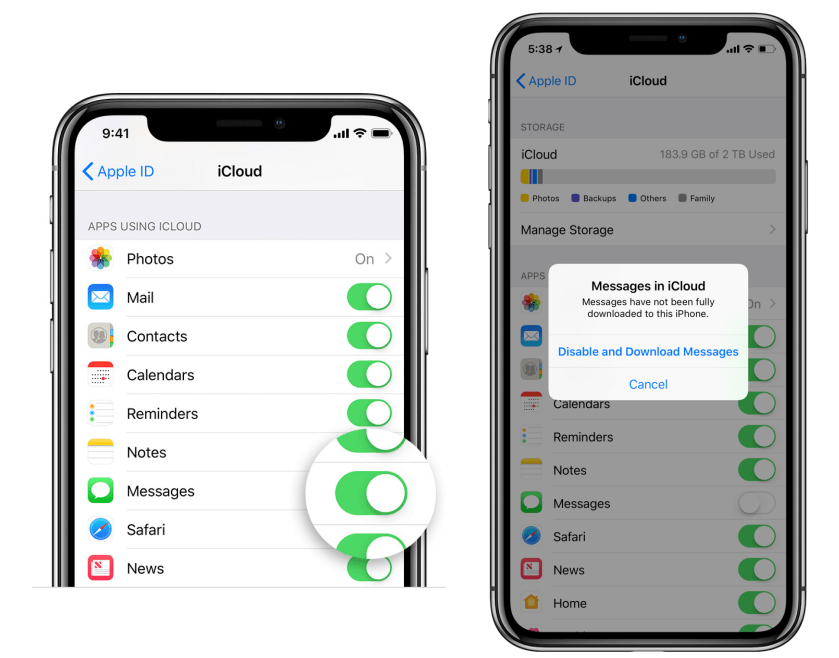 This quick solution may fail because the deletion maybe have been synced to iCloud already. Then you can choose from the following solutions according to your situation.
Among the various methods, you can select the one that best suits your needs. And we can see that D-Back is more simple and practical to use than any other methods:
| | via D-Back | via Official iTunes | via Official iCloud |
| --- | --- | --- | --- |
| Success rate | High | Low | Middle |
| Recover deleted messages without backup | | | |
| Preview before recovery | | | |
| Recovery Options | Selectively or fully | Fully restore only | Fully restore only |
| Recover deleted text messages without computer | No | No | Yes |
| Difficulty | Easy | Complex | Complex |
Part2. Recover Permanently Deleted Text Messages on iPhone without Backup
On condition that you're getting stuck in the scenario described in case 2, or simply don't want to restore a whole backup to your device, then iMyFone D-Back is undoubtly an ideal solution. It can help you retrieve deleted text messages from iPhone with or without backup in a few simple steps. Additionally, you can use it to view all your lost or deleted iMessages history before performing the final recovery.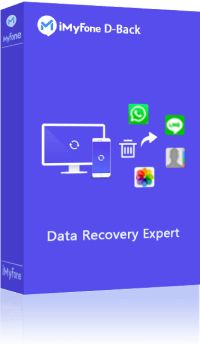 1,000,000+ Downloads
Key Features:
Recover deleted text messages, photos, videos, contacts, and more from iPhone/iPad/Mac without backup.
Recover data from any scenario, such as retrieving data from a dead iPhone, recovering after a factory reset, getting text messages off a broken iPhone, and more.
Preview and choose specific files to recover before performing the restoration process.
Support for various iPhone models and iOS versions, including the latest iPhone 14/13/12/11 and iOS 17.
The new AI Files Repairer helps you fix old corrupted files, photos, and videos.
Here are three options available for you to recover messages using D-Back.
Option 1. Restore Deleted Messages on iPhone without Backup
How to use iMyFone D-Back to scan your device and look for/recover the deleted text messages? The following are the specific steps for your reference.
Step 1. Download and install D-Back on your computer. Run the program on your computer and then choose "Recover from iOS Device".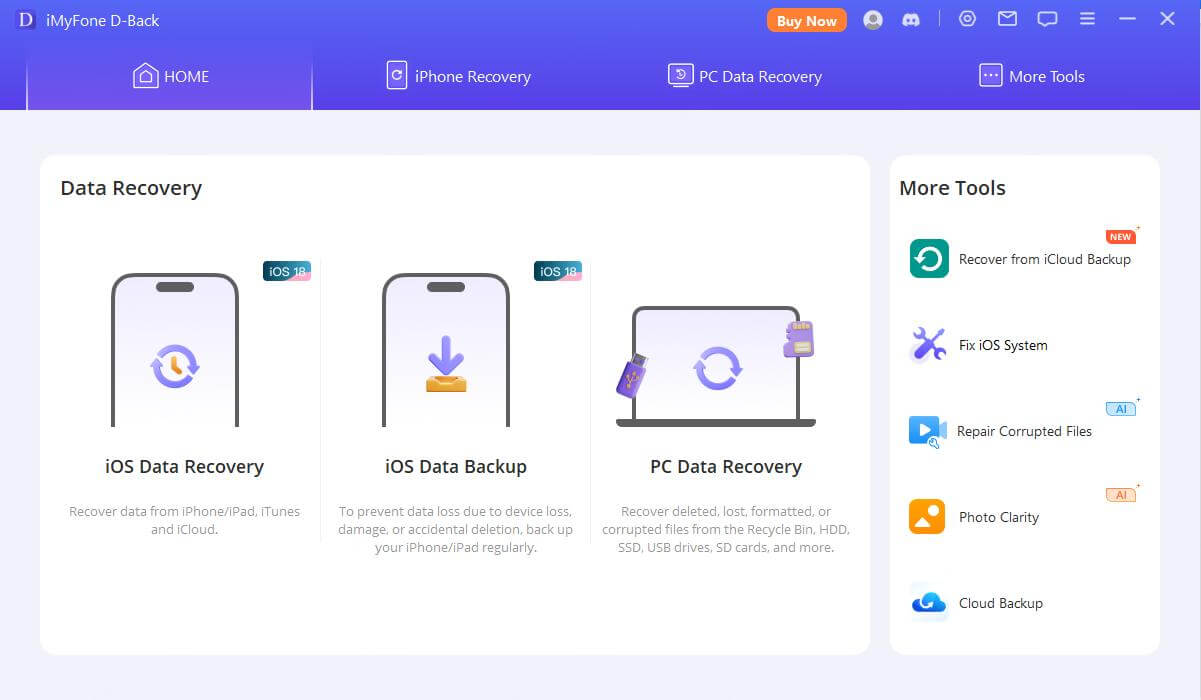 Step 2. Connect the iPhone to the computer and then click "Next" as soon as the program recognizes the device.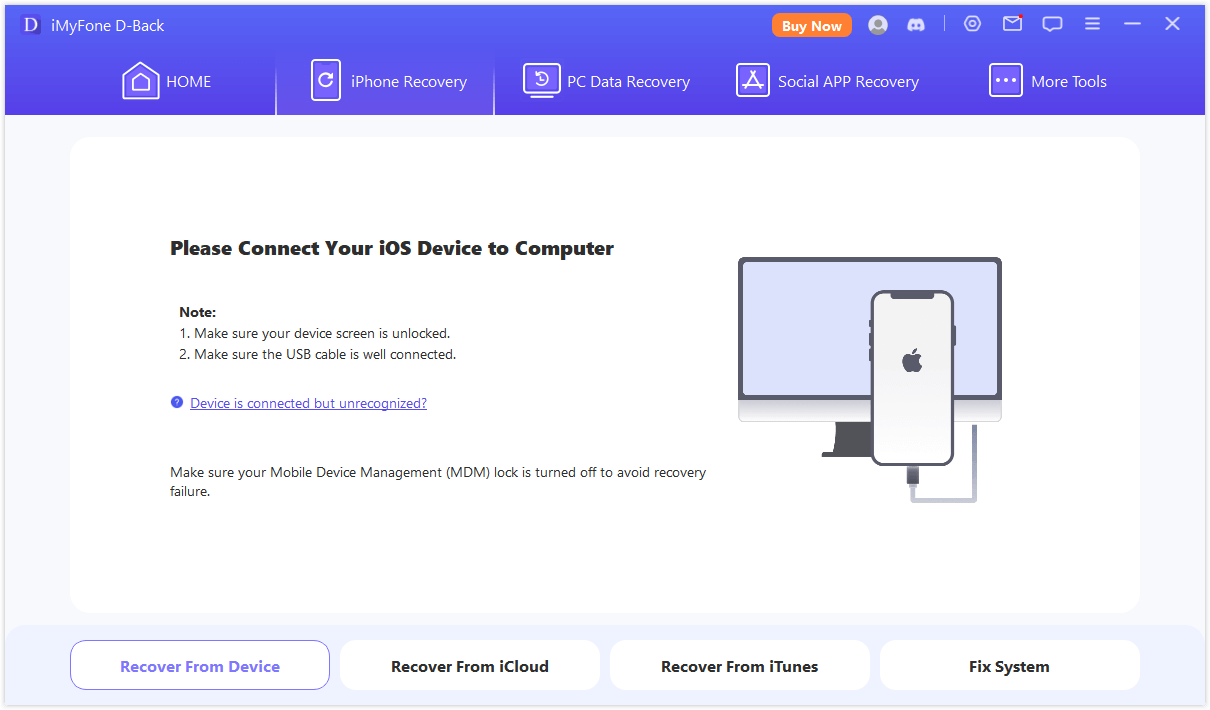 Step 3. Choose "Message" from the next window and click "Scan" to start scanning your phone for the deleted text messages.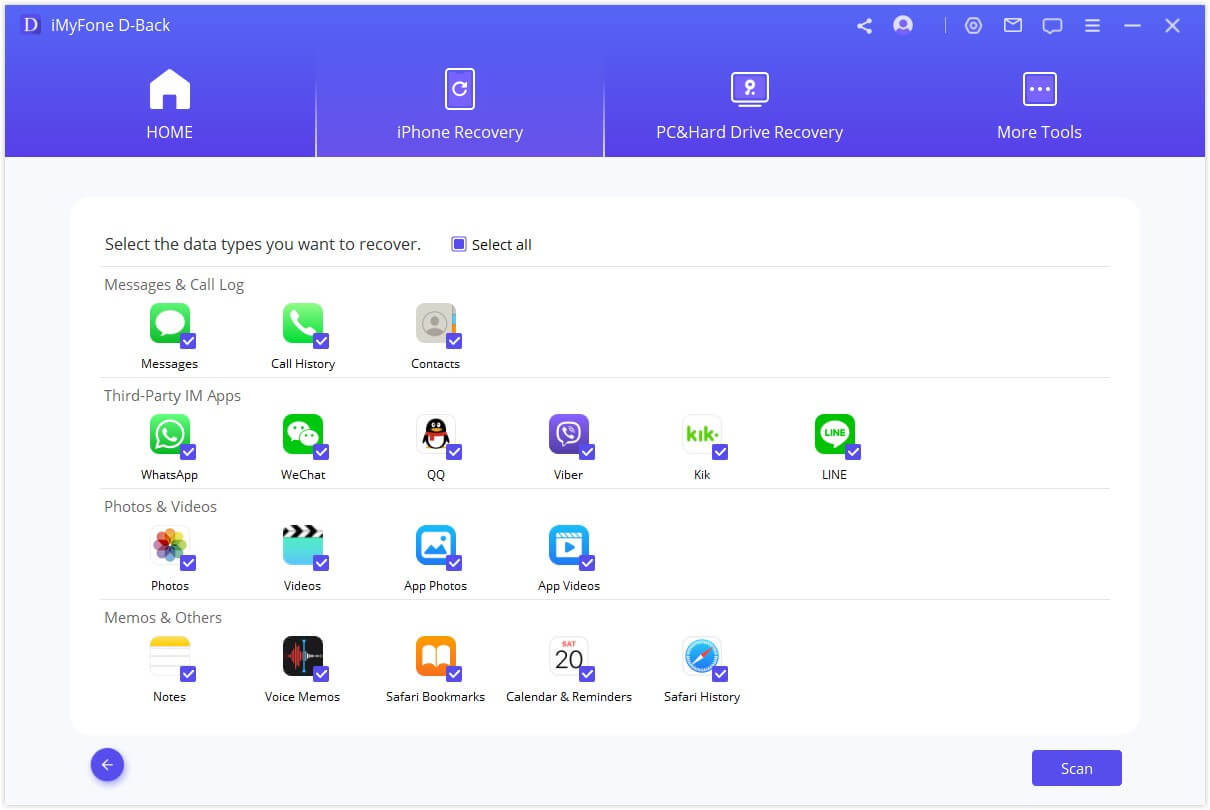 Step 4. After a few minutes, you should see all the recoverable messages on the next screen. Choose the ones you want to recover and then click "Recover", the program will let you choose one folder to store the text messages you need.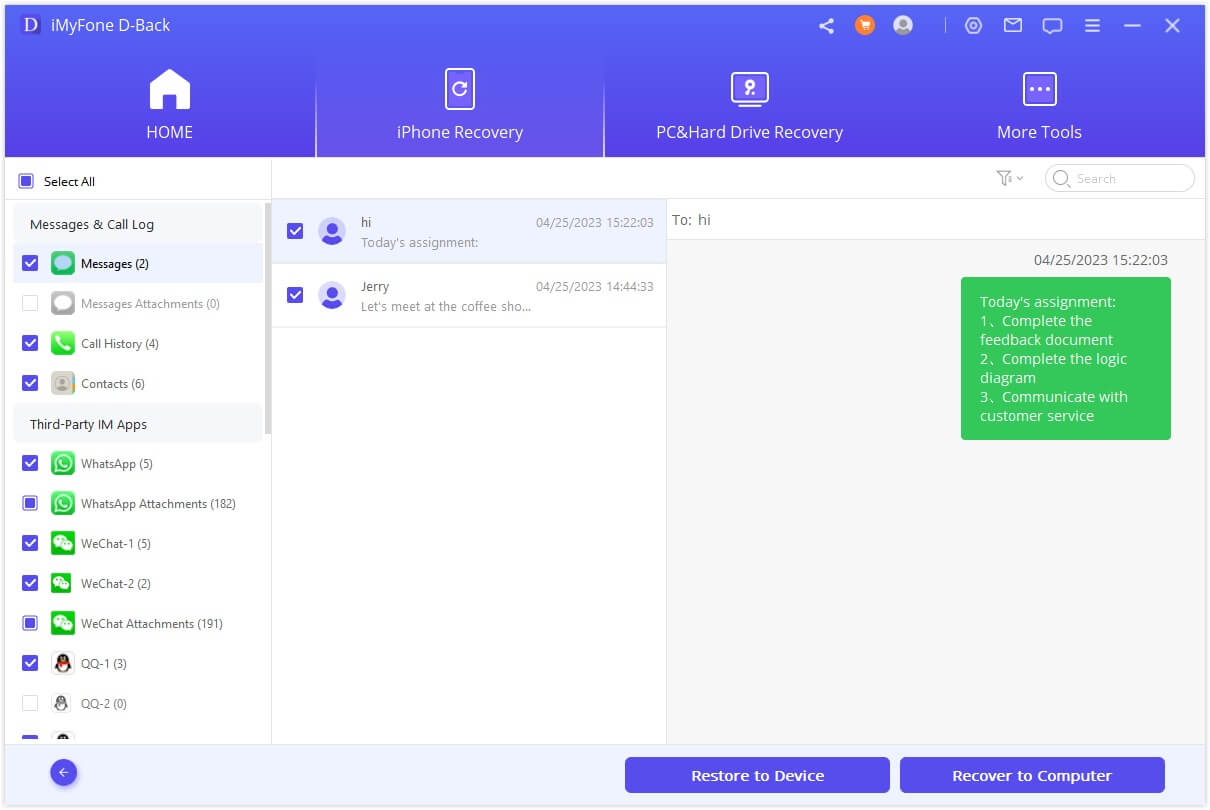 Option 2. See Deleted iPhone Messages from iTunes Backup
This option only works when you have made an available iTunes backup before. Official iTunes does not allow you to view its content, so you will not know whether it contains the messages you need unless you perform the restore.
Now iMyFone D-Back can completely overcome this because it allows you to want to view and check whether an iTunes backup includes the needed messages. Here's how.
Step 1. Choose "Recover from iTunes backup" and click "Start". Then you will see all iTunes backups on the computer. Choose one from those listed and then click "Next".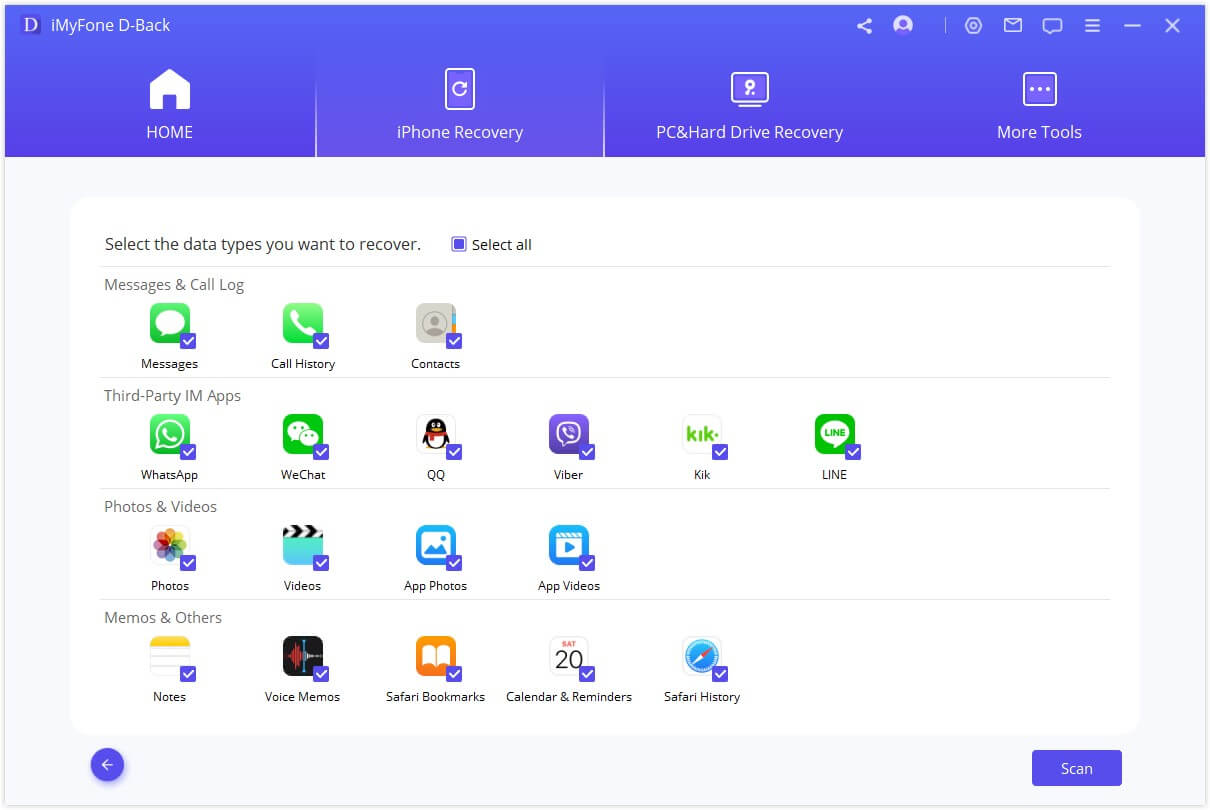 Step 2. Select "Message" as the type of data to recover. Click "Scan" to allow the program to scan the selected backup file.
Step 3. When the scan completes, all messages will be displayed. Select the ones you want and click "Recover" to save them.
Option 3. View Deleted iPhone Messages on iCloud
Before restoring your device from iCloud backup, you must erase all data and settings on your device which means you will lose all current data. Luckily D-Back will help you because it allows you to view and get back your iCloud contents without restoring it.
Step 1. Select "Recover from iCloud" and click the Start button. Sign in to your iCloud account using your Apple ID information.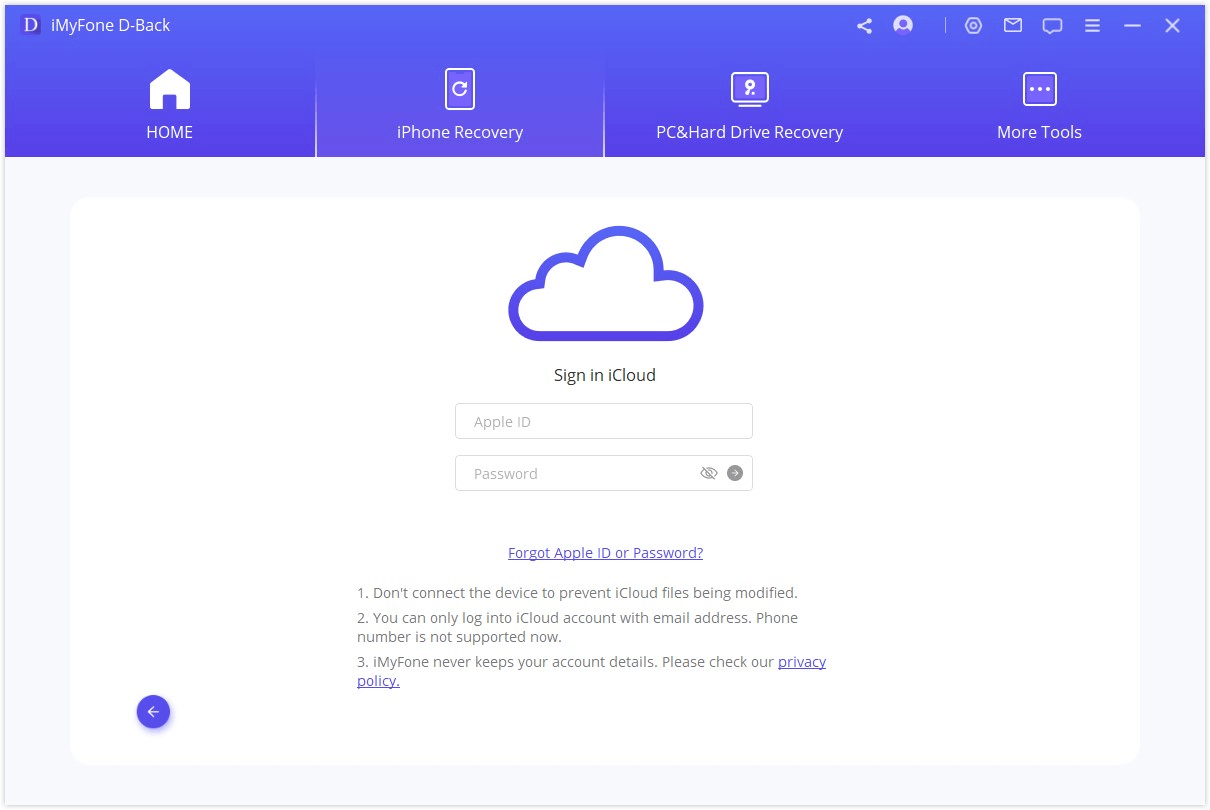 Step 2. Click "iCloud Backup" and tap on the "Scan" button.
Step 3. All the backup will be displayed on the next screen, choose one and click "Next".
Step 4. Choose the "Messages" data type as you want to recover it, and click "Scan" to get in the scan process.
Step 5. Then all the recoverable text messages will be displayed, choose the text messages you want to recover, then they will be stored on your computer.
From the above analysis, you may understand the pros and cons of all the methods. All you need to do is to choose one suitable for you. In addition, some users have sent their feedback to us and here we can have a look at one of them: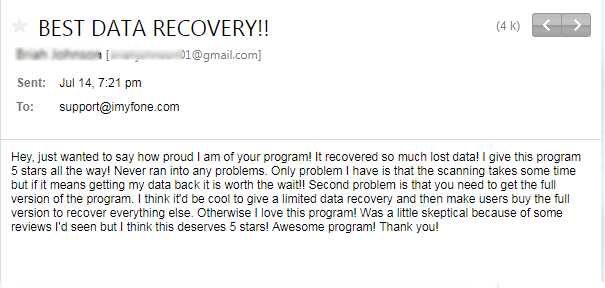 Part3. Retrieve Deleted Text Messages on iPhone for Free
This solution is applicable to case 1: you can restore your device from iCloud or iTunes backup in order to get back the deleted text messages.
Way 1. Find Deleted Text Messages on iPhone without iCloud by Restoring the iTunes Backup
Yes, you can recover deleted text messages on iPhone without iCloud. iTunes is also an official way to back up iPhone. Here are the steps to retrieve deleted iPhone messages on iPhone from iTunes backup.
Simply connect your iPhone to the computer and then launch iTunes.
Click on the device icon once it shows up in iTunes.
In the Backups option, click "Restore Backup" to choose the most relevant backup and then click "Restore".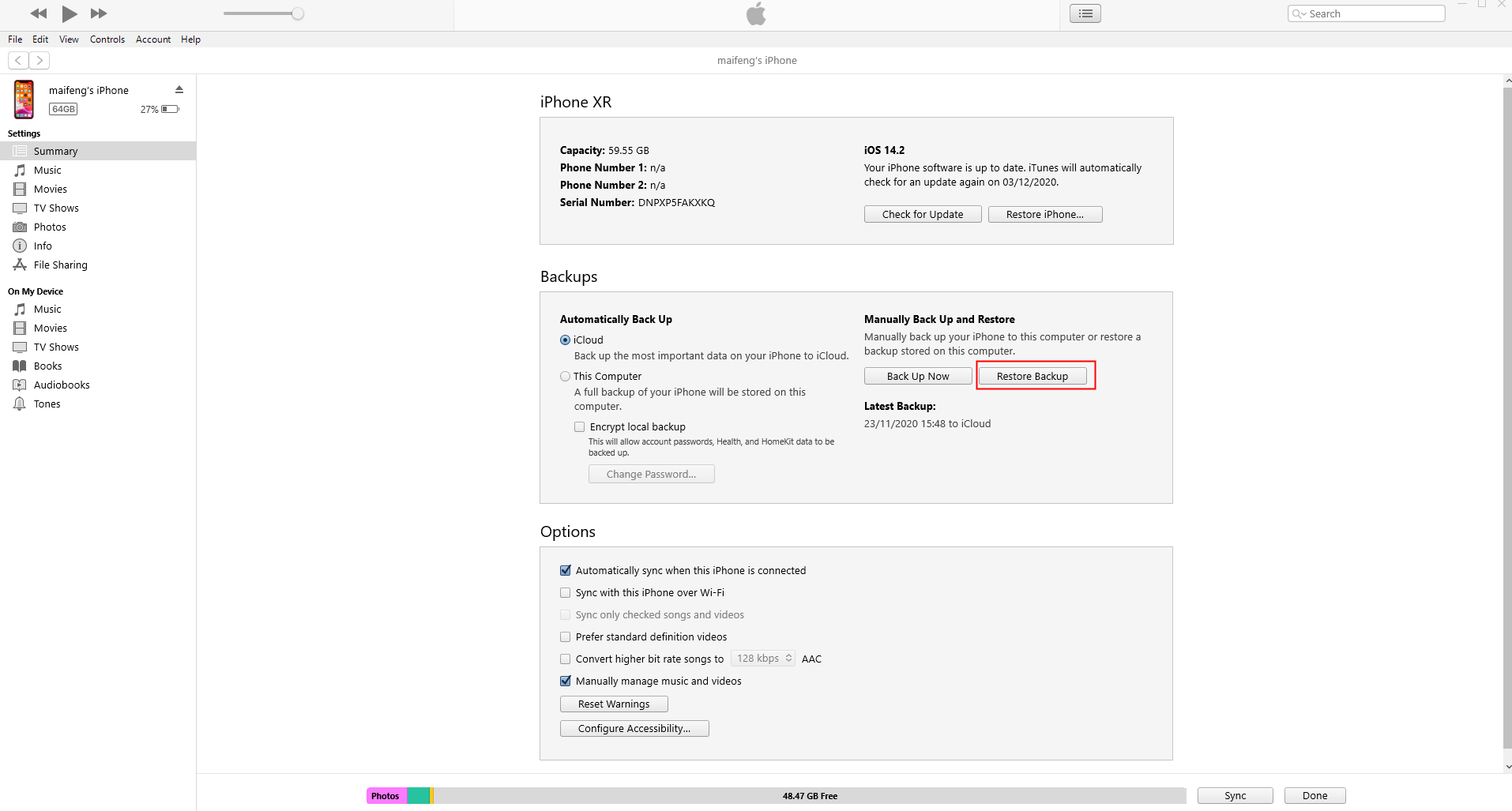 All iMessages will be replaced by the text messages in the backup after you click Restore Backup. What's worse, you may lose the current data on your device.
If you're not sure whether the iTunes backup file you choose contains the deleted text messages, you can use option 2 from Part 3 which allows you to view your iTunes backup first to prevent you from choosing a wrong backup.
Way 2. Get Back Accidentally Deleted Text Messages on iPhone from iCloud Backup
This method can retrieve deleted text messages from your iPhone without computer.Here is the guide.
Step 1: Go to Settings > General > Reset on your iPhone, then choose "Erase All Content and Settings".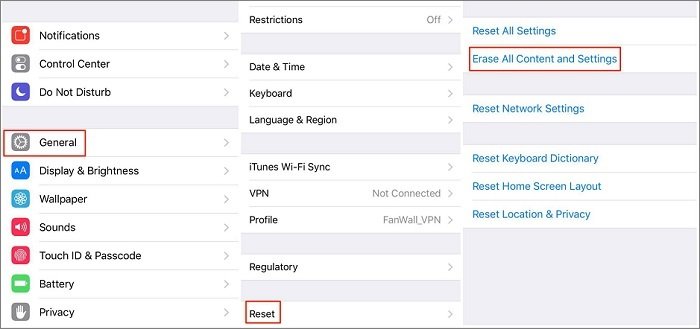 Step 2: Then your iPhone will reboot. From the Apps & Data screen, choose to Recover from iCloud Backup, then sign in to iCloud and select "Choose backup", then choose from a list of available backups in iCloud.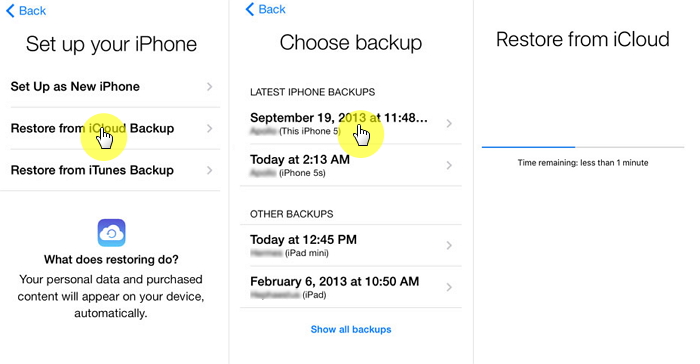 All settings and contents will be erased from your iPhone, so it's better to back up your device first.
As iCloud only provides 5GB of free storage, it may fail to back up the deleted text messages when your iCloud storage is full.
The same as restore from iTunes backup, you can't view the content in the iCloud backup file.
Part4. FAQs about iPhone Messages Recovery
1

Are Accidentally deleted text messages on iPhone gone forever?

Deleted text messages are not lost forever. Generally, the operating system of your iPhone allocates space known as units or clusters. They are used to hold new files as soon as they are created. But when a file is deleted, the OS unallocates that space that was previously occupied by that file. It simply removes pointers and makes the space available for reuse. So, if no data is saved in that space, the deleted file remains recoverable. But you will need a professional recovery tool to get your files in case you save more data and overwrites the unallocated space. So, don't save further data when trying to retrieve deleted deleted messages on iPhone.
2

How far back can iPhone text message be recovered?

The recovery chance is not much related to the time when you delete them, but whether they are overwritten. So stop using your iOS device after losing data. Another thing you need to pay attention to is the text messages you deleted just now might probably not be defined as abandoned data by the device. So if you use a data recovery tool to get back those deleted text messages, sometimes the software cannot scan them out immediately. But it will be fine with later trying.
3

Can I recover the deleted text messages on iPhone without computer?

Except for restoring from iCloud or iTunes, there's another way to retrieve text messages on iPhone without computer. If you do not have backups, then the only way to recover deleted messages is to rely on third-party software. For now, there is no totally free iPhone data recovery software, but most of them have free trial versions. Maybe you can try one of them to see if it works for your situation.
4

Can I only restore the deleted text messages from iCloud backup?

You can't selectively retrieve the deleted text messages on iPhone by restoring from iCloud backup. To recover from iCloud backup, you have to restore the whole backup, including other data. But you can recover the specific text messages through some data recovery tools.
Conclusion
There are methods to recover deleted text messages on iPhone whether your have backups or not. After going through this article, you may have found a workable solution for yourself to retrieve deleted text messages. It's best to back up your device regularly since it can increase the chances to recover your deleted texts. By the way, if you worry about losing text messages on iPhone without backup,you can free download iMyFone D-Back to have a try.
Recover Data from Windows/Mac/iOS
168,282 people have downloaded it.
Supports a wide range of data types such as messages, photos, videos
100% Work with a variety of data loss scenarios.
Retrieve lost data from different types of devices
AI repair corrupted photos, videos, files.
Compatible with All iOS & Android versions.