[2023] How to Recover Deleted Safari History on iPhone?
Category: iOS Data Recovery
5 mins read
"Hello everybody, is there any way to recover deleted Safari history on iPhone, My little brother just got an iPhone 12, and I suspect he's been looking at some adult sites... how to perform this operation on iPhone?"
As the default browser on iOS devices and Mac computers, Safari is the most commonly used browser. It stores our browsing history, making it easy to pick up where we left off. Although browsing history is very important and useful, it is often the case that we accidentally delete Safari history oniPhone or iPad. If this kind of "issue" happens, how can we recover deleted safari history on iPhone? Just read on, and this article will show you 6 easy ways.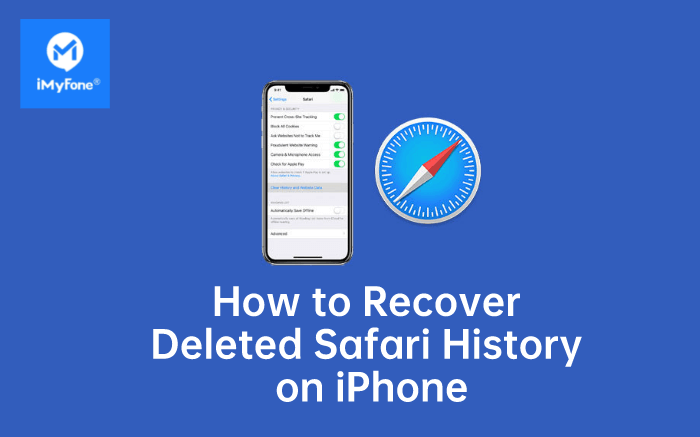 Is Safari history deleted forever?
No, when you clear Safari history, it is not completely gone. iOS keeps a copy of it in a different part of your device's memory for a certain period of time. This means you can recover your browsing history if you need to. On iOS devices, the history is stored for about one month, while on Mac, it can be stored for up to a year. Just remember the time limit if you want to get back your deleted history.
How to Recover Deleted Safari History from iPhone - 6 Best Ways to Recover
Video to See How to Recover Deleted Safari History from iPhone
Way 1. View Deleted Safari History from iPhone Settings Directly
How do I get my history back on my iPhone?
You can head to Settings on iPhone first if you want to check the safari history on iPhone after it's been deleted. Here are the steps required using this quite straightforward method.
1. Go to Settings from your iPhone screen.
2. Scroll down the screen,find Safari and tap on it.
3. At the Safari page, scroll to the bottom and tap on the Advanced option.
4. Go to the next section and find Website Data. Click on it and you will find some of your deleted browser history listed there.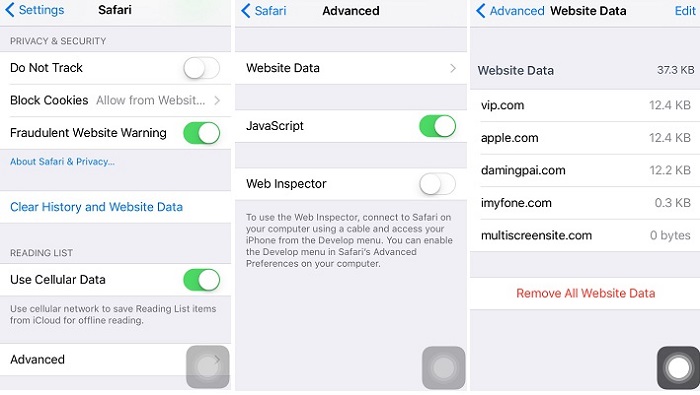 Not all deleted safari history can be found from iPhone Settings.
Another drawback is that it will only display the root domain of the sites you have viewed before.
Way 2. Recover Deleted Safari History without Backup (Highly Recommended)
If you don't have any backup for your deleted Safari history, you can turn to third-party tools for help. iMyFone D-Back iPhone Data Recovery is an excellent iPhone Safari history recovery tool which enables you to check and see deleted Safari history easily.
As an all-in-one solution, it has 4 recovery modes and you can choose one that suits you the best to recover deleted Safari history from iPhone without backup and within 3 simple steps.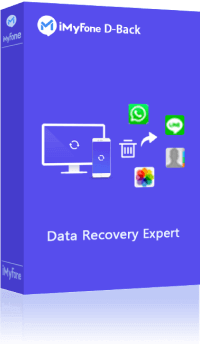 1,000,000+ Downloads
Key Features:
Free preview of Safari history before the recovery process.
Selective or full recovery of Safari history from almost all iOS devices and versions.
Support for recovering various other types of data, such as contacts, messages, photos, videos, WhatsApp messages, and more.
Compatibility with both Windows and Mac operating systems.
Ability to recover data from various scenarios, including accidental deletion, system crash, water damage, factory reset, and more.
User-friendly interface with easy-to-follow steps for data recovery.
The following are the specific steps for your reference. Start by installing and downloading this software.
Step 1. Connect Your iPhone to Begin
Run the program on your computer, select "Recover from iOS Device" and then click "Start" button. After connecting your iPhone to the computer, iMyFone D-Back will detect your iPhone. Hit "Next" to continue.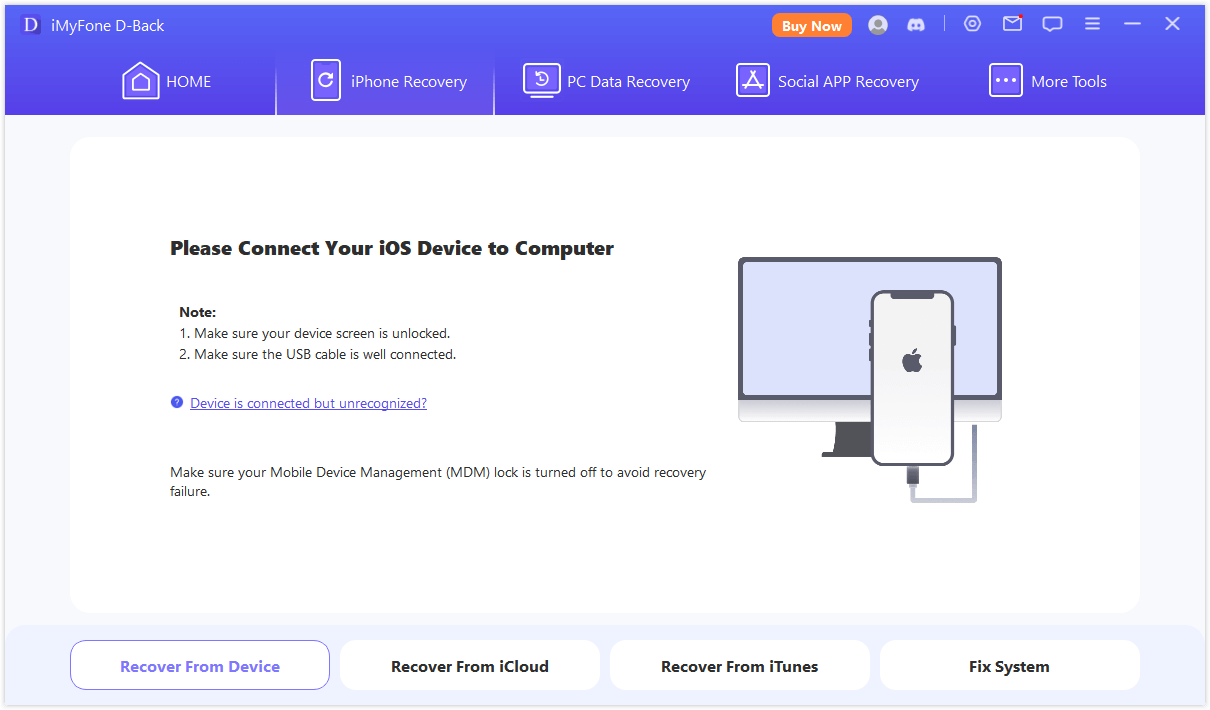 Step 2. Select the Type of Data to Scan
Choose the type of files you would like to recover. Here we should check "Safari History" and then click "Scan".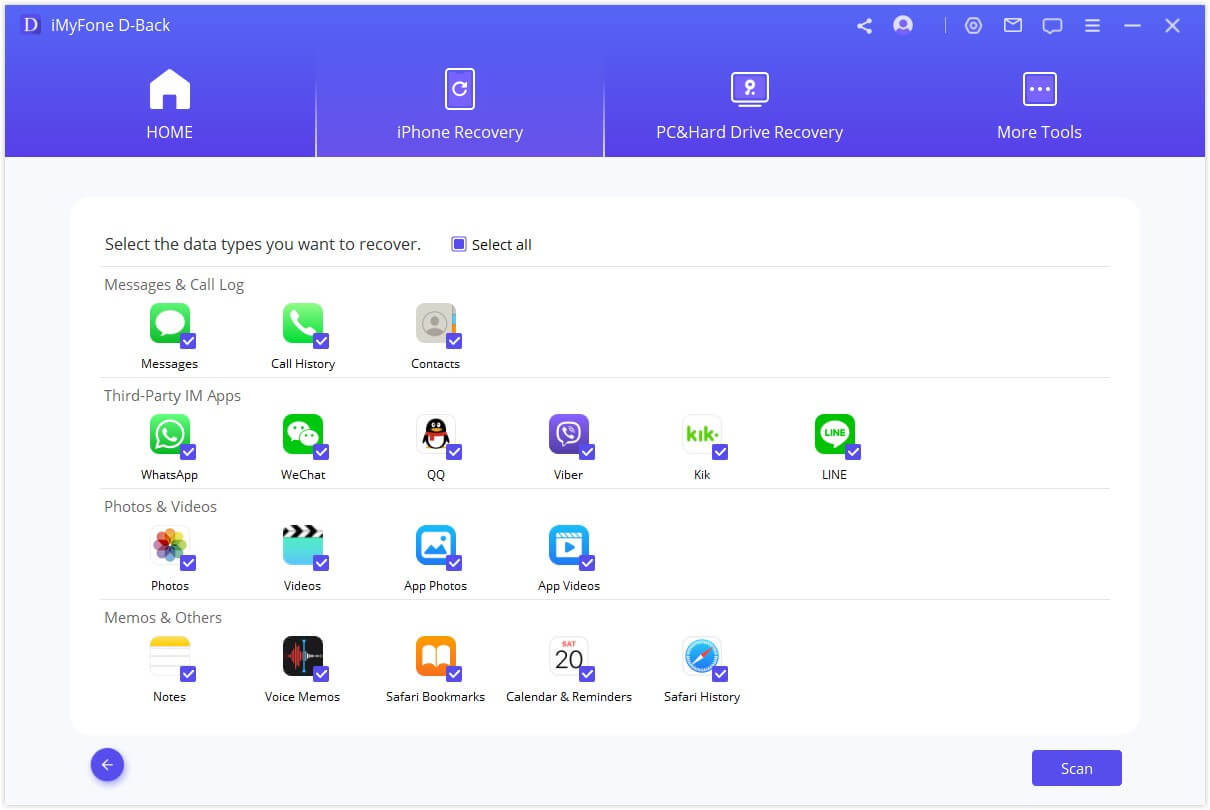 Step 3. Preview and Recover Lost Safari History
After the scan, iMyFone D-Back will list all the recoverable Safari history. You can preview all of them or only the deleted ones. Then select the ones you want and click "Recover".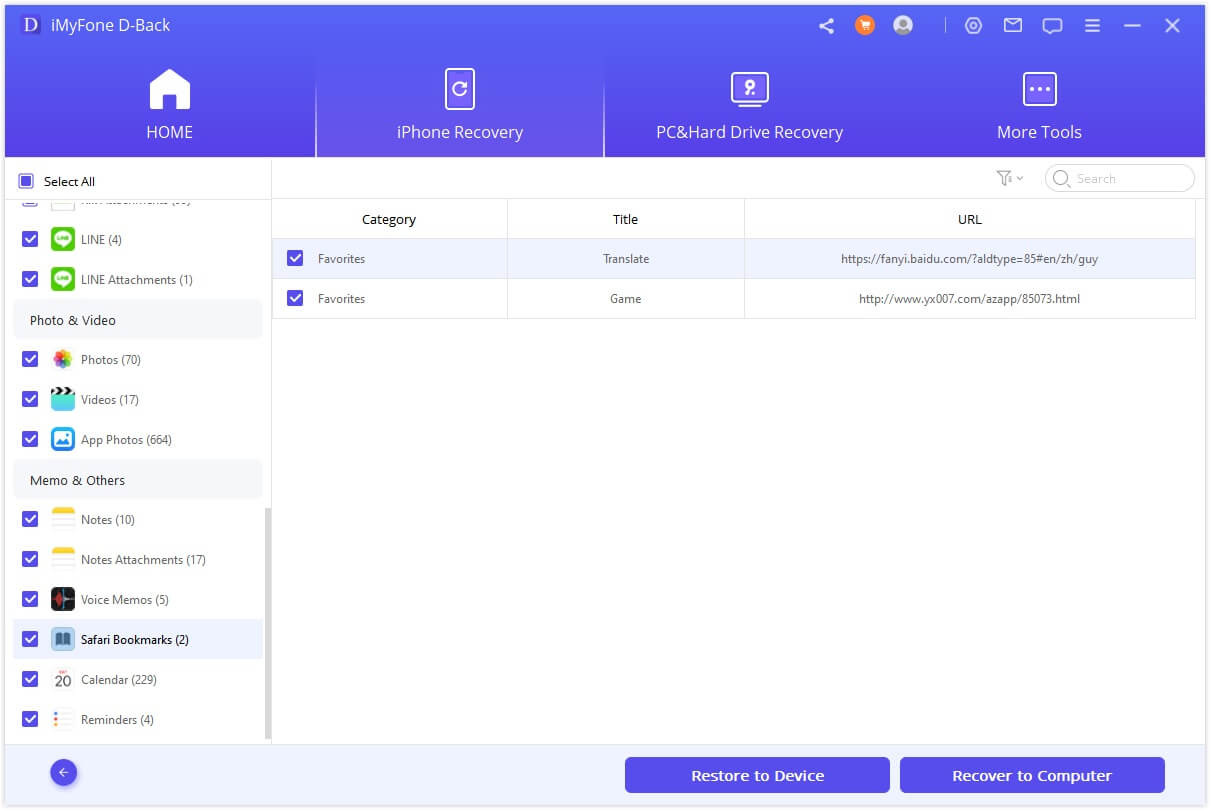 Way 3. Recover Deleted Safari History from iTunes Backup
3.1 Adopting the Official Approach
If you have already backed up your iPhone data, then you can choose to recover the deleted Safari history from iTunes backup.
1. Open iTunes, click on the iPhone icon and select Restore Backup.
2. Select the backup file which contains your deleted Safari history, and click the Restore button.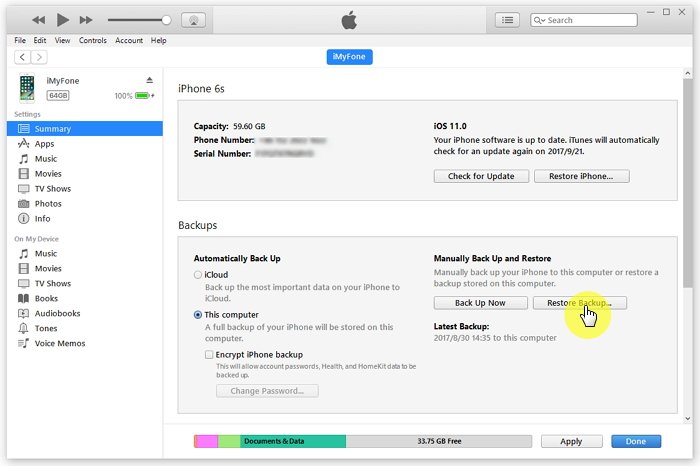 To get the deleted Safari history back by restoring the backup, you should have backed up your iPhone to iTunes regularly.
Restoring a backup may lead to data loss as alldata on the device will be permanently replaced by that of the backup. Anything you hadn't backed up will be overwritten.
3.2 Using iMyFone D-Back
With iMyFone D-Back, you can also find deleted Safari history from iTunes backup through the mode "Recover from iTunes Backup", in an easy and quick way. Just follow the steps below:
1. Select "Recover from iTunes Backup" and click "Start".
2. Select Safari history as the file type you want to recover and click on "Next".
3. D-Back will find back all the previous backup files. Select the folder containing your lost Safari history and then click "Scan".
4. Once it completes the scanning, you will be able to preview and recover the safari history you'd like to keep.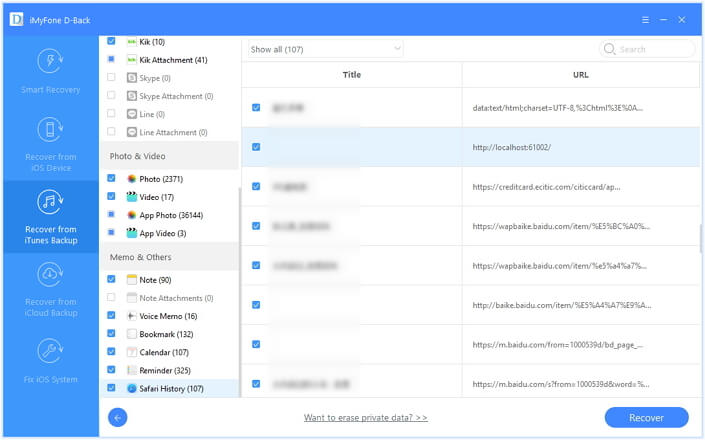 Way 4. Recover Deleted Safari History on iPhone from iCloud Backup
If you have previously gotten your iPhone backed up to iCloud, then you can recover deleted Safari history using iCloud backup by firstly erasing all the data and then restoring from iCloud again.
1. Go to Settings> General > Reset > Erase All Content and Settings.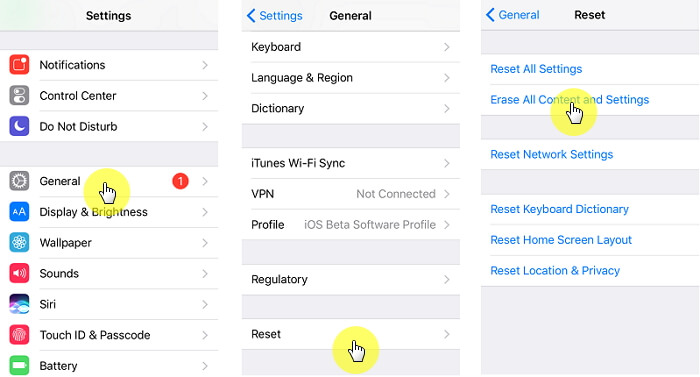 2. Follow the Setup Screen instructions and then choose "Restore from an iCloud Backup." Choose an iCloud backup file to restore the device. By doing so, all data in this backup file will come back with the deleted Safari history included.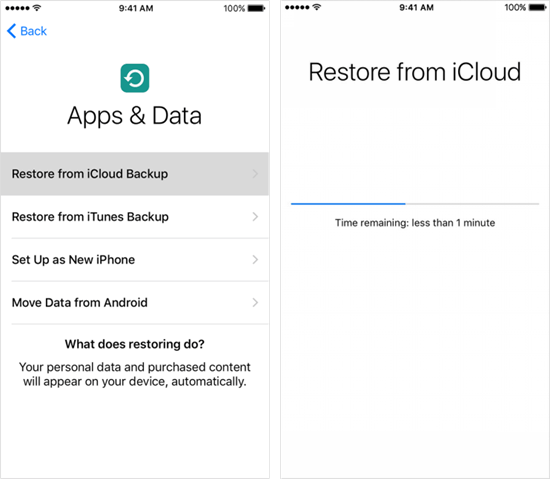 To use this method, you must make sure the iCloud backup has been activated.
All your current iPhone data will be lost and there might be data loss as your latest data might not be in the iCoud backup.
Way 5. Restore Deleted Safari History on iPhone via iCloud Web
If you have turned oniCloud auto syncing of Safari bookmarks on iPhone, you can go to iCloud.com to restore your missing bookmarks from an earlier version. The versionyou select to restore from will replace the existing bookmarks on all your devices.
1. Sign in to iCloud.com and click Account Settings.
2. Scroll down to the bottom of the page and choose Restore Bookmarks under Advanced section.
3. Choose an archive of bookmarks you would like to restore.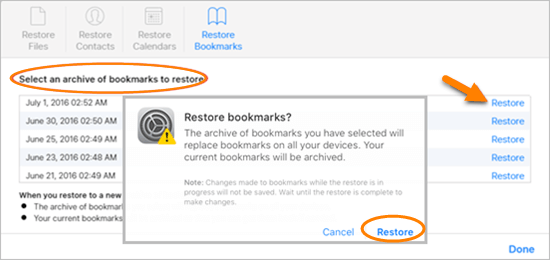 This method only helps you restore the bookmarks deleted within the last 30 days.
Way 6. Recover Deleted Safari History on Mac
When it comes to checking deleted Safari history on Mac, perhaps the first method popping into people's head is using Time Machine, the built-in backup service provided by Mac.
As long as you've confirmed that your Mac has set up Time Machine backup, you can start the the recovery process by doing as follows:
1. Quit Safari. Connect the Time Machine backup drive to your Mac.
2. Open Finder, pull down the Gomenu and select Go to Folder.
3. Enter "~/Library/Safari/" and click the Go button.
4. After you're taken to the Safari directory interface, find the file named "History.db" (which may also be "History.plist" instead if you are using older Safari versions).
5. Pull down the Time Machine menu in the upper-right corner and choose Enter Time Machine.
6. In Time Machine, navigate to the date containing the Safari history data and hit the Restore button.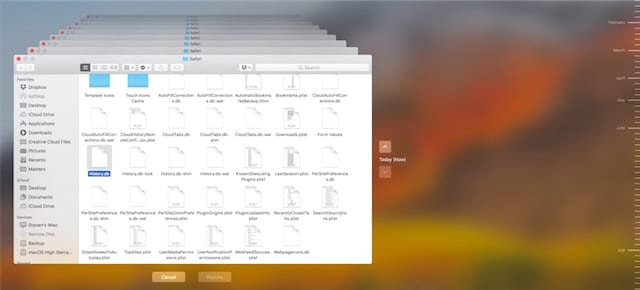 7. Lastly, reopen the Safari and you'll be able to access all history by clicking History in the menu bar at the top of the screen and select the Show all History option.
Since the restoration by using Time Machine will be complete, you should also back up the current Safari website data to prevent it from being eliminated by the recovered data.
FAQ about Safari History
1

How Long Does Safari Keep History on iPhone?

This is indeed a confusing topic widely discussed by iPhone users. A good news though, is that Apple has given a definite answer. "...your Mac can keep your browsing history for as long as a year, while some iPhone, iPad and iPod touch models keep browsing history for a month." Therefore, we should keep an eye on the date lest some important Safari history be auto-deleted, especially on iPhone.
2

Where is Safari history stored?

All the deleted safari history information is stored on your hard drive inside the 'History' file with '.db' extension. To find the cache of Safari's history, go to the Library > Caches > Metadata > Safari > History. While the actual history is located in: '~/Library/Safari/History.plist' folder.
3

How to Recover Deleted Safari History on iPad?

The ways to recover deleted Safari history on iPhone are also applicable to iPad. Don't hesitate to try iMyFone D-Back as it supports alomost all major iOS devices including iPhone, iPad, and iPod touch with its broad compatibility.
4

How to Avoid Losing Safari History?

To avoid losing your Safari history in the future, it is recommended to enable Safari syncing with iCloud. Open the Settings app on your iPhone, tap on your Apple ID user name at the top, select "iCloud" from the list, and scroll down to toggle the switch next to "Safari" to turn it on. By enabling Safari syncing with iCloud, your bookmarks and browsing history will be backed up and synchronized across your Apple devices, ensuring that you don't lose your Safari history.
Conclusion
Deleted Safari history may be a little hard to recover, but there are ways to achieve our aim. You can first list several key indicators and compare the aforementioned 5 methods to get a clear summary of them. And then, most importantly, you should choose an appropriate method out of the 5 based on your own actual situation. We highly recommend iMyFone D-back that allows you recover deleted safari history on iPhone even without backup,or recover from iCloud/iTunes without factory reset. Just download it and have a try today!
Recover Deleted Safari History on iPhone with One Click.