If you've had to face the fright and fear of losing your valuable data to an accidental click or data corruption or malware attack, you're not alone in this. To solve your data recovery problem, Tenorshare has come to the rescue. This article is more like a Tenorshare Ultdata review and is Ultdata safe or legit and its better replacement iMyFone data recovery programs. In fact, iMyFone D-Back has more safe data privacy and higher recovery rate. So we will give you a solid understanding of how the software works in solving your data recovery and restoration.
Congratulations! You win a 10% off coupon for your iMyFone D-Back purchase. Here is the coupon code:
10% off Coupon Code: 90register

Part 1: Tenorshare Data Recovery Review
Tenorshare data recovery software is a one-stop-shop that helps you in recovering the deleted data that you lost to accidental deletion on your phone and other devices. It offers numerous versions that are developed specifically for either mobile phone data recovery or PC data recovery. Get your hands on Tenorshare software and free yourself from the worry of losing your valuable data forever.
However, Tenorshare can'tscan specific folder. You must scan the entire drive. While, iMyFone could scan and preview the folder you want. what's more the recover speed is too faster.
Tenorshare Ultdata Review
Tenorshare promises to offer top-notch services in order to facilitate its customers as much as they can. For that, Tenorshare Ultdata offers you premium service regarding iPhone data recovery. If you're worried about getting hands-on your old iPhone data that you lose to an accidental delete button pressing or it got corrupted or formatted, Tenorshare Ultdata retrieves everything for you. Tenorshare Ultdata has iPhone data recovery and android data recovery versions, they can recover deleted data from iPhone and Android phone without backup, it also support recover data from icloud and itunes. Tenorshare Ultdata can recover some data from your phone, but it dont have high data recovery rate. Check if Tenorshare Ultdata is safe or legit, this is very hard for us. Because there are many bad Tenorshare Ultdata reviews on trustpilot, many people leave 1 star review on that site.
Tenorshare 4ddig Data Recovery Review
Unlike the ultdata application software, theTenorshare 4ddig Data Recovery version is a surefire measure of recovering your Windows data in your system. If you deleted your data items by pressing the shift button and then overwrote something at the source folder, Tenorshare 4ddig Data Recovery software could help you get everything back with great ease.
Is Tenorshare Ultdata Safe & Trustworthy
If you're looking for 100% safety and something you can trust blindly, the Tenorshare Ultdata review frequency continues to increase every day. This goes far to show that many people love using this software application, and it is far more trustworthy than any other out there. So what's stopping you?
What is Tenorshare?
Tenorshare is a data recovery software that helps you recover and restore your data. Now be it your iPhone, an Android device, an iMac, or a Windows OS, Tenorshare has a software application available for everything. It makes it extremely convenient for you to recover all your files and folders and even RAW files that you've lost, accidentally deleted, or got corrupted.
Steps to Recover Data Using Tenorshare Ultdata
Here are a few detailed yet very easy-to-remember steps to download the software and recover all your precious data using Tenorshare.
Step 1. Install the software and open it, select the options you want to recover data from. You can recover data using backup or using your iCloud account. Once you click either option, you will have to enter your iCloud account details. It will then scan the data.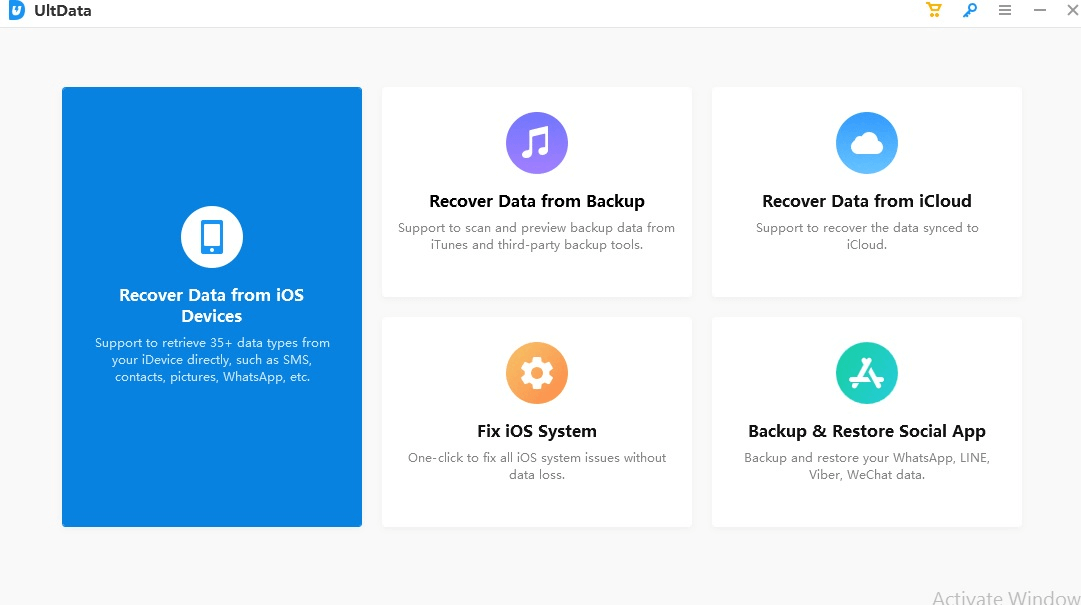 Step 2. After the recovery is completed, all you have to do is decide the destination folder where you want to save all the recovered data items. Your data recovery is now complete.
Part2: Better Alternative of Tenorshare - iMyFone D-Back and iMyFone D-Back Hard Drive Recovery
Losing your precious data can be a horrific experience no one should have to go through. To prevent that from happening, iMyFone is here at your service.
Recover iPhone Data with iMyFone D-Back
Using their application, you can rest assured that while restoring or recovering your data, it checks for all your data in every crevice of the storage space and brings back everything. Before moving the steps, we will be discussing the features of iMyFone D-back:
It helps you recover data from your iCloud and the iTunes account. If your data is stuck in the iTunes recovery process, you can still backup everything from this software.
, Unlike other software, you can use this software before making a purchase. This means you can download the software, try it and if you're satisfied with the result, you can pay the full amount and use it.
iMyFone D-back allows you to preview the lost data. It helps you identify which data is important and needs to be recovered at priority.
You don't have to save your data or go for a backup by paying huge amounts. You can retrieve all this data with a single click.
Now, let's discuss the steps on how to retrieve your iPhone data using this software:
The first step you need to do in order to get back your lost data from the iPhone is to visit the official iMyFone website and follow the instructions to download the application on your device.
Once you open the software, you'll see the screen like it's shown in the image below. You can recover your lost or deleted data and can also recover data if your device is broken or lost.

Now, click on the "Recover from iOS device" option from the left menu and connect your phone.
Then you will be able to see all the options that are available for scanning. You've to simply click on your desired option, and click on scan. Once the scanning is completed, you'll get the complete list of deleted files. Select all the files that you want to recover. Click on the"Recover" button. Your files are now recovered.

If you want to recover data from your laptop or computer device, then you can use the below method:

Retrieve PC Data with iMyFone D-Back Hard Drive Recovery(Mac/windows)

Just like losing iPhone data can be catastrophic on its own, nobody likes losing their PC data either. If you've been a victim of accidentally deleting everything or if some virus or malware attack corrupted everything in your system, need not worry anymore because iMyFone Any Recovery software is here for your services. If you want to get your precious data back, you have to follow these steps.

Step 1. Go to the official iMyFone website and download the iMyFone D-Back Hard Drive Recovery application on your system.

Step 2. After download, you have to select the location from where you want to retrieve the data using iMyFone D-Back Hard Drive Recovery. Then click on the location and it will initiate the recovery process. After some time, all the recovered items will be shown.

Step 3. Take your time choosing which files you want to recover as you can preview them. After you've chosen the files, click on "Recover". It will then ask you to specify a destination folder where everything will then be saved after recovery. Your PC data recovery is now complete.

Part 3: Tenorshare

Ultdata

Coupon Code

If you're enjoying the free version of this amazing software, there exist different modes for your convenience on their official website as well. While for your ease the free version might be working out, getting your hands on the premium and complete version opens up so many doors for you to recover everything peacefully.

Free Registration Code for Tenorshare

Ultdata

Tenorshare Ultdata coupon code is the way to go for that. If you use a free registration code for Tenorshare, you can get the amazing Tenorshare data recovery professional software at a very low price and if you get super lucky, you might even get one for free.

Coupon code for Tenorshare Ultdata

Here is the list of coupon codes that will help you save your amount:
Use "A8DTE" at check out and get 30% off sitewide.
Use "D3P8FT" and get 16% off on your entire purchase.
To get 10% Flat off, use this Tenorshare Coupon Code "DFT28A8".
If you don't know how to use these coupon codes, then you can simply put these codes while you're on the checkout page and you will get the discounted final price.
Conclusion
There is no doubt that data is extremely important for everyone. But, it can be deleted intentionally or unintelltionaly. Sometimes, we delete the data because of space issues or sometimes we lost it because of uncertain incidents. But, the above ways would help you to resolve the lost data issues in minutes.
We've defined different methods; you can use them as per your requirements. We already write some Tenorshare Ultdata reviews in this article, but our recommendation is to go for iMyFone D-back and iMyFone D-Back Hard Drive Recovery. They have taken the market by a great force and has helped countless customers recover their data. These softwares have great features and can help you recover your data fast.