Our iPhone is always in danger of damage or loss and with damage or loss comes data loss. This is the main reason why it is important to ensure you always have a backup of the data on your device. But sometimes data loss can occur quite unexpectedly, resulting in you losing some important data that you hadn't yet backed up.
In this case, data recovery tools and services can be quite invaluable. They help you get the lost data back and ease any discomfort the data loss may have caused you. Recovery is becoming more common in digital forensic analysis, digital forensics and data recovery refer to the same activities. In this article, we are going to be looking at 6 of the best free digital forensic iPhone data recovery software after factory reset in the market.
1

3 Best Free Forensic iPhone Data Recovery Software
There is data recovery software in the market that can be downloaded to your computer and help with digital forensic data recovery tools for iPhone after factory reset. Many of them are quite easy to use, are affordable and allow the user to preview the data being recovered before recovery. These are a good option if you want to do it yourself as opposed to sending your device to someone else. The following are the top 3.
Perhaps the best digital forensic iOS data recovery tool after factory reset you'll find in the market. This program is quick to recover 22+ data from your iPhone such as messages, photos, call history, WhatsApp messages and allows the user to preview the content before recovery. It is also a great solution when you want to recover data from an iTunes and iCloud backup. Its ability to recover up to 22 different data types successfully is unrivaled by all other data recovery tools and it is quite easy to use as well.
iMyFone also releases a new forensic hard drive data recovery software called D-Back hard drive recovery expert. It can recover data from a full range of devices: hard drives, USB flash drives, SD cards, SSDs, cameras, etc. It is very useful when you need get important info for forensic even the hard drive gets formatted. It supports 1000+ file types, including photos, videos, office documents, archives, and more.
Tips
Lost or deleted data on your iPhone can be recovered if it is not overwritten even you don't have any backup, as it remains hidden on the device.
When you back up your data using iTunes or iCloud, it backs up not only the existing data but also the deleted data. The deleted data in iTunes or iCloud backup is just not accessible by default.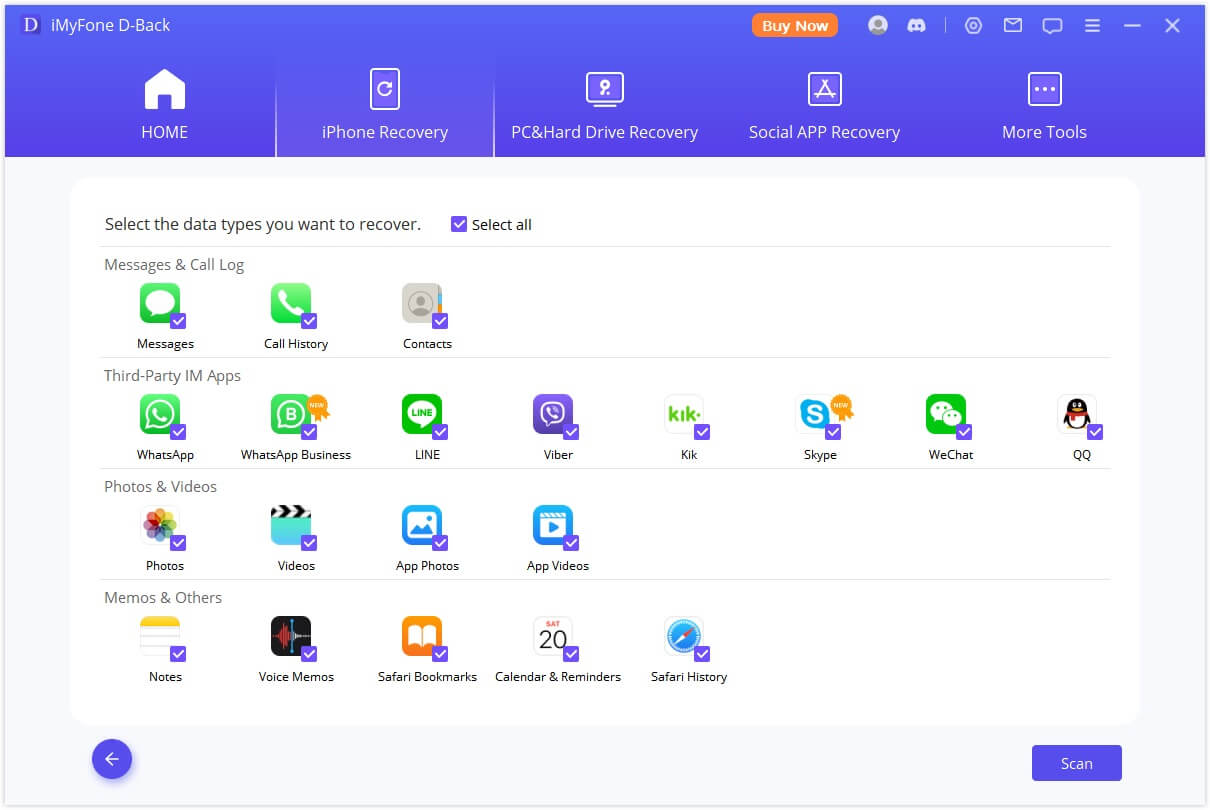 Top 2. Wondershare Dr. Fone for iPhone Backup Forensic

After Factory Reset
Dr. Fone for iOS is one of the most recognizable names in forensic iPhone data recovery after factory reset. It is a great tool that can be used to recover data directly from the iOS device, from an iTunes backup or an iCloud backup. It is quick and efficient, allowing the user to recover the data in a few simple clicks. It supports all iOS devices, can recover up to 16 different types of data and works on both Mac and Windows systems.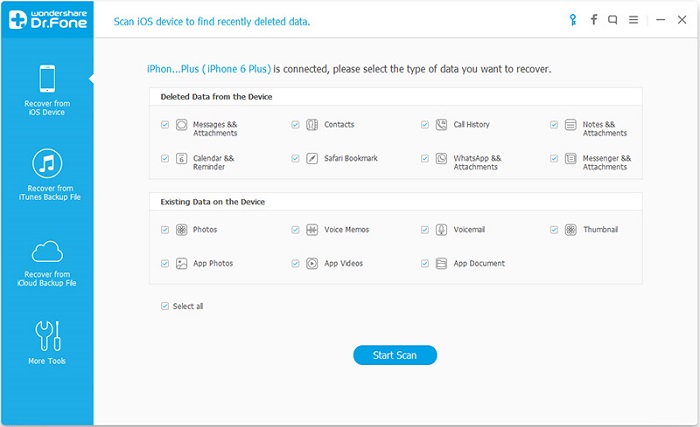 Top 3. iMobie PhoneRescue for iPhone Digital
Forensic
Another great forensic iPhone data recovery tool after factory reset, PhoneRescue also allows the user to not just recover lost data from an iOS device but also from an iTunes or iCloud backup. It can be used to recover up to 25 different types of data and comes with a useful preview function. It is also available for both Mac and Windows and supports all iOS devices.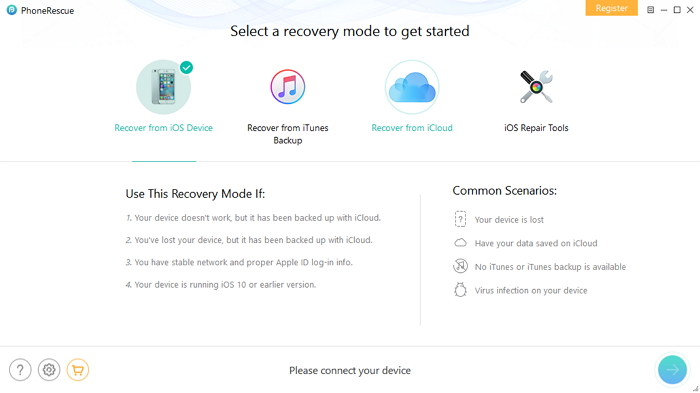 2

3 Top Professional Digital Forensic iPhone Data Recovery Services
Another alternative for the recovery of lost iOS data is to use a professional digital forensic iOS data recovery service after factory reset. While these are more expensive, they may serve you better if you don't want to do it yourself. Most of them may also require that you send in your device to them. You can also find many digital forensic iOS data recovery services in the market.
This is a more advanced software solution that you can use to not just recover lost data on your iOS device but also dig deeper and recover certain device secrets such as passcodes, passwords, and encryption keys. While it is a software that you can download and use, it is a bit advanced for single users, more suited to corporate solutions. The ElcomSoft password recovery tools allows corporate and government customers to unprotect hard drives and systems and decrypt files and documents protected with popular applications.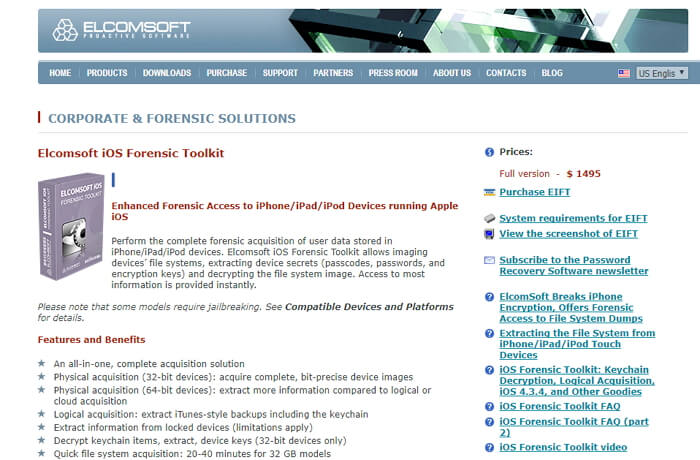 This is another forensic data recovery software that provides an advanced data recovery service. It can be sued to extract anywhere from normal data such as photos and videos to passwords, passcodes and many other types of data. It also extracts data from iCloud or iTunes. It support extract data from windows/mac computer hard drive.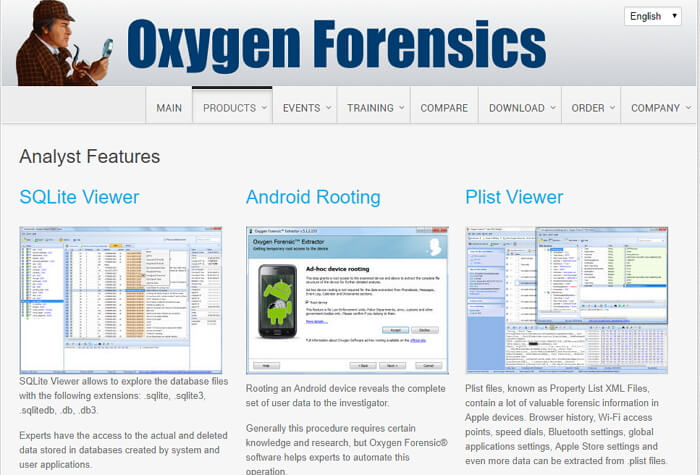 This is another iOS forensic data analysis tool that may help you recover lost data on your device. It can help recover all types of data from your iPhone even if the device has been jailbroken.