It is never risk-free to own a mobile phone, whether iPhone or Android. You might have a sudden loss of data due to any unpredictable scenarios. It is precisely the reason why well-qualified data recovery software is needed. So in this article, we will show you some Gihosoft iPhone data recovery reviews and something about the Gihosoft registration code.
Furthermore, it will introduce two highly efficient data recovery alternatives like iMyFone D-Back, which focuses on iOS data recovery, and iMyFone D-Back, which concentrates on WhatsApp data recovery. The apps from iMyFone are outstanding in data repair and trustworthiness.
If you are eager to get more information about the efficient ones, you can directly click part 2 to get it as soon as possible.
I guess you are curious about it. So let's start right now.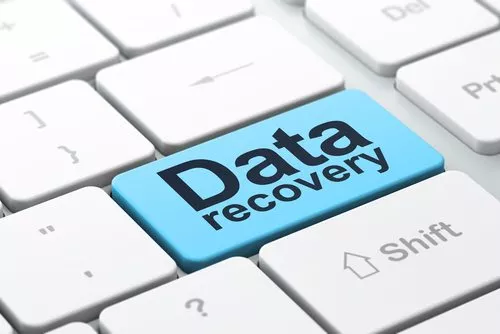 1. Gihosoft iPhone Data Recovery Review
Firstly, let's summarize Gihosoft iPhone Data Recovery. And then, we will show you some customers' Gihosoft reviews from Reddit Gihosoft iPhone Data Recovery.
Well, Gihosoft iPhone Data Recovery is an acceptable option for recovering data from your iPhone or any other iOS device like iPad and iPod Touch models. We have all experienced the it-that feeling of sickness when you realize that your photos and data seem to be stolen. While you may back it up to the cloud, there are still on your device.
The application stands out from the competition because of its ability to support many file types. It can directly retrieve your data from the device or iTunes/iCloud backup. The tool can work with data deletion or destruction in different circumstances, including accidental removal, missing data within iOS updates, jailbreak, damaged device, or loss.
Here are the pros and cons of Gihosoft iPhone Data Recovery:
Pros
There are 16 types of documents it can recover, including contacts, messages, etc.
Restoring the lost data straight from iTunes and iCloud backups.
The latest iOS 13, iPhone 11, and earlier versions are supported.
Both the scanning and recovery processes are completely secure. You do not need to fear any unauthorized operations on your device.
Cons
It cannot be supported on all iPhone models.
A somewhat higher price.
Not all data recovery is supported in the trial version.
Here are the Gihosoft reviews from customers:


As you can see, although Gihosoft iPhone Data Recovery can recover some of the data, it cannot suit the newest iOS models and work slowly. As we mentioned before, we have another two apps to recommend from iMyFone that can help you with the latest model easily and quickly in 3 steps to recover data even if you are a beginner of the app. So keep reading!
1.1 Is Gihosoft iPhone Data Recovery Safe/Legit
Many people search for Is Gihosoft safe/legit ? on the internet.According to the Gihosoft website description and the customers' Gihosoft review, it is safe and secure. It would never perform any unauthorized operations on your iOS device. You can trust it to recover iPhone data. That means Gihosoft iPhone Data Recovery is safe and legit to use.
To date, there have been few and no complaints received concerning the data disclosure or theft, and Gihosoft review shows customers have been commending it for doing as it should do -restoring their lost figures.
1.2 Gihosoft iPhone Data Recovery Free Download
Finding ways for Gihosoft iPhone Data Recovery free download? Yes, you can download the latest Gihosoft iPhone Data Recovery from their official website. After you click on the "Download" icon on that page, the program will be ready for download directly from the main website of the owner.
The free version only supports a few data, and if you want to recover more like WhatsApp/Viber chat history, you have to pay for the pro one at a high price of $59.95. But you still have the other choice, to try the app from iMyFone with a lower price and higher recovery rate.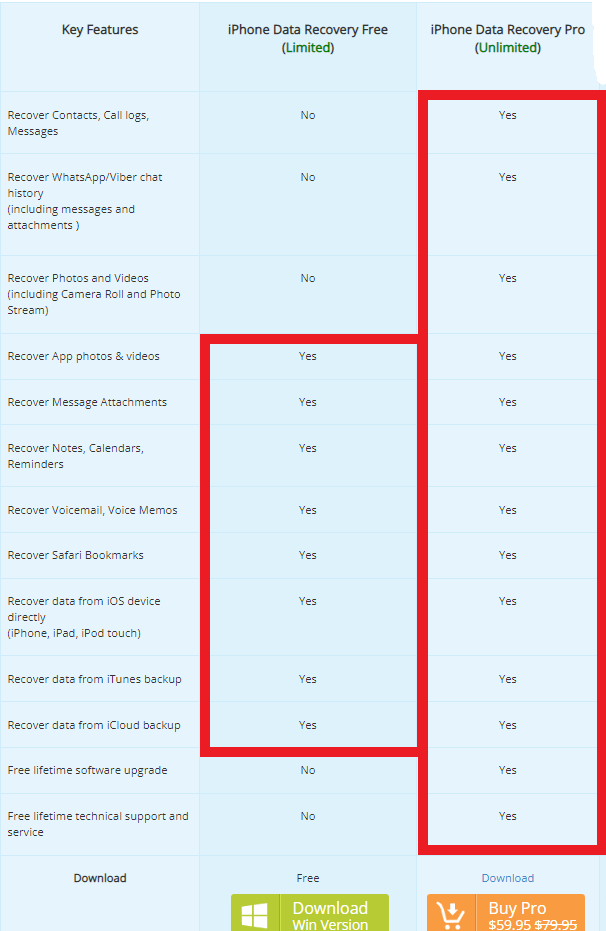 Note
Remember always to download whatever app you want from its official website.
2. Better Alternatives for Gihosoft iPhone Data Recovery - iMyFone D-Back and iMyFone D-Back
This part will show you two efficient apps that focus on recovering iPhone and WhatsApp data.
iMyFone D-Back
iMyFone D-Back iPhone data recovery is a powerful program that helps you restore all your lost data from your iPhone, iPad, and iPod touch for almost all generations effortlessly and requires no technical skills in particular. Optionally recovery erased photographs, WhatsApp, text messages, and over 18 additional data types. Suitable with the newest Apple devices and iOS versions ( iOS 15 supported), this is a perfect way to retrieve your lost data whether you have a backup or not.

Numerous leading digital media sites and successful social media influencers also download and consume iMyFone D-Back. iMyFone D-Back has been picked up by Cult of Mac, Payetteforward, Makeuseof, and other leading media sites.

As it just shows, the lost data can be retrieved by D-Back in 3 ways: iOS devices, iTunes backup, or iCloud backup. Let's take recovery from iOS devices as an example. To learn more about the method, you can visit the iMyFone guide page. What you need to do is just in three steps as the following:
Step 1. Download the program, choose Recover from the iOS device, and connect the device to the PC.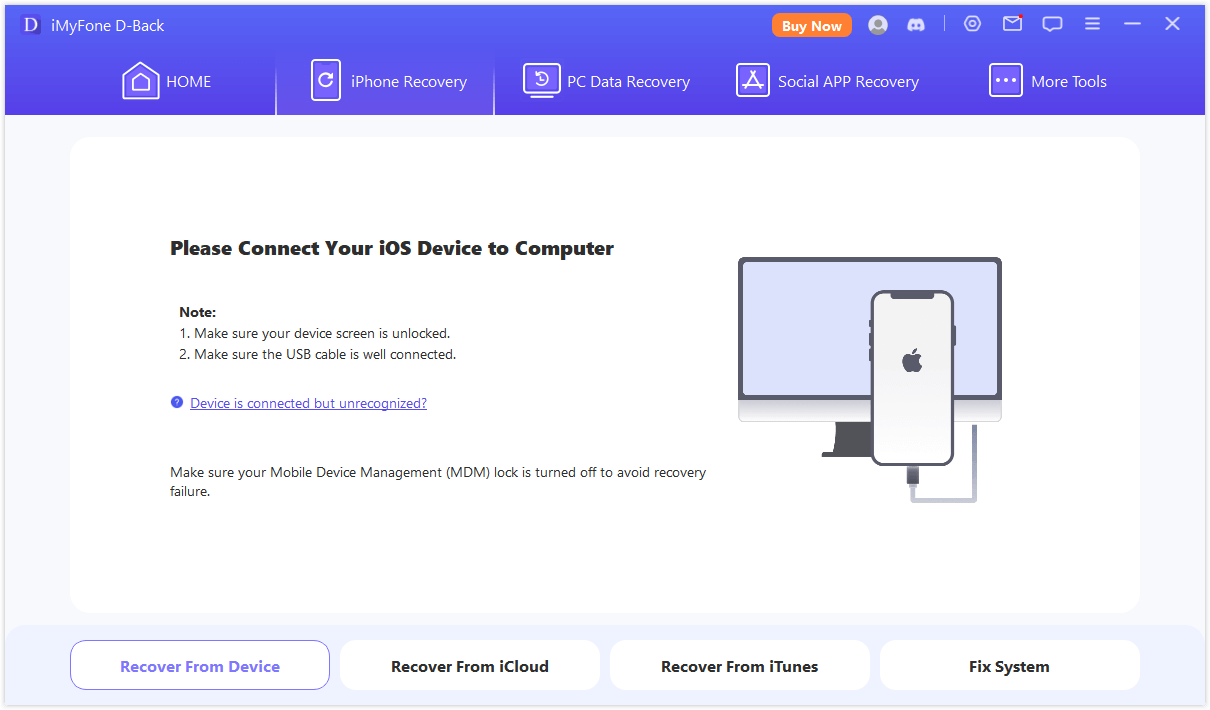 Step 2. Select the file type you want to Scan.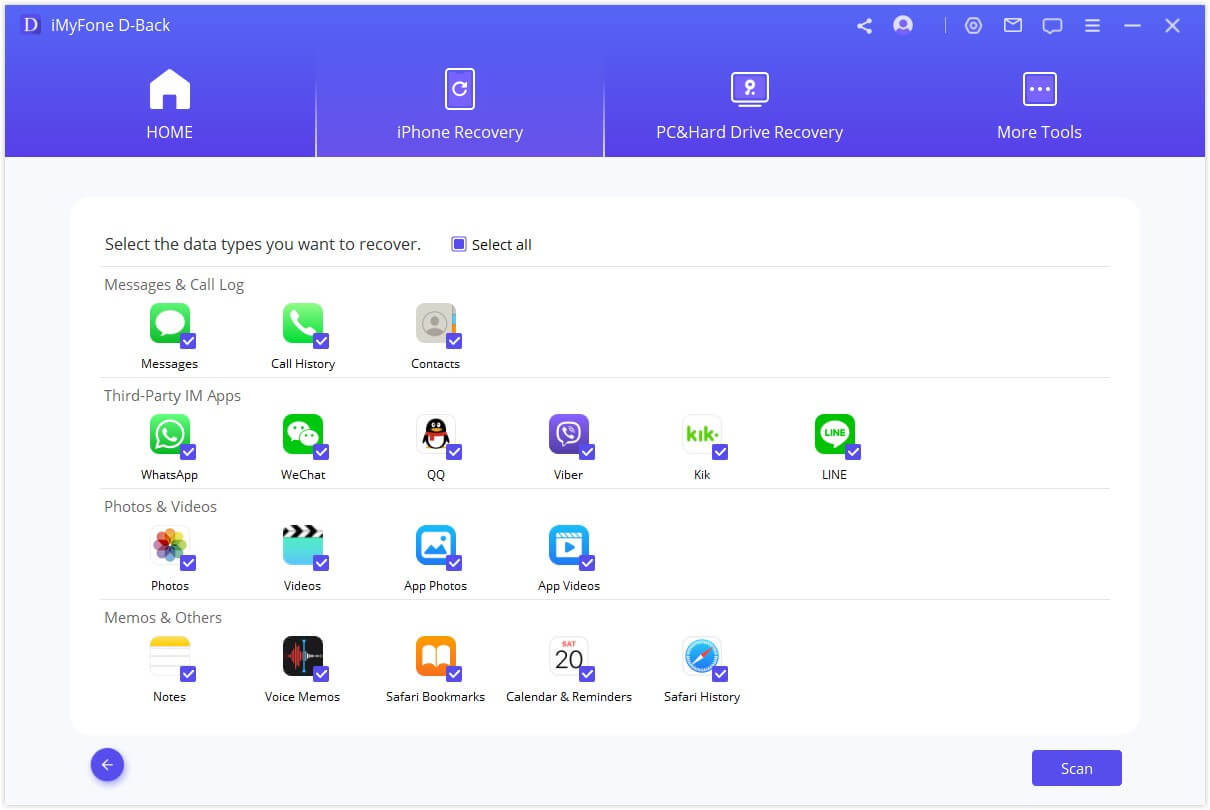 Step 3. Free to preview and pick the data you need. And click Recover.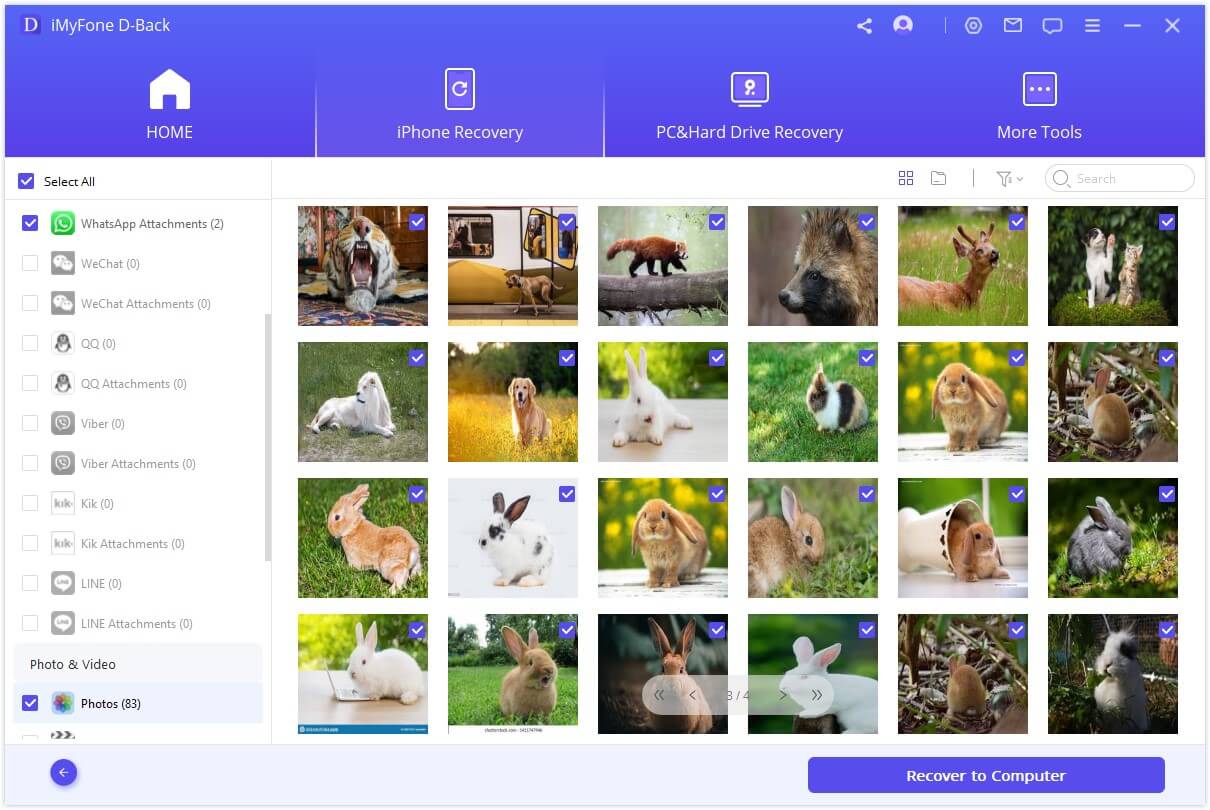 A window pop-up will be presented, which lets you select where the recovered documents are to be stored, and it will only take a moment to complete the restoration.
What's more, it had received lots of good reviews from customers also. Here is one of the most fantastic pieces of feedback from it.
iMyFone D-Back
iMyFone D-Back data recovery is another fantastic recovery app from iMyFone.
Key Features of iMyFone D-Back:
Get back any lost/deleted WhatsApp messages and attachments directly from your iOS/Android device, Google Drive backup, or iTunes backup.
Get a preview of the restorable WhatsApp before performing an eventual recovery.
Acquired removed WhatsApp & WhatsApp Business data to iPhone/Android device.
The WhatsApp data recovery to PC as the HTML/PDF/Excel/CSV files.
Fully compatible with the newest iPhone and iOS devices.
Try it free and get the deleted WhatsApp data you need as soon as possible↓.
Don't worry about the recovery rate. Using the app from iMyFone, you can always recover the losing data you need quickly and simply in a few steps.
Here are a few steps to recover WhatsApp data from device storage:
Step 1. To download, set up, and launch iMyFone D-Back from your PC on your desktop. Tap the "Start" button. Be sure your device correctly connects to the program.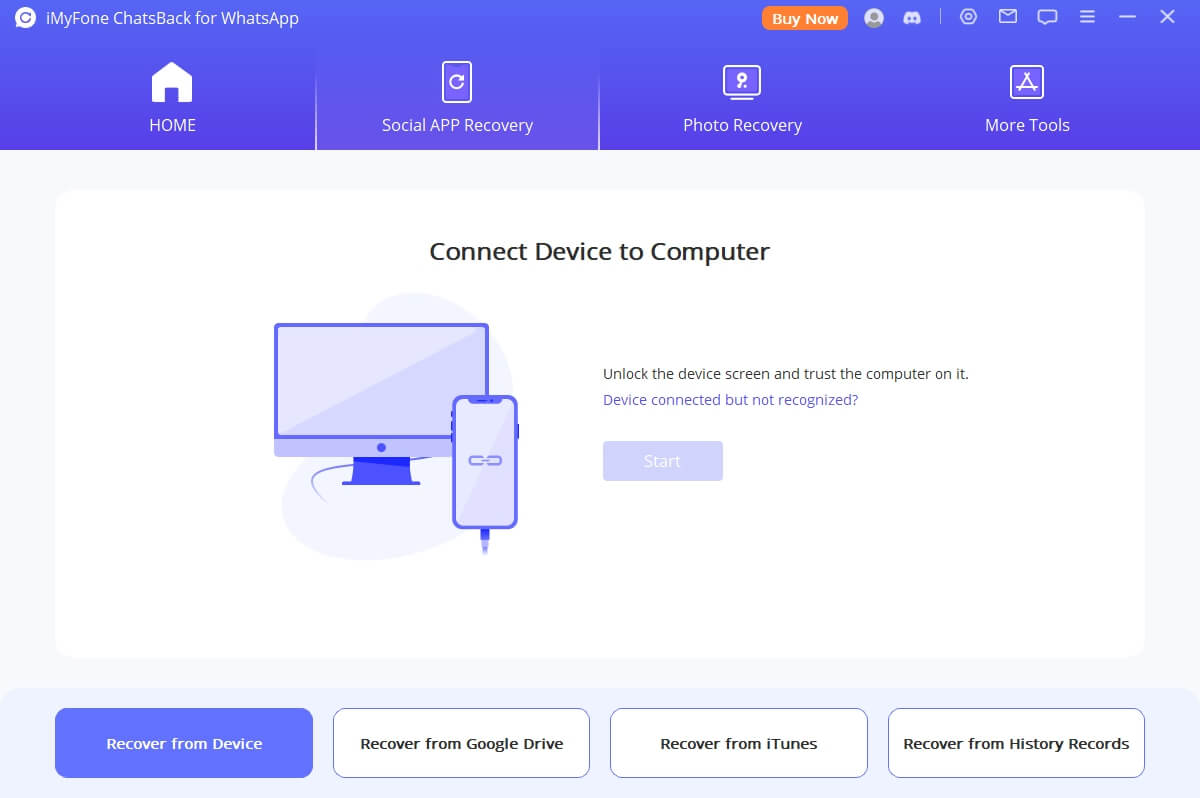 Step 2. Choose the WhatsApp you want from the screen and click OK to begin scanning.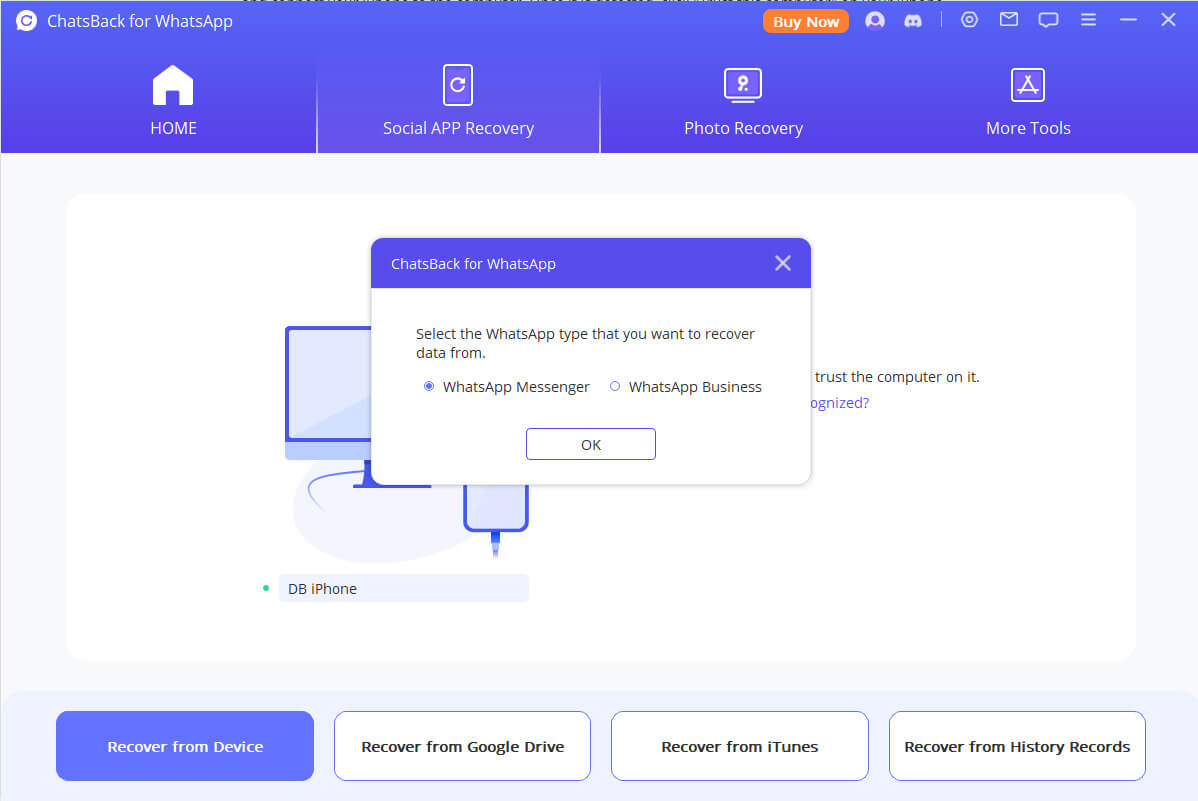 Step 3. When scanned, iMyFone will summarize the lost WhatsApp contacts in a few labels. You have the choice to decide where the data you want to store.Both the device and PC are workable.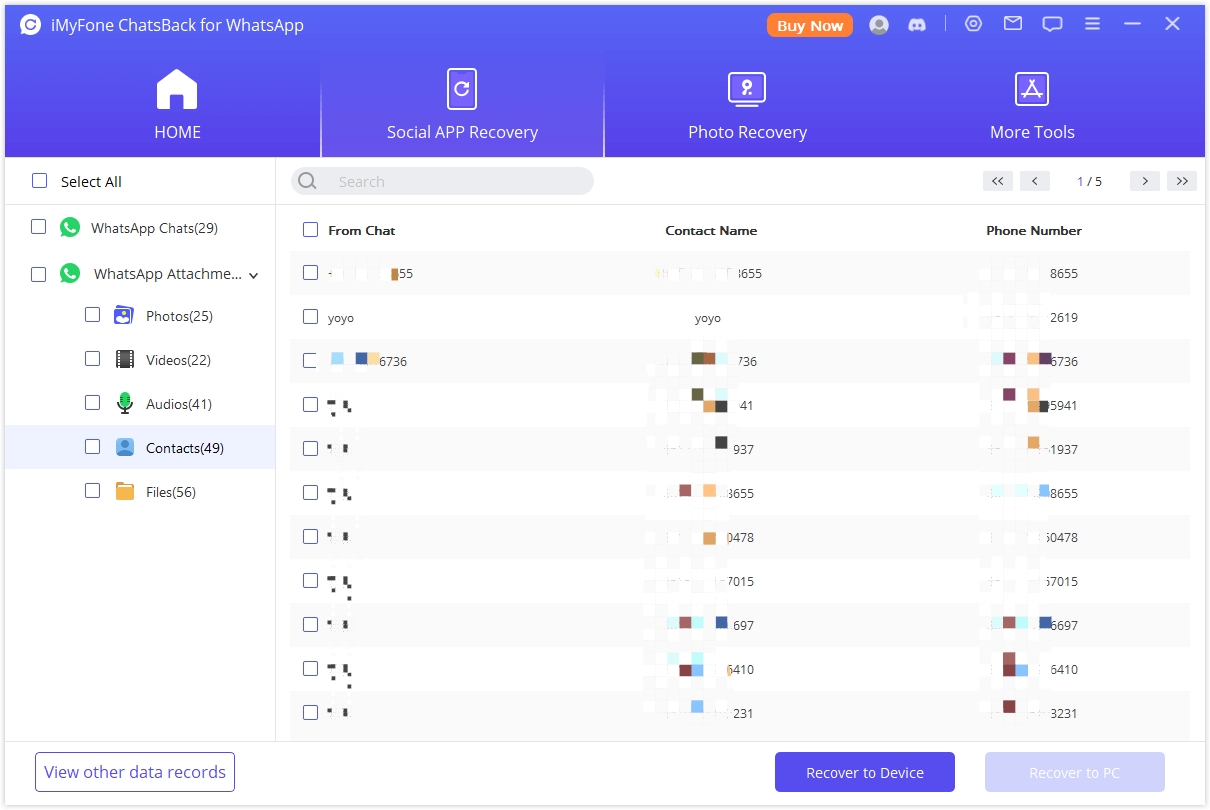 3. Gihosoft Registration Code
Are you looking for a free registration code/serial key for Gihosoft Android Data Recovery? You are in the right place!
3.1 Free Registration Code for Gihosoft Android Data Recovery
At first, you should download and install the Gihosoft Android Data Recovery app from its official website. After that, you can refer to the free Gihosoft registration code/serial key below:
Gihosoft Android Recovery(Win) terry@gihosoft.com 8631F-6C16B-RBOHU-QEIXE
Gihosoft Android Recovery(Win) tom@gmail.com 3179D-F6BB1-CQIUW-JAUSA
Gihosoft Android Recovery(Win) nicole@gihosoft.com A60DB-6E167-DHFXR-JBERB
Gihosoft Android Recovery(Win) iris@gihosoft.com 9D2FB-E0E64-RGHGG-RHJWH
Gihosoft Android Recovery(Win) merry@gmail.com 8BB5B-A57B0-MTYQO-YVINV
You can try one of them for Gihosoft Android Data Recovery.
But if you find it unworkable and indirectly, we strongly recommend you to download iMyFone D-Back for Android to get back your deleted Android data directly within only 3 steps in a 100% safe way.
Conclusion
This article had concluded Gihosoft reviews and had mentioned the Gihosoft registration code/serial key. And also provide two dedicated data recovery apps from iMyFone, including iOS data recovery and WhatsApp data recovery. I hope it can help you. Thanks for reading this article! And always feel free to share the report with your friends who struggle with some data recovery problems or comment with us.