Over time, WhatsApp users discover they have lost their chats or want to recover deleted WhatsApp messages. That is why WhatsApp recovery apps are so important to them. Recovery apps serve as the haven for those users who need to recover their media like audio, video, image, etc.
It is common to remove a chat app like WhatsApp or its media from your device. In another instance, you can even change your device without previously backing up the data on it.
In these instances, and a lot more, chat recovery apps like iMyFone ChatsBackhelps you to recover your lost WhatsApp chats. Now, many users are asking, is iMyFone ChatsBack safe? Does iMyFone ChatsBack work? These and more questions concerning iMyFone ChatsBack will be answered by me in this review.
Congratulations! You win a 10% off coupon for your ChatsBack purchase. Here is the coupon code:
10% off Coupon Code: 90register
iMyFone ChatsBack Overall Benefits
You should download iMyFone ChatsBack because you can recover data from your WhatsApp data from iOS devices, Android devices, Google Drive or iTunes storage with only your account access. You can use it to recover WhatsApp messages/chats, photos, videos, contacts and so on.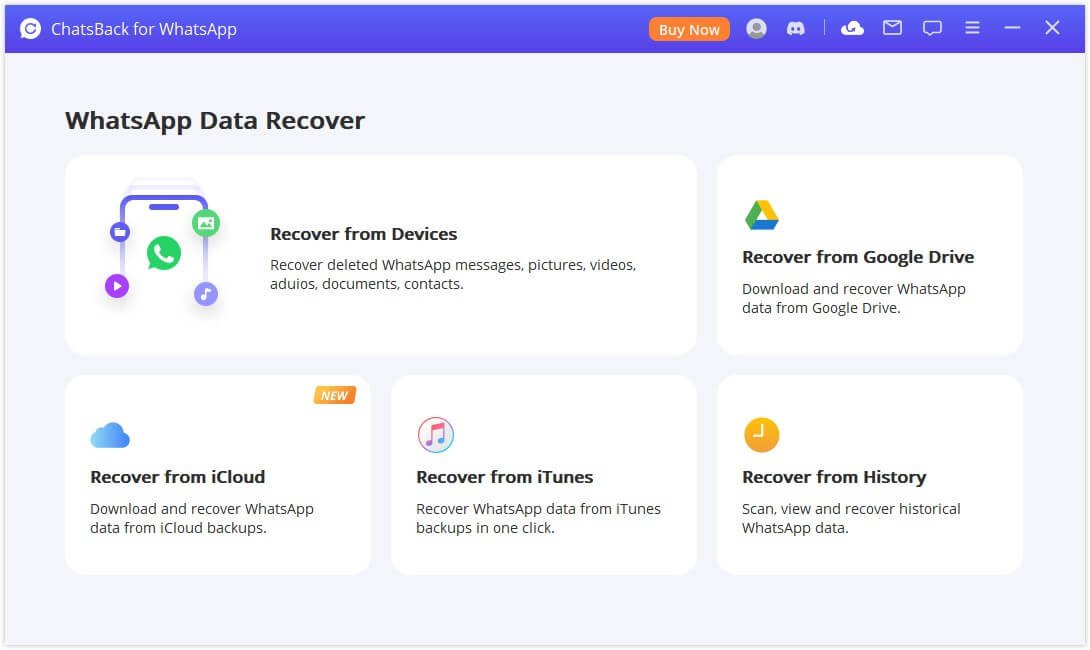 If you have suffered WhatsApp data loss, iMyFone ChatsBack will help you recover the data. Here are some of the data losses iMyFone ChatsBack has helped users with.
iPhone is lost.
WhatsApp data is missing.
Accidentally performed a factory reset, and everything is gone.
Data loss after iOS upgrade or downgrade.
iPhone is damaged.
Accidentally deleted data or folder.
iMyFone ChatsBack Review
In this section, you will begin to get answers to essential questions about iMyFone ChatsBack. The solutions provided are grouped into four, namely, features, security/safety, compatibility, and pricing.

Main Features
The main features of iMyFone ChatsBack are the tools accessible to users to recover their data. These features are also guarantees of what you can expect after recovering your WhatsApp data. All its features are listed below.
It is a desktop app, not a mobile app.
It has securely recovered 100% of all the deleted WhatsApp messages and attachments.
It has multiple recovery modes (four).
It has the highest success rate of retrieving data.
It has 24/7 customer support.
It allows users to preview WhatsApp conversations before performing the final recovery.
It supports exporting and restoring WhatsApp conversations to devices and computers.
You can try it for free to confirm if it will be of value to you before buying it.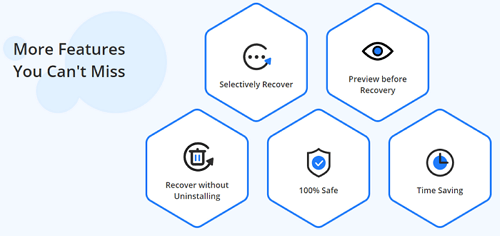 Security
The next review answers the question, is iMyFone ChatsBack safe? Yes, iMyFone ChatsBack is safe for the recovery of WhatsApp deleted messages. Being a third-party application, users are careful of the application installed on their computer.
And before they give the application access to their mobile device(s), they have to be sure it is safe. But iMyFone ChatsBack does not have any malware, virus, or plugins that can put your computer or mobile device(s) at risk. However, ensure you download it from our official website.
Regarding the security of the personal data on your computer or mobile device(s), iMyFone ChatsBack will not jailbreak into your data. You can also lookup its privacy policy to confirm other data safety information.
Compatibility
Another question this review answers is, does iMyFone ChatsBack work for my computer or mobile devices? I cannot give a straight answer to this question. But to answer you, we shall consider the compatibility requirements for computers and mobile devices.
iMyFone ChatsBack works for Windows 11/10/8/7. If you are using a Mac, iMyFone ChatsBack compatibility is only available for Mac OS X 10.9 (Mavericks) - Mac OS X 11.0 (Big Sur).
For mobile device compatibility, if you are using iOS 9 to 15, iPod touch 1 to 7, iPhone 4 to 13 series, iPad Pro, iPad Air series, iPad mini-series, or iPad, iMyFone ChatsBack works for your device. Andriod phone users can also use it if the Android OS is between 2.0 to 10.0.
Price
There are have been questions from users that is iMyFone ChatsBack free? And if it is not free, what is the iMyFone ChatsBack price? No, iMyFone ChatsBack is not free.
You can download it and try the free functions. However, the features of the free application are limited. Before you can use the full features of iMyFone ChatsBack, you have to pay for the full version.
iMyFone ChatsBack prices for the Individuals is $29.95 per month, $49.95 per year, and $69.95 for a lifetime. This price gives you access to the registration code, which you can use to access the full version. You can also get a Business Plan or contact us to request a Custom Plan at the purchase page.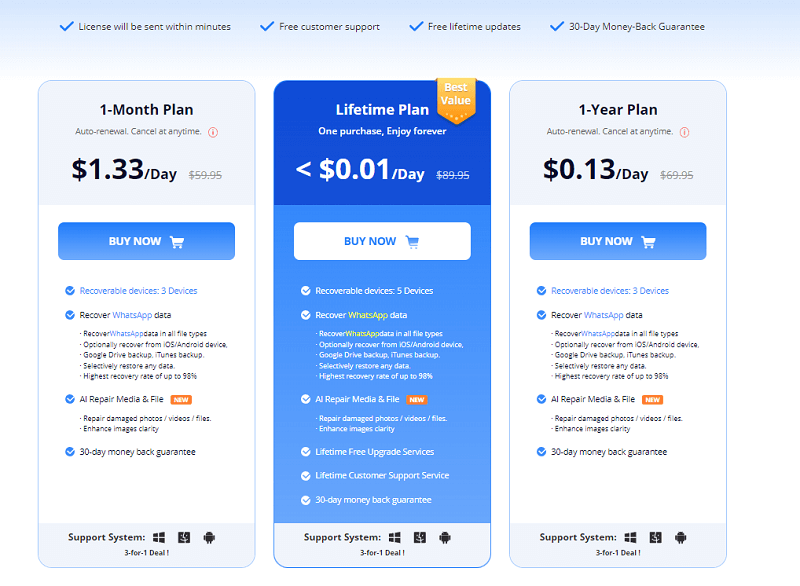 Does iMyFone ChatsBack Work?
Yes, it works. iMyFone ChatsBack has helped many users get back their lost WhatsApp Chats. You may view the feedback from them. You can use iMyFone ChatsBack by just following three steps of Install, Scan, and Recover. These three steps have been further simplified for you below.
Step 1. Download the software and install it. Launch the program on your computer.
Step 2. Connect your device to the computer with a USB cable and select the recovery mode you want to use to scan the WhatsApp data of your device.
* For Android: Enter your phone number and SMS message to verify your phone number. Then click Start to scan your device.
* For iPhone: Choose WhatsApp Messager / WhatsApp Business and click Start to scan your device.
Step 3. Select the lost/deleted WhatsApp data that you wish to recover after scanning. Click Recover to Device or Recover to PC to recover it to the computer or restore to your device.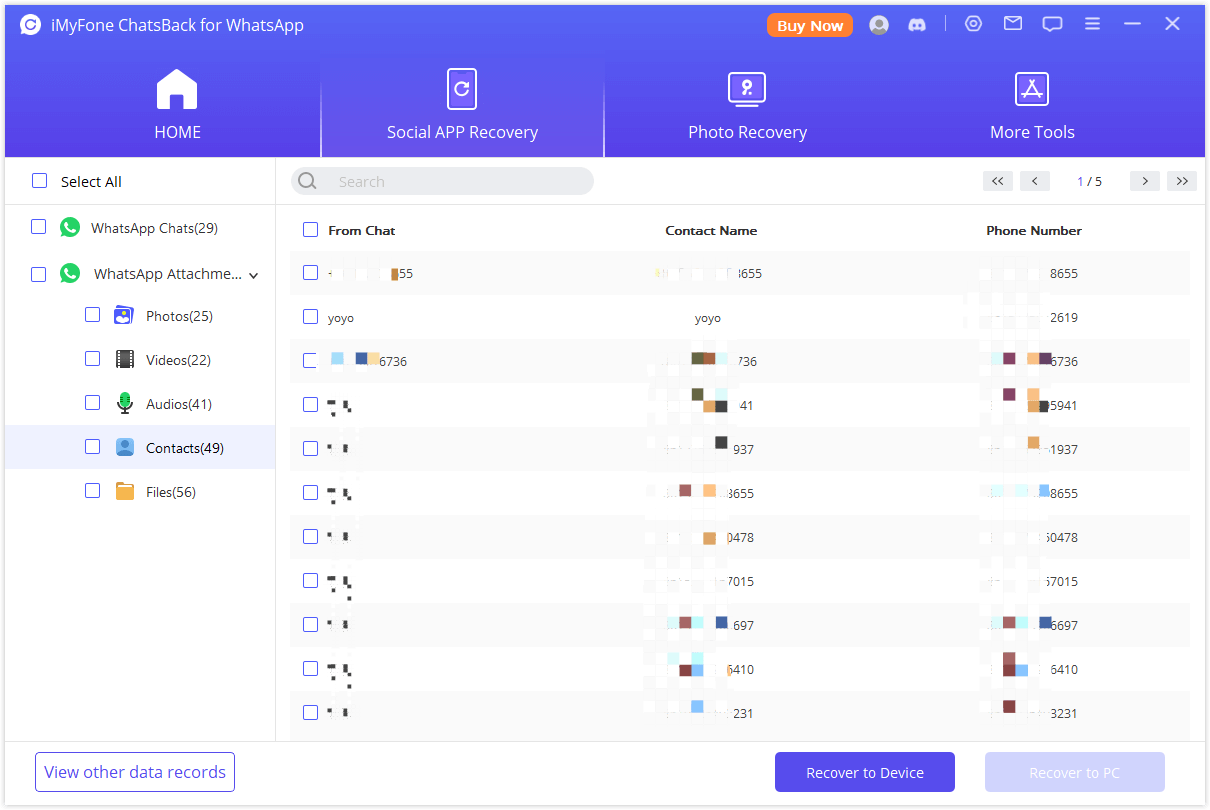 FAQs about iMyFone ChatsBack
Here we list 2 hottest question related to iMyFone ChatsBack, you may have a check.
Q1. Is iMyFone ChatsBack Legit?
iMyFone ChatsBack is very legit. It ranks top three among WhatsApp deleted messages recovery apps. Many users have successfully used iMyFone ChatsBack to recover their WhatsApp data. And they have had left nice reviews on their website with acknowledgment from popular tech social media influencers and websites like Payette Forward, Cult of Mac, PC World, etc.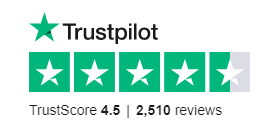 Q2. Where Can I Get a Free Serial Key for iMyFone ChatsBack?
Some users complain of iMyFone ChatsBack price. Therefore, they want to bypass paying the price by getting a free serial key. Some access iMyFone ChatsBack alterations that remove the serial number and do not require a registration code.
Professionals do not advise this method because it is illegal. But, if you do not want to pay the total price for the full version and do not want to use the illicit iMyFone ChatsBack crack option, here is a discount for you: Window, Mac.
Conclusion
If you have lost any data, you can use the iMyFone ChatsBack trial mode to see if you can recover it. If it can, this review gives you a detailed insight into the features of iMyFone ChatsBack, its security, and user data or gadget safety.
You would have also found details concerning its privacy, compatibility, and pricing. Also, this review has shown how productive iMyFone ChatsBack is and how to use the software tool to recover your data.