WhatsApp is one of the best and most widely-used messaging apps in the business. It is ideal for those who like to keep in touch with friends, and the fact that you can send and receive media attachments with the messages makes the app even better.
That doesn't, however, mean that the app doesn't have a few problems. This article is going to be addressing 6 of the most common WhatsApp Voice Message problems like voice note not working on your iPhone and how you can avoid or fix them if they happen to you.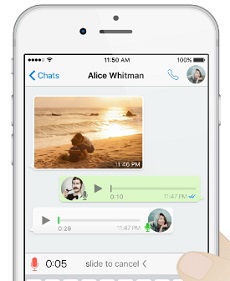 Probelm 1. Voice Messages Stop Recording After 9 Seconds
Many WhatsApp users may encounter the problem that iPhone only sending 9 seconds voice message in App or WhatsApp is uable to record your voice message. This is one of the most common problems that WhatsApp users experience. It can be caused when something interferes with the multi-touch functionality on your screen. And such interferences can be caused by a screen protector. If you put a finger on the microphone icon, the screen of your iPhone loses the touch connectivity after ten seconds due to the screen protector.
To solve this issue:
Fix 1: You can place your finger on the microphone icon but try to move it around a bit at the same time so the touch connectivity still works.
Fix 2: Or try to remove screen protector and then try again.
Probelm 2. Unable to Listen to WhatsApp Voice Messages via Bluetooth Earpiece
Have you ever experience that when connecting the Bluetooth headset, but you can't listen to the Whatsapp voice message? Shut down the Whatsapp, still unable to resolve the problem. If you are having trouble listening to the Voice messages via Bluetooth earpiece, Try disconnecting the re-pair the Bluetooth to see if it helps.
Step 1: Go to Settings > Bluetooth and then unpair the devices.
Step 2: Go to Settings > Bluetooth again and then wait for the Bluetooth earpiece to appear on the iPhone screen. Tap on it to pair.
Probelm 3. WhatsApp Voice Message Is Breaking Up When Connected the Bluetooth Speakers
This is a problem that most people experience after upgrading their devices to iOS 14/13/12/11.3.
Method 1: While there is no official solution to it yet, you can try to update or reinstall the WhatsApp app and see if that helps.
Method 2: Or you can contact the customer support team of WhatsApp via Email (support@whatsapp.com) to see if they can sort this out.
Probelm 4. WhatsApp Voice Message Volume is Low on iPhone 7
When you are in a public place where the speaker volume seems too low, so you move your phone towards your ear, it starts playing audio through the earpiece, then this might happen . This is another problem that happens mostly for iPhone 7 users. In reply to an Email from WhatsApp, they said that the problem is with the iOS system and not the app itself. If you are having this problem, try rebooting your iPhone.
Fix 1: You can do this by turning it off, wait 30 seconds and then turn it back on.
Fix 2: If that doesn't work, you may need to update iPhone to latest iOS, i.e. iOS 14/13/12, or contact Apple for further assistance.
Probelm 5. WhatsApp Keeps Crashing and Deleting Messages Automatically
This is a problem that some people have faced when using the WhatsApp app particularly for the group chat function. If this happens to you, the best course of action is to delete the WhatsApp app and then re-install it from the App Store. Just be sure to back up your existing messages and attachments before doing this.
Bonus Tip. How to Export WhatsApp Voice Messages on iPhone (iOS 16 Supported)
It can be quite problematic to try and export the voice messages in your WhatsApp chats. You could try sharing them via email but that would take a long time if you have too many of them.
If this is a problem you are currently facing, we recommend you use a third-party tool that will be able to get into your messages and attachments and extract the voice messages for you. The best tool to use is iMyFone D-Back. It is easy to use and allows you to access and preview the WhatsApp voice messages from your iPhone to easily choose the ones you want to export.
Retrieve deleted/lost voice message on WhatsApp selectively or completely.
Export your WhatsApp voice messages with simple steps, ultra fast and convenient, no tech knowledge required.
Also supports to recover other types of deleted/lost WhatsApp data like messages, photos, videos, contacts and files on iPhone.
Compatible with the latest iOS system and iPhone model, including the latest iOS 15 and iPhone 13.
Steps to recover WhatsApp voice message using iMyFone D-Back
Step 1: Install iMyFone D-Back and launch it afterward. Now, select 'Device Storage' mode from the home page.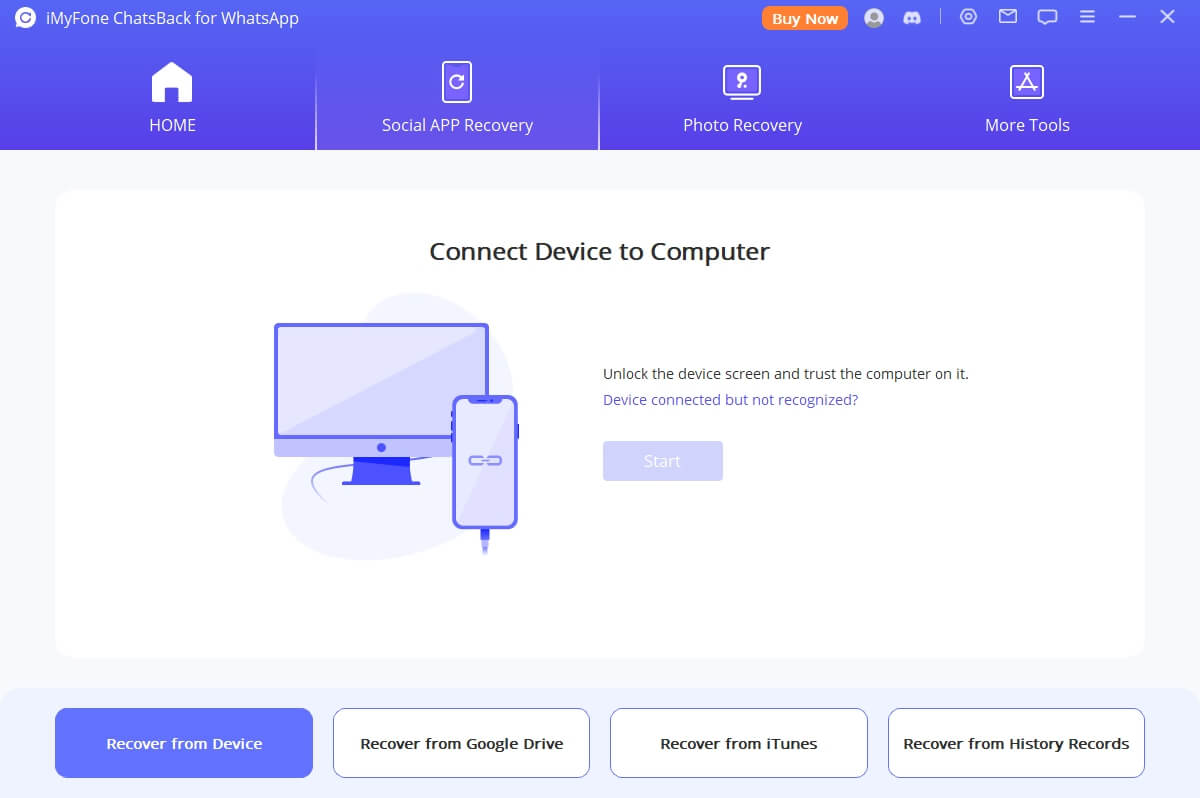 Step 2: Now, connect your iPhone to your PC with a lightning cable. Choose WhatsApp Messager and hit the 'Start' button to initiate the process.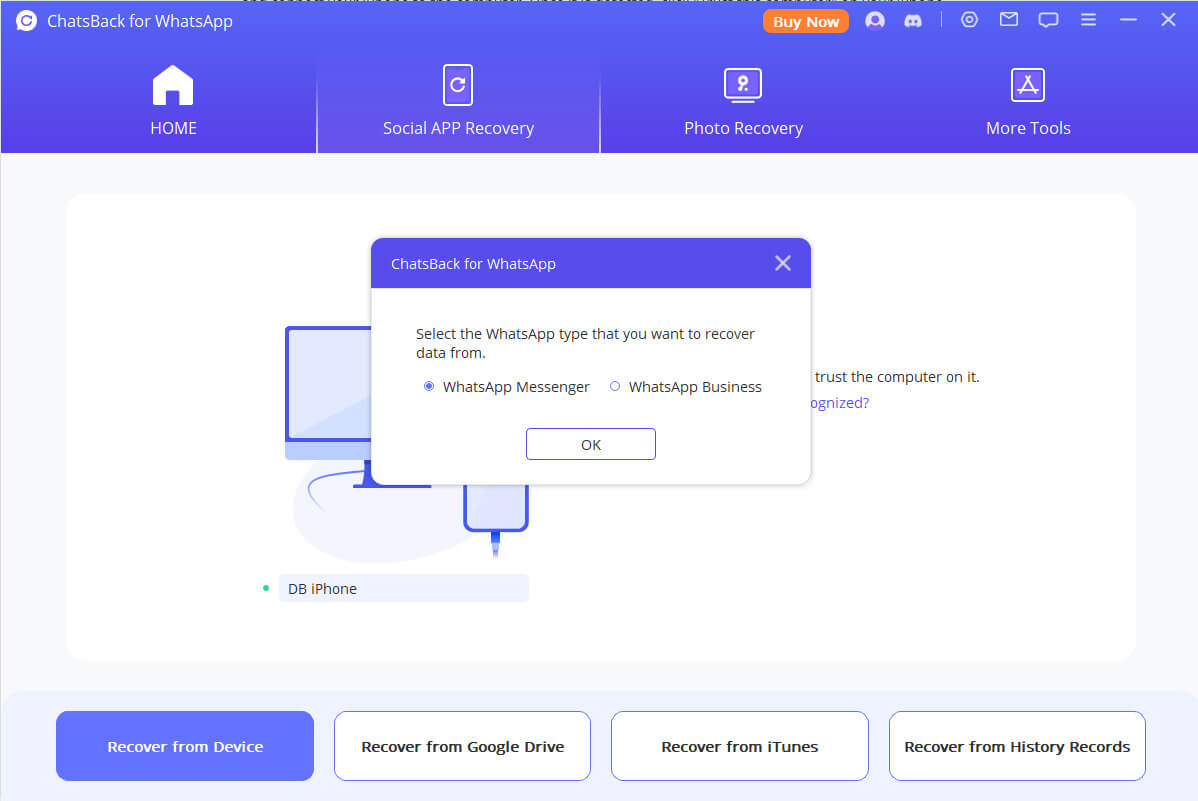 Step 3: The voice message will be feasible to see after analyzing. You can select the voice messages you want to see from there. When you click on Recover to Device or Recover to PC, those messages will be restored.