WhatsApp is surely among the most popular messaging platforms used today. Presently, WhatsApp has more than 1.5 billion MAU (Monthly Active Users) and that gives a clear indication of the popularity of this app. In general, installing WhatsApp and using it is a very simple process thanks to its user-friendliness. However, even WhatsApp can cause some problems occasionally due to several reasons. WhatsApp download problem is one of those that can occur in iOS devices.
If you have faced WhatsApp download problem and been looking for a reliable way to fix it, look no further. In this article, we will explain a surefire solution to fix this WhatsApp issue and get in touch with your loved ones smoothly.
Part 1: WhatsApp Download Problems on iPhone
As we mentioned above, WhatsApp download problem can occur in iPhone too. In this section of the article, we intend to explain how to fix the same on an iPhone.
WhatsApp Application Download Problem on iPhone & How to Fix It
Here is how to fix WhatsApp download problem on iPhone.
Check Your iPhone Storage
If your iPhone doesn't have enough space to download WhatsApp, you cannot install it. Here's how to check if you have enough space in your iPhone storage.
Go to "Settings" app -> Tap on "General" -> Select "iPhone Storage".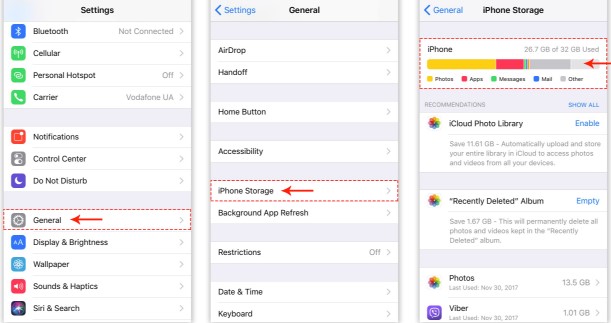 Check iPhone Restrictions
You can check the restrictions within settings. Go to Settings -> Enter "General" -> Choose "Restrictions" -> Tick WhatsApp.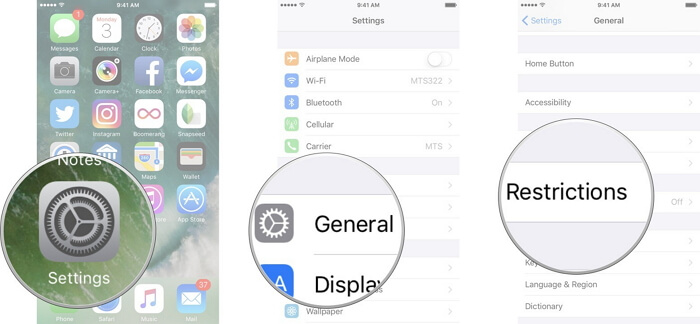 Update WhatsApp to Latest Version
If your iPhone is a newer version (iPhone X), you should activate Face ID feature and download WhatsApp's latest version. You can activate Face ID using the side button of new iPhone X. The download will start immediately after this process and get WhatsApp updated on the device.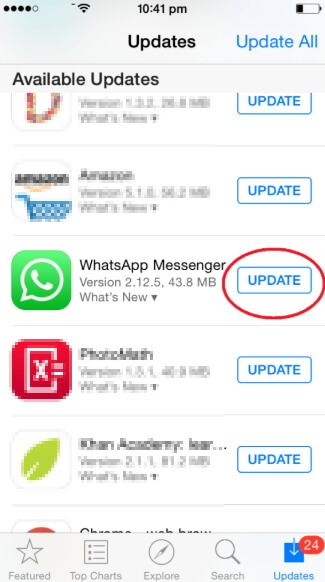 WhatsApp Photos and Videos Download Problem on iPhone & How to Fix It
Another issue associated with WhatsApp is that sometimes it doesn't let you download the videos and images. If you have faced such issue, here's how to fix it.
Backup and Restart WhatsApp
First, launch WhatsApp app on your iOS device and go to "Settings" menu.
Then, go to Chats and select Chat Backup option.
You will then find a tab labelled "Include videos" under the option "Chat Backups" - turn it on
Click on the option labelled "Back Up Now".
Then force close the app and double click the home button. 
Swipe left or right to go through the list of recently used apps on this screen and locate WhatsApp. 
Swipe WhatsApp upwards and close the app. 
Open WhatsApp once again and try downloading the video.
Check Internet Connection
If you don't have a working internet connection, you will obviously see a WhatsApp download problem. So, here's how to check if the internet connection is working on your iPhone.
Go to the Settings app and select Wi-Fi.
Check if Wi-Fi option is turned on. 
Tap on Wi-Fi network's name you wish to join.
Provide the password of the respective WhatsApp network to use it.
Part 2: Using Software to Fix WhatsApp Data Download Problem on iPhone
If you continue to experience a problem  of downloading WhatsApp data, you'd better look for a professional alternative. In this case, we highly recommend a software like iMyFone D-Back. In this section of the article, we intend to explain how to use iMyFone D-Back and get your valuable WhatsApp data downloaded easily.
What is iMyFone D-Back?
In simplest terms, iMyFone D-Back is a powerful program that can recover lost or deleted data from iOS devices like iPhone, iPad and iPod touch. You can use this tool to download data from your WhatsApp very conveniently.
Here are some of the most notable features of iMyFone D-Back:
iMyFone can recover data from iCloud backups and iTunes backup effortlessly. 
It can recover data associated with Viber, Line, WeChat etc. in addition to WhatsApp.
This software can recover data like images, contacts, notes, messages, call log etc.
This software is compatible with all the iOS devices and iOS versions (including iPhone XS/XS Max/XR and iOS version 12).
Highly user-friendly software that can be used even by a novice computer user.
It doesn't share your data with third parties.
Scan and preview data before recovering.
Selectively recovers files you need. 
How to Download WhatsApp Data from iPhone
Now, here's the step-by-step guide on how to download WhatsApp data from your iPhone using iMyFone D-Back. As the first step, you should download iMyFone D-Back on your computer, install it and launch it.
Once the software is launched, you should select the option labeled "Recover from iOS Device". Then, click on "Start".

Then connect the device to the same computer and wait until the program recognizes it. Then, click on the option labeled "Next".

You should be able to see all the types of data you can recover from your iOS device. After selecting the files, you will have to click on the option "Scan". Then, the program will scan for those files.

You should wait for the scan to be finished and see all the recoverable data. You can see that the data is clearly listed for you to select easily. After selecting the files, you can click on the option labeled "Recover". You will now see a pop-up window. On this window, you will be able to define the location you intend to save the recovered files.
How to Download WhatsApp Data from iTunes Backup
Go to "Recover from iTunes Backup" tab and select "Start". Select the exact iTunes backup you intend to recover. Then, click on "Next". If prompted, you will have to enter the password of your iTunes encryption.
Click on "Scan" button and wait for a moment. Once the search results appear, you can select "Only show the deleted files" or select all the files and click on "Recover".
Select a destination to save your files and wait until iMyFone D-Back does the rest.
How to Download WhatsApp Data from iCloud Backup
Select "Recover from iCloud Backup" tab and go to "Start" option. Be sure to provide the credentials of your iCloud account.
Now, iMyFone D-Back will locate all the iCloud backups and display them. You should then select the iCloud backup you intend to recover and press "Next".
Select the type of the files you need to recover and hit "Scan". Within a couple of minutes, the software will download and scan the iCloud backup file.
Once the scan is finished, you will be able to define a location to store the recovered files. Then, click on "Recover" option.
Conclusion
We believe that information in this article can help you overcome WhatsApp download problem in your iPhone. We really appreciate if you can share what you have experienced with the methods we exposed. Your feedback on the methods we revealed are precious and useful for other readers.