iMyFone D-Back is one of the most popular iPhone data recovery tools in the market. No matter whether you have a backup for your iPhone or not, it can help you recover the deleted or lost data within three steps.
It offers a free trial version. However, users may want to have a detailed iMyFone D-Back review before downloading it. Therefore, we decided to take the time to address all of these concerns that our users have and let you know more about how iMyFone D-Back works or is iMyFone D-Back Safe/Legit?
Congratulations! You win a 10% off coupon for your iMyFone D-Back purchase. Here is the 10% coupon code link: https://www.imyfone.com/iphone-data-recovery/purchase/
What Is iMyFone D-Back?
iMyFone D-Back is a robust program that helps you recover lost data from your iPhone, iPad, and iPod touch of almost all generations easily, without needing any specific technical skills.
It supports more data types than any other data recovery tools in the market, including WhatsApp, Viber, WeChat, Kik, Photos, Contacts, Notes, Messages and many more.
It works on most Apple devices and iOS versions and it will recover your lost data whether you have a backup or not .

Is iMyFone D-Back Safe/Legit?
To answer the question directly, YES, iMyFone D-Back is completely safe and legit.
There are thousands of people who download iMyFone D-Back every day. As a data recovery tool, we know how important safety is to every user. As a company focuses on long-term development, we won't risk our reputation by offering dangerous software.
There is no virus, malware or any unexpected plug-ins coming with iMyFone D-Back, we promise. As long as you download the program from the official website, it is definitely safe and legit for you to use. The numerous positive user reviews we have received from very many users who have downloaded and used iMyFone D-Back prove not just its usefulness, but also its safety.
Many famous online media sites and popular social media influencers have also downloaded and used iMyFone D-Back. It has been recommended by famous media sites like Cult of Mac, Payetteforward, Makeuseof, and so on.

2.1 What If Antivirus Software Says that D-Back Is Dangerous?
There are few users who report that iMyFone D-Back is prevented by antivirus software. Normally this doesn't happen. Even if it happens, it doesn't mean the program is dangerous.
When an antivirus program detects a non-malicious file as malware, this is known as a false positive. For example, you might get a message from Norton (Symantec Corporation) or other antivirus program saying that iMyFone is dangerous. This is only because of the false-positive problem that antivirus programs like Norton cannot avoid.
This situation is quite normal although we have taken several measures to ensure that it doesn't happen. Each antivirus program has its own scanning engine and we try to submit D-Back to all of common antivirus software developers each time we have an update to ensure that it is added to the whitelist. We may not, however, be able to cover all antivirus programs and if they at any time update their scanning engines, we have to resubmit iMyFone D-Back to ensure we remain whitelisted. Here is a result of our False Positive submission to Norton in which virus or threats were not detected.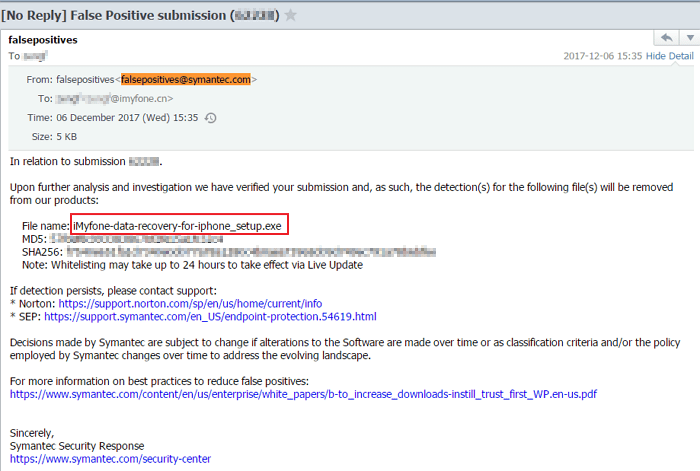 2.2 Will Your Personal Data Be Hacked or Stored Somewhere Else?
Since iMyFone D-Back is a tool that processes the data on your iOS devices, many people worry about the safety of their personal data. Our guarantee is that no personal data of any user will be hacked by iMyFone or stored on the iMyFone server after using D-Back. All your data is stored on your computer and never uploaded to any servers. You can check the cache files and recovered files by clicking on the gear icon on the top right corner of the program and you will see that all data is stored on your computer and not on our servers.
Our privacy policy is also very clear that we take your privacy very seriously and will not under any circumstances store, copy or share your data with anyone. You can read our full privacy policy.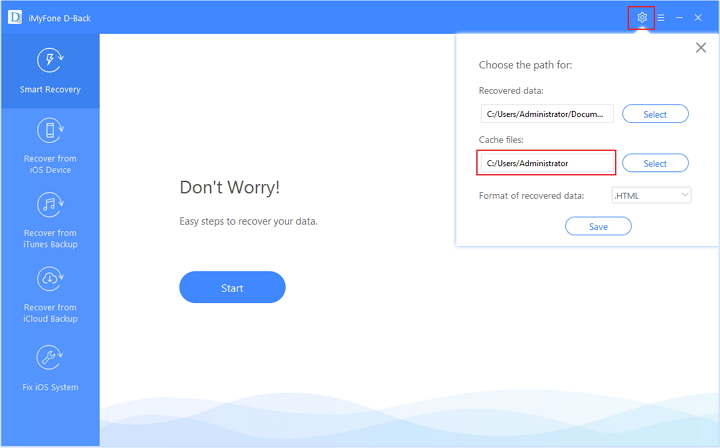 2.3 What If iMyFone D-Back Doesn't Work Normally or Crashes?
Like every other program installed on your computer, iMyFone D-Back can crash for several reasons. One of the most common reasons is that the antivirus software installed on your computer can falsely delete some of the files of the program which can cause D-Back to function abnormally or crash. If this happens, the best course of action is to disable the antivirus software on your computer and then re-install D-Back. You will be able to use the program without a problem.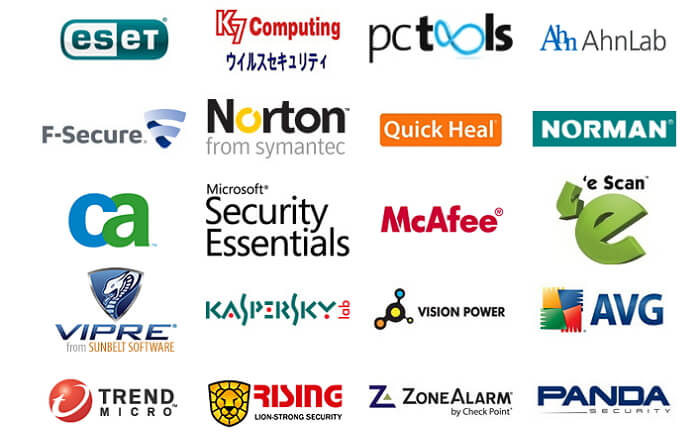 2.4 Will D-Back Slow Down Your Computer?
Your computer may slow down when D-Back is in use and when it is scanning a device. But this is rare. It only happens when the device you are scanning has a huge amount of data stored on it. It usually requires a computer with good performance to run the program especially when there is a large size of data on your device. If you notice this is happening, you need to close any other programs you have opened on your computer until the scanning process is completed. In addition, it will not slow down your computer if you are using the other 2 methods "Recover from iTunes Backup" and "Recover from iCloud Backup".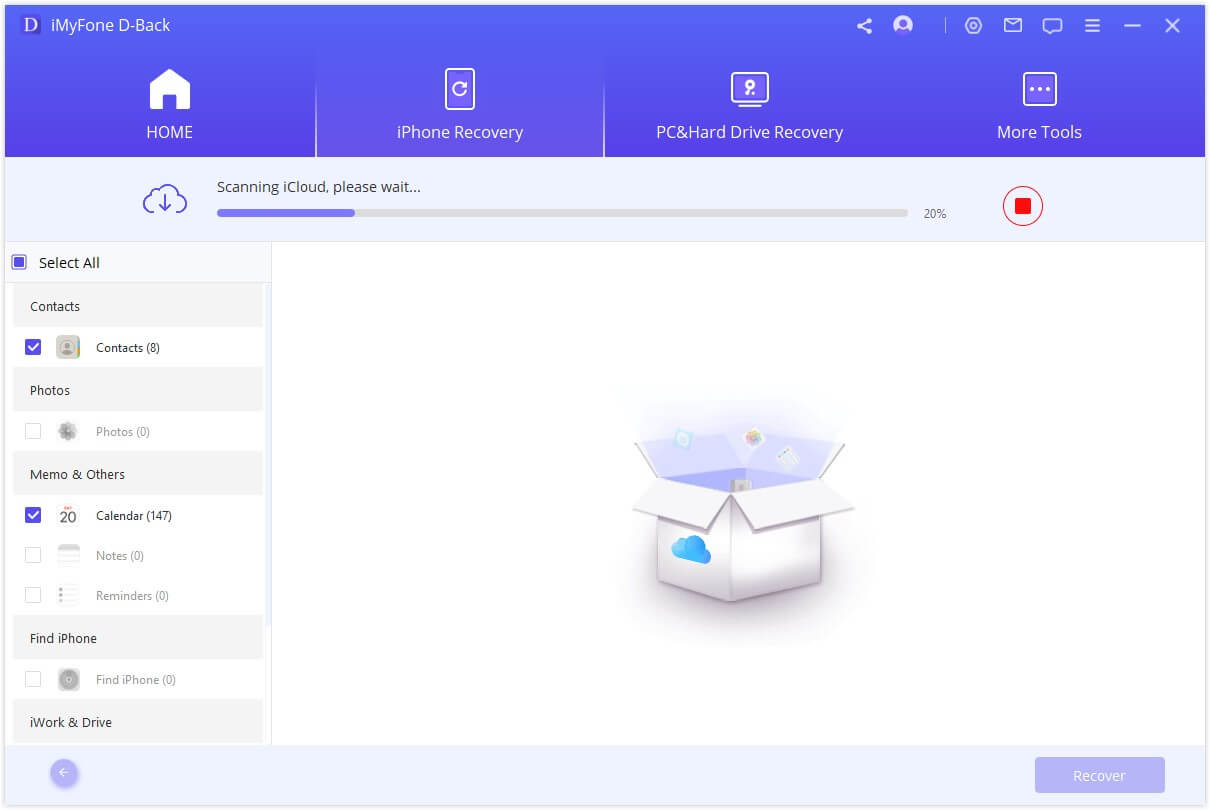 2.5 What If You Are Not Able to Uninstall iMyFone D-Back?
In very rare cases, some users have reported that they are unable to uninstall iMyFone D-Back when they need to. If you are having this problem, first begin by ensuring that all D-Back related windows have been closed. Otherwise, you will not be able to uninstall the program.
If at any time you are unable to uninstall D-Back from your computer, make sure that the program is completely closed by checking in the task manager (Windows) or Activity Monitor (Mac) before attempting to uninstall. If you find that there are some files still open, quit them first.
It is also likely that D-Back's uninstaller has been deleted mistakenly by antivirus software. So, if you are still having problems, disable the antivirus software and reinstall D-Back over the current version before attempting to uninstall the program. You can then enable the antivirus on your computer again.
Is iMyFone D-Back Legit?
You may be wondering if iMyFone D-Back is legit.
This program is 100% legit, and it is recommended not only because of its powerful features but also because it does most of the heavy lifting for you, allowing you to recover your data in a way that is 100% safe and secure.
D-Back is used by thousands of people globally, and they are legit and endorsed by many authority websites and blogs.

Does iMyFone D-Back Work?
The most common question people have when they hear about this application is: does iMyFone D-back work? The answer is Yes.
iMyFone D-back is the most trusted data recovery tool in the market, and the countless users who have used it have left positive feedback can attest to its reliability and its high rate of data recovery.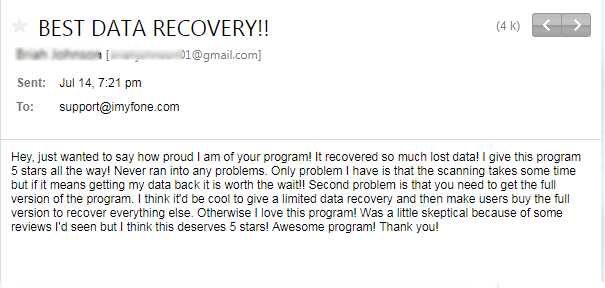 Users have found that of various recovery software programs out there today, iMyFone D-Back has a higher success rate as well as greater ease of use when compared to other complicated ones.
It is the perfect application for certain data recovery scenarios. The most common recovery scenarios that can be solved with this program are:

Please note that if your device cannot be trusted, you cannot recover data directly from your device. In this situation, you need to rely on your backups.
As a general rule of thumb, the program will be able to recover files as long as your device can still be turned on and isn't completely destroyed.
If you have lost data due to the above scenarios, then it is very likely that this application can help you recover your precious data.
How Much Is iMyFone D-Back?
You may be eager to use D-Back to recover your lost data, but still worry about the price. Let's take a look at iMyFone D-Back's price of all the licenses it offers, and then think about which license you would like to purchase. Besides, we will even offer you a coupon code to help you get D-Back at a more affordable price.
The Price of iMyFone D-Back's Different Licenses
Because we understand that all our users' needs are not the same, we have endeavored to provide different licenses for different users. The following is an introduction of the D-Back licenses we have offered.
The 1-Month Plan is ideal for you if you are using a single device and only want use once. It cost just $49.99. It covers a single device for one month and may be ideal for you if you want to give iMyFone D-Back a try and you have 3 iOS devices.
The 1-Year Plan will cost $59.99 and is ideal for users who anticipate needing to use D-Back often with 3 devices.
The Lifetime Plan in Individuals is the licenses that we offer to users with about 5 devices. For $69.99, you get to recover data on up to 5 devices.
Bunus: Official iMyFone D-Back Code for you
If you are interested in using iMyFone D-Back but you are worried about purchasing it at full price before knowing whether or not it can help you, then you are in luck: you can click the corresponding OS version of your computer to get the application at a discount: 10%
10% off Coupon Code: 90recovery
How to Use iMyFone D-Back
Once you have purchased iMyFone D-Back, it's time to start using the program to recover your data.
The following are the 3 primary ways you can use to recover data from your device or backup.
The way you chose will all depend on where exactly you want your recovered data to come from. For example, if you did not have your data backed up to iTunes or iCloud, then you will need to attempt to recover the data from your device directly.
However, if the data is backed up on either iTunes or the iCloud, then you are able to recover what you want from backups.
Take a look at the following 3 ways to use iMyFone D-Back and determine which one is the best option for your needs.
Recovery Data from the Device Directly
Step 1.Launch D-Back and select Recover from iOS device. Connect your device to the computer and wait for the connection.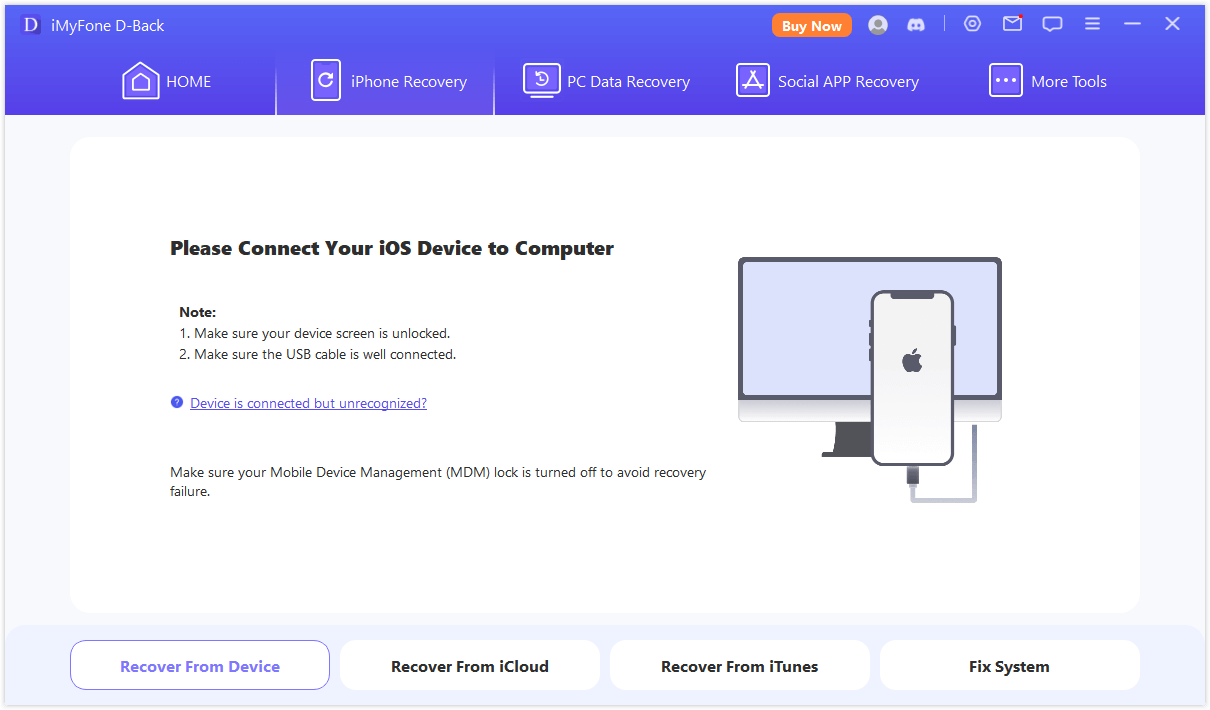 Step 2.Select the types of files you need and then select Scan.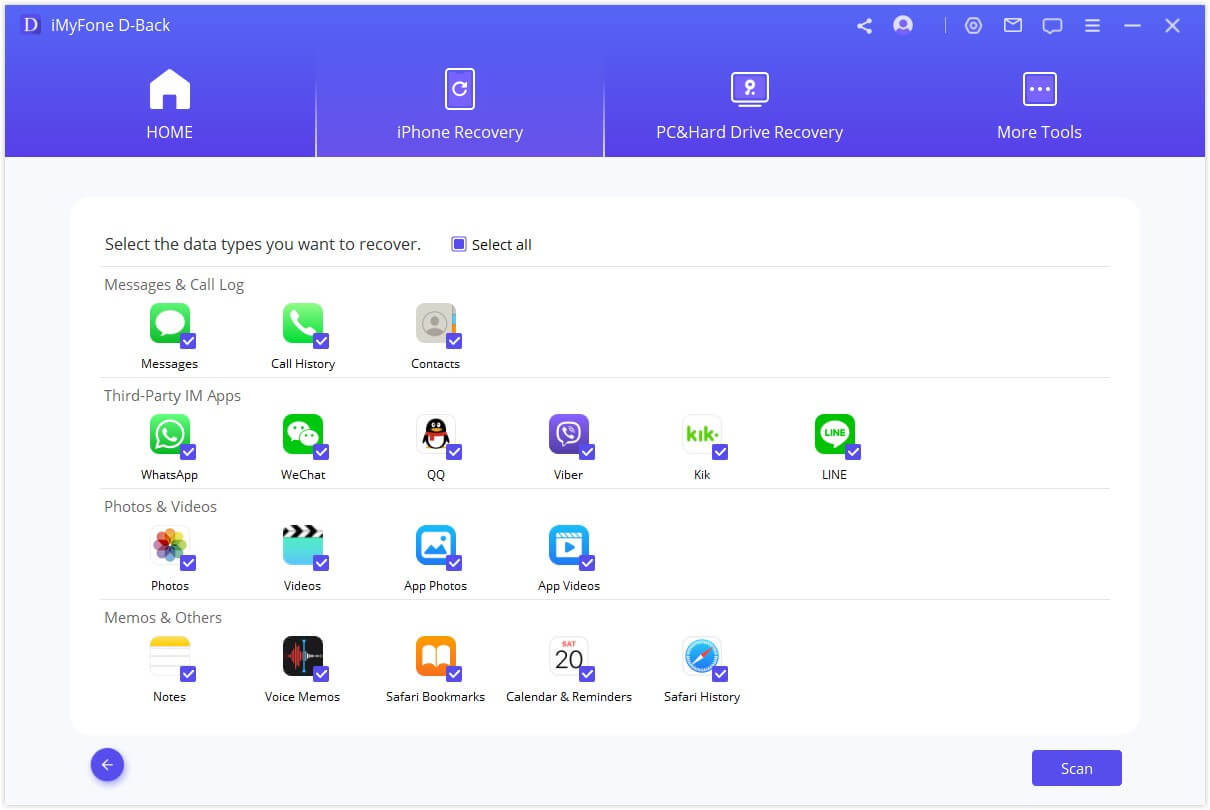 Step 3.Preview and choose what you want from the files presented on the screen. Select "Recover".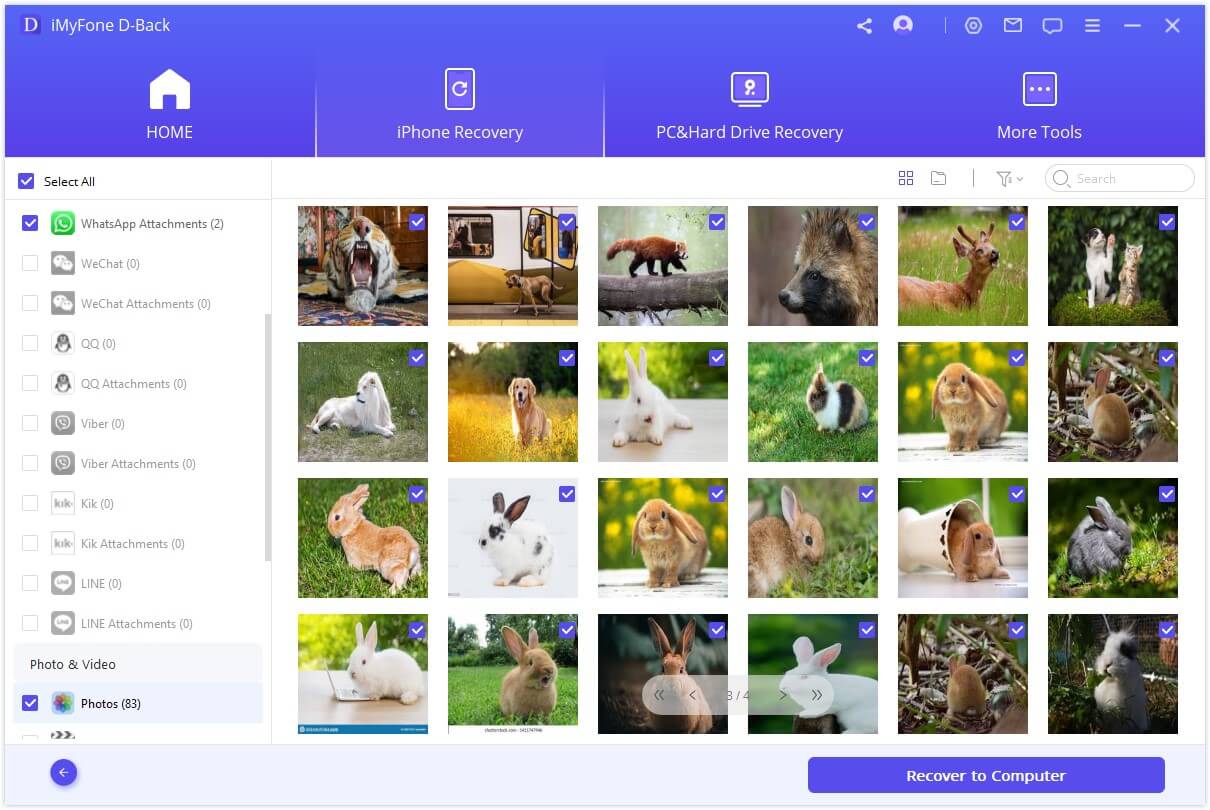 Selectively Recover Data from iTunes Backup without Restoring
Step 1.Open D-Back and select Recover from iTunes Backup. Choose the backup you want for this recovery, and then select "Next".
Step 2.Select the types of files you want to recover and then start to scan.
Step 3.All the recoverable data will be listed on screen, so you can preview and choose what you need to recover. After this process, the recovered files will be saved to your computer.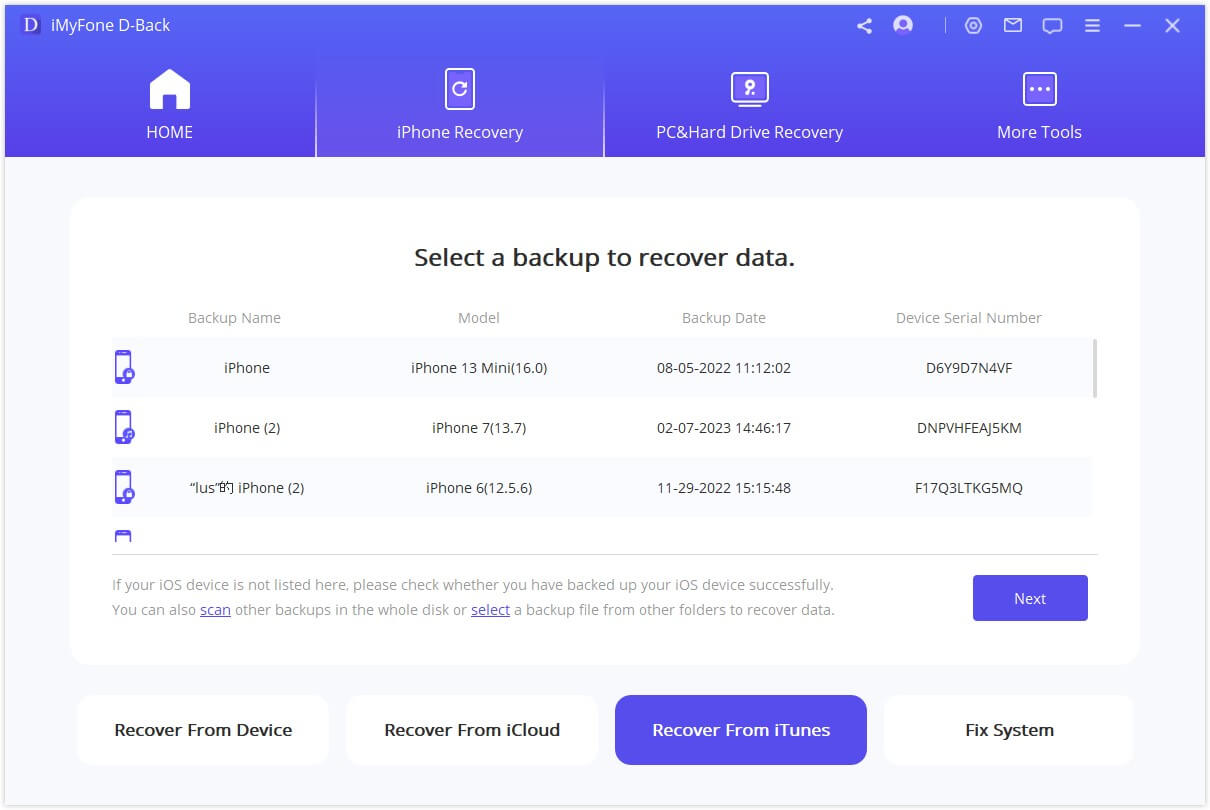 Selectively Recover Data from iCloud Backup without Restoring
Step 1.Run D-Back and select Recover from iCloud Backup. Then log in to your iCloud account with your iCloud Id and password.
Step 2.Wait for the program to automatically detect all of the iCloud backups attached to your account and then pick the backup you want, then select Next.
Step 3.Select the data you need and then select Scan.
Step 4.Pick what you want after previewing and then select "Recover".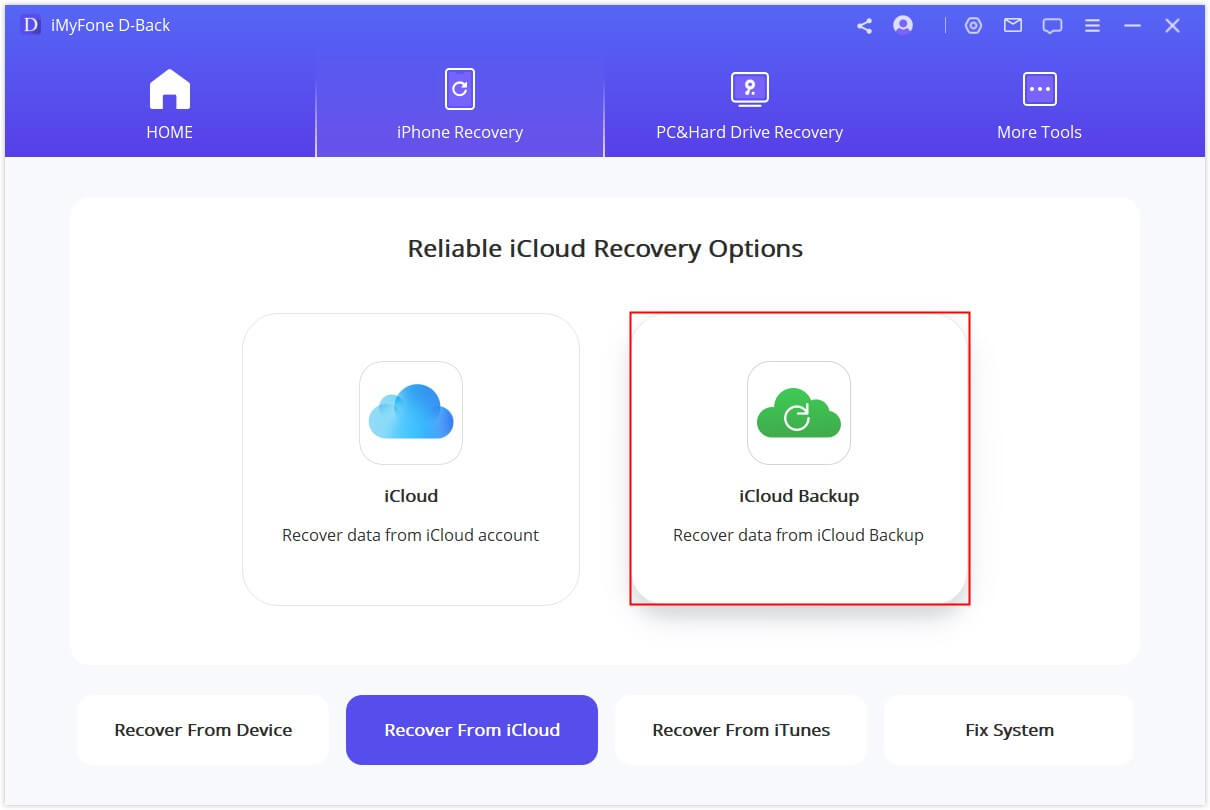 Differences between D-Back and iTunes/iCloud
You may be wondering what the real differences are between using the iMyFone application and simply restoring from iTunes or iCloud backup. Let's take a closer look at the pros and cons to determine which is the best option.
iTunes and iCloud do not allow you to preview the backup content before restoring, but D-Back can.
iTunes and iCloud only allow you to fully restore the backup, but D-Back can allow you to selectively choose what you want.
Fully restoring iTunes and iCloud will replace all your current data, but D-Back will not affect your current data on the device.
| | via D-Back | via iTunes Restore | via iCloud Restore |
| --- | --- | --- | --- |
| Success rate | High | Medium | Medium |
| Recover data without backup | Yes | No | No |
| Recover data from iTunes backup | Preview before recovery | Restore without viewing | No |
| Recover data from iCloud backup | Preview before recovery | No | Restore without viewing |
| Recovery Options | Selectively or fully | Fully restore only | Fully restore only |
| Computer Connection | Yes | Yes | No |
| Difficulty | Easy | Complex | Complex |
To Conclude
If you have lost data on your iPhone, iPad or iPod touch, then you will need to take the necessary steps to recover your data. You should reflect on the above methods carefully in order to figure out which one is the best option. Do not hesitate to have a try!