If you regularly use WhatsApp, you may be using it to exchange important information/messages. You might require this information for legal purposes as evidence in court. With the increase in the use of technology over the past few decades and more recognition from authorities on how technology can have a large impact on someone's life, you may be required to print out your chats and then submit them. Alternatively, you may want to gift the messages to a loved one because of a fond memory that you have shared via WhatsApp. If you only require a few messages, you can screenshot the chat. For longer chats, this process can get quite daunting.
No matter what your reason is for printing WhatsApp chats, we provide you with the most comprehensive a free way and four effective tools to print WhatsApp messages in this article.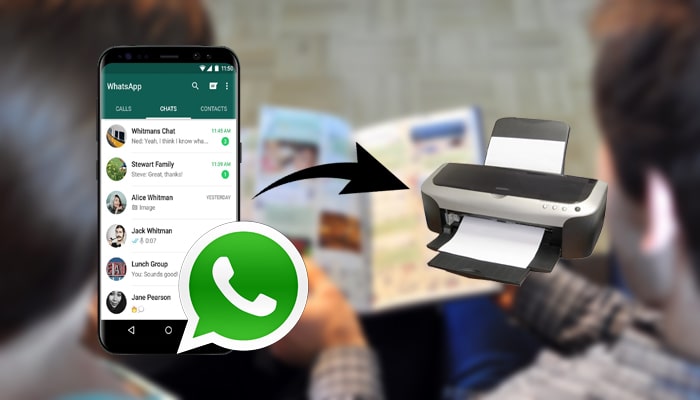 Part 1. A Free Way to Print WhatsApp Messages from iPhone/Android?
The first method we introduce is the official way WhatsApp offers to export WhatsApp chats to txt file. Using this method will allow you to export your WhatsApp chat to your PC through email, then open it on desktop and print it out as a chat log.
It's a simple process of just 5 steps to perform. The steps on iPhone and Android are similar, we'll take an iPhone as an example next.
Step 1 Open WhatsApp on your device and choose the chat that you would like to export.
Step 2 For Android users, tap on the three stacked dots in the corner and choose "more…". For iOS users, just tap on the contacts name on top of the conversation you are about to print and choose "Chats".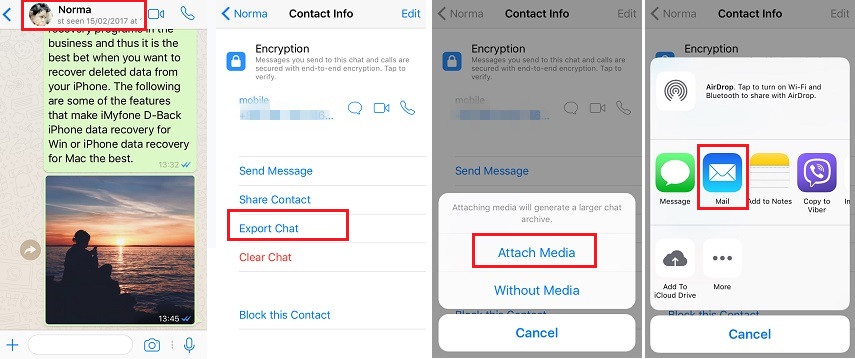 Step 3 Find Export Chat and click on it. Then you will have to choose if you like to export the media files in this chats. Select the one you prefer (it will contain a .txt file with medias as attachments if you choose attach media).
Step 4 You will see a popup with the different ways to export that chat. Choose the email client that you have setup with your email address. Fill in the details and send the email to yourself.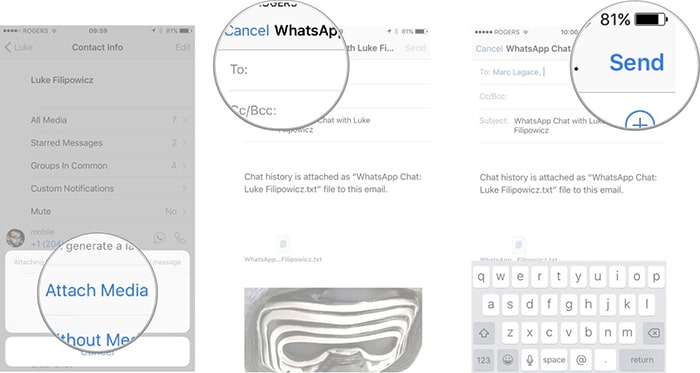 Step 5 On a computer, open this email and download the .txt file to your desktop. Open the .txt file with your Notepad. You can go through the log and delete any messages that were not required; however, you should not change what a message says. Use the Ctrl+P hot key to print the file. Or click the File on the top menu, find Print and click on it, then you can set up your printer and print out this file.
The limit for this method is that you cannot export chats from different contacts simultaneously via this method so each conversation that needs to be printed will need to be exported one by one. Moreover, it will also be presented as a log, rather than looking like the actual conversation with the format of the WhatsApp user interface. You can have a try and see if the result is what you want.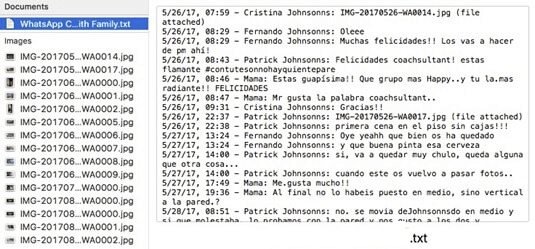 Next, we will introduce methods that allow you to export more chats at once, and print as it appears on phone.
Part 2. 4 Effective Tools to Export Complete WhatsApp Messages for Printing
In this part, we will introduce 4 effective tools to print WhatsApp chats as they appear on the phone. These tools have more functions rather than just printing WhatsApp messages. You are also able to print calls or text messages, do a backup of them, and restore to the device.
2.1 Use iMyTrans to Export Complete WhatsApp Messages with Media
As well as printing your chat as it appears on phone, iMyFone iMyTrans (pre iTransor for WhatsApp) lets you keep a backup on the computer of what is being printed. If you lost your phone or accidentally delete some of the messages in your WhatsApp, you can restore this backup to your phone, it is compatible with Android 5.0 and later, iOS 9.0 to iOS 17. Both regular WhatsApp (WhatsApp Messenger) and WhatsApp Business are supported.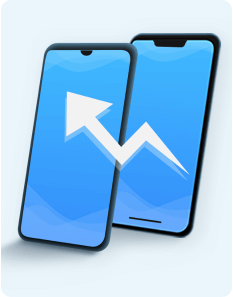 Export WhatsApp messages with media in HTML, PDF, Excel, and CSV.
Preview the WhatsApp messages before export
Selectively export and print the messages that you need
Back up WhatsApp data to PC before export
No need for Wi-Fi or cellular data
Compatible with the latest Andorid and iOS
Here is the step-by-step guide on printing your WhatsApp chats using iMyTrans,
Step 1 Download and install iMyTrans on your PC. Open iMyTrans and connect the device with the WhatsApp chats you hope to print to your computer.
Step 2 On the left-hand side, click on "Back Up WhatsApp on Devices". Make sure your device is recognized by the program successfully and then click on Back Up button.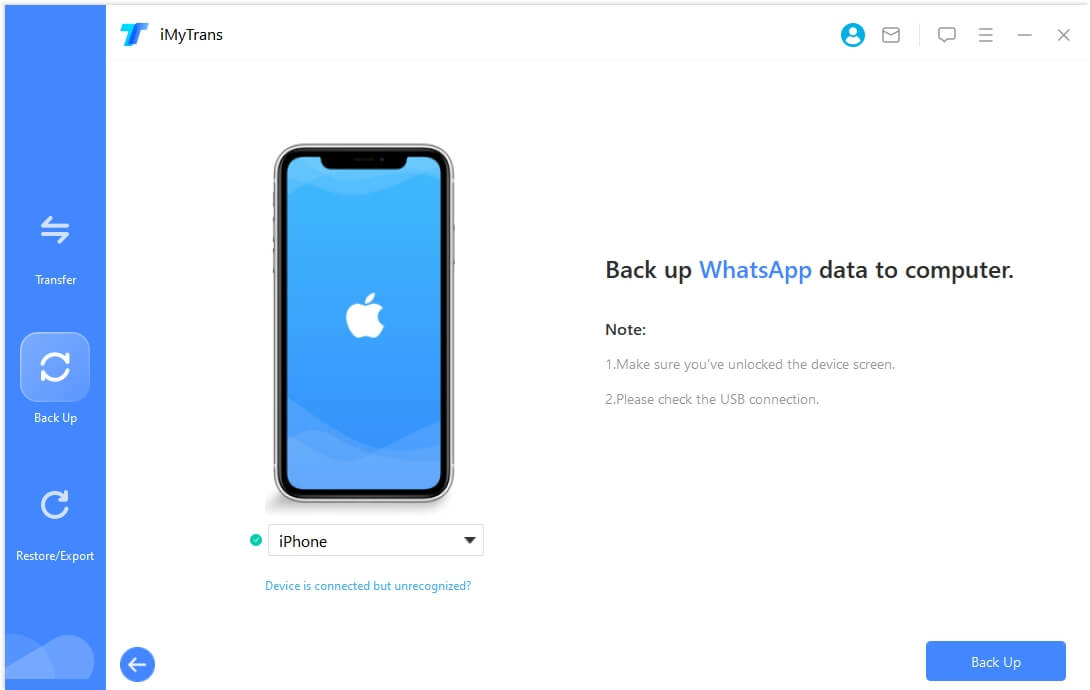 Step 3 Your WhatsApp data will be kept on your computer. You can unplug the device now. Then go to the "Export/Restore WhatsApp Backup" from the left side. Choose the backup you just made and then click on Export to Computer.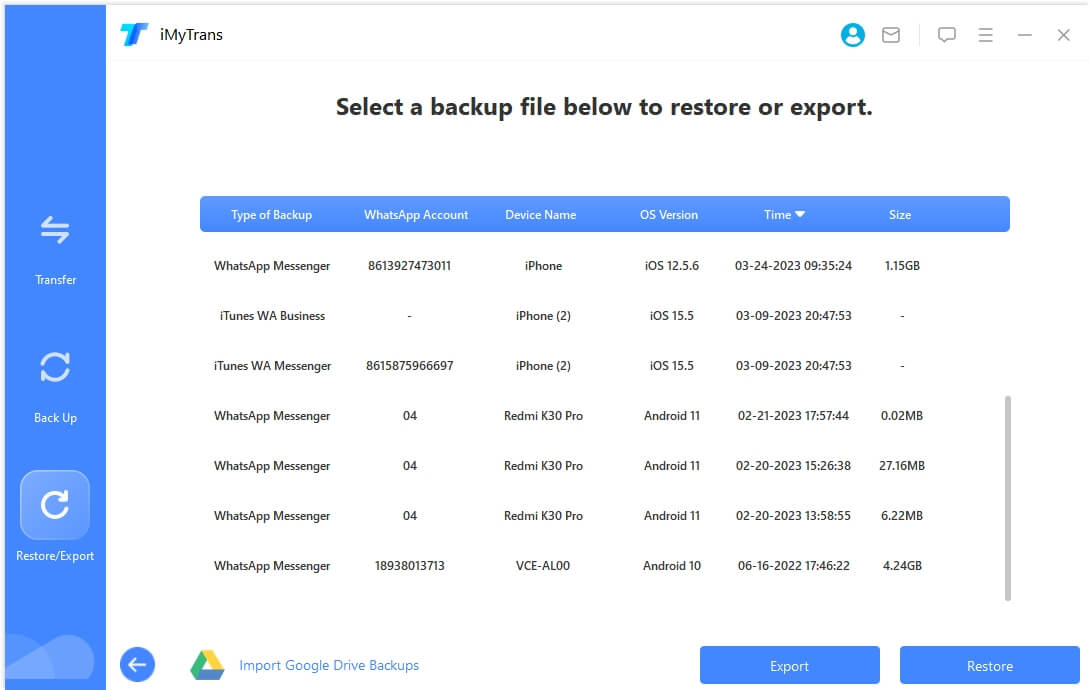 Step 4 The program will start to scan the WhatsApp chats in your backup, it will take normally less than 1 minute for 1GB data. Once the program finish scaning, you will have the option to choose specifically what you would like to export. You will also be able to pick the file location and format from the bottom of the interface. Here we recommend export to HTML, as in this format you can read the chats as it appears on your iPhone. If you choose xls or csv, you can only read the chat logs without media files. So once you have decided the chats to export, click on Export, choose .HTML format and wait.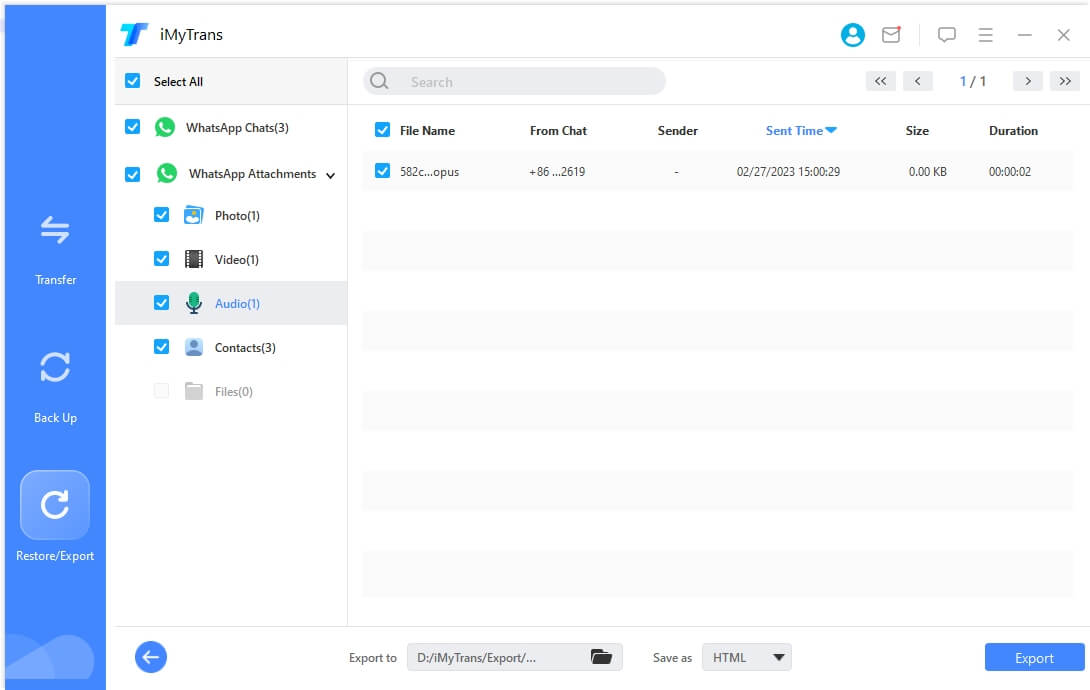 Step 5 Once it is done, the program will automatically open the exported file folder. You can then open the file in your browser. To print the conversations, use the hot key (Ctrl+P) to set up the printing detailes. Or you can also find the print optiion in your browser settings. For Chrome, just click the three dots beside the input field and find the Print button in the drop-down box.
If you want to get more options to print WhatsApp messages, keep reading! There are other 3 tools to print WhatsApp chats on Android phone, or on iPhone.
2.2 Use Elcomsoft to Extract WhatsApp Seperately
With Elcomsoft Explorer for WhatsApp, you can export WhatsApp backup either from your Android device or from Google Drive. Although it provides support for both rooted and non-rooted Android devices, it can only support non-rooted Android device from Android version 4.0-6.0.1, which might be quite limited. Since most of the phone is non-rooted, we will give the guide in this situation. For further information, you can check their product page.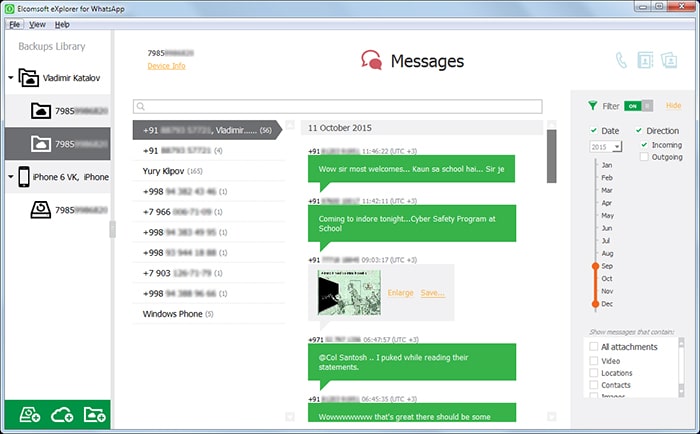 To extract WhatsApp chats from Android using Elcomsoft,
Step 1 Launch the program on your computer. Choose the Load from Device mode in the program. Connect your Android phone to the PC with USB cable and follow the instructions on the screen. You'll need to unlock the device, enable Developer Options and turn on ADB Debugging.
Step 2 The program will detect if the phone is correctly connected, if yes, it will display the device information. Click Load Data and the extract process will start.
Step 3 After it is done, you can see the WhatsApp chats on the program. There is a Export button on the top of screen beside the search bar. Click on it and then the export will automatically start. Your WhatsApp chats will be exported to excel.
2.3 Use CopyTrans to Export WhatsApp Messages from iPhone
This tool is also available for only iOS devices, but it allows you to choose every WhatsApp messages you hope to export. So if you are planing to make a WhatsApp chat book, it will be a good choice although the interface might be a little bit confusing.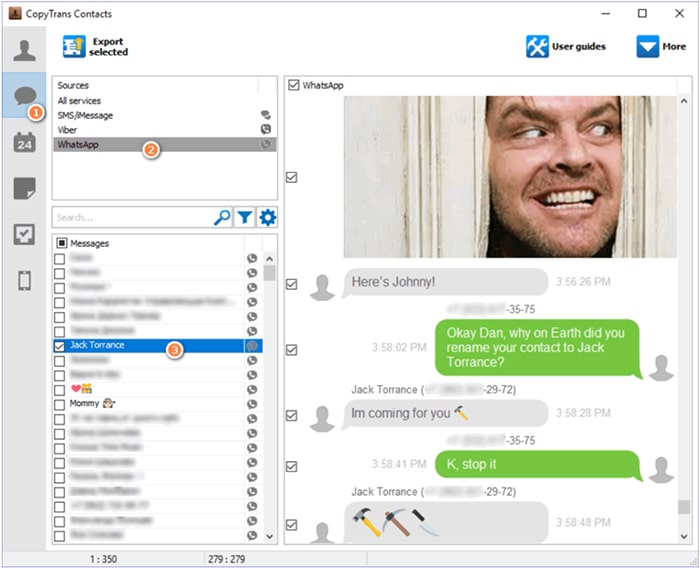 To print WhatsApp with this tool,
Step 1 Download and install CopyTrans. Launch CopyTrans contacts and then connect the iPhone to your PC.
Step 2 Click on the icon that looks like a speech bubble and under sources, locate: WhatsApp.
Step 3 Select the chat(s) that you would like to print. Once done, click Export Selected. From the options that pop-up on your screen, choose PDF.
Step 4 Open the PDF file on your PC and then print it (the command for windows is Shift + P and for Mac, it is Command + P).
This method will give you important information about the conversations, such as the sender's phone number and the time the messages were sent.
2.4 Use BackupTrans to Print WhatsApp Messages from Android Phones
Backuptrans Android WhatsApp Transfer is focused on managing the WhatsApp chats on your Android devices. With this tool, you can print your WhatsApp chat as it appears on your Android. It supports famous phone brands such as Huawei, Samsung and LG. The only problem with this tool might be the interface design, which might be a little bit outdated, but it's actually easy to operate.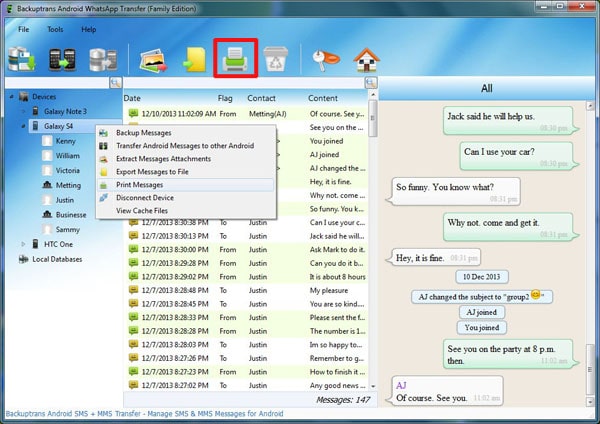 To export and print WhatsApp chat directly with Backuptrans,
Step 1 Download and launch the tool on your computer, enable the USB debugging on your Android device that is using for exporting.
Step 2 Connect your Android phone to computer with USB cable. There will be a pop-up on your Android, click "Back up my data".
Step 3 The WhatsApp chats will appear in the software after the backup. Once it is done, click the printer on the top tool bar. Then you can set up the output before start printing.
Part 3. Comparison of the 5 Solutions About WhatsApp Printing
At last, let us take a look at these 5 WhatsApp printing methods and tools we have talked above. It is clear that exporting the chats as .txt files via email is the least efficient method and is not recommended. It might be fine if you only require a copy of the chats for personal use however there are better methods. You can choose the one that suits the best for you.
| | Email | iMyTrans | Elcomsoft | CopyTrans Contacts | Backuptrans |
| --- | --- | --- | --- | --- | --- |
| Devices Support | All devices because this is a feature that is built within WhatsApp. | iPhone and Android | iPhone and Android | iPhone | Android |
| Is media printed? | No, only text file. | Yes | No | Yes | Yes |
| Limit | Export/Print only one chat at once, cannot print WhatsApp chat as it appears on phone | Free version are not supported to export multiple chats. | Cannot print WhatsApp chat as it appears on phone | Confusing interface, only for iPhone | Confusing interface, only for Android |
| Ease of use (0-10) where 10 is easiest | 5 | 9 | 5 | 7 | 7 |
| Efficiency (0-10) | 5 | 10 | 8 | 8 | 9 |