WhatsApp is filled with important chats and media that we may regret losing. For instance, a business may conduct its dealings on WhatsApp so important conversations could get lost if the WhatsApp data is wiped clean. The risk of losing this data amplifies when we switch to a new phone. With that in mind, we will provide a guide of how you can restore your WhatsApp messages on your new device without any hassle using iTransor for WhatsApp. Our focus device would be the Samsung M30. We will explain the process of restoring WhatsApp to Samsung M30 using different methods from both iPhones and other Android devices.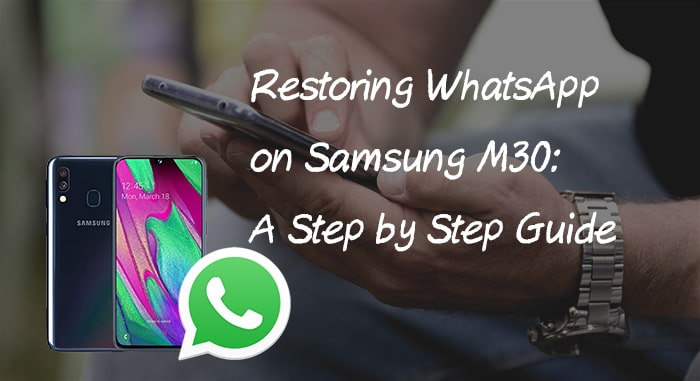 About Samsung M30
The Samsung M30, also known as Samsung A40s, has become a popular mid-range device. Released in early 2019, Samsung introduced this device as a viable option to the phones offered by dominant mid-range brands like Realme and Xiaomi. It has been priced around the $200 mark and offers features such as a Super AMOLED screen which are rare in this price range. Considering its popularity, many people switching to this device would be curious about restoring their WhatsApp. Keeping that audience in mind, we have decided to write this guide covering different scenarios.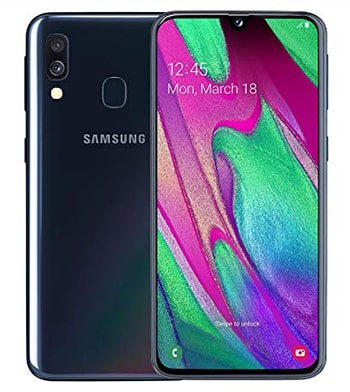 Part 1. Restore WhatsApp From iPhone to Samsung M30
There are a quite a few users out there who are still using older iPhones. If their iPhones dies, they may consider shifting to a reliable mid-range phone like Samsung M30. In that case, they may need to restore their WhatsApp in the new phone. Let's look at a couple of popular options for this transfer.
Via iTransor for WhatsApp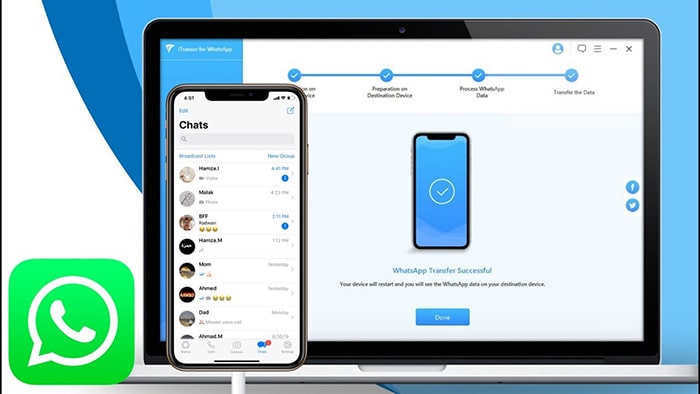 iTransor for WhatsApp is a great alternative to Smart Switch for transferring data from iPhones. Not only is it capable of transferring your WhatsApp data from the iPhone to your Samsung M30, it can also create a WhatsApp back-up on the computer. There is no official method of transferring data between iPhones and Android devices. iTransor for WhatsApp is the next best thing given its ease of use and widespread compatibility.  Here are the steps to follow for completing the process:
Launch the iTransor for WhatsApp on your computer and connect both the target phones to the computer
Select the option " Transfer WhatsApp between Devices"
You can view the source and destination phones on the screen along with the transfer button
Here you can double check that the phone are correctly aligned as the source and destination
If everything seems to be in order, select the "Transfer" option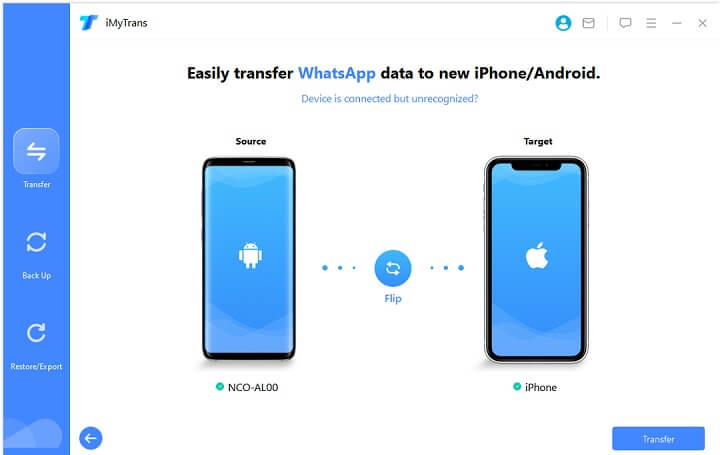 This would initiate the transfer and you could observe the data being transferred
The duration of the transfer depends on the amount of WhatsApp data that needs to be transferred
During the transfer, ensure that both the phones remain connected to the computer
It would be wise to stay clear of the USB connections so that the transfer process does not get disrupted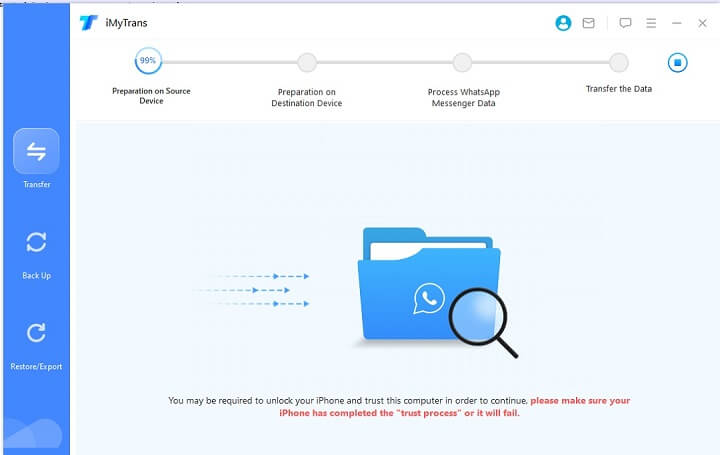 Once the transfer is completed, any existing WhatsApp data on the destination phone would be overwritten
Part 2. Restore WhatsApp From Android to Samsung M30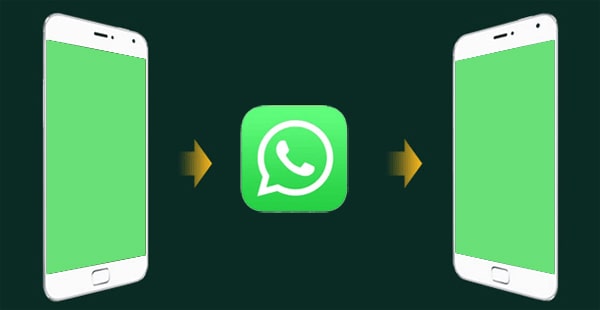 Similar to the iPhone transfer process, the process can be applied to other Android devices as well where the WhatsApp data is transferred to our target Samsung M30. One can argue that, in general, the process of WhatsApp data transfer is easier when it's done from other Android devices. This may stem from the fact that the Samsung M30 exists within the same open source Google eco-system as other Android devices. While on the other hand, iPhones have a closed eco system with various restrictions when interacting with Android devices.
Method 1. Via Local Backup
A common method is to utilize the local back files to restore WhatsApp to your Samsung M30. On your older Android device, there would be a backup file. Normally, this backup is of the last 7 days. In few cases, you may find an older file as well. To utilize the older backup, you may need to rename the file from msgstore-YYYY-MM-DD.1.db.crypt12 to msgstore.db.crypt12. You can move this local backup file to the Samsung M30 via Bluetooth transfer or USB cable. Once you install WhatsApp on Samsung M30, you can select the restore option upon launch and use the local backup.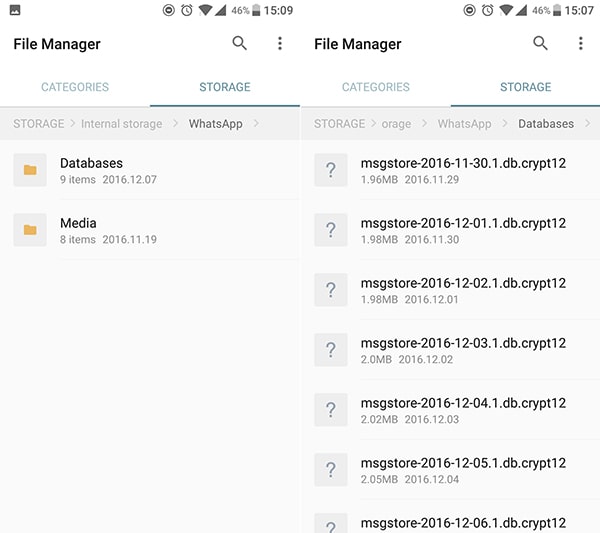 Method 2. Via Google Drive
You can use the standard Google Drive backup to restore your WhatsApp data as well. You would need to make sure that you are logged in to your Google account on the Samsung M30. After installing WhatsApp and verifying your phone number, you can use the option to restore the chat and media from the Google Drive.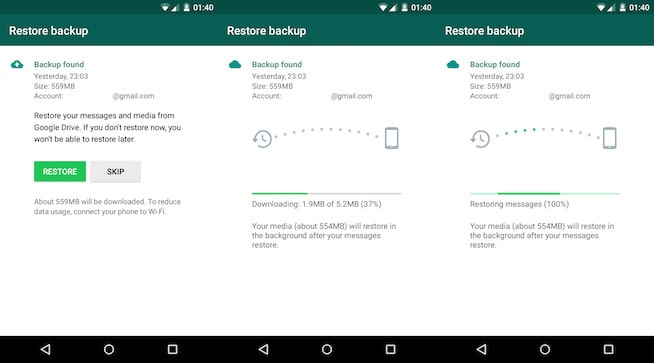 Method 3. Via iTransor for WhatsApp
Like the process for iPhones, iTransor for WhatsApp is equally effective for Android devices. The process itself is very similar to that of iPhones. Again, you enjoy the same benefits with iTransor for WhatsApp. You can create backups that do not overwrite one another. This means that both options for data restoration are available. You can restore WhatsApp from an existing backup or transfer it from another Android phone. Here are a few steps that you can follow to complete the restoration process:
Launch the iTransor for WhatsApp on your computer
If you are transferring from another device, you would select "Transfer WhatsApp between Devices"
You would see the destination and source devices
Initiate the process by clicking on the transfer option
The other approach is that you can create backup of your older Android device
This can be done using "Backup WhatsApp Using Devices"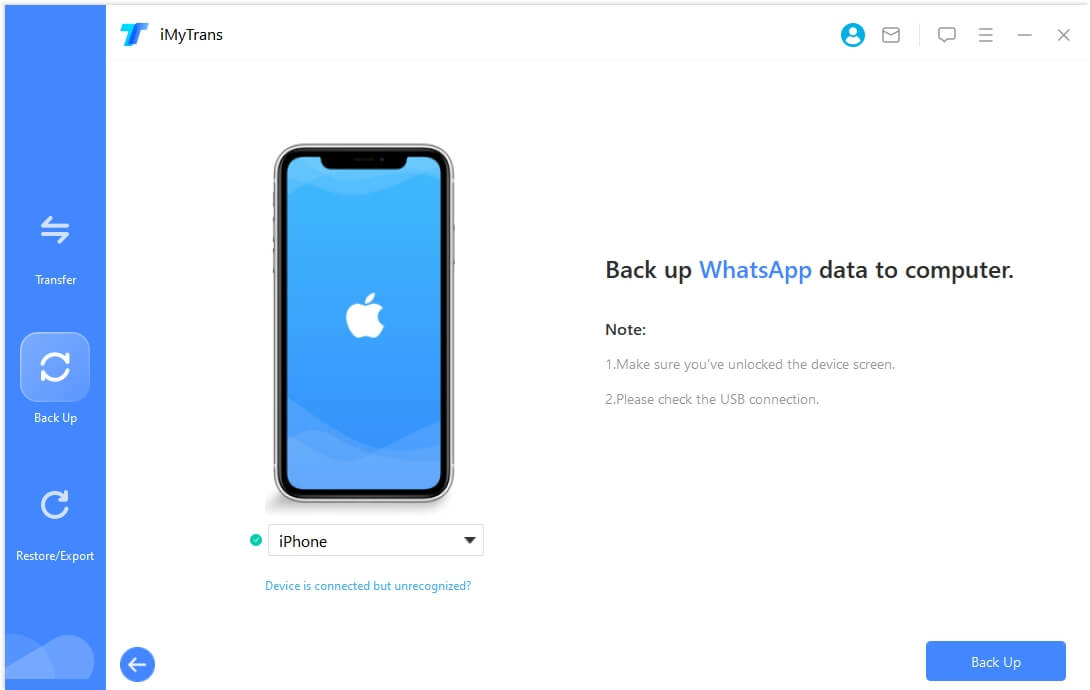 Once the backup is created, you can use it to restore it on the Samsung M30
Now we will use the "Restore WhatsApp to Devices" to restore the WhatsApp data
You will see a list of backups available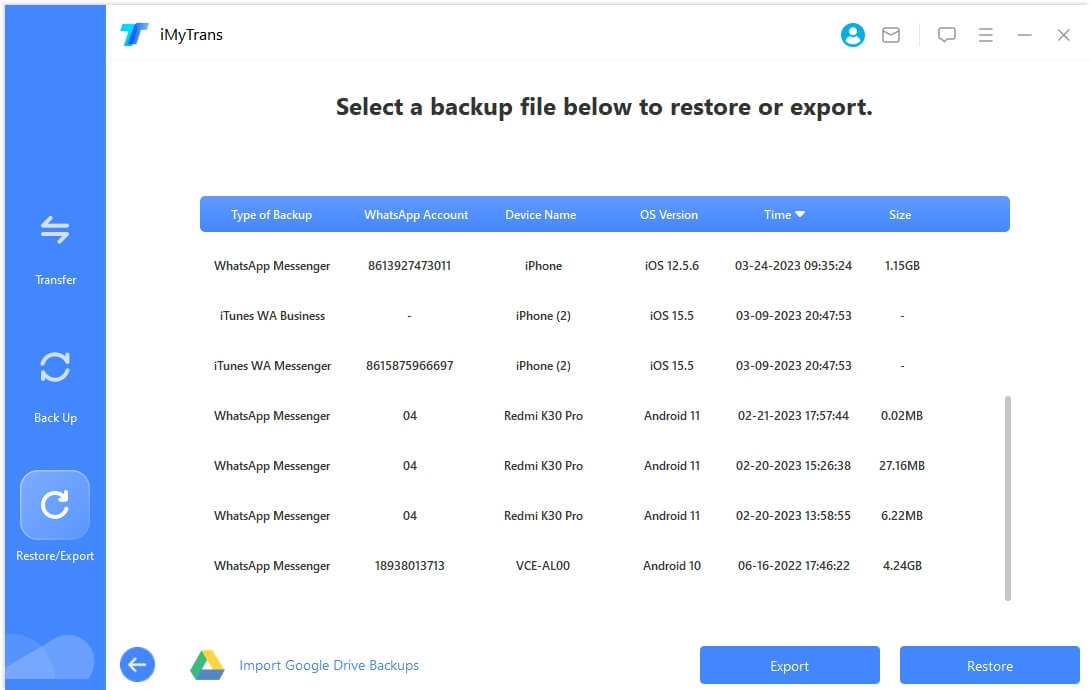 This gives you the flexibility to choose which backup is ideal for you
After selecting the backup, you can select the target device
The process will commence after selecting the target device
It will first prepare the device for the restoration and process the back files
Once the files are processed, it will begin the restoration process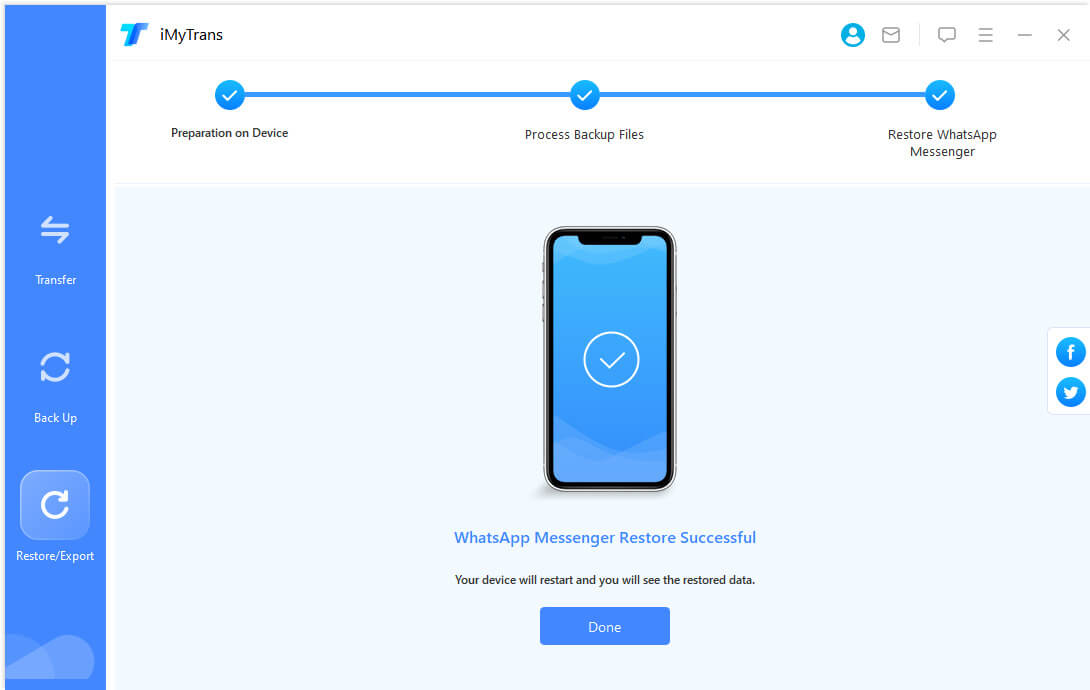 We hope that by reading this guide you are able to weigh the different available options for restoring WhatsApp to your Samsung M30. We have aimed to highlight the strengths and weaknesses of different approaches. Equipped with this information, you would be in a position to make an informed decision and understand why iTransor for WhatsApp is one of the best options out there for restoring WhatsApp to your new device.