Are you looking for the best way to keep your WhatsApp data safe? What about the easiest way to transfer WhatsApp from one device to another? If these sound like a great way to manage your devices, you may need to get iMyFone iMyTrans. This is the only, complete and all-round WhatsApp data management tool and in this article we are going to be looking at the importance of getting the iMyTrans valid registration code and coupon code.
1. Why You Need iMyTrans
Before we discuss the program's registration code, it is important to share with you what the program can do in more detail. In the simplest terms, iMyfone iMyTrans is a data management tool specifically for WhatsApp data. With this tool, you can easily move WhatsApp data from one device to another, even across platforms, making it the ideal solution when switching devices. It is also the most ideal way to backup all WhatsApp data to the computer, allowing you to keep WhatsApp data safe and restore the backup back on to the device when you need to.
The following are just some of the program's features;
It allows the easy transfer of WhatsApp data between Android and iPhone. All you have to do is connect both devices to the computer and the program does the rest.
It can also easily backup all WhatsApp data on the Android or iPhone to the computer for free.
You can then also use this tool to easily restore the backup back on to the device.
WhatsApp and WhatsApp Business are both supported.
It is very easy to use; each function is straightforward and clear. It also supports all Android devices and iOS devices as well as all iOS versions and Android versions.
2. What You Need to Know about iMyTrans
If you are looking to purchase this program, you should know that it offers three premium plans. These plans include the following;
Basic Plan: This plan supports 1-5 iOS devices and one PC for 1 year for $39.95.
Family Plan: This plan supports 6-10 iOS devices and 1 PC for a lifetime.
Multi-User Plan: This plan supports either 11-15 iOS devices and 1 PC for $69.95, 16-20 iOS devices and 1 PC for 89.95 or unlimited iOS devices and 1 PC for 299.95. The plan is for a lifetime.

Please note that as soon as you purchase one of these plans, your license will be granted immediately.
3. Why You Need an Official iMyTrans Registration Code
It is important to make sure that you get your iMyTrans (pre iTransor for WhatsApp) registration code because the program will not work without it and you may not be able to use it to backup, restore or transfer WhatsApp data to another device. Some of the other reasons why you need an official registration cod include the following;
The benefit of reliable and available customer service 24/7/365.
The benefit of a 30-day money back guarantee.
Free lifetime upgrades every time the program gets new features.
Maximum cost efficiency.
4. We Have a iMyTrans Coupon Code for You
Just for choosing to use iMyTrans, we are offering you a 20% discount code on your purchase. Follow these simple steps to apply this coupon code while it lasts;
Your 20% Discount Code: 5ED-FQ1-KZU
Step 1: Visit the purchase page on your computer.
Step 2: Select the plan you want to purchase and then click "Proceed to Checkout" to go to the payment page.
Step 3: Click on "Redeem Coupon Code" and then paste the code above into the box provided. Click on "Update" to activate the code.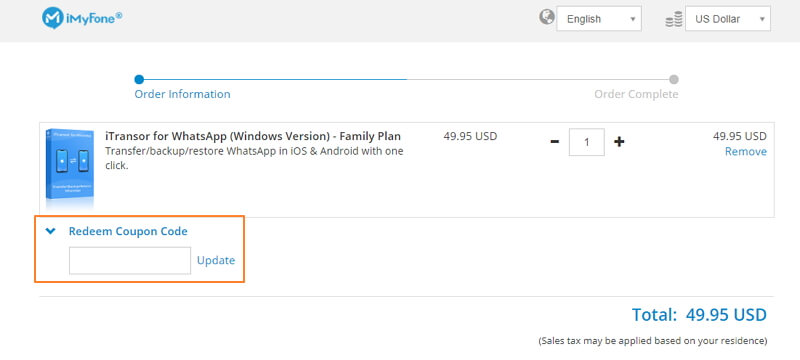 Step 4: Fill out your purchase information and continue to complete the purchase.
iMyfone iMyTrans is an ideal solution for all your WhatsApp data needs. With this tool, you can use it to backup and restore WhatsApp or transfer WhatsApp data between devices. Get it today and you'll never need to jump through hoops to transfer WhatsApp to a new device.
More Guides About WhatsApp Transfer: