Although nowadays many applications offer cross-platform data transfer services such as Samsung Smart Switch for transfer from iPhone to Samsung and Move to iOS for transfer from Android to iPhone, these tools can't transfer MMS data such as WhatsApp. Yet because of the common use of WhatsApp Messenger, if you are switching from iPhone to Android, it can become a real headache to think about ways to transfer WhatsApp messages from iPhone to Android. This article examines the available strategies and offers some of the best solutions.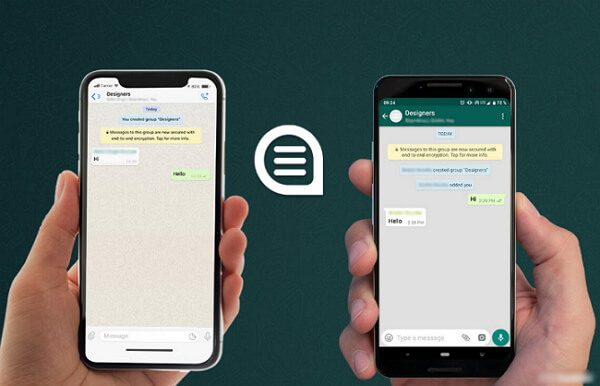 Part 1. How Do I Transfer WhatsApp from iPhone to Android for Free?
You might have seen some free methods such as making a WhatsApp backup from iPhone and then restoring it to Android directly, or transferring WhatsApp from iPhone to Android with an iTunes or iCloud backup. However, if you have tried these methods, you will know that they don't work at all.
WhatsApp does offer a free and workable way to help you export WhatsApp chats, and you can transfer the exported files from an iPhone to an Android with email, messages, or anything else you can access on the Android phone. This feature, however, will only export the WhatsApp chats to log files, which is what you will be reading on the Android phone. You will not be able to sync these WhatsApp chats with the data on your Android device.
Another problem with this method will be the high number of manual actions. You have to export chats one by one, which means that if you have 50 chats to transfer, you'll need to do it 50 times.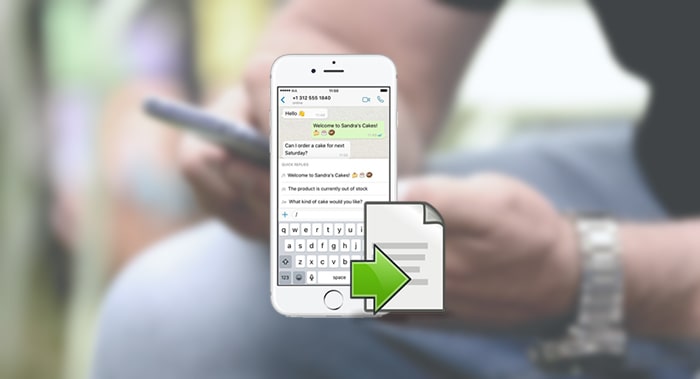 But it is still the only easy, free and trustworthy way to transfer the WhatsApp messages from iPhone to Android. Here's how:
Step 1 Open WhatsApp on the iPhone and click on the chat that you want to transfer. Tap the top of the screen and choose "Export Chat" from the list.
Step 2 A popup will appear to notify you that attaching media may generate a larger message. You can choose to export the chats "Without Media" or "Attach Media" according to what you need. If you choose Attach Media, your video/photo messages will be attached to a folder other than the text messages. Normally we will click on the Mail icon to export chats, but you can also choose another app as long as you can access the app on the Android phone.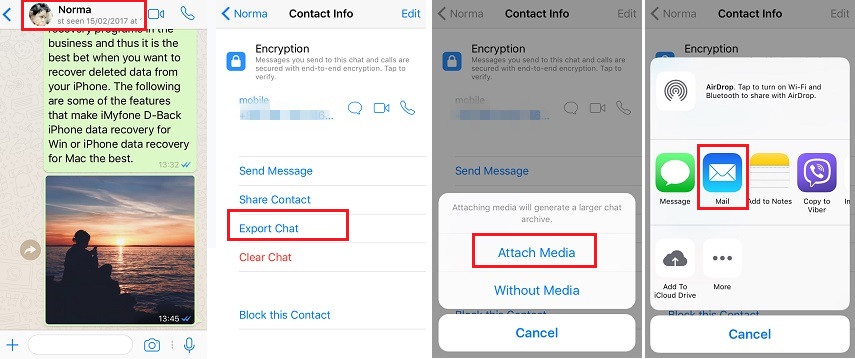 Step 3 WhatsApp will start processing your data. Type in the email address you want to send the WhatsApp chats to and click "Send".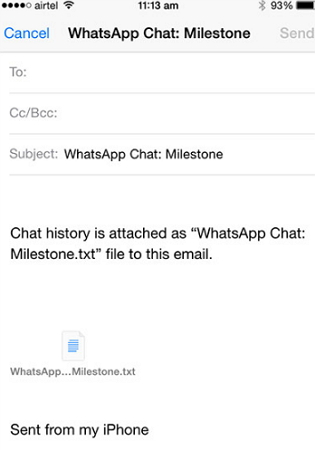 Step 4 Go to the Android device, log in to that email account, and view the emailed chats.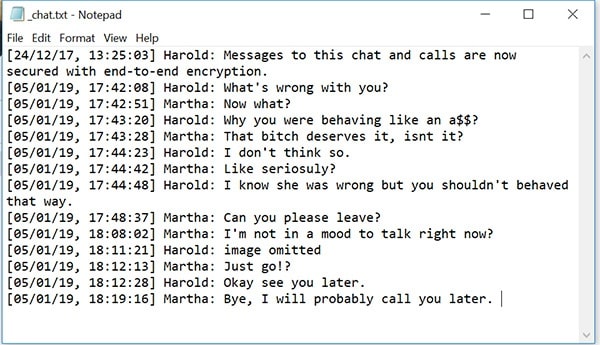 Part 2. 3 Ways to Transfer WhatsApp from iPhone to Android via Third-party Apps
Since WhatsApp doesn't offer a direct way for users to transfer all WhatsApp data between different operating systems, some third-party tools cure this headache. In this part we will introduce 3 third-party tools that focus on WhatsApp data management.
iTransor for WhatsApp: Directly Transfer Your WhatsApp Data Between Operating Systems
One of the best WhatsApp transfer softwares to transfer WhatsApp messages from iPhone to Android is iTransor for WhatsApp. This program is designed to help manage WhatsApp data in numerous ways - backup, restore, transfer, and export WhatsApp Messenger and WhatsApp Business data from iPhone or Android. With this tool we can directly transfer WhatsApp data from iPhone to Android without effort.
Here are some other features of iTransor for WhatsApp:
You can back up and export WhatsApp chats, and read them on a computer as they appear on the phone anytime you like. The backup and preview function are free.
WhatsApp Business data can also be processed to transfer, backup, restore and export in this program. Check out how to transfer WhatsApp Business from iPhone to Android.
It supports all popular mobile devices including the iPhone12, 12 Pro/mini, 11, Samsung Galaxy S20, S10, Huawei P30, and Pixel 4 as long as the operating system is from iOS 9 to 14 or Android 2.0 to 11.
It has been trusted and recommended by a lot of famous media sites including Make Use Of, Macworld, etc.

Here is a simple step-by-step guide of how to use iTransor to transfer WhatsApp chats from iPhone to Android:
Step 1 Install iTransor for WhatsApp on your computer and launch the program. Choose "Transfer WhatsApp between Devices" on the left in the main window. Connect the iPhone and the Android device for transfer to the computer with USB cables. The program should detect and display the devices. Follow the instructions on the screen.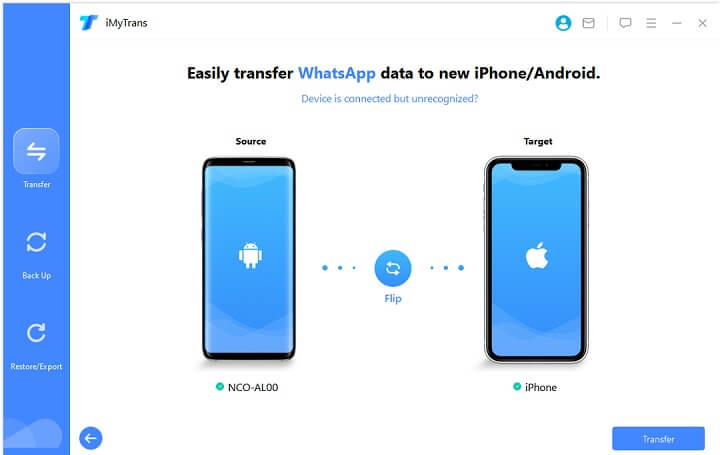 Step 2 Click on "Transfer" to begin the process.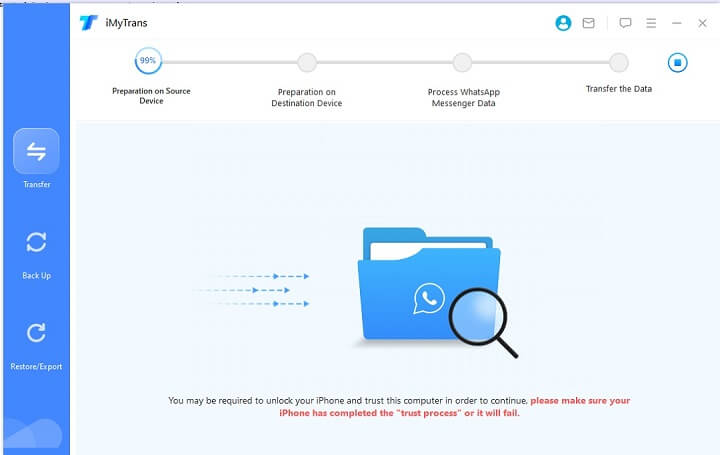 Step 3 Keep both devices connected to the computer during the transfer. It might take minutes to hours depending on the amount of WhatsApp data. Once the transfer is complete, you will see the WhatsApp messages on your Android device.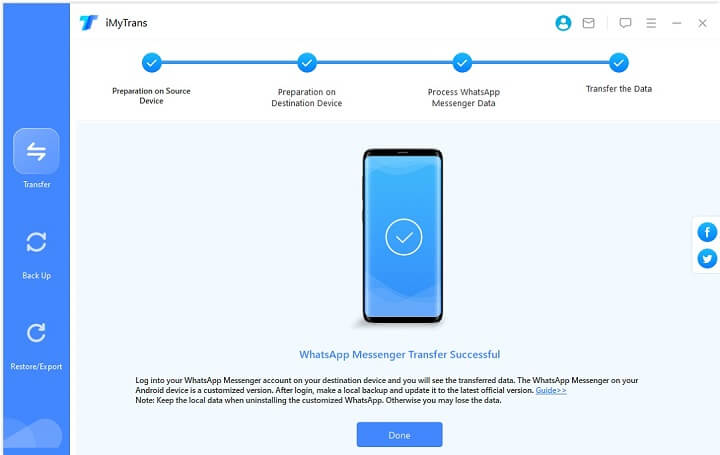 Backuptrans: 2 Steps to Transfer WhatsApp from iPhone to Android
Backuptrans is a third-party company that focuses mainly on data management for iPhone and Android. The tool it developed to help transfer WhatsApp messages form iPhone to Android is called iPhone WhatsApp to Android Transfer. It supports iOS versions 4 to 10 and most Android phones - Huawei, Samsung, HTC, etc. You will need the same things as for the previous tool: this software on your computer and two USB cables for the iPhone and Android device you want to transfer from and to.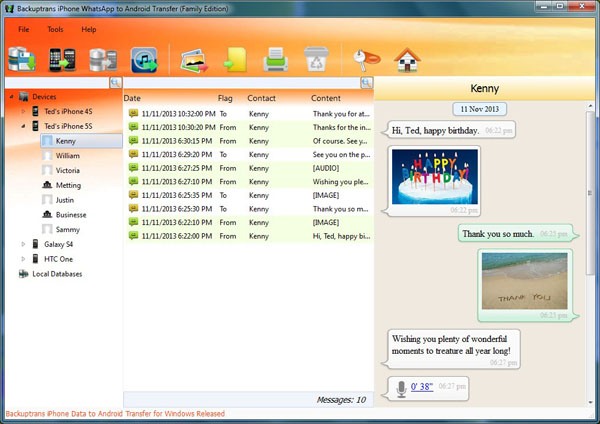 The process to transfer your WhatsApp messages from iPhone to Android with this tool is below:
Step 1 Connect the iPhone and Android to the computer.
Step 2 Turn on USB debugging on the Android phone to make the phone recognizable. If there is a popup, click "Back up my data", no need to enter a password. On the iPhone tap "Trust" in the window asking if you want to trust your computer.
Step 3 The program will load all your WhatsApp data from both the Android and the iPhone. Choose your iPhone device from the screen, then right click > Transfer Messages from iPhone to Android.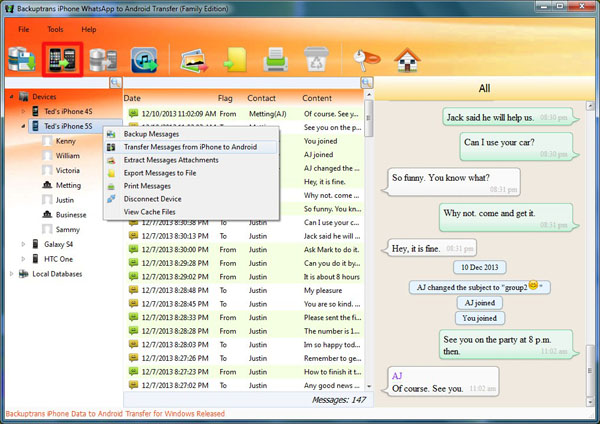 Backuptrans also allows you to manage WhatsApp data in other ways than transferring them from iPhone to Android. You can still back up and restore the WhatsApp data, but only on the iPhone.
WazzapMigrator: Transfer WhatsApp Backup from iPhone to Android (for the Tech-savvy)
WazzapMigrator is an app that helps to transfer WhatsApp backup from iPhone to Android. It might be complicated because this method requires programming skills and will take a lot of time to understand the operating processes. You will need three tools for this solution: iTunes, WazzapMigrator Extractor, and WazzapMigrator. This method is designed for tech specialists. Here are the steps:
Step 1 Make a full backup of your iPhone with iTunes. Turn backup encryption in iTunes off.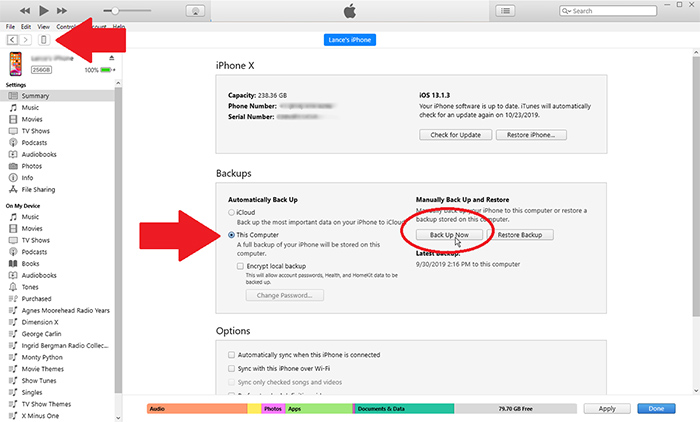 Step 2 Download and launch WazzapMigrator Extractor on your computer. Use this tool to load up the iTunes backup of your iPhone.
Step 3 Find the net.whatsapp.WhatsApp folder on the menu of the extractor. Locate the ChatStorage.sqlite file and your media files in the net.whatsapp.WhatsApp folder.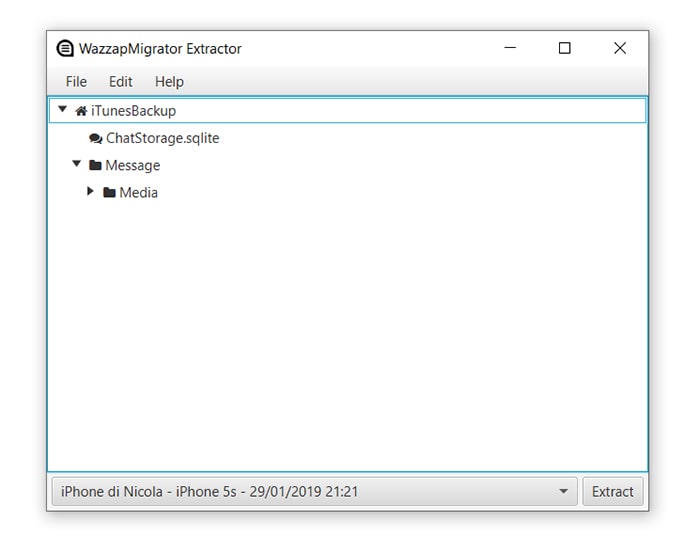 Step 4 Connect the Android device to the computer. Transfer the ChatStorage.sqlite file and your media files to the Download folder of your Android phone.
Step 5 Install WazzapMigrator on your Android device. You can find it in the Google Play Store.
Step 6 Open WazzapMigrator on your Android device. Wait until the tool detects the files and tap "Select iPhone Archive". Choose the iOS Backup you want to restore.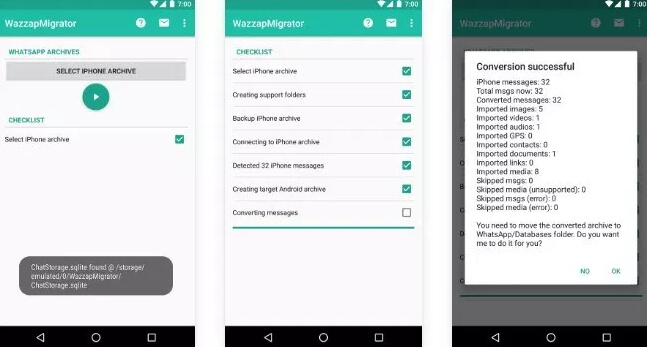 Step 7 Follow the prompts on the screen until you see "Conversion Successful". Open WhatsApp on the Android phone and you will see all the WhatsApp chat history from the iPhone.
Part 3. Comparison of the Methods Mentioned Above
You might be confused by the methods we have provided, so we made a comparison chart which includes the transfer between different operating systems they can make. Just choose the one that suits you best.
Since you have learned all the 4 methods to transfer WhatsApp from Android to iPhone, you can now get to transfer other data left on your old Android. For your convinence, we sort out the detailed guides for you to exactly transfer photos, videos, notes and messages from iPhone to Android. Have a look around!